Hi there!
The State of Michigan's slogan is "Pure Michigan" and you can get plenty of that with a trip to the Upper Peninsula aka a trip to the U.P. of Michigan!
This is remote Michigan!
This UP road trip route will start from the Mackinac Bridge, which is the eastern Upper Peninsula, so it can work in this order when you're coming from the Lower Peninsula of Michigan.
If you're driving to the UP from the Wisconsin side, which is the western Upper Peninsula, the Porcupine Mountains can be your first stop.
No matter which direction you drive, you can make many scenic stops!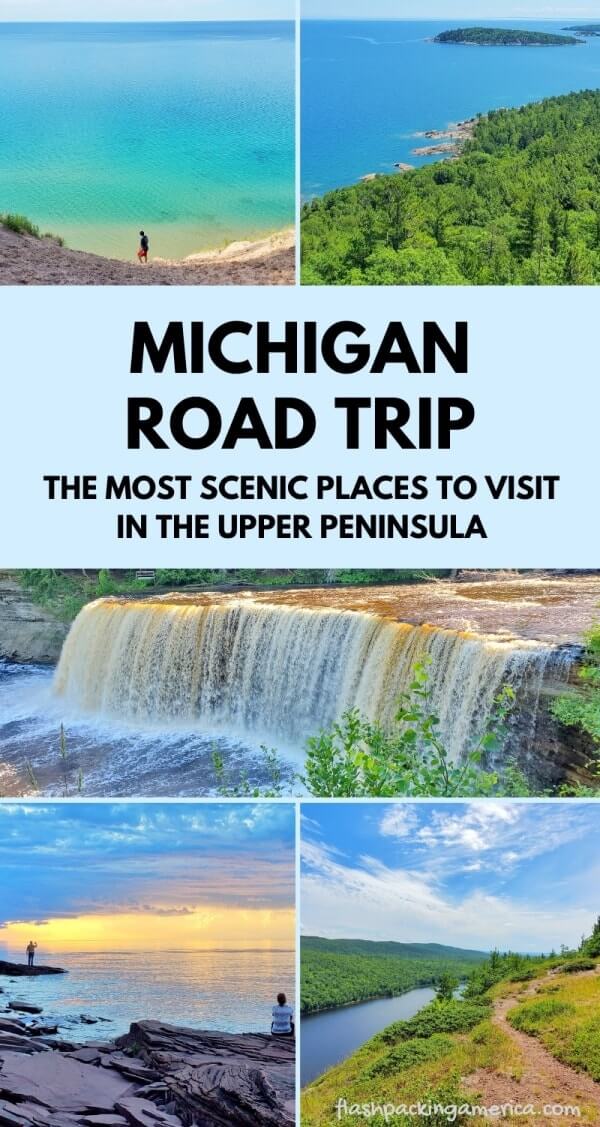 Lake Superior circle tour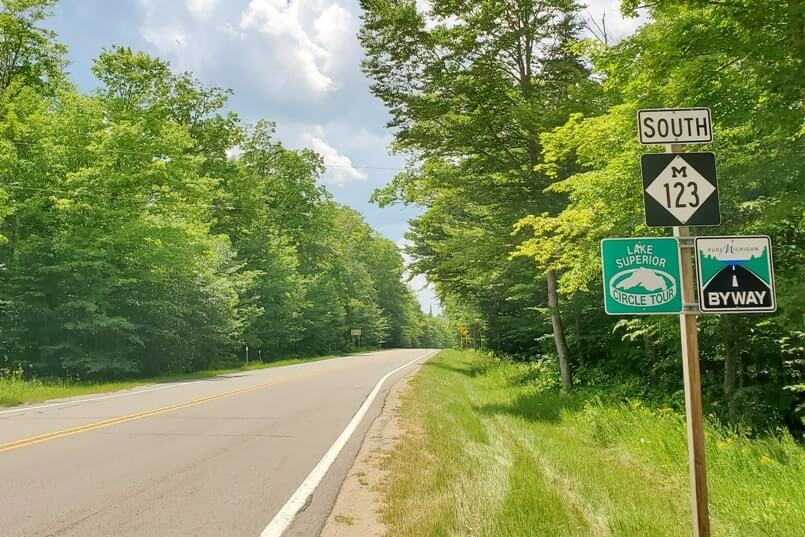 The Lake Superior circle tour is a thing. (So is a Michigan scenic byway.)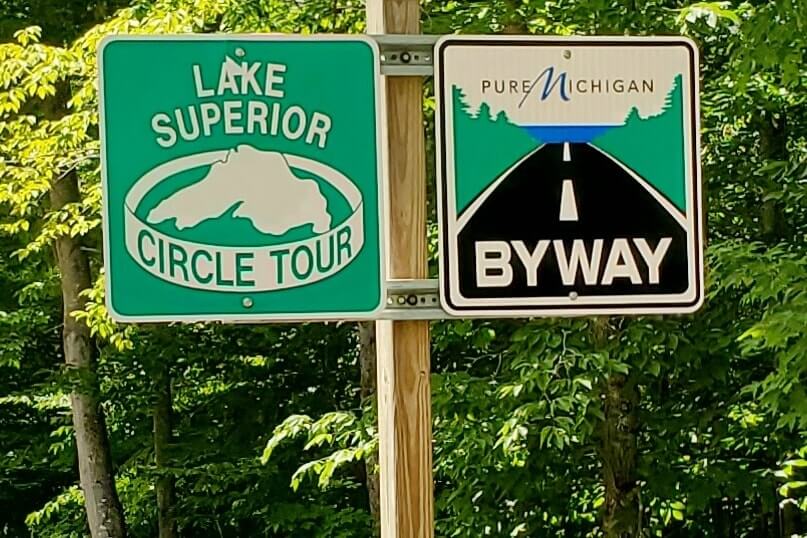 Circling Lake Superior means driving around the lake through Michigan, Wisconsin, Minnesota, and Ontario (Canada)! (But, it's unknown whether you'll be able to do the full loop in summer 2021 since the border may or may not be open…)
Part of this drive around the UP will cover the Michigan stops to make on the Lake Superior circle tour!
Lake Superior isn't the only one of the Great Lakes that you can see on a UP road trip though!
The Upper Peninsula touches 3 of the Great Lakes: Lake Superior, Lake Michigan, and Lake Huron! With the trip route below, you can see all 3 of these lakes!
As you are driving, you may also come across signs for the Lake Michigan circle tour and the Lake Huron circle tour too.
You can also make your Michigan road trip into:
North Country Trail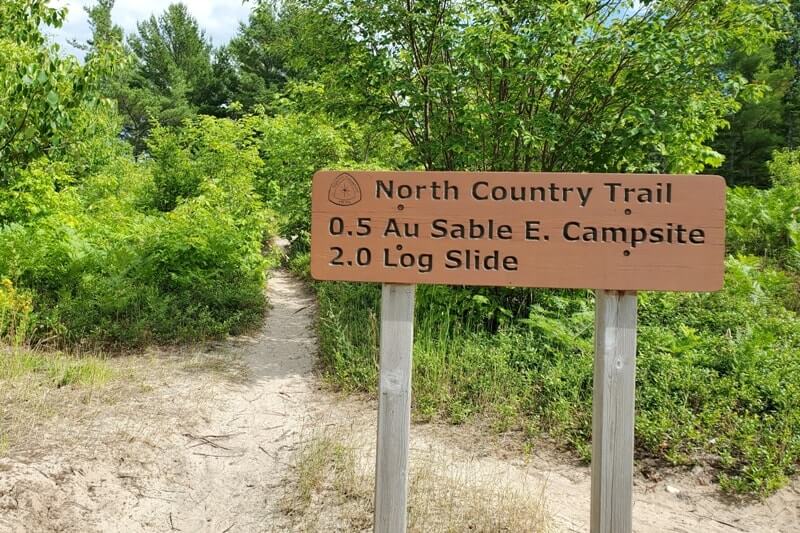 There is also something called the North Country Trail which is a national scenic trail.
This is a hiking trail (backpacking trail) that extends for 4,600 miles across many states from the midwest to east coast. Part of it goes through the Upper Peninsula.
MAP: Upper Peninsula Michigan
For the visual, here's the basic route that's outlined on the list below.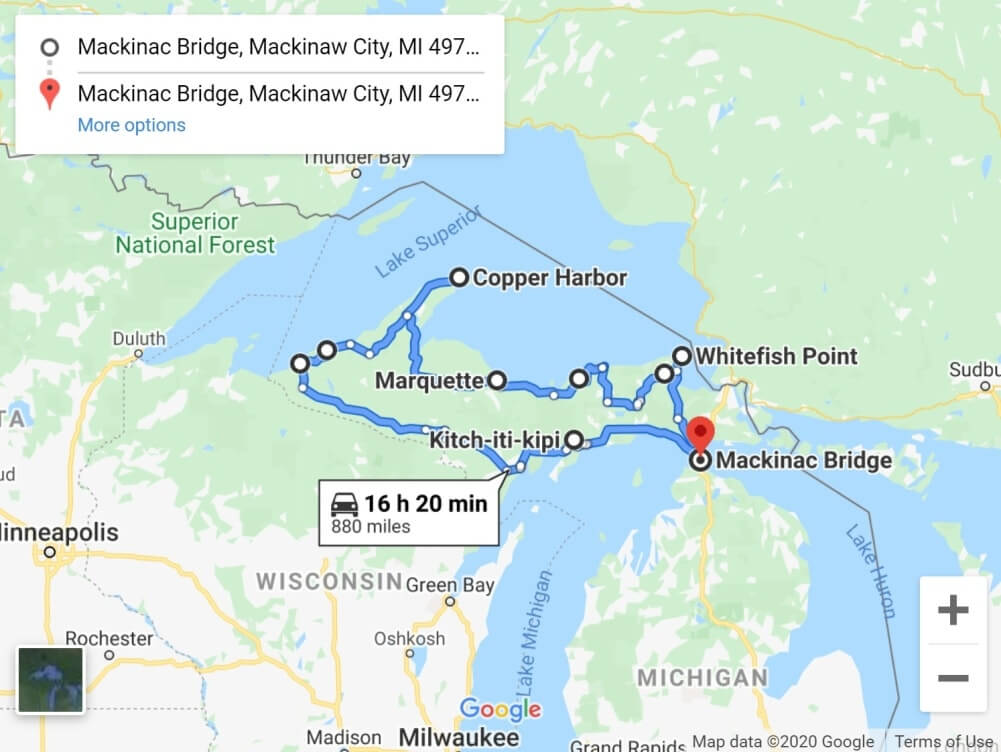 I made this trip to the UP in July 2020. Unless otherwise noted, things I mention here were OPEN!
If you are planning your 2021 summer vacation, of course, it's unknown how things will be then.
But I would think that you can take the things that were open here in summer 2020 as an indication of what will likely also be open in 2021 too.
As far as outdoor activities go (which is mostly what the list below consists of), in 2020 the state of Michigan was almost completely open from end of June. That's how it felt to me, anyway! This includes state parks, national lakeshore parks, hiking trails, beaches, and campgrounds. Notably, ferries to islands managed by the national parks were not operating though. This included the Manitou Islands in Sleeping Bear Dunes National Lakeshore (lower peninsula) and Isle Royale National Park from Copper Harbor (upper peninsula).
Camping in the Upper Peninsula
I did this as a 2 week camping trip. So it's possible to find campgrounds along the way.
For Michigan state park campgrounds, be sure to see this list of state park campgrounds in the UP that will give you amazing views of the Great Lakes! You'll want to make reservations, and this is the state park camping reservation website.
For national park campgrounds, you will also want to make reservations, and this is the national park camping reservation website.
You can also find Michigan state forest campgrounds and Hiawatha National Forest campgrounds along the way too.
There are also airbnb homes across the UP. If you've never made a booking, use my referral link to get a discount on your first airbnb booking. I've seen it say up to $55 off!
And then there are a number of hotels and motels located throughout the UP. Some of the best hotels are linked below to search for booking.com accommodation options in the Upper Peninsula. I am a partner of booking.com.
Prepare for minimal cell and data service
Even if you won't be camping, you want to prepare as if you won't have cell service (data service) as you drive from one destination to another within the UP.
Since this is remote Michigan, there's a good chance you will hardly get any data service while on the road. (You may get a little service as you're passing through small towns.)
Most importantly, this means that it would be a very good idea to download offline google maps before you go. This is free.
GPS mostly works around the UP, so as long as you have offline maps, then you'll be able to navigate even if you aren't able to get data.
More on the best things to do in the Upper Peninsula below!
🌳
More photos/info below, but first...
Side note!
Here's some info on Michigan vacation prep! Top Michigan vacation spots:
PLUS:
Get a waterproof phone case if you'll be heading out on the water!
Get water shoes if you'll be heading to any beaches with a rocky shoreline in search of colorful rocks! (aka agate stones or yooperlites)
Save the Upper Peninsula Michigan video playlist to watch on youtube later!
Now…
Stops to make on a Michigan road trip around the U.P.!
But first…
Before you make it to the Upper Peninsula…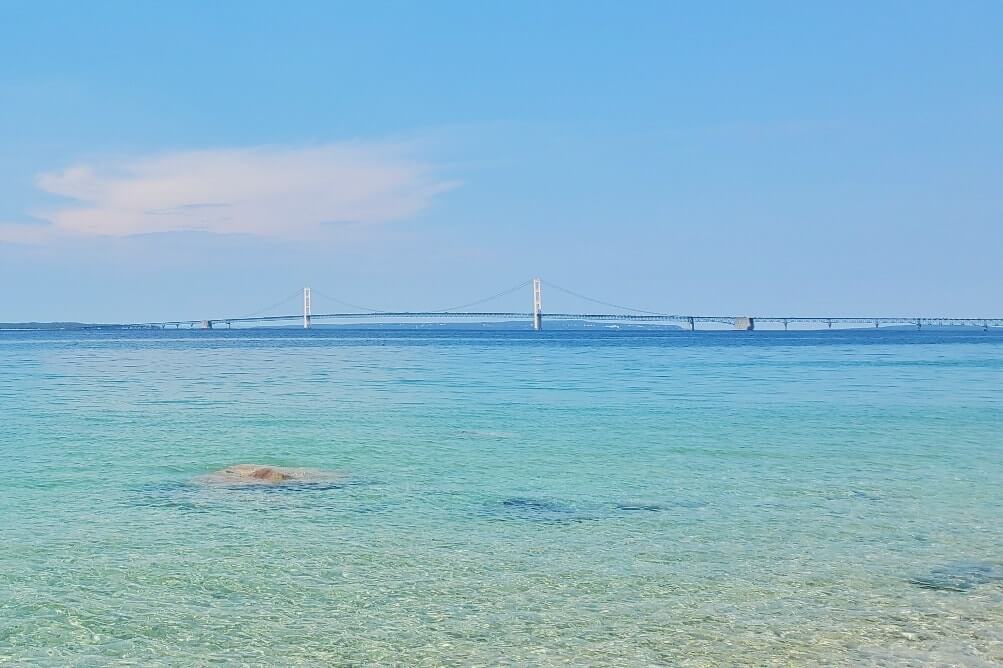 If you're driving up from the south in Michigan and looking for a stop just before you cross over to the UP, then make a stop at either Wawatam Park (Lake Huron side) or McGulpin Point (Lake Michigan side, picture above) so you can have views of the Mackinac Bridge from the Lower Peninsula!
And now…
Driving across the Mackinac Bridge to the Upper Peninsula!!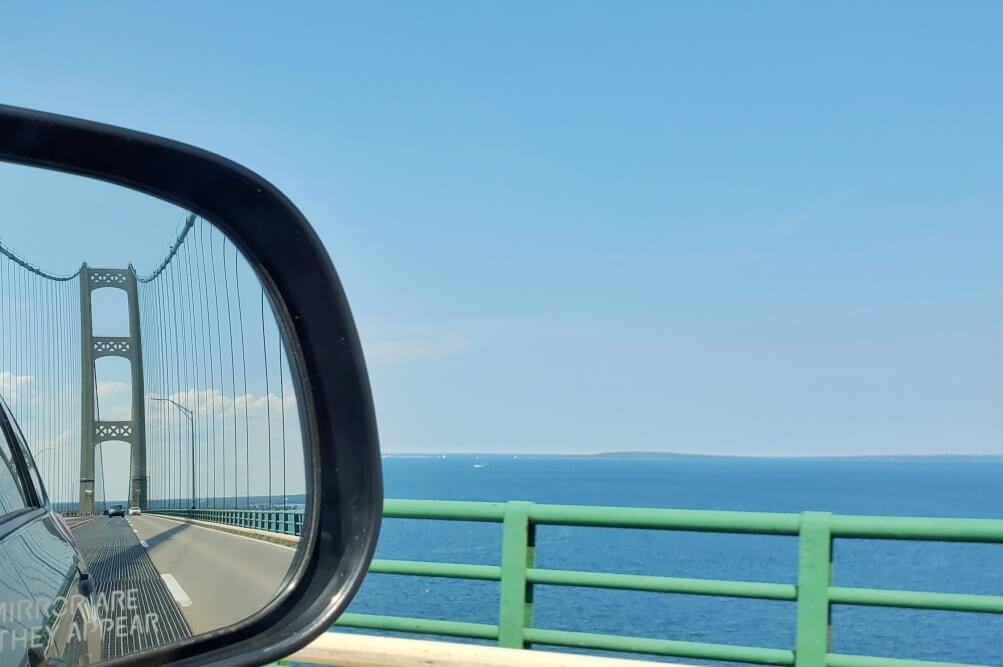 Welcome to the U.P.!!!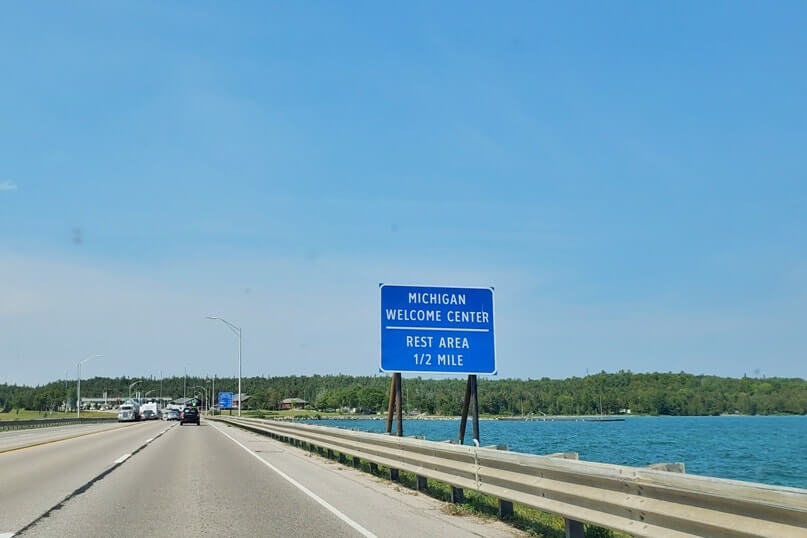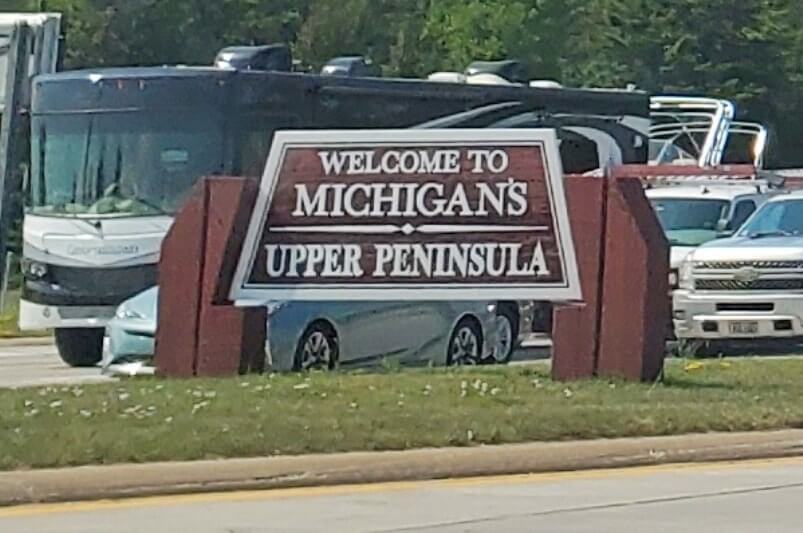 The list of the best places to visit in Michigan in the Upper Peninsula!
1. St Ignace and Mackinac Bridge area
St Ignace is the city you'll pass through right after you drive across the Mackinac Bridge.
Straits State Park is located near the Mackinac Bridge.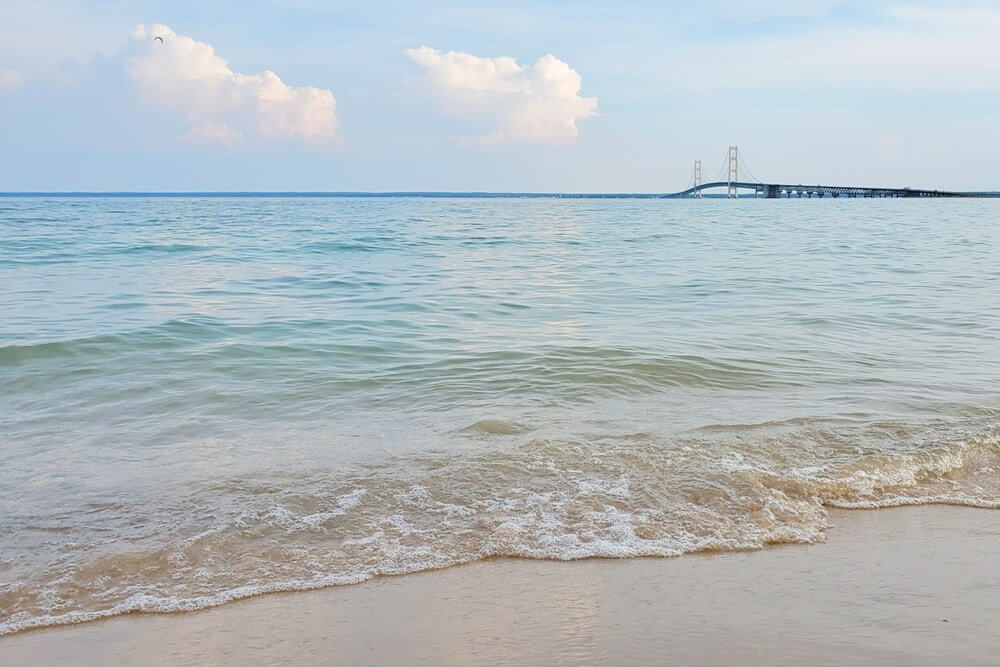 St Ignace and beyond: See more about how to spend your time in the UP (many lighthouses!)
If you're limited on time, then you can keep driving north.
But before really starting to drive north, make a slight detour to the west and take US-2 aka Lake Michigan Scenic Highway for a small part so you can drive directly along the lake.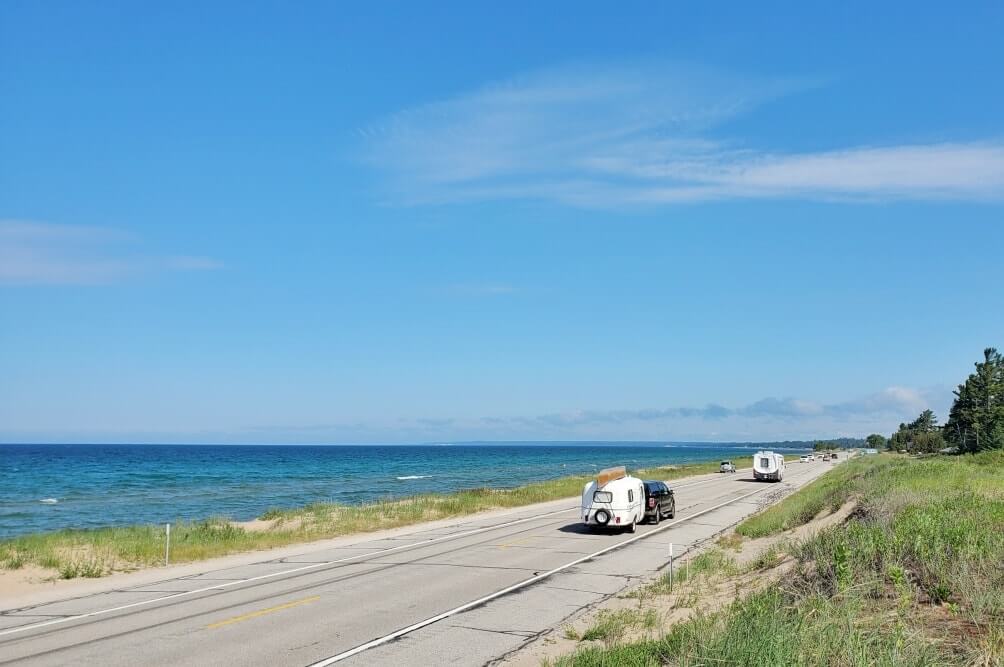 Make a stop (safely!) and get out of the car to walk along the top of small sand dunes and the beach.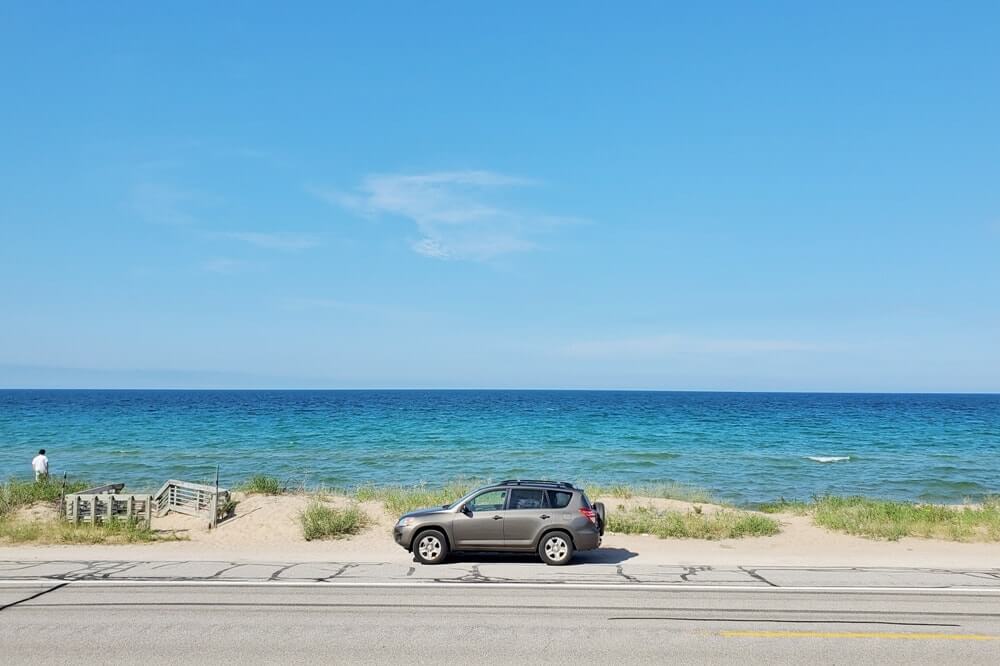 Also if you want to make a detour to the next destination, you can go to the Soo Locks, which is a narrow water crossing where massive cargo ships go through. This is considered an engineering feat. (Observation deck closed in summer 2020 due to health safety reasons, but you can still see it from ground level.)
Camping in the UP with Mackinac Bridge views:
Places to stay in/near St Ignace
Now you can make your way up to what's been called the "Graveyard of the Great Lakes" or the "Graveyard of Lake Superior."
It's said that it gets this name because of the MANY shipwrecks that occurred right around here.
The Great Lakes Shipwreck Museum is located here, and there is a lighthouse here too. (Both were open for visiting in summer 2020.)
You can also go for a long walk on the beach in search of colorful rocks!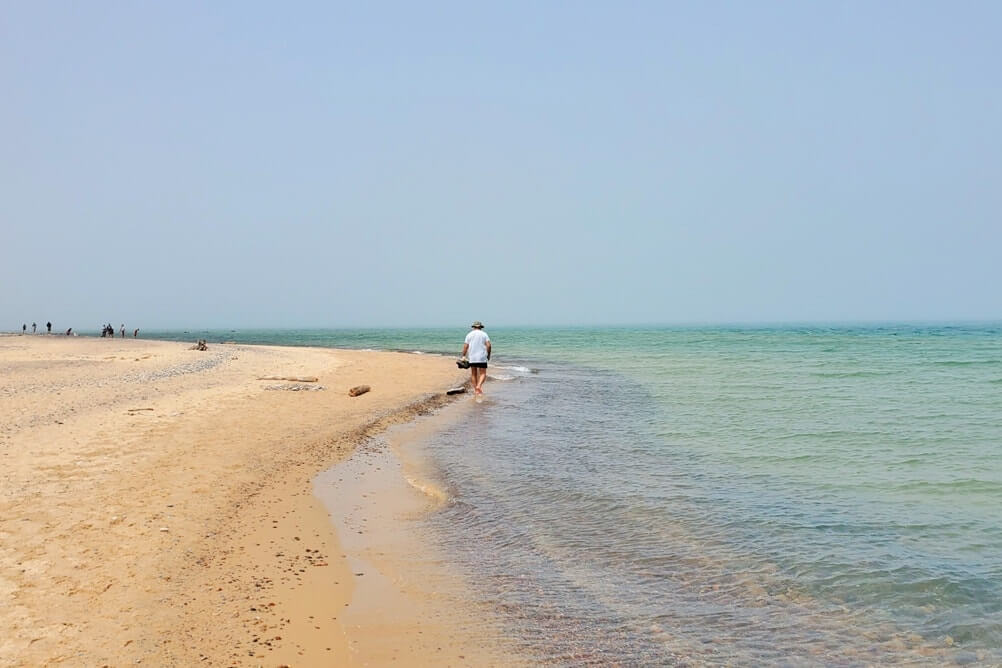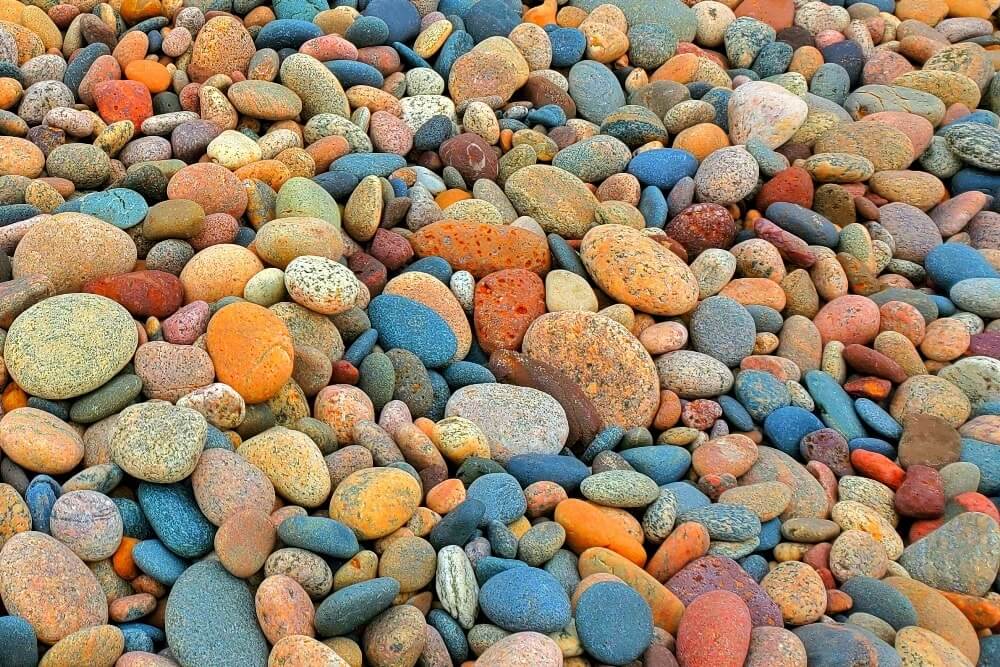 Whitefish Point: See more about how to spend your time in the UP
After your visit to Whitefish Point, you may also be interested in Crisp Point or Vermilion Point along the shores of Lake Superior!
3. Tahquamenon Falls State Park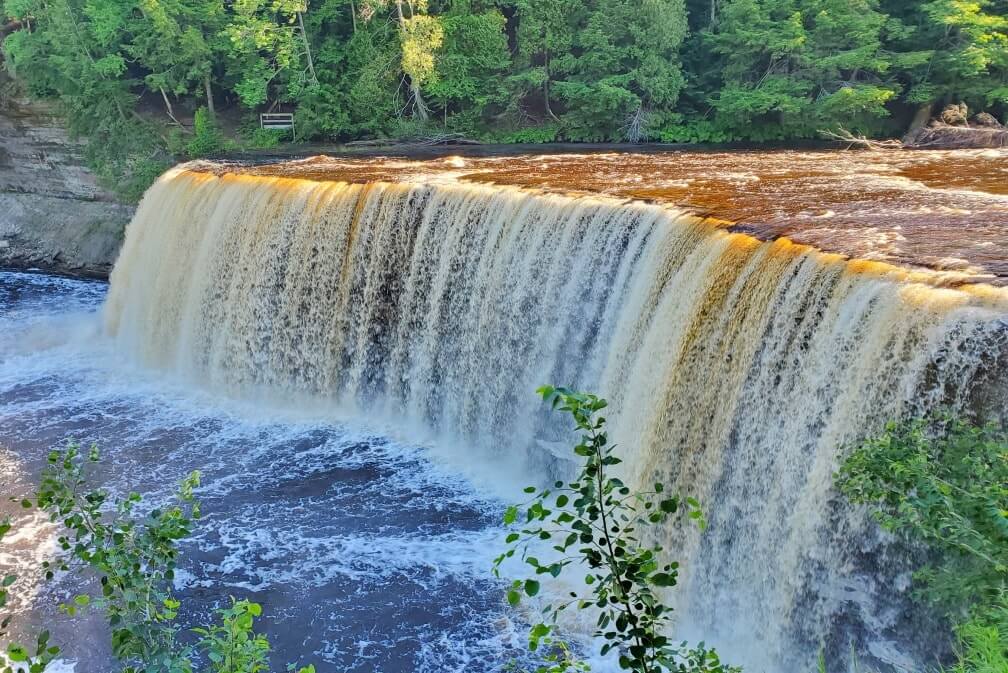 You'll have passed the turn-off for Tahquamenon Falls on your way up to Whitefish Point so you're coming back down south a little bit.
These waterfalls are the most popular waterfalls in Michigan.
The Upper Falls are the best for viewing, and the Lower Falls are the best if you want to get up close and personal with the waterfalls and wade a bit in the Tahquamenon River that feeds the waterfalls. You can take a boat across the river to a small island!
Tahquamenon Falls State Park: See more about how to spend your time in the UP
Camping in the UP near Tahquamenon Falls:
Places to stay near Tahquamenon Falls:
As you drive to the west from Tahquamenon Falls, you'll want to stick to the numbered roads (county/state/government roads) so you won't end up on the real backroads of the UP! (These are backroads that you don't want to end up on!)

This was a google maps fail! Around here it was also instructing to turn onto roads that didn't exist. As long as you don't end up on the backroads, google maps will generally work just fine!
Even worse, you don't want to get stuck in sand on Rabbit Patch Road like a bunch of other tourists. For example if you decide to go from Tahquamenon Falls to Muskallonge Lake State Park campground.
When I arrived at Muskallonge Lake, the state park worker there said a ton of people had been rescued from there! aka needed a tow truck to get them out! $$$ This google maps fail is real! Read the comments on youtube.
If you can't see the Upper Peninsula backroads video above, you can watch it on youtube.
PLUS… A road that you DO want to take… maybe!
If you'll be driving from Tahquamenon Falls to Pictured Rocks (next on the list!), you may consider a slight detour to drive along the Grand Marais Truck Trail. This is a gravel road that goes right along Lake Superior in part, and you'll find a number of access points where you can walk down to the Lake Superior shoreline!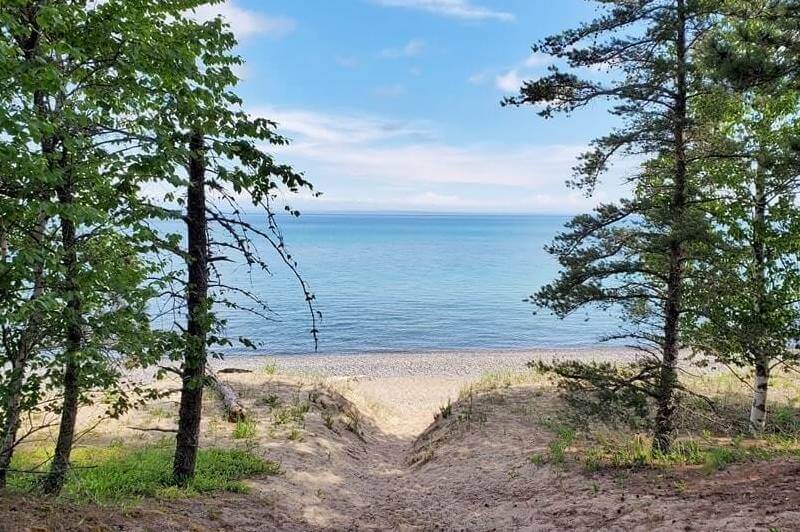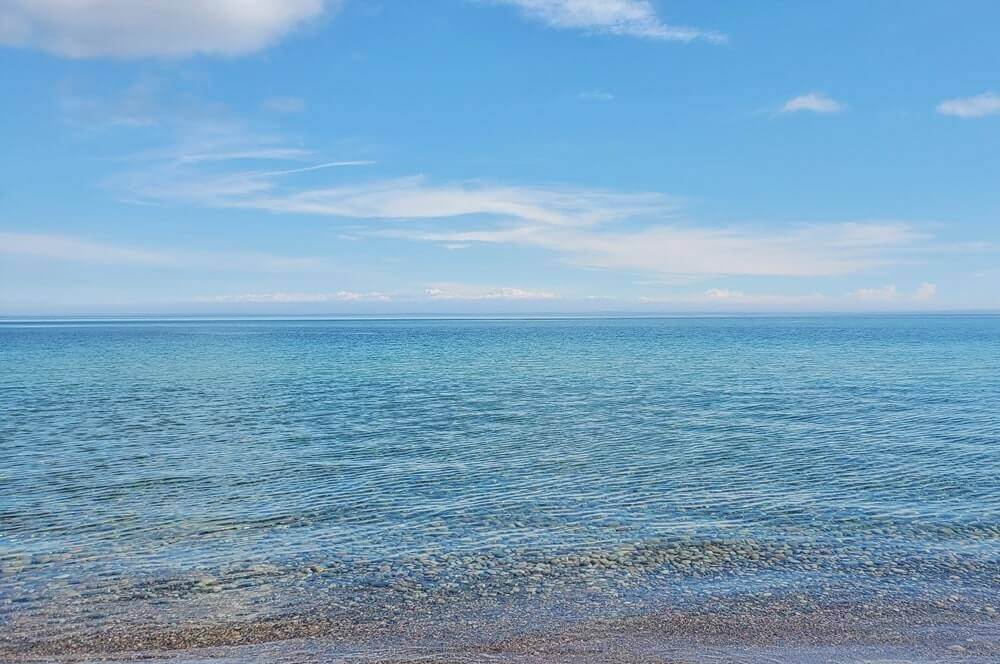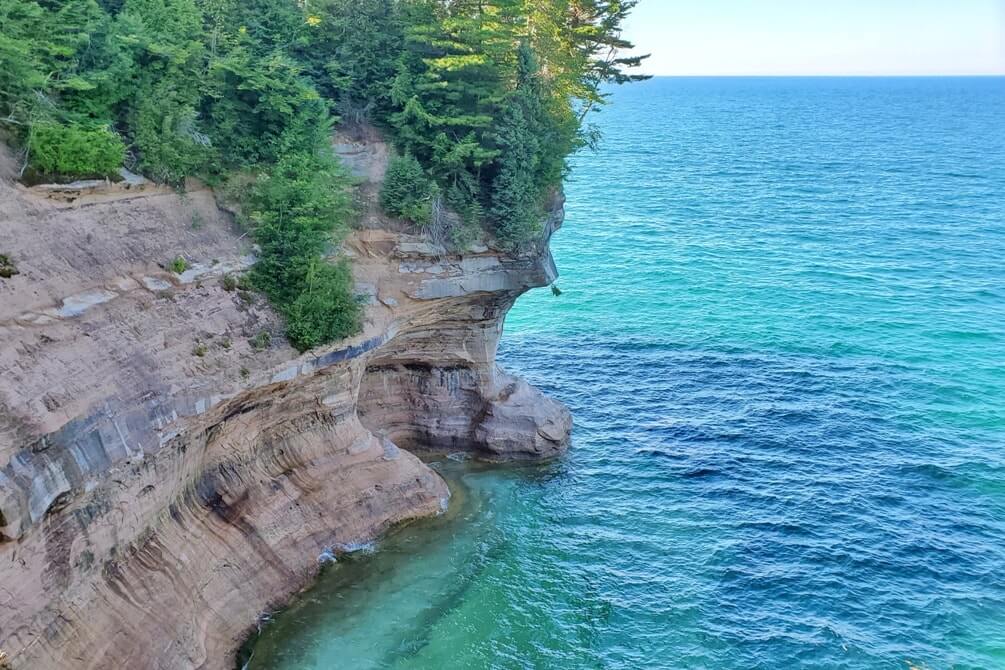 This is a national park site, and 1 of 3 national lakeshores located in the Great Lakes, which are the only lakeshores in the United States.
So as a national lakeshore, there are tons of spots for scenic sites! This includes overlooks, waterfalls, and beaches.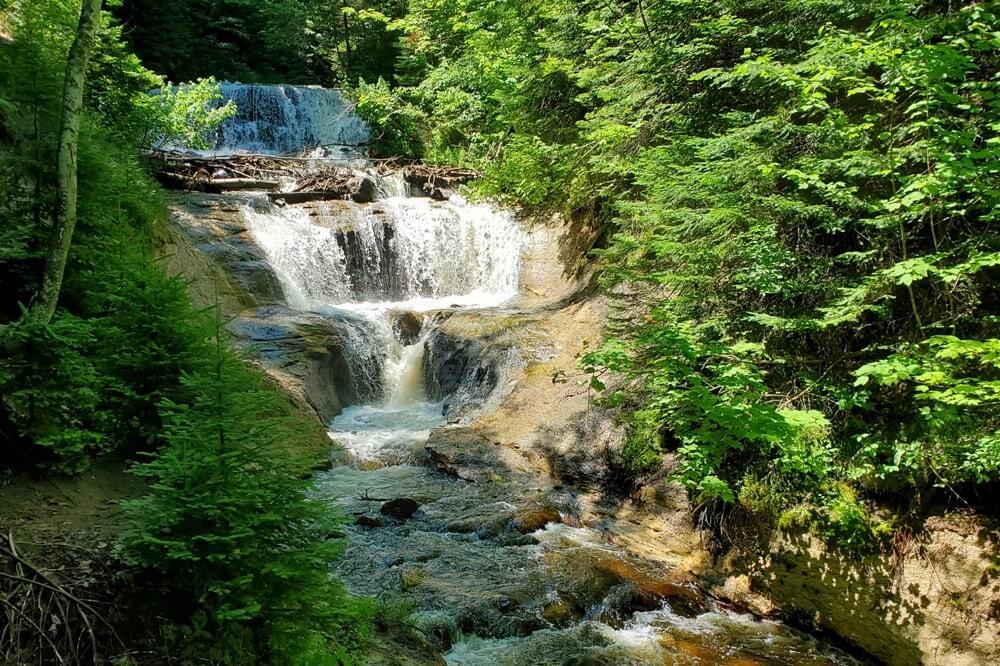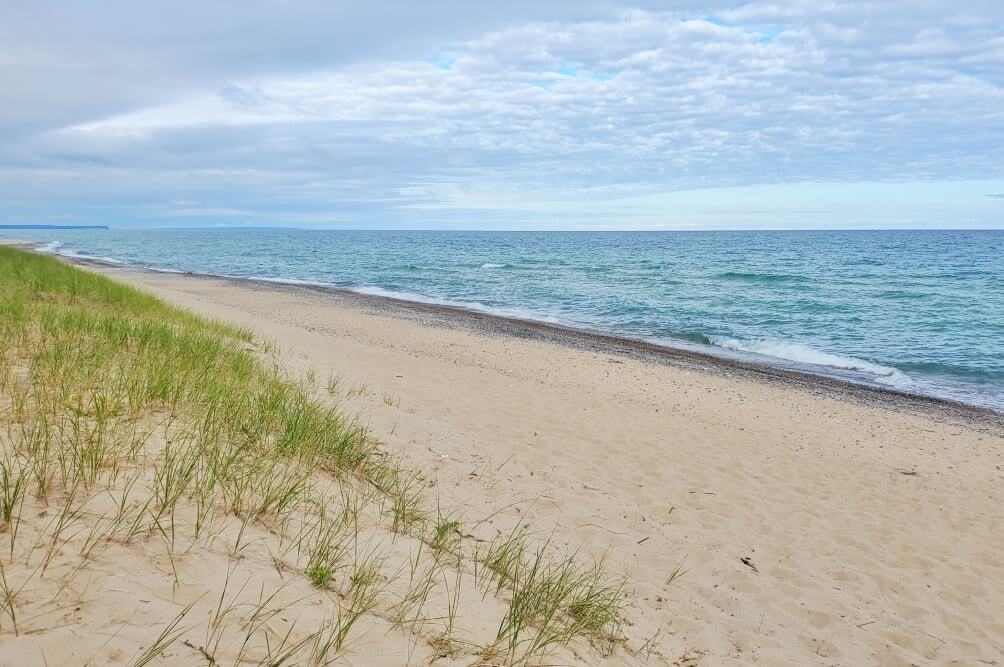 Best quick stops include the overlooks of the Miners Castle and Log Slide.
Pictured Rocks National Lakeshore is best known for its cliffs. You can see the Pictured Rocks cliffs by boat and sea kayak.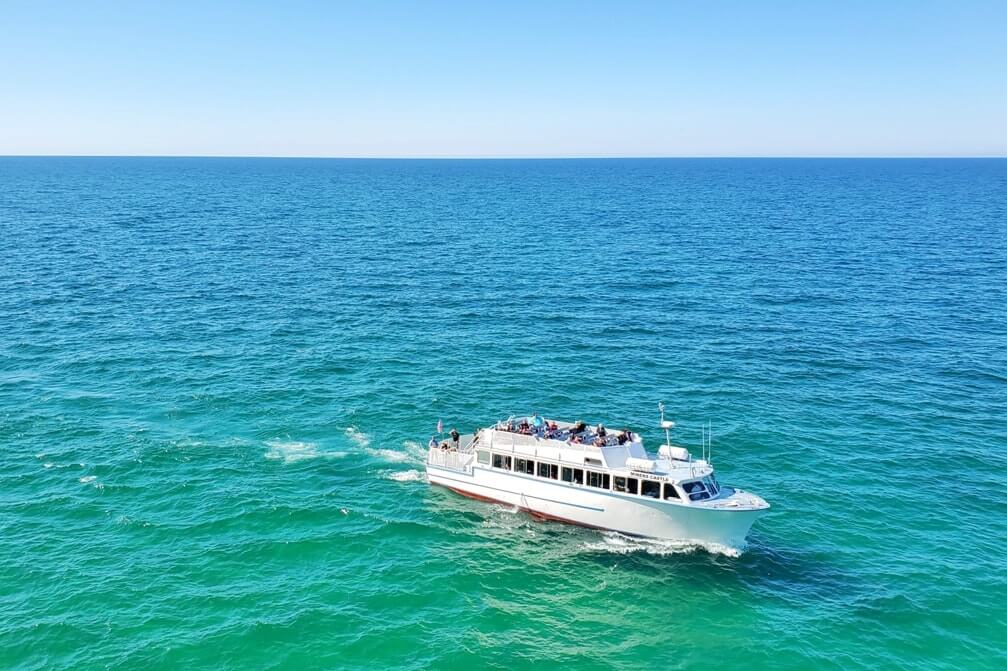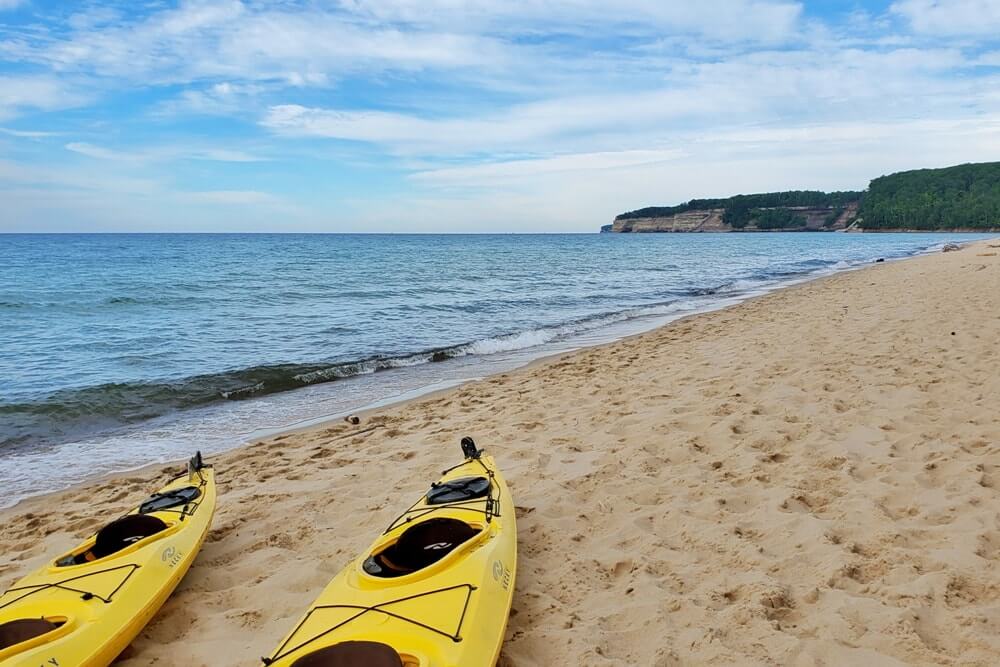 You can also see the cliffs by foot by hiking the Chapel Loop Trail. If you're after hiking trails that come with Lake Superior views, be sure to see the list of best hikes in Pictured Rocks.
For hiking trails that take you to waterfalls and the Lake Superior coastline, have a look at Sable Falls Trail and Chapel Falls Trail.
Looking for colorful agate stones is a thing on the shores of Lake Superior, and you can do this in Pictured Rocks too.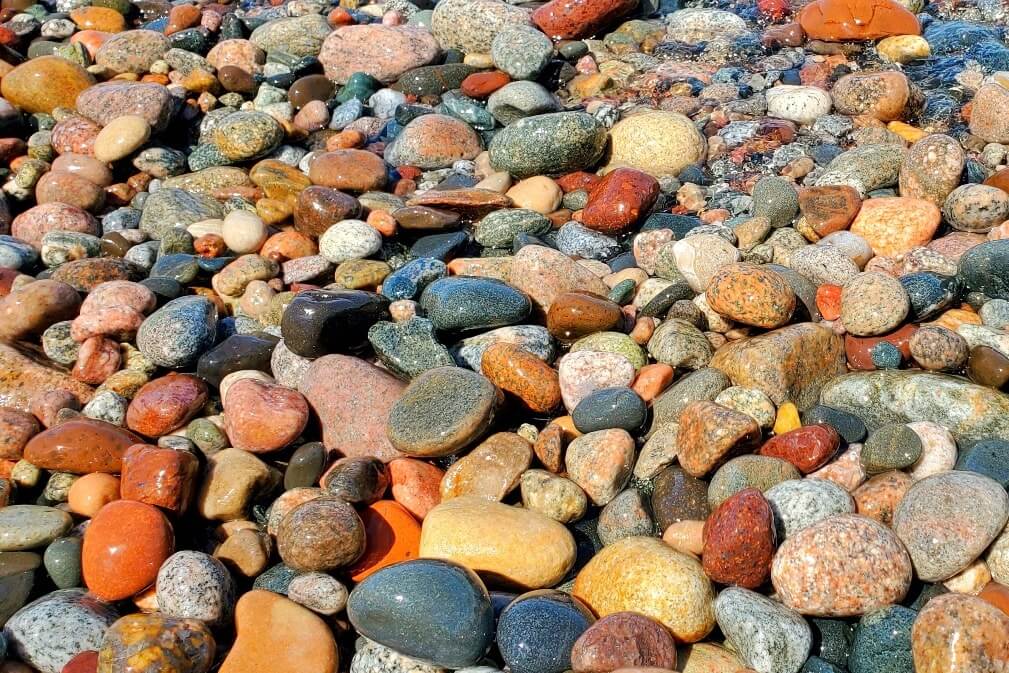 Pictured Rocks National Lakeshore stretches from Grand Marais on one side to the east, and Munising on the other side to the west. The big sand dunes are on the Grand Marais side. The famous Pictured Rocks cliffs and the tree growing on a rock are on the Munising side.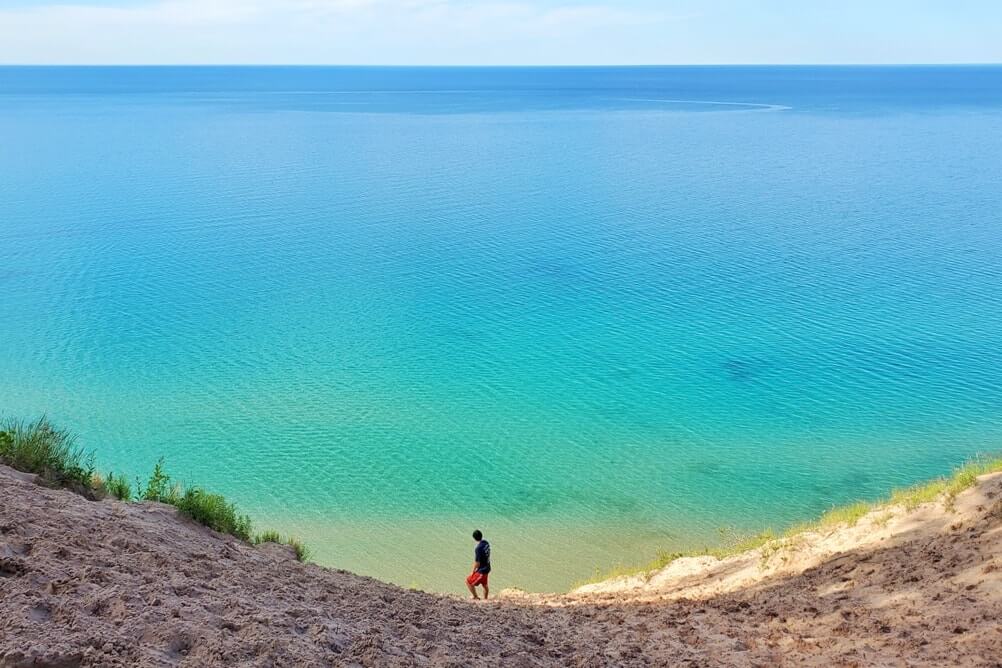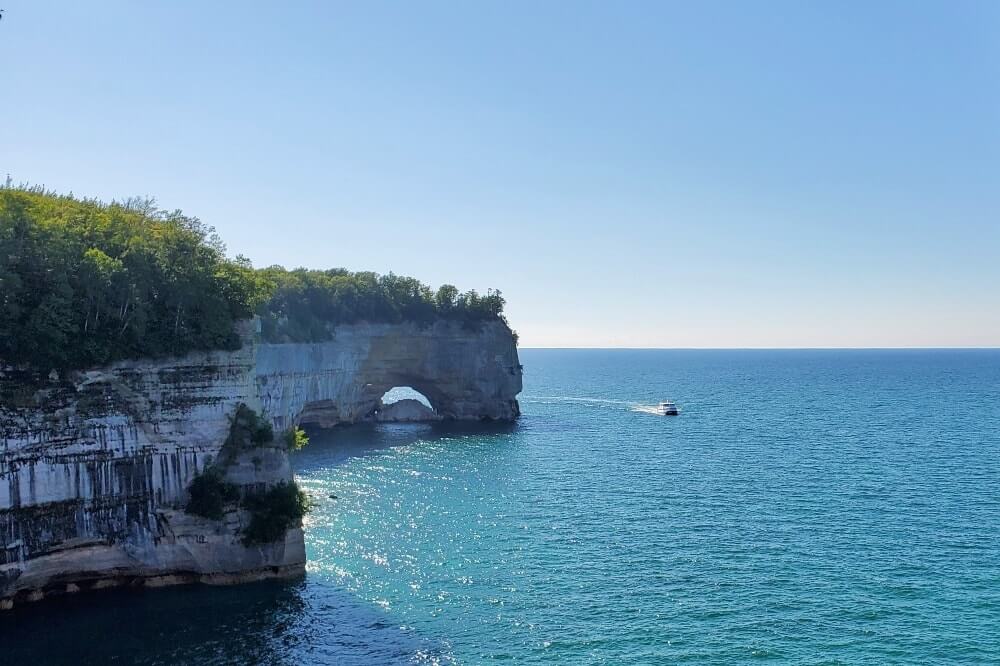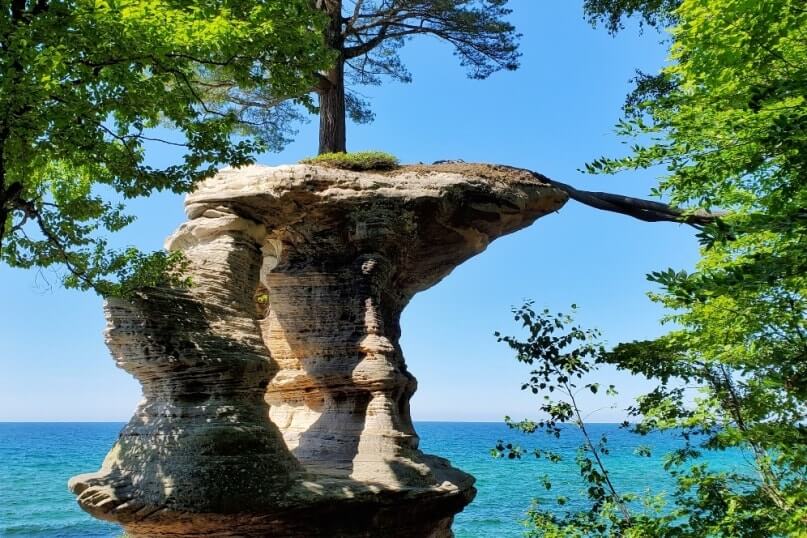 Camping in the UP in/near Pictured Rocks:
Places to stay in/near Munising
5. Marquette
The biggest city in the UP.
But don't expect too much! It's no "big city" compared to the top American cities. The downtown is a cute little area. This is also a college town, home to Northern Michigan University.
If you want to load up on groceries, this can be a place to do so. There's a Meijer here. (An indication of how "big" Marquette is. ;))
For nature and incredible Lake Superior views…
Don't miss Sugarloaf Mountain!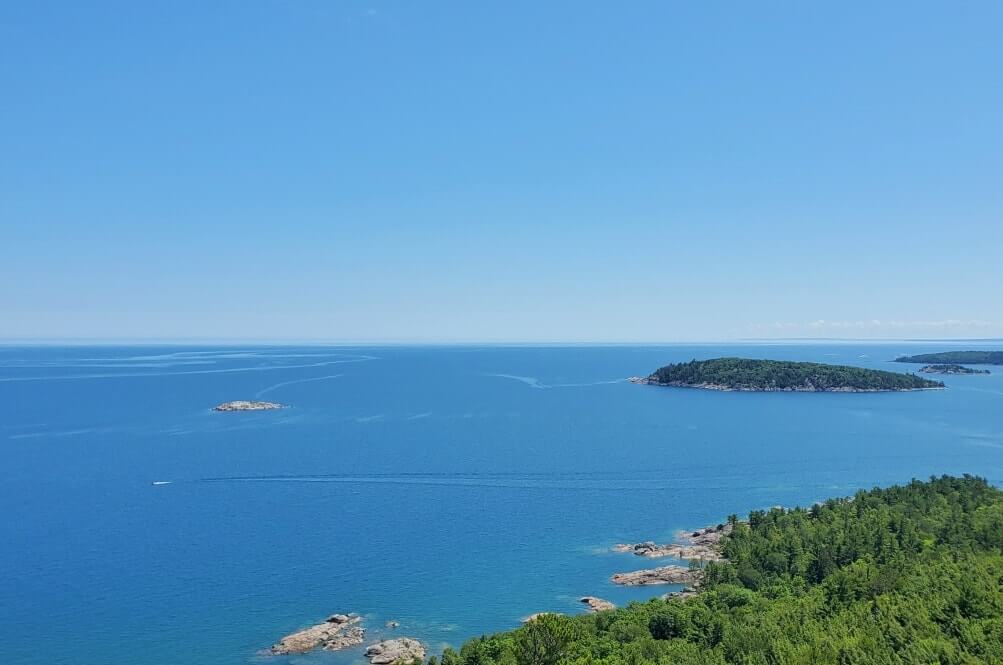 And don't miss Presque Isle Park!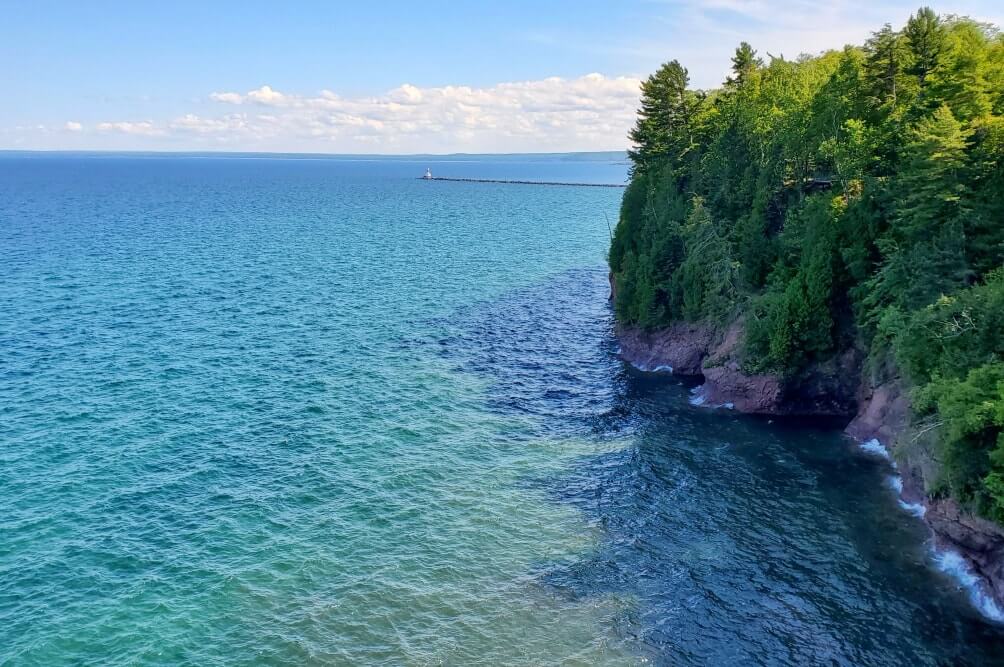 Munising to Marquette drive: See more places to visit in the UP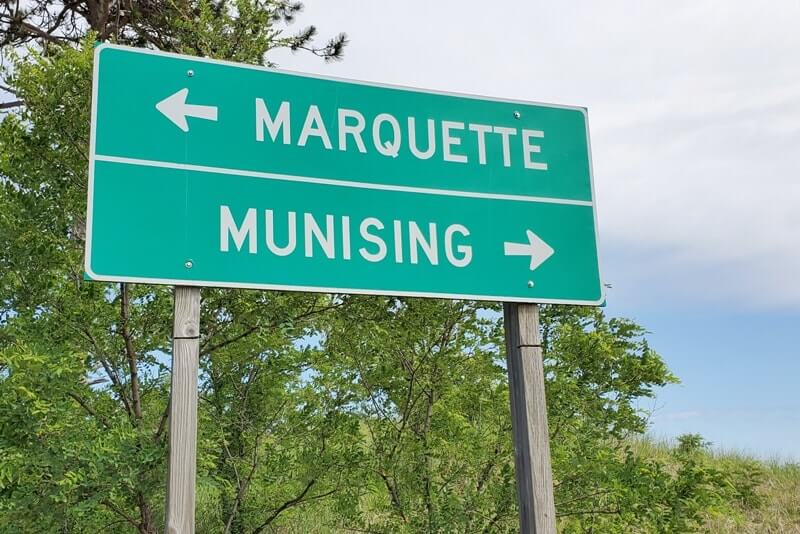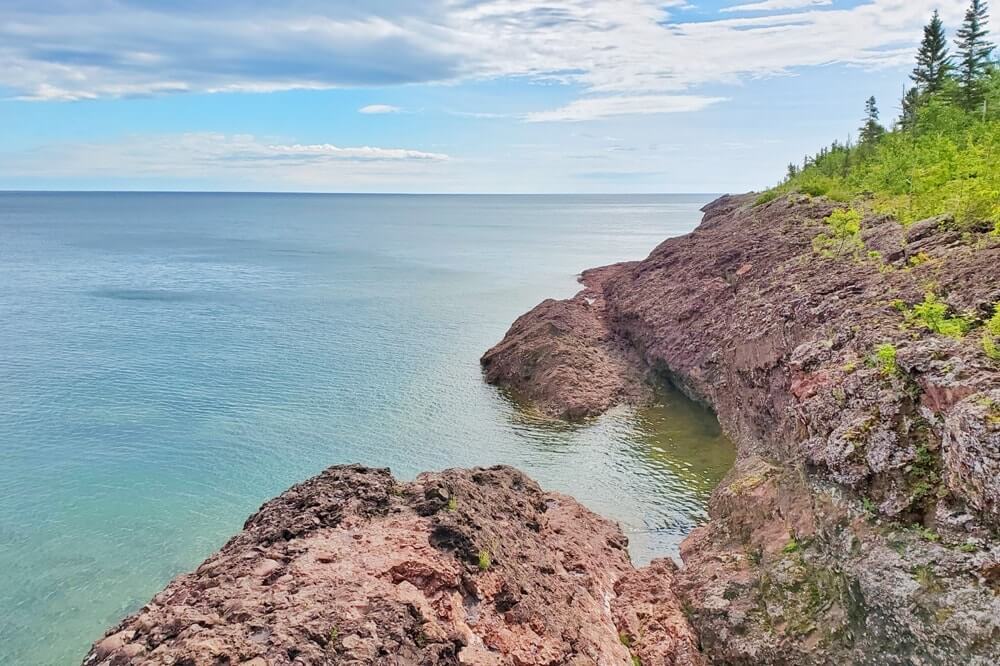 This is more of an "off-beat" UP spot, as not as many people get up to the Keweenaw Peninsula compared to other places in the UP.
Copper Harbor is the city that's located at the far northern tip of the UP (and far northern tip of Michigan). Houghton is the main city in the Keweenaw Peninsula. This is another college town, where Michigan Tech University is located.
For nature and incredible Lake Superior views, don't miss Hunters Point Park and Devil's Washtub. The Brockway Mountain overlook is another good spot.
Copper Harbor is also known for mountain biking trails. You can rent bikes there or bring your own.
The area is also "Copper Country" and there are many spots around the Keweenaw Peninsula where you can learn about the former big copper industry of the region, including through visits to places that are a part of the Keweenaw Heritage Trail and Keweenaw National Historical Park.
See more great scenic places to visit in the UP: Keweenaw Peninsula
Camping in the UP in/near the Keweenaw Peninsula:
Places to stay in Houghton (middle of Keweenaw Peninsula)
Now this is the far western Upper Peninsula, getting close to Wisconsin.
Porcupine Mountains Wilderness State Park is said to be Michigan's largest state park. You get hills inland, and Lake Superior on the coastline here.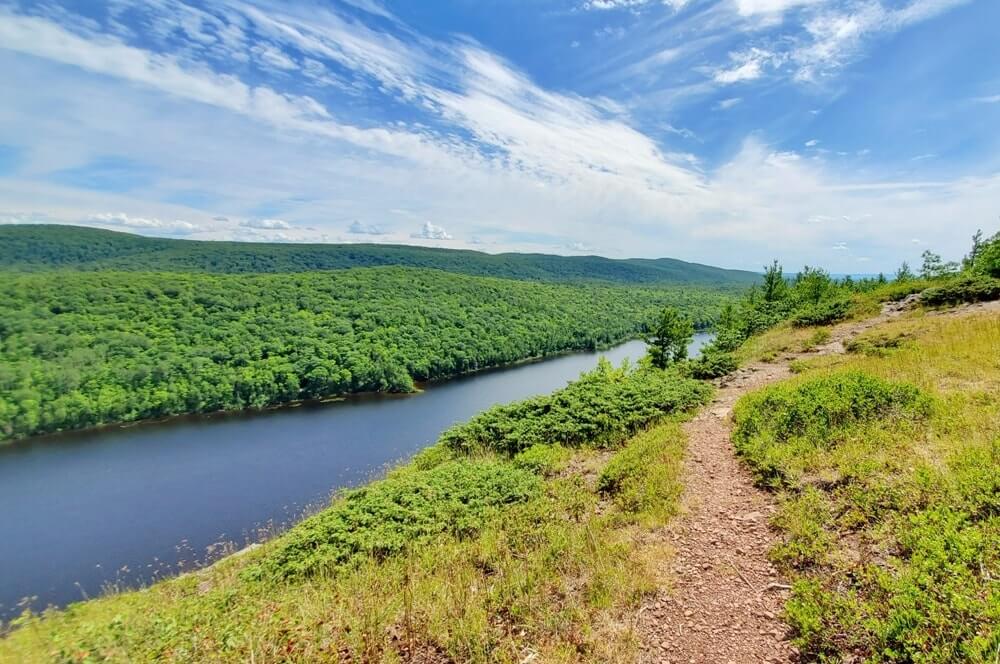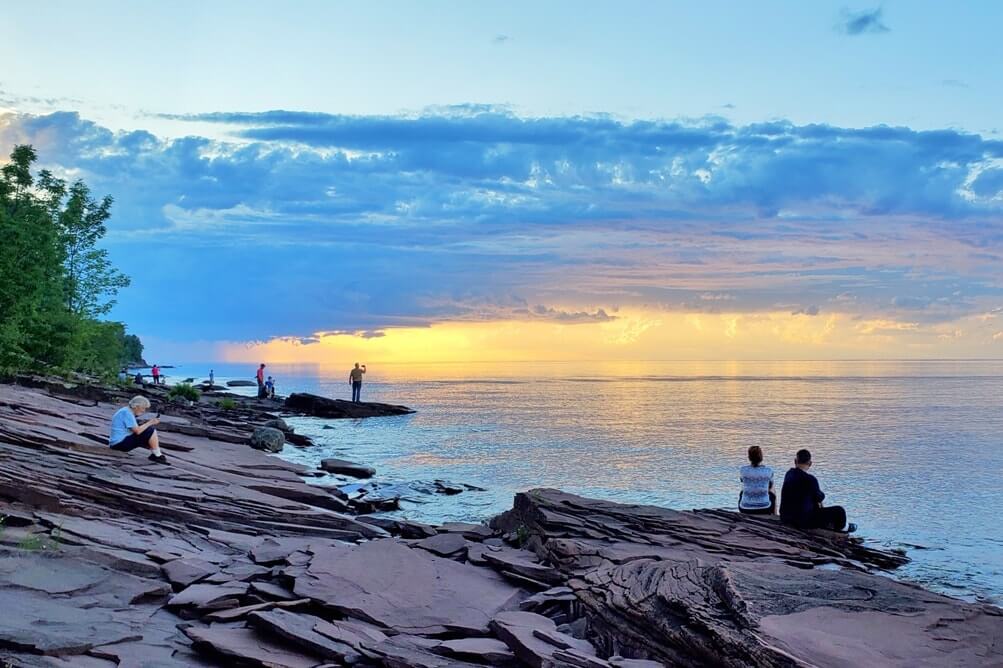 There are basically 2 sides to the state park.
Union Bay is the side with the visitor center and famous Lake of the Clouds overlook. This is also the side where you can access the Escarpment Trail, considered to be among the best hikes in the Porcupine Mountains.
Presque Isle is the side with the waterfalls. There is a riverside waterfall hike you can do to see a series of waterfalls with the Presque Isle River waterfalls loop.
And as the name of Porcupine Mountains Wilderness State Park indicates, the Porcupine Mountains (aka the Porkies) has miles and miles of wilderness. To go along with that, there are hiking trails that can be a part of your backcountry camping experience. There are both campsites and cabins available that you can hike to, some right along Lake Superior!
Porcupine Mountains Wilderness State Park: See more about how to spend your time in the UP
Camping in the UP in the Porcupine Mountains:
Places to stay near Porcupine Mountains
On your way to the next place on the list, you might want to go to Bond Falls!
8. Southern peninsulas of the U.P.
Now to make it a loop of the UP, you can start driving back east, along the southern part of the Upper Peninsula.
You can visit a peninsula on a peninsula!
There are smaller peninsulas you can stop at that are more off-beat UP spots.
There's the Garden Peninsula, where you can visit Fayette Historic State Park (camping available) for a bit of history on what life around here was like back in the day. Here you can also see a unique geological formation for the region, with some dolomite cliffs that are a part of the Niagara Escarpment.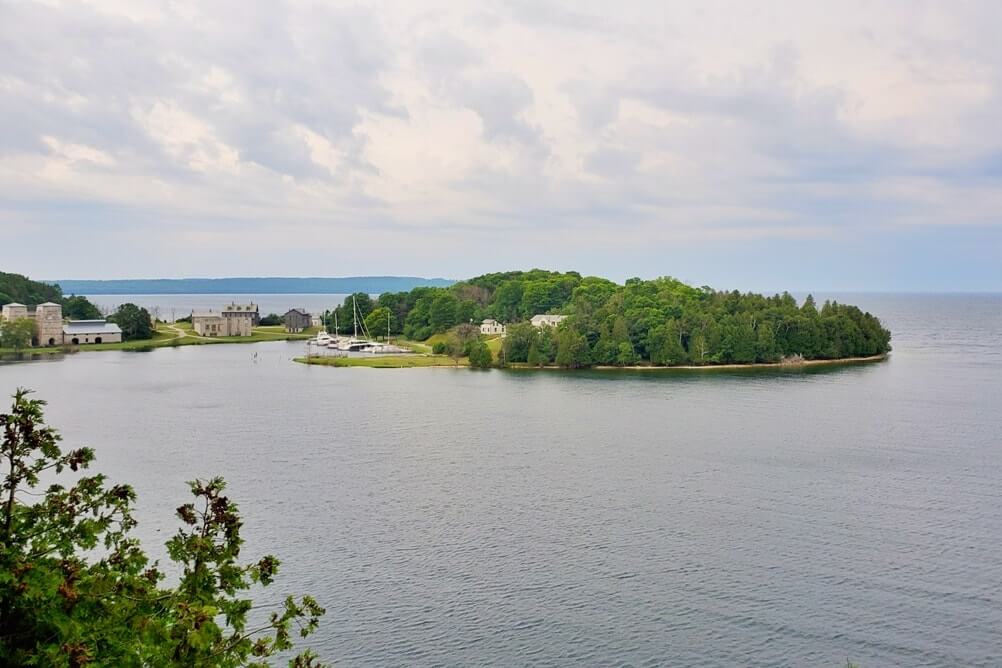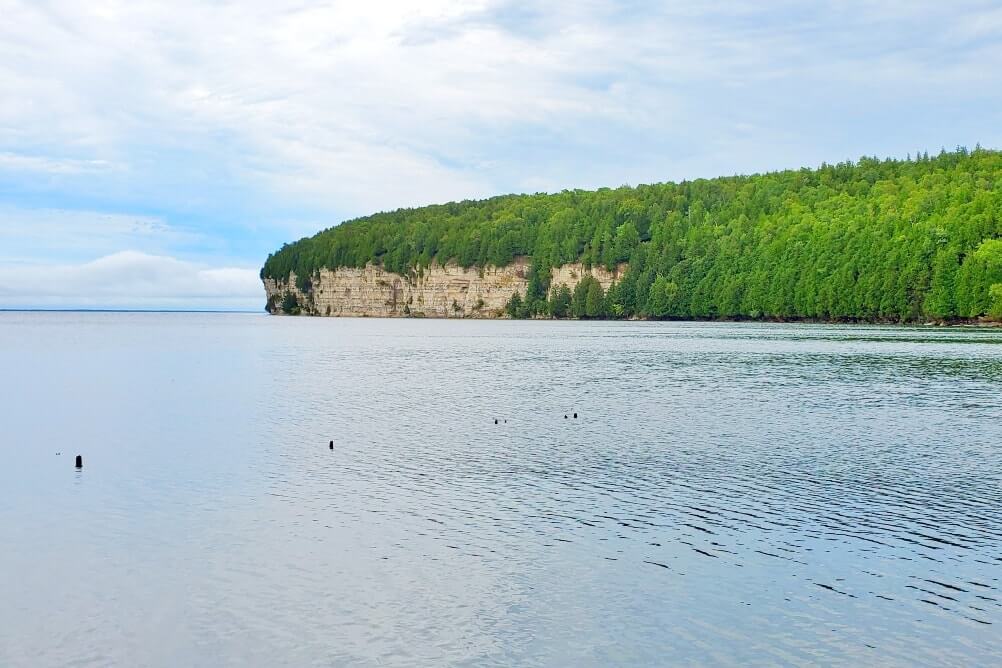 And there's also the Stonington Peninsula where you can visit the Peninsula Point Lighthouse. You can climb up to the top of this lighthouse. It was open in July 2020.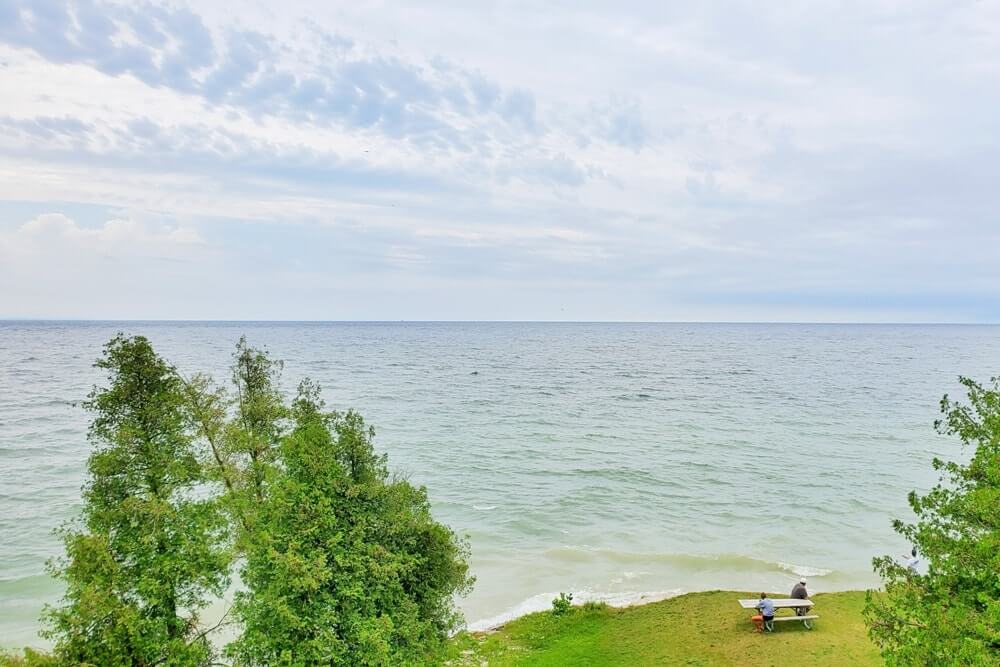 And then continuing the drive, near Manistique is one of the most popular spots in all of the UP.
Kitch-iti-kipi is where you can see the bubbling big spring! You can ride the free observation raft to actually see down below where the water is "bubbling" beneath the sand and entering into the spring.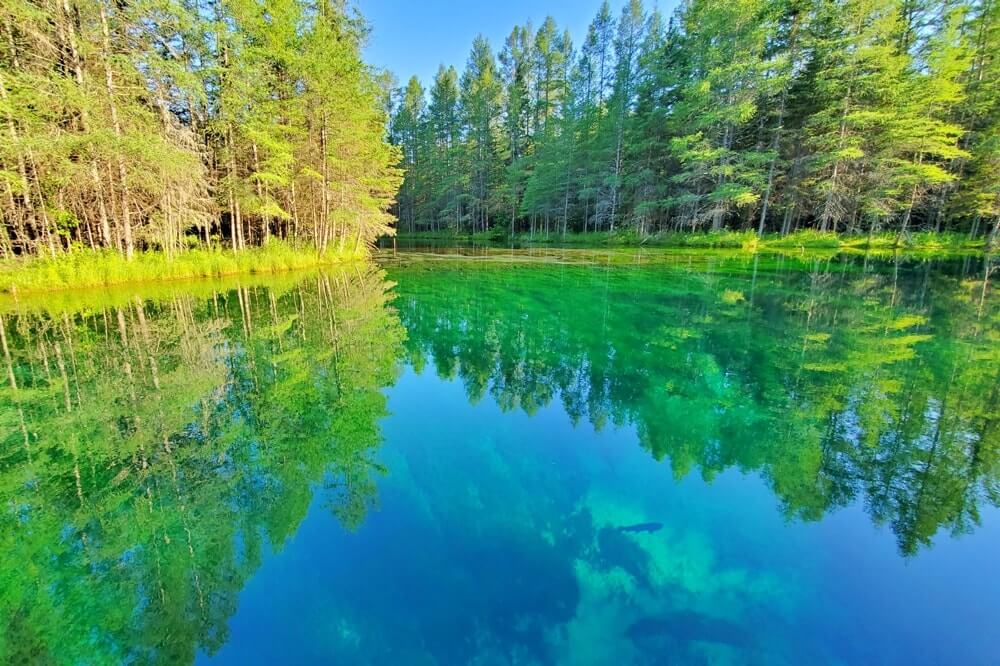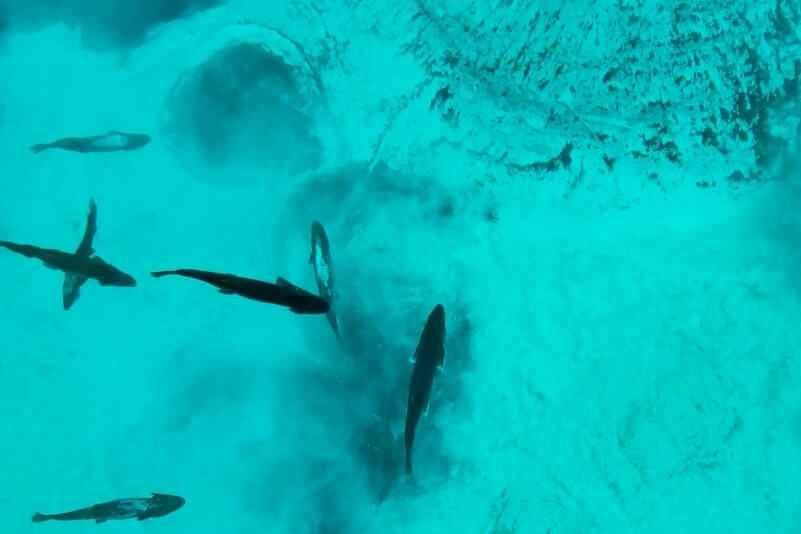 Places to stay in Manistique
And then drive back to the Mackinac Bridge to complete your circle of the Upper Peninsula!!!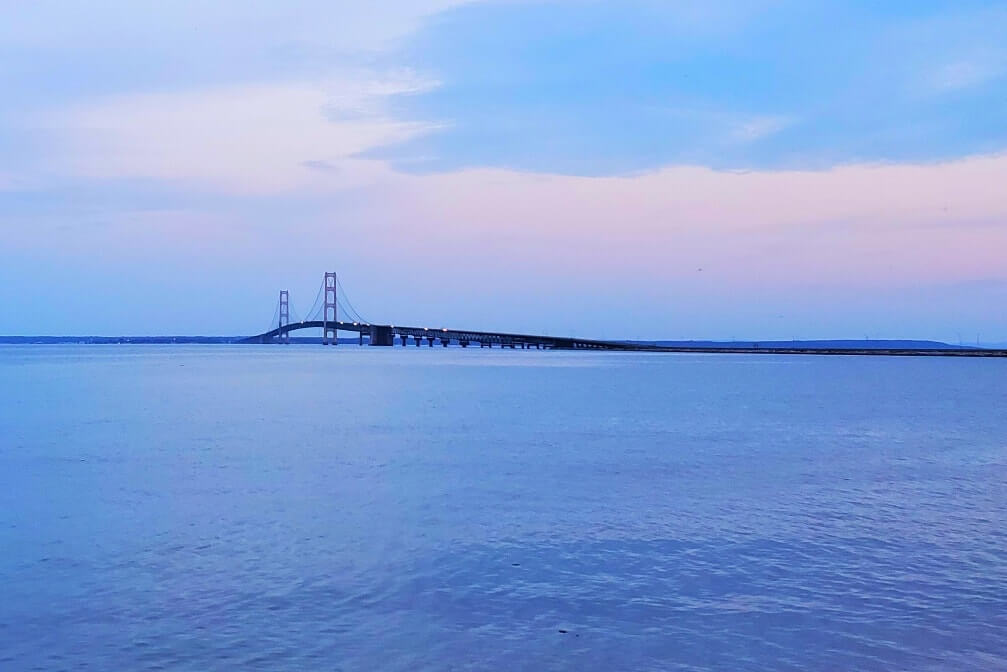 Places to stay in Mackinaw City
Mackinaw City is on the Lower Peninsula side right near the Mackinac Bridge. Mackinaw City is a cute little town and it could work as a break-up point whether you're driving north or south. You can catch a ferry from Mackinaw City to Mackinac Island. (There's a ferry from St Ignace on the UP side too.) There are a few hotels on Mackinac Island, but a day trip from Mackinaw City is a popular option too.
Places to stay in Mackinaw City
One more stop on your Michigan road trip
And if you want to make an overnight stop in the Lower Peninsula on your way up north to the UP (or back down south), you might consider Sleeping Bear Dunes National Lakeshore! It might be a slight detour, but you might think it's worth it! This is located on the shores of Lake Michigan.
For further reading (and further picture viewing!) of things mentioned above:
HAPPY DRIVING AROUND MICHIGAN ON YOUR U.P. ROAD TRIP!
Watch the videos to see Michigan in action!
If you see an activity you like, look in the description below the youtube video for the individual blog post about that specific activity!
Turn your Michigan road trip into a national park road trip out west?! Take a look to get ideas for your road trip across America!
There are affiliate links on this page. Among other partners, as an Amazon Associate, I may earn a commission from this.
Things to pack for your Michigan vacation!
The ultimate beach towel for travel?!
Turkish towels are considered to be more lightweight than your average beach towel while still being absorbent. Be sure to check out
turkish towels like these
!
How to be a little bit more eco-friendly during your road trip!
Instead of using plastic silverware, try out
bamboo silverware like this set
!
The cheapo way to waterproof your phone
You can beach-proof your phone with a
simple waterproof phone case like this
.
Wear less sunscreen by wearing a UPF swim shirt!
Wearing a swim shirt means less skin that's exposed to the sun which means less sunscreen you need to apply! See about wearing
swim shirts with UV protection like these
when you're swimming in Lake Michigan or Lake Superior! Less sunscreen also means less chemicals from that sunscreen will enter our precious Great Lakes!
Get your travel bags more organized!
Packing cubes can make it so you're spending less time on your vacation looking for things! They are basically a form of drawers in your suitcase. Take a look at
these packing cubes
.