Hi there!
So you're planning a camping trip in the Upper Peninsula of Michigan!
What's a perfect stop to add to your UP trip?!
A waterfall stop! The Tahquamenon Falls are among the most popular (if not THE most popular) waterfalls in Michigan, located in the eastern part of the Upper Peninsula.
There are many spots to see waterfalls on the Tahquamenon River, and there is a campground that's located relatively close to one of the popular waterfall viewing areas, and a bit further down the road from another.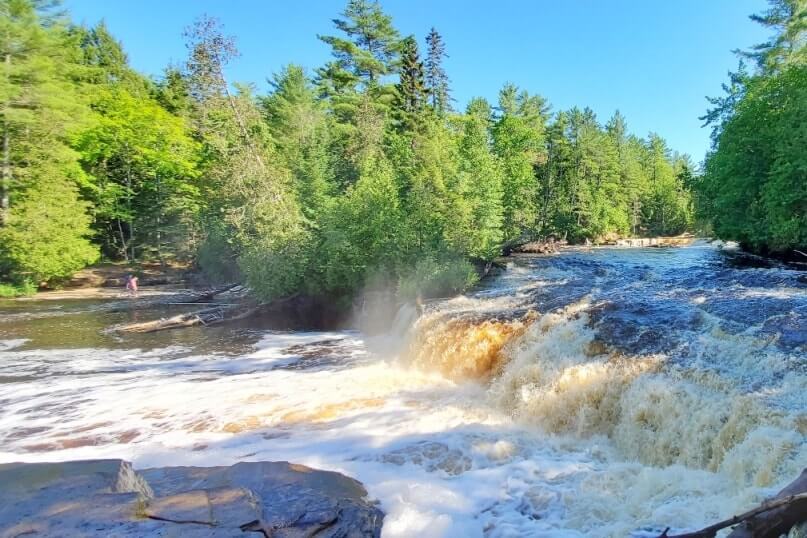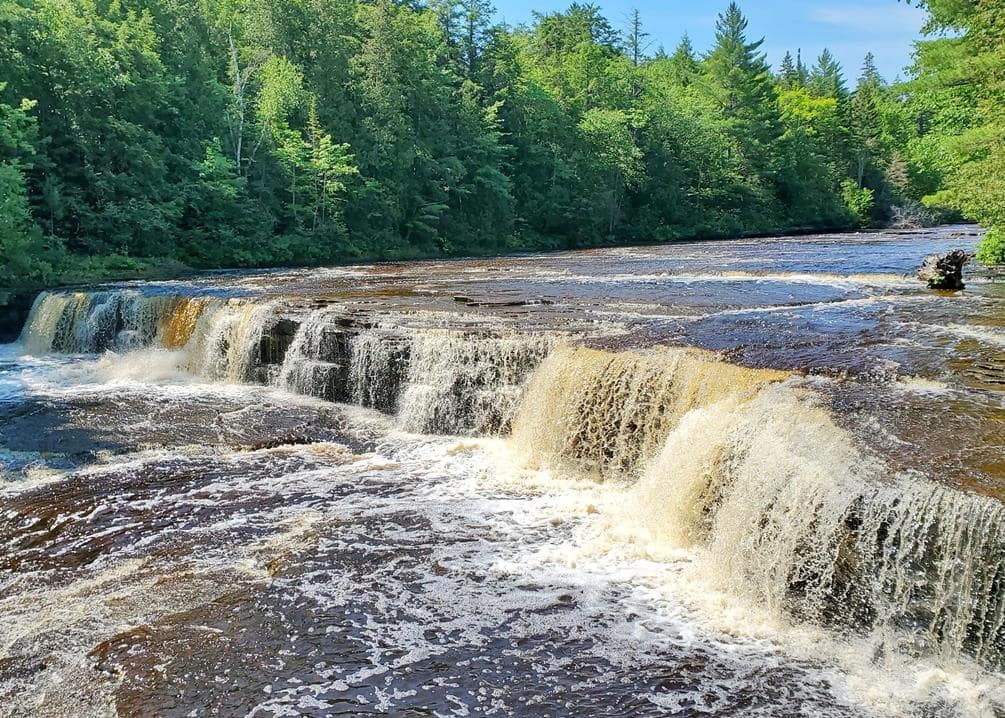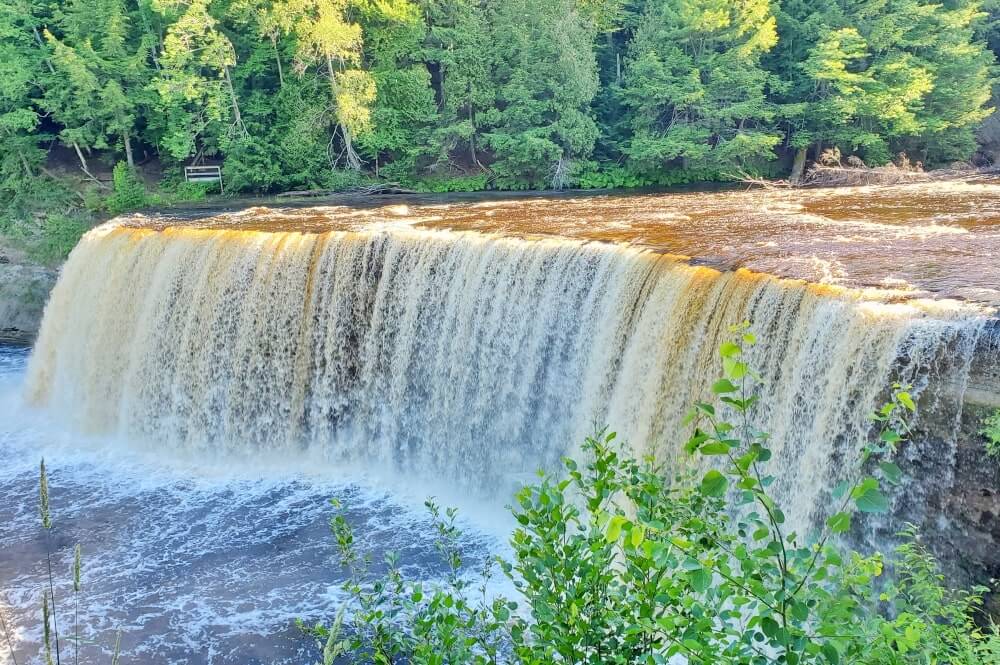 First, some quick things to know about the Lower Falls camping area that's located in Tahquamenon Falls State Park.
Then, a bit on how to make camping reservations.
Things to know about camping at Lower Falls Campground in Tahquamenon Falls State Park
1. The start of the trail to the Lower Falls overlook is a few minutes drive from Lower Falls campground.
You'll then take a trail to get to the Lower Falls viewing spot. You want to give yourself at least 45 minutes for this trip.
2. Along the way on the trail to the overlook is where you can take a boat to see waterfalls up close and personal!
It's possible to take a boat to cross the Tahquamenon River to get to an island in the middle of the river to get close to some small waterfalls.
According to a state park employee, it's the only area where you can see "all 5 lower falls up close."
You can rent a rowboat to row the boat yourself, or you can take the boat "shuttle" across the river.
It'll take around around 5 minutes to row to the river island, and then there's a loop trail of around half a mile that goes around the island.
It's popular to wade in the water here.
So you might want to give yourself 1-2 hours for this trip depending on how much time you want to spend on the island, in the river, and at the waterfalls!
I heard someone who had just gotten back from the boat trip and they called it the best part of Tahquamenon Falls State Park.
You can expect to pay around $7 per person to rent a rowboat to row yourself, or around $10 per person for the boat shuttle.
3. The campground is for tent camping and RV camping
…and other types of camping!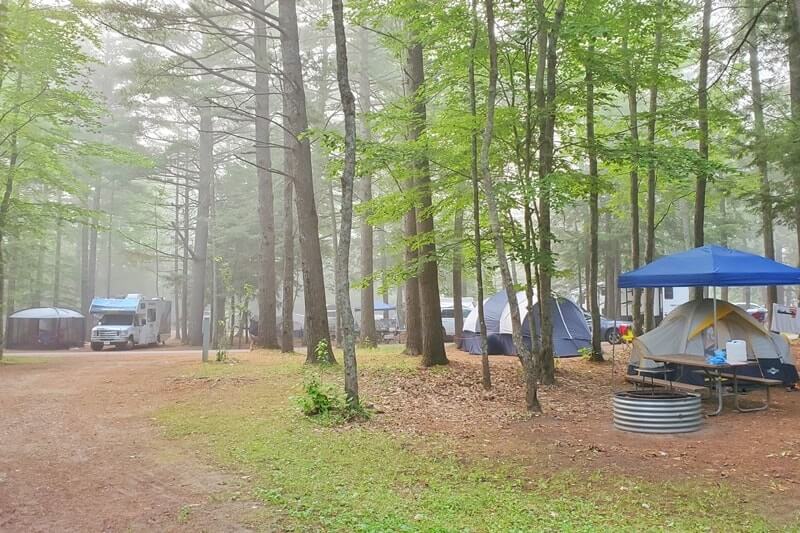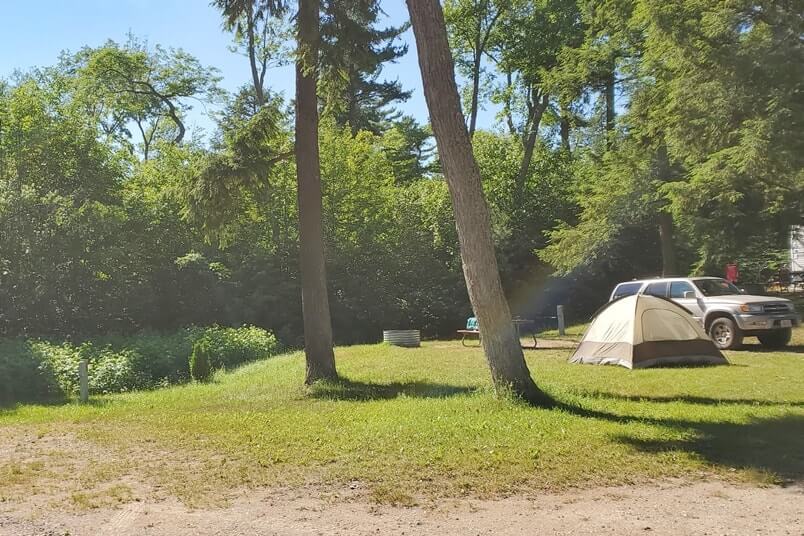 4. The Lower Falls campgrounds are "modern" campgrounds in Tahquamenon Falls State Park.
There are multiple campgrounds in Tahquamenon Falls State Park.
There are the "modern" campgrounds in the Lower Falls area (Hemlock Campground and Portage Campground).
According to Michigan State Parks:
The Hemlock Campground is located about 1 mile from the Lower Falls.

The Portage Campground is near the river and located 1/4 mile from the Lower Falls.

👆 Map of Lower Falls area of Tahquamenon Falls State Park. Portage Campground is in the upper left corner. Hemlock Campground is in the lower right corner.

👆 There's a trail that connects from the Portage Campground to get to the Lower Falls parking area.
And separately, there is another campground in Tahquamenon Falls State Park with modern, semi-modern, and rustic campsites that is located towards Lake Superior (Rivermouth Campground). It's possible to get a riverfront campsite at the Rivermouth Campground, camping right on the Tahquamenon River.

Explore the map. The "inland" spot to the left on the map is the Lower Falls campground, and the lakeside spot to the right is the Rivermouth campground. It's about a 20 minute drive from the Rivermouth campground to the start of the Tahquamenon Falls waterfall trails.
5. You can get electricity at your Lower Falls campsite.
6. There are regular bathrooms along with hot water showers at the Lower Falls campgrounds.
Closer to your campsite, you may find basic no-flush toilets.
7. There are faucets throughout the campground for drinking water.
8. There's firewood available for purchase on-site.
Because of invasive species that could come with wood brought from elsewhere, it's always best to buy your firewood locally.
The cost of a bundle of firewood at Tahquamenon Falls State Park is around $5.
9. There's a garbage dumpster for campers.
10. There's an RV dump station.
11. Down the road from the Lower Falls entrance of the state park, there's a convenience store and gas station.
You can buy ice here, and it's also the closest gas station near Tahquamenon Falls State Park. It's a 1-2 minute drive. On google maps, it's called Genes Tahquamenon. When you're there, look for the 76 sign. When you are leaving the campground, you will turn right onto the main road. (map)
12. It's a 10 drive to the start of the trail to Upper Falls from the Lower Falls campground.
Once you get to the Upper Falls parking area, there's a short trail to the Upper Falls overlook. You'll want to give yourself at least 45 minutes for this trip.
You can also hike to Upper Falls from Lower Falls, and that would be around an 8-mile round trip hike. In normal times, there's a shuttle for you to hike one way, but this was not operating in 2020 due to public health safety reasons. For 2021, you can check in with Michigan State Parks to see if the hiker shuttle is operational once your travel date gets closer.
12. Summer days are long.
Paradise MI is the city where the Porcupine Mountains State Park is located. In June and July, there are days when sunrise is before 5:30am and sunset isn't until around 8pm in Paradise MI.
That means time for lots of outdoor activities!
🌳
More photos/info below, but first...
Side note!
Here's some info on Michigan vacation prep! Top Michigan vacation spots:
PLUS:
Now…
How to make camping reservations at Tahquamenon Falls State Park
This is the official website for making a Michigan State Parks camping reservation.
You can choose Tahquamenon Falls State Park, and then go from there to choose one of the Lower Falls campgrounds or Rivermouth campgrounds.
You'll be able to find an updated campground map too.
You can also see the individual campsites that are available. If you click on an individual campsite, it will also give you any noteworthy description of the site, including whether it's a riverfront campsite on the Tahquamenon River for example.
Lower Falls, Hemlock Campground map
Lower Falls, Portage Campground map
Rivermouth Campground map (modern campsites)
Rivermouth Pines Campground map
Cost of camping at Tahquamenon Falls State Park
In 2020, the cost of camping in Tahquamenon Falls State Park at a Lower Falls campground was around $32 per night. There is an additional reservation fee.
See updated camping fees:
Also, as a Michigan State Park, a Michigan recreation passport is required for entry.
If you're a Michigan resident, hopefully you already have the annual recreation passport, in which case there's no additional fee.
If you don't have the recreation passport, or you're from out of state, for Michigan residents the annual pass is around $17 when purchased at a state park and for out-of-state residents it's around $34. See current fees here.
Checking in to your campsite
Then, once you arrive at Tahquamenon Falls State Park, you'll stop by the little office to check in and get your camping permit!
Then off you go to find your campsite!
And that's a bit about Tahquamenon Falls camping at a Lower Falls campground!
See things to do as a day trip from the Lower Falls campground:
The rest of the UP:
More waterfalls in Michigan:
More campgrounds near Tahquamenon Falls you may consider:
And see more Michigan camping spots on the list of best Michigan state park campgrounds in the UP.
HAPPY CAMPING IN TAHQUAMENON FALLS STATE PARK AT LOWER FALLS CAMPGROUND!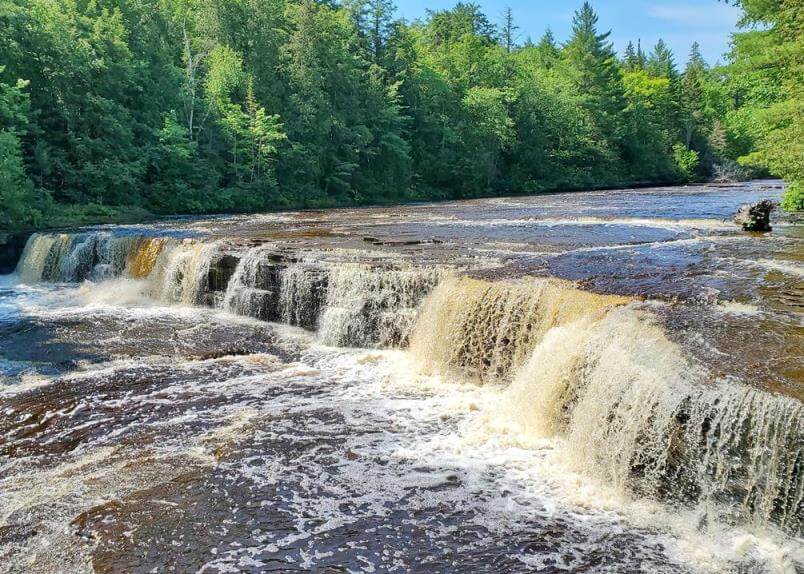 There are affiliate links on this page. Among other partners, as an Amazon Associate, I may earn a commission from this.
Things to pack for your Michigan vacation!
The ultimate beach towel for travel?!
Turkish towels are considered to be more lightweight than your average beach towel while still being absorbent. Be sure to check out
turkish towels like these
!
How to be a little bit more eco-friendly during your road trip!
Instead of using plastic silverware, try out
bamboo silverware like this set
!
The cheapo way to waterproof your phone
You can beach-proof your phone with a
simple waterproof phone case like this
.
Wear less sunscreen by wearing a UPF swim shirt!
Wearing a swim shirt means less skin that's exposed to the sun which means less sunscreen you need to apply! See about wearing
swim shirts with UV protection like these
when you're swimming in Lake Michigan or Lake Superior! Less sunscreen also means less chemicals from that sunscreen will enter our precious Great Lakes!
Get your travel bags more organized!
Packing cubes can make it so you're spending less time on your vacation looking for things! They are basically a form of drawers in your suitcase. Take a look at
these packing cubes
.