Hi there!
So a trip to Crisp Point means a trip to the shores of Lake Superior in the eastern part of the Upper Peninsula.
Here, you can see where the Crisp Point Lighthouse stands.
This is one of the many Lake Superior lighthouses.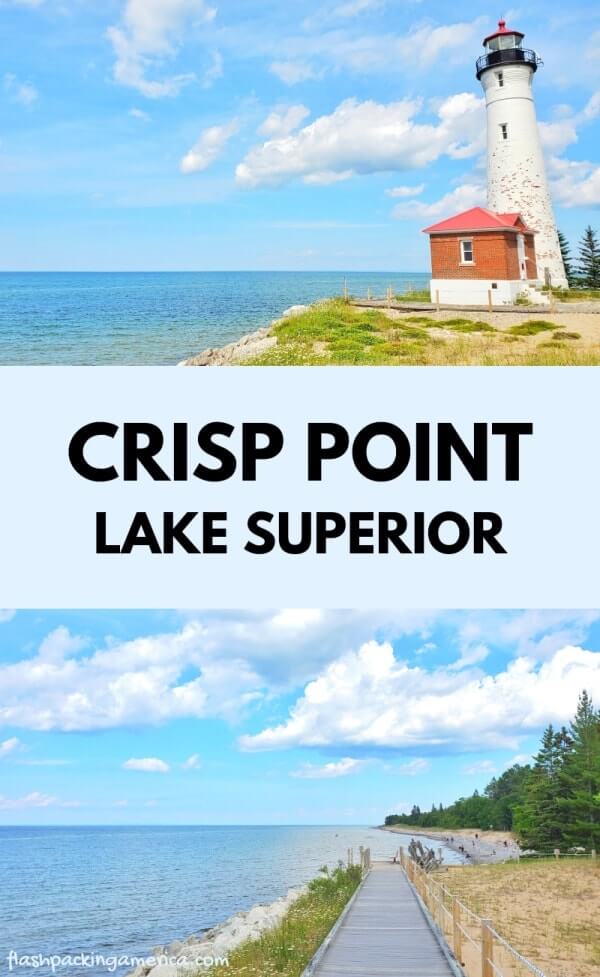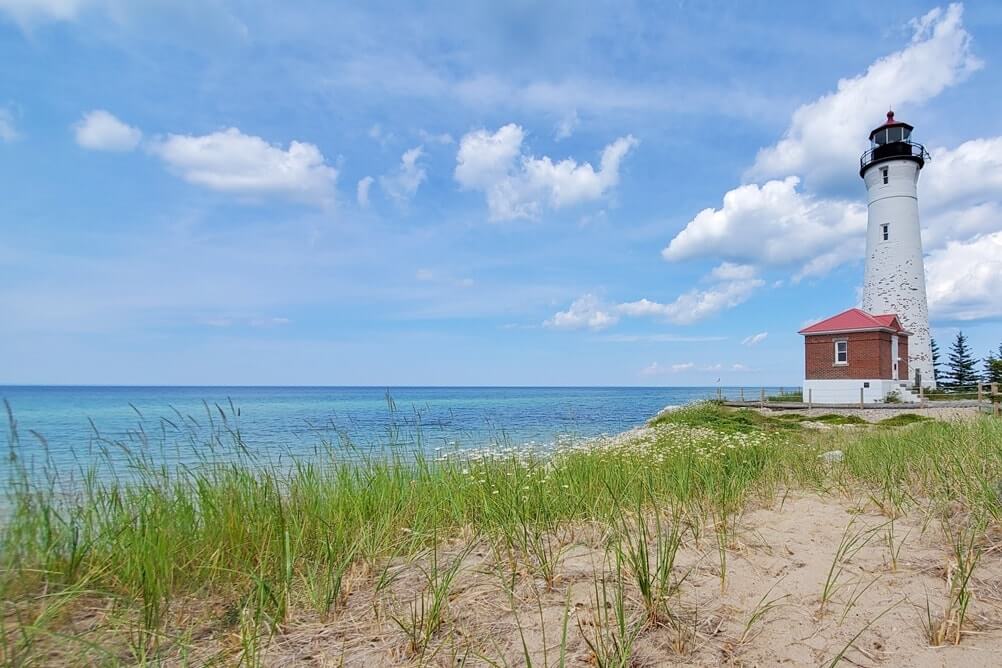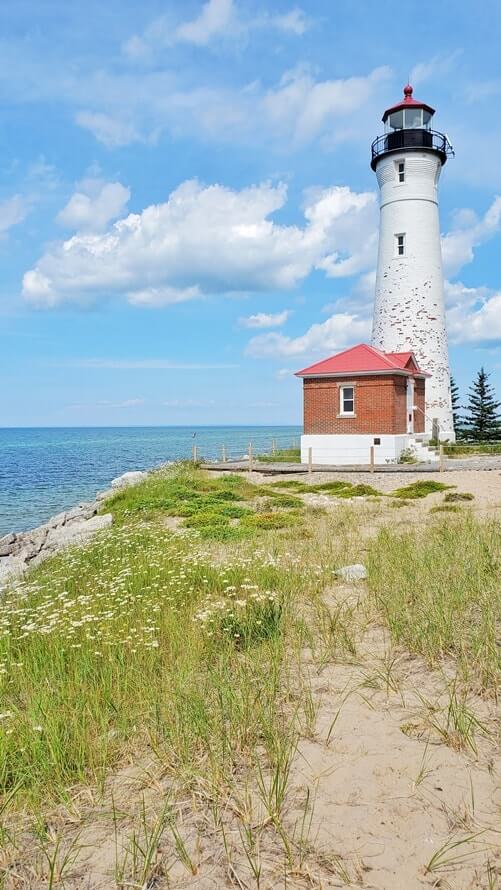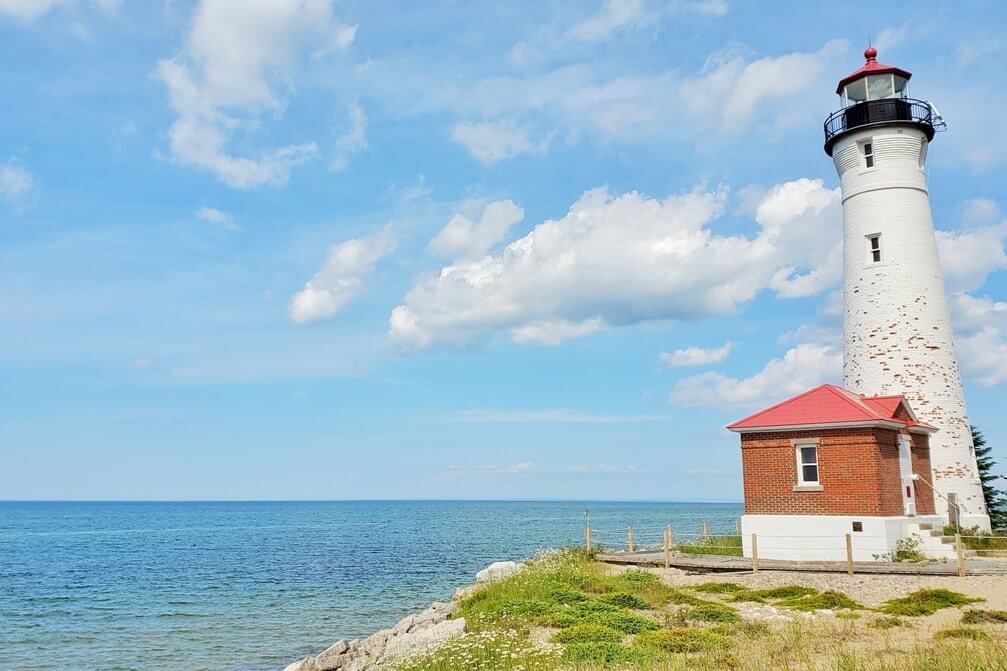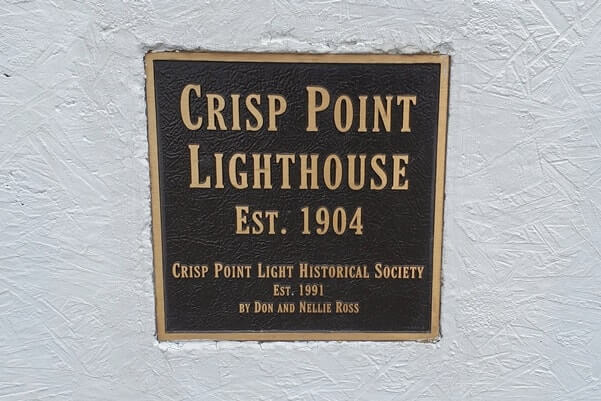 It also means a trip to beaches on Lake Superior. There's a beach on both sides of the lighthouse.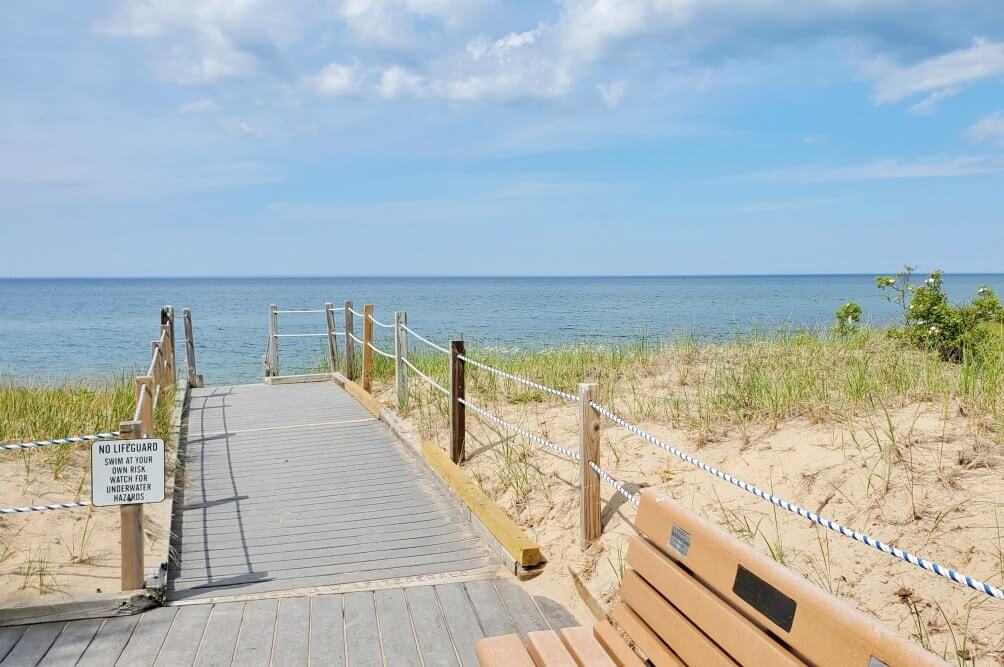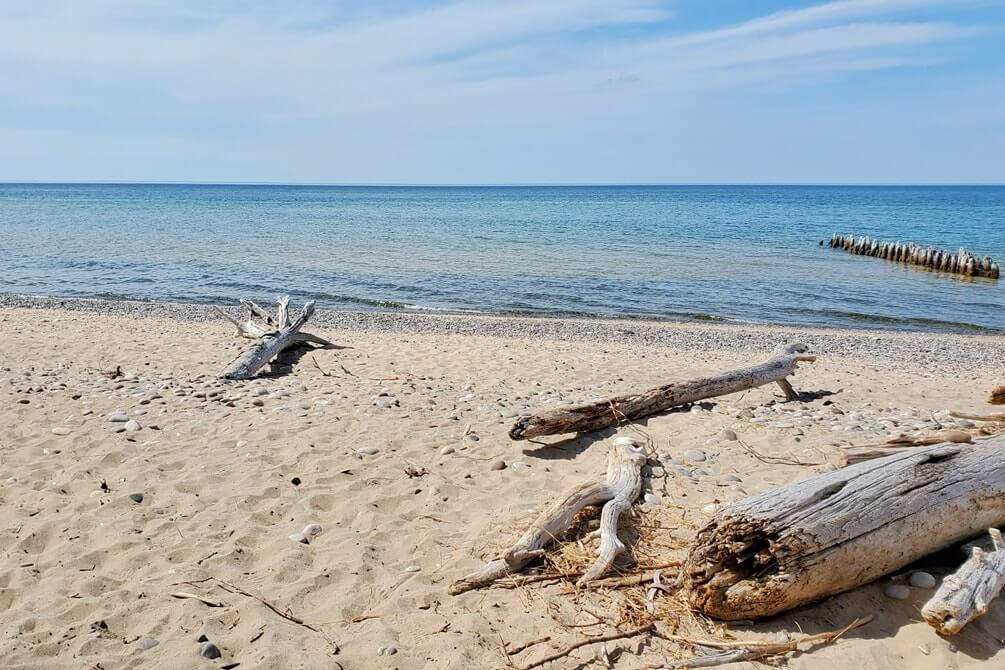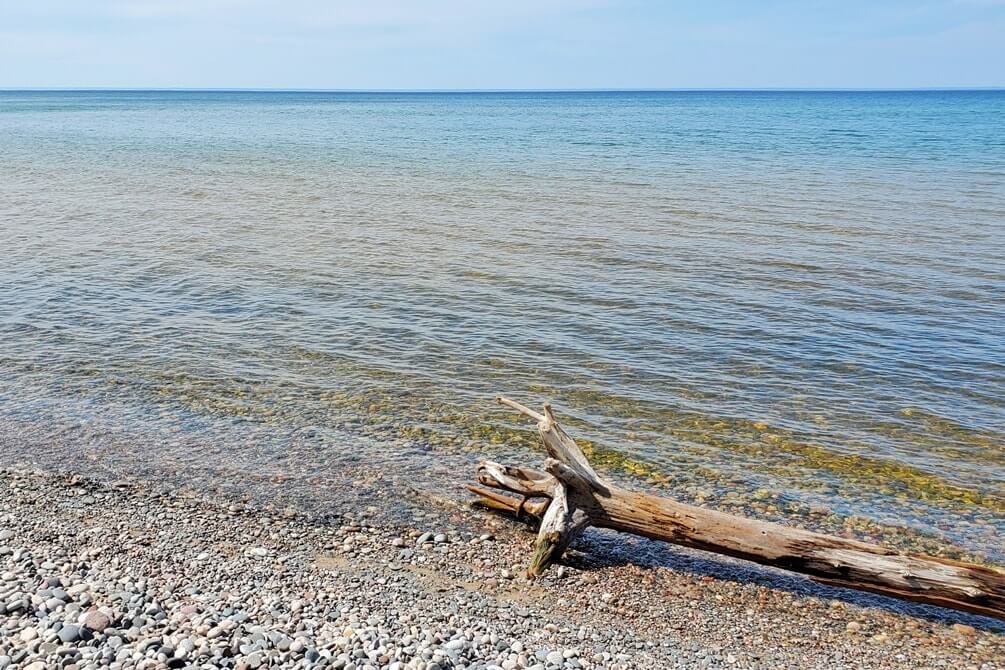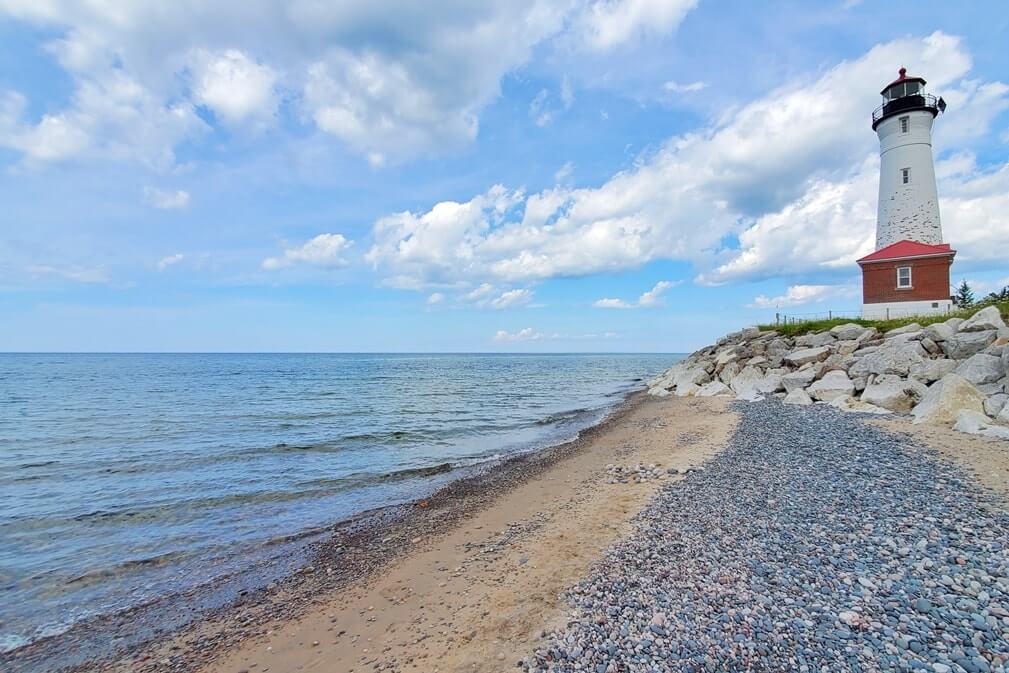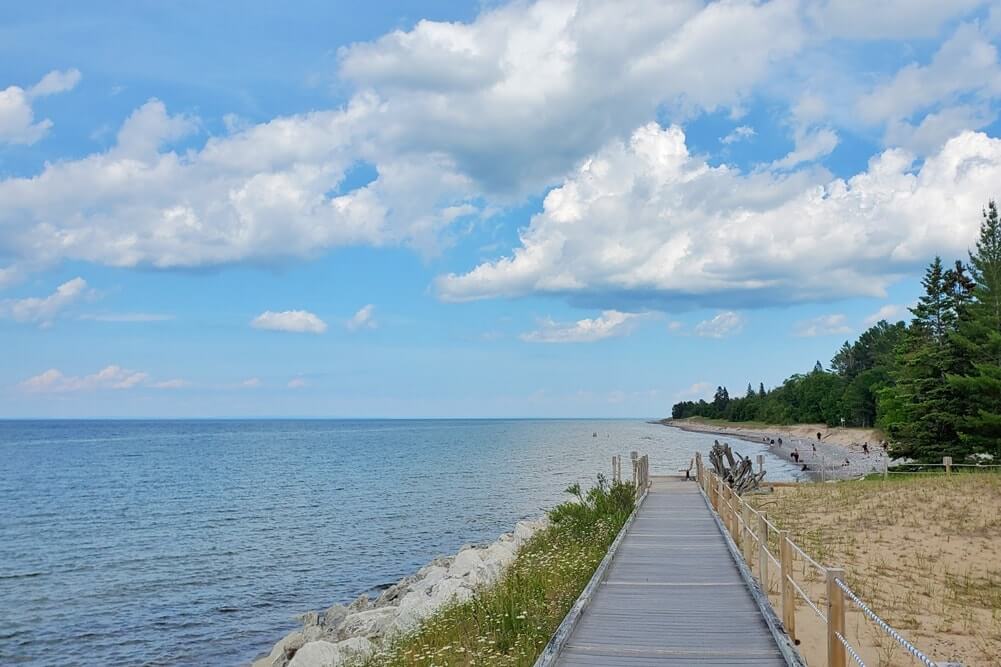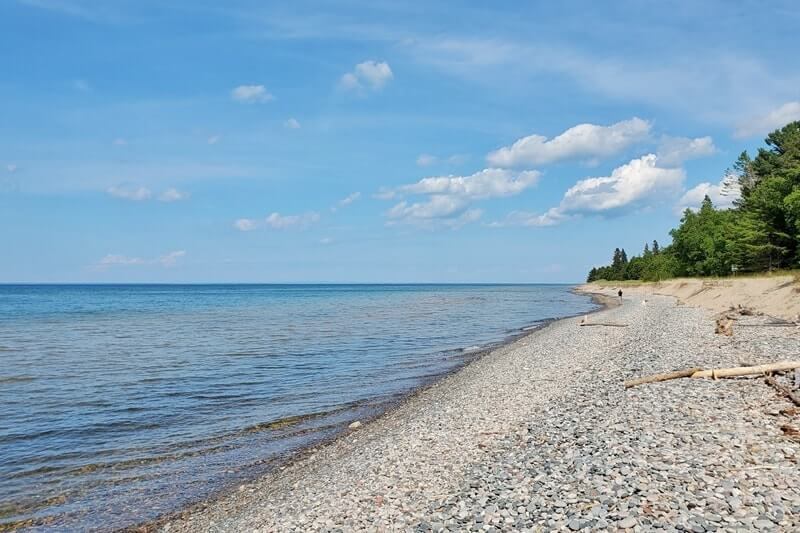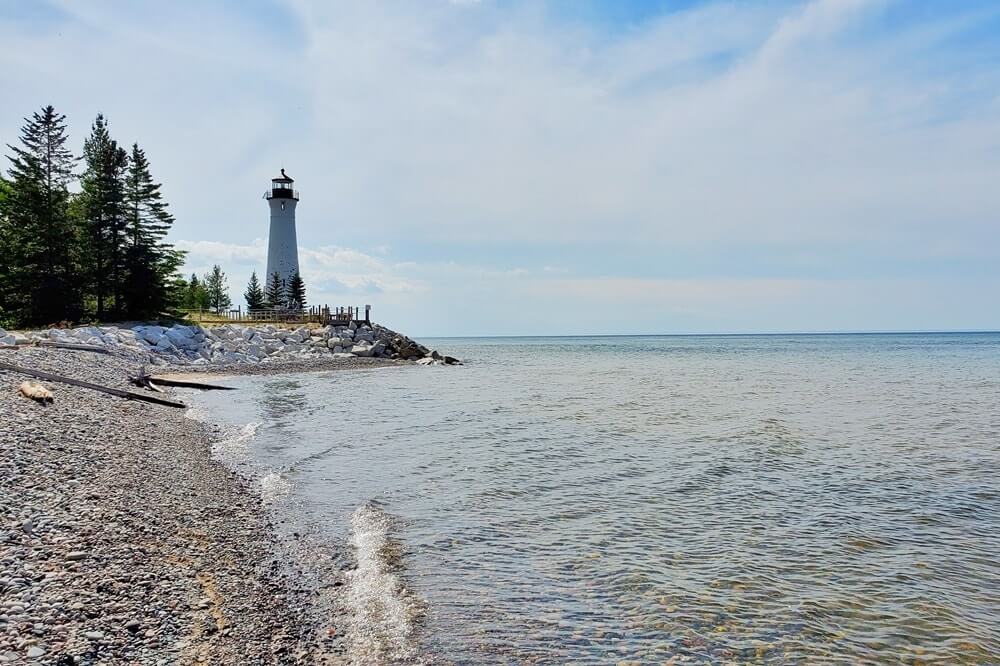 These are both beaches where you can try searching for special Lake Superior rocks. You can look for colorful rocks.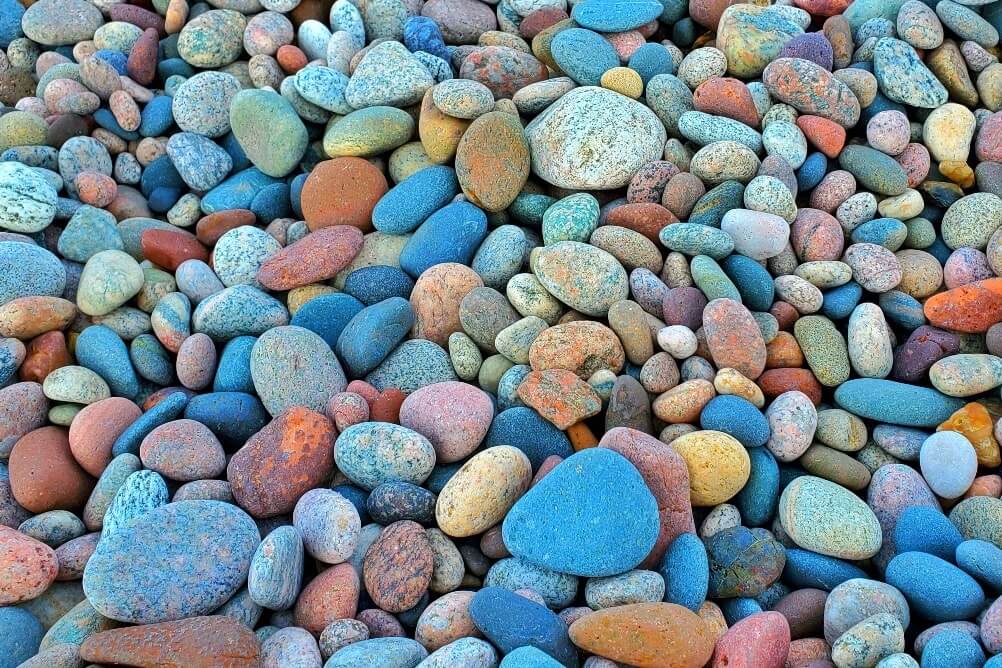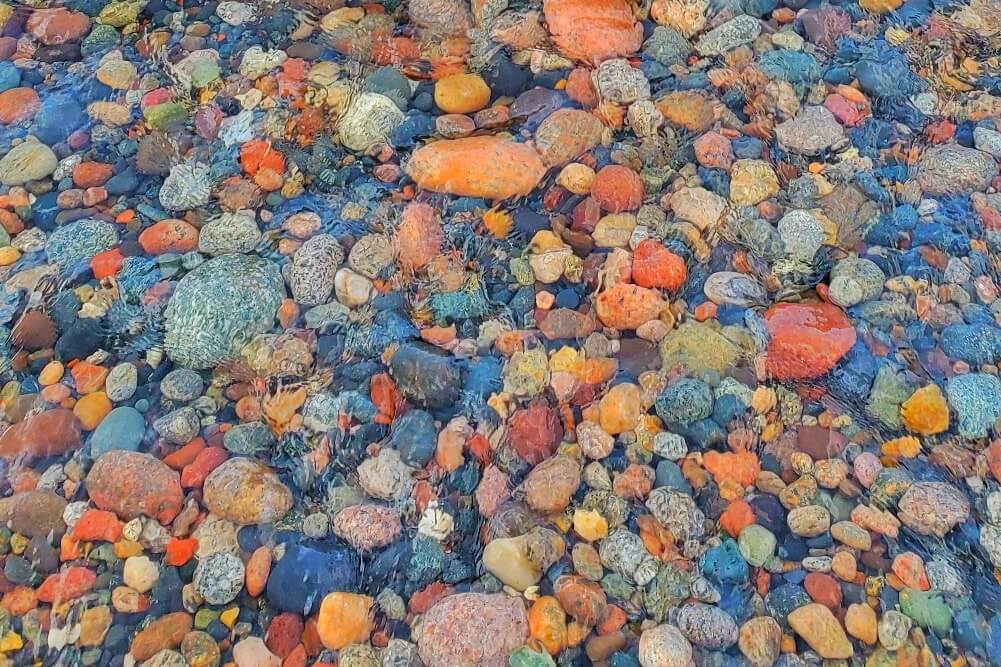 And, a trip to Crisp Point also means taking some dirt roads that are more so the backroads of the UP!
Once you're at Crisp Point, there are several areas where you'll find benches and you can sit with views of Lake Superior and the lighthouse in the background.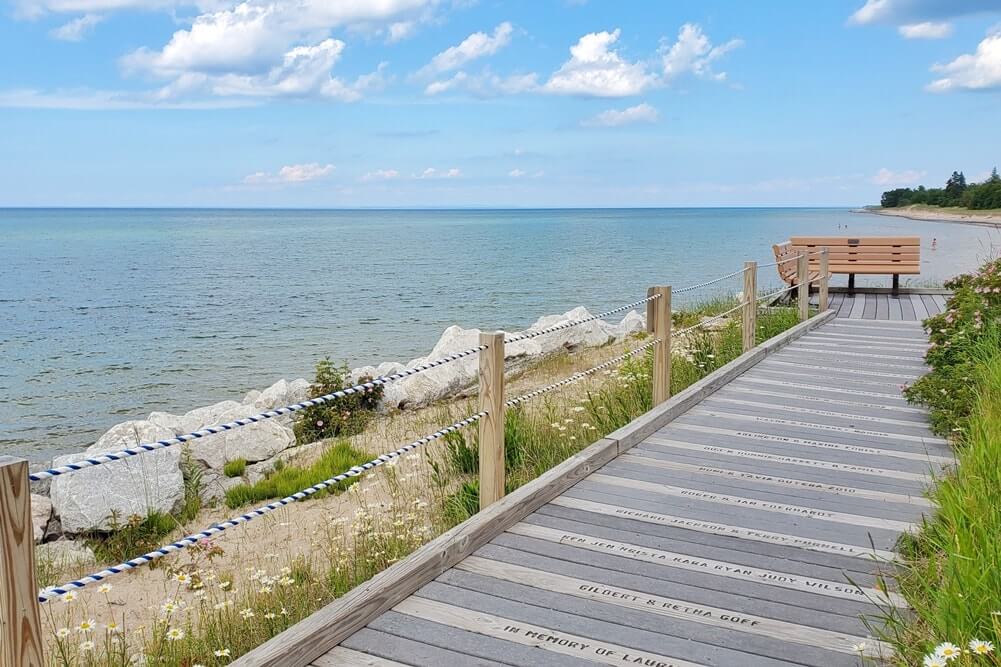 The Crisp Point Lighthouse was a Lake Superior station that also served as a US Life-Saving Station (equivalent of present-day US Coast Guard) along what can be considered the most dangerous areas of the Great Lakes for ships. Read the history of Crisp Point Lighthouse.
More for your trip to the UP beyond Crisp Point Lighthouse
If you're interested in Crisp Point Lighthouse, then you may also be interested in these things around the UP:

More below about what a drive to Crisp Point Lighthouse can be like!

⚓
And now…
A bit of what a trip to Crisp Point can be like… along with the drive there!
PHOTOS!
I made a visit to Crisp Point in July 2020.
At this time, the Crisp Point visitor center was open, and it was also possible to walk around the grounds of the Crisp Point Lighthouse.
But the Crisp Point lighthouse tower was closed because of healthy safety reasons. In normal times, it would be possible to climb up the lighthouse tower to get grand views of Lake Superior.
To see if the tower will be open in 2021, you can take a look at the Crisp Point Light Historical Society's website before you go.
So one of the most convenient times to go to Crisp Point during your UP trip will be alongside a visit to the popular Tahquamenon Falls State Park. The turnoff onto the road to Crisp Point is located around 5-10 minutes from the state park.
Be sure to gas up before you leave for Crisp Point though!
Once you turn off the main road (M-123 aka Tahquamenon Scenic Byway), the drive will be mostly on a dirt road (County Road 500).
You'll be driving for about an hour to reach the lighthouse and you won't find much of anything!
There's a gas station a couple minutes drive from Tahquamenon Falls State Park.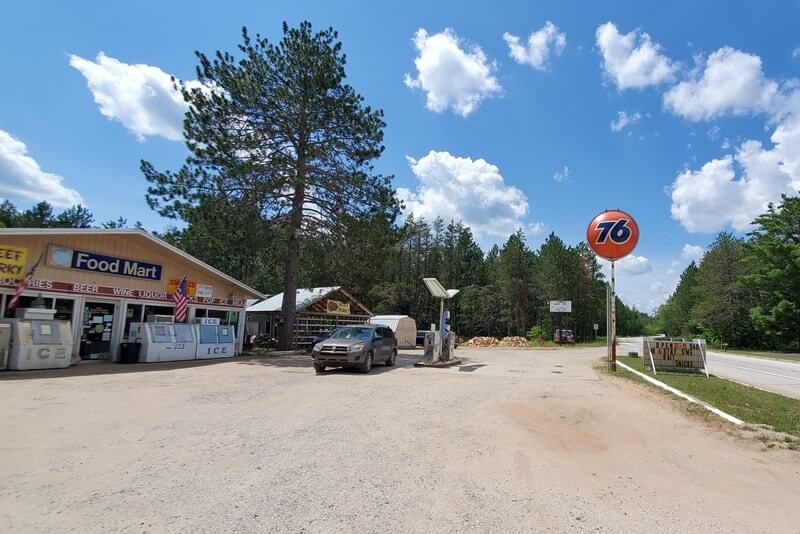 To get you onto County Road 500 from Tahquamenon Falls, you can put in Crisp Point Lighthouse as your destination for google maps.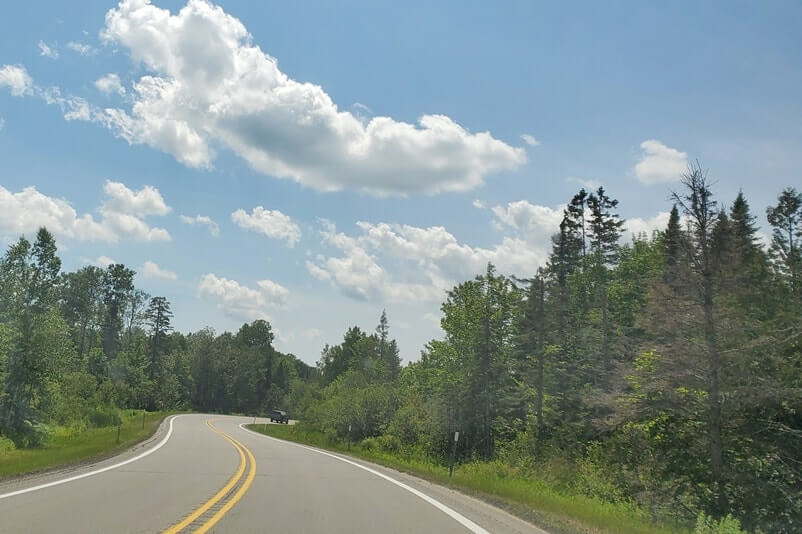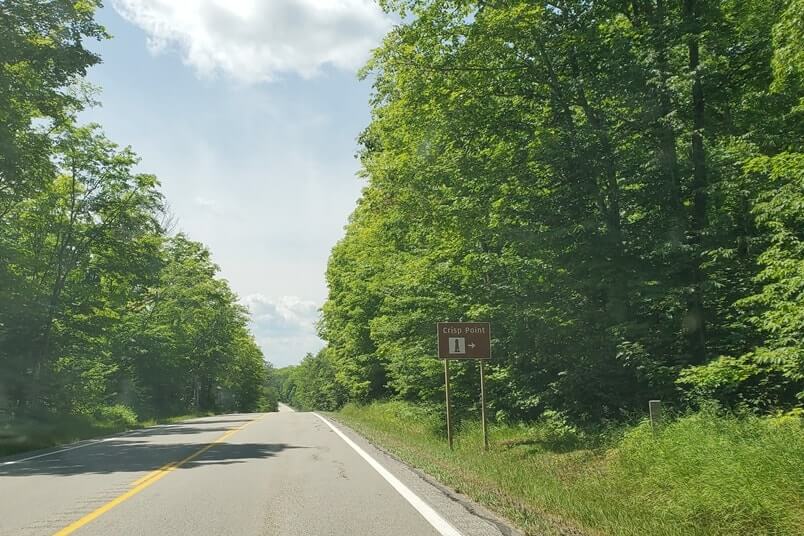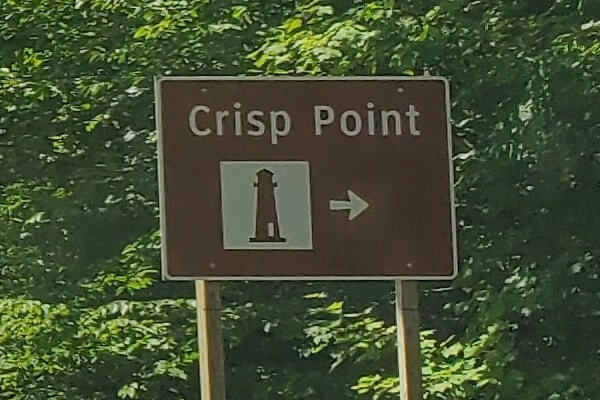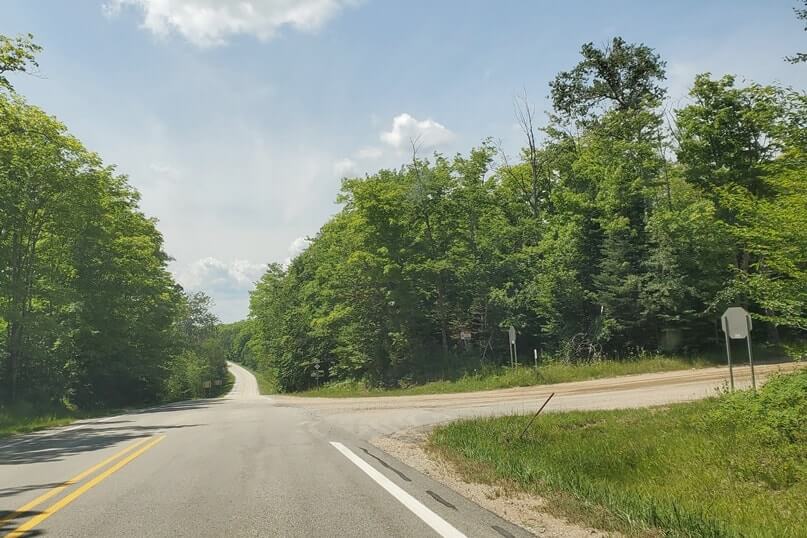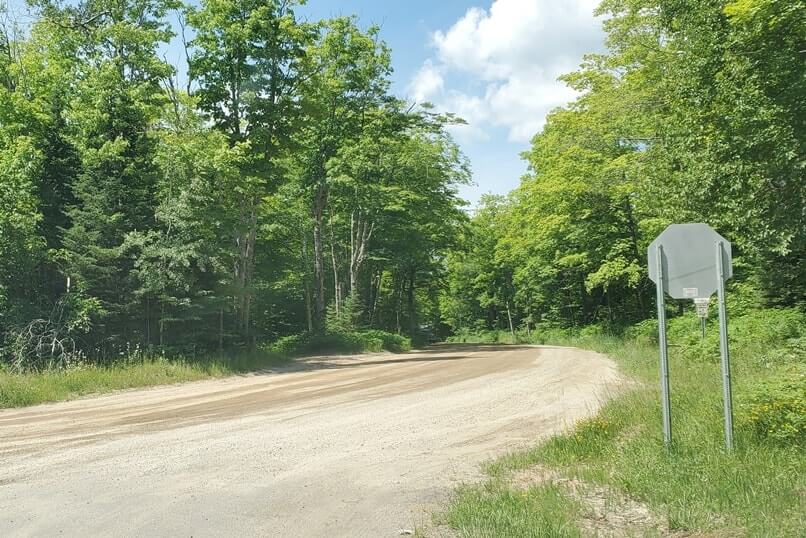 And then, the people of the Crisp Point Light Historical Society warn:
Do not follow your GPS from Paradise to the lighthouse.

It may take you down narrow two-track roads that can be impassable.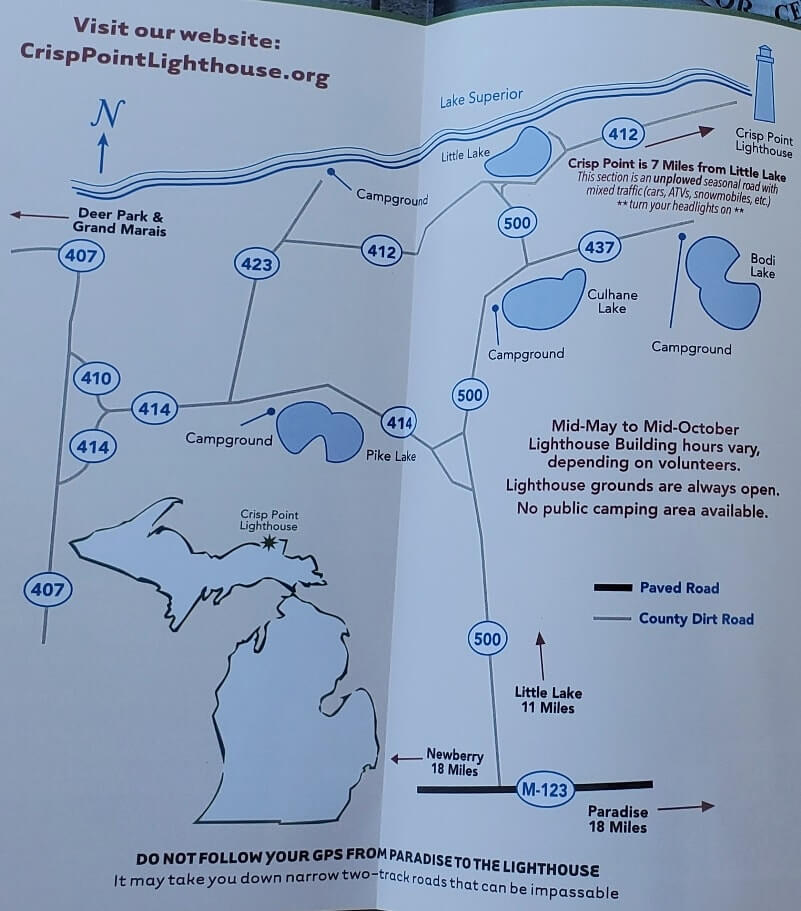 Side note, another local tip I received: When you're on these sort of backroads of the UP, stick to the numbered roads! (For example government/county roads.)
So once you do get onto the county road, you can look for the (sometimes quite small) signs to follow the road to the lighthouse.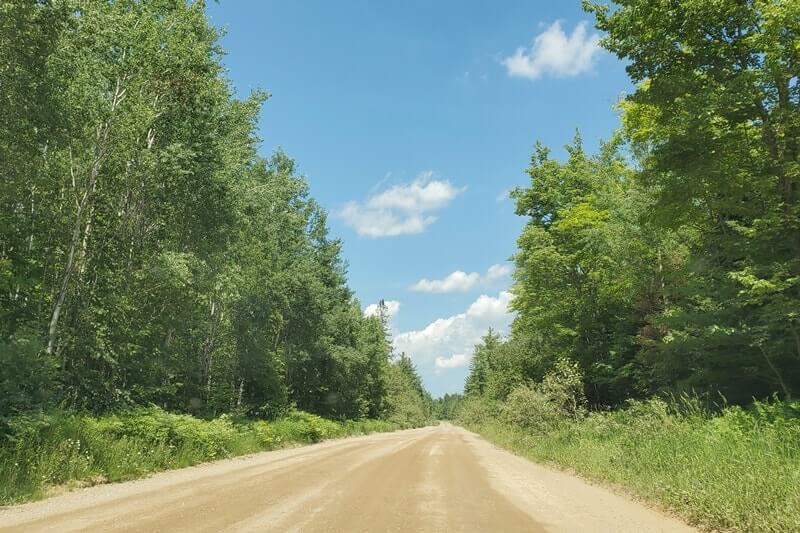 And then you will be driving for nearly an hour when you will start to see Lake Superior!
And the lakeshore drive will then end at the Crisp Point parking area, and you will get your first glimpse of the lighthouse!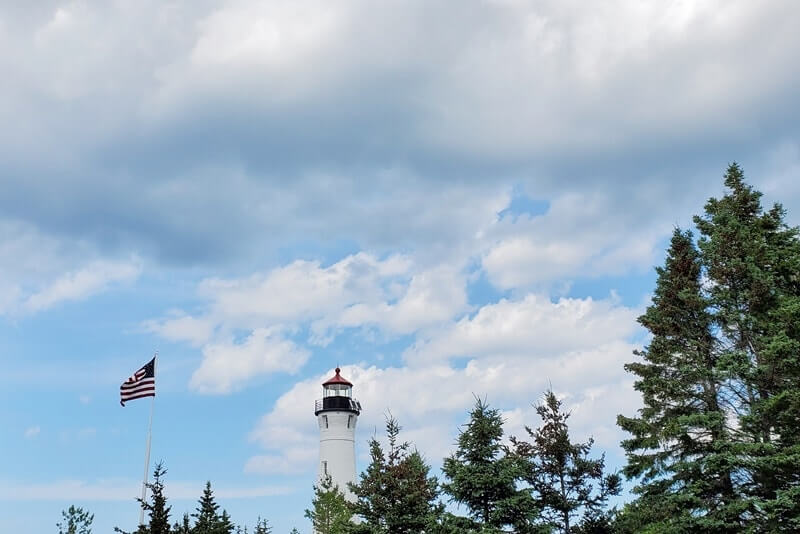 Then, you can make your way to the Crisp Point Visitor Center (where there's a bathroom), or you can take the trail to head straight to the lighthouse and Lake Superior!
Trail to the lighthouse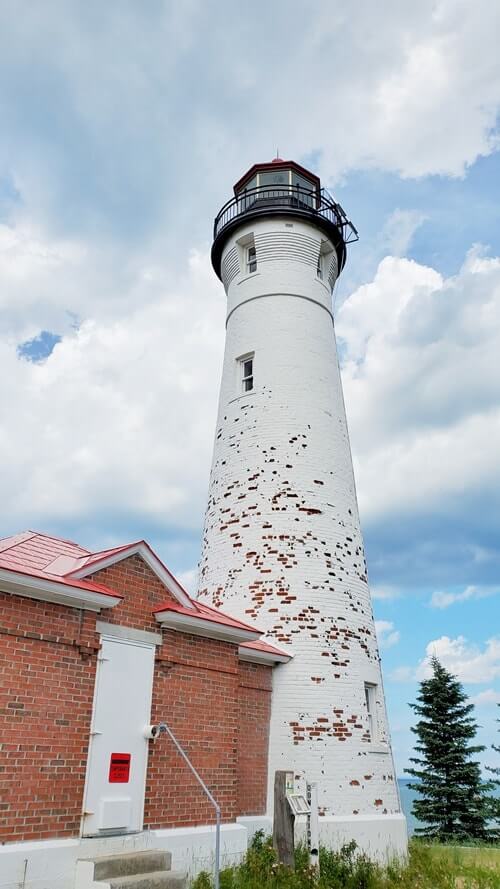 Crisp Point beach and Lake Superior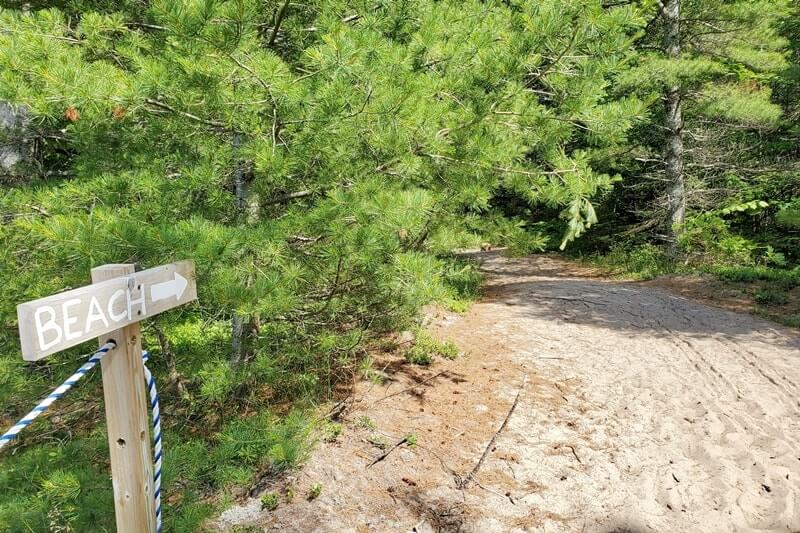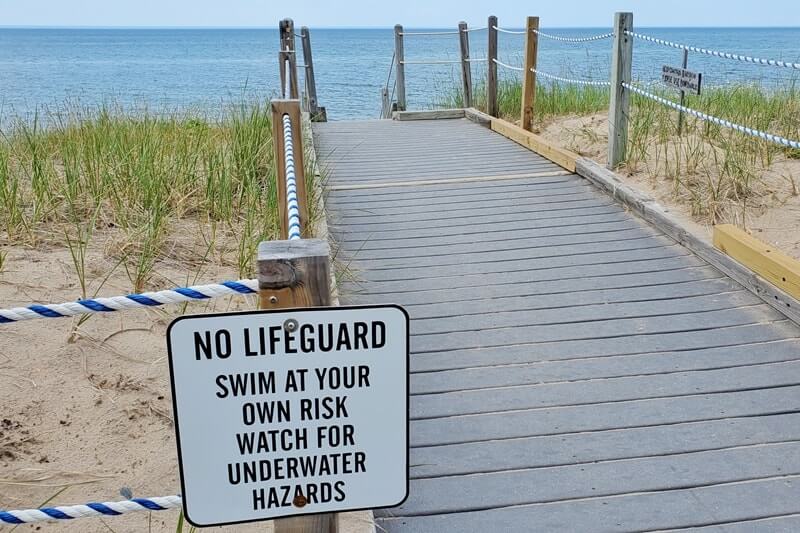 And that's a bit of what a visit to the Crisp Point Lighthouse can be like!
See neighboring Lake Superior lighthouses:
See more lighthouses in Michigan:
HAPPY VISIT TO CRISP POINT AND LAKE SUPERIOR!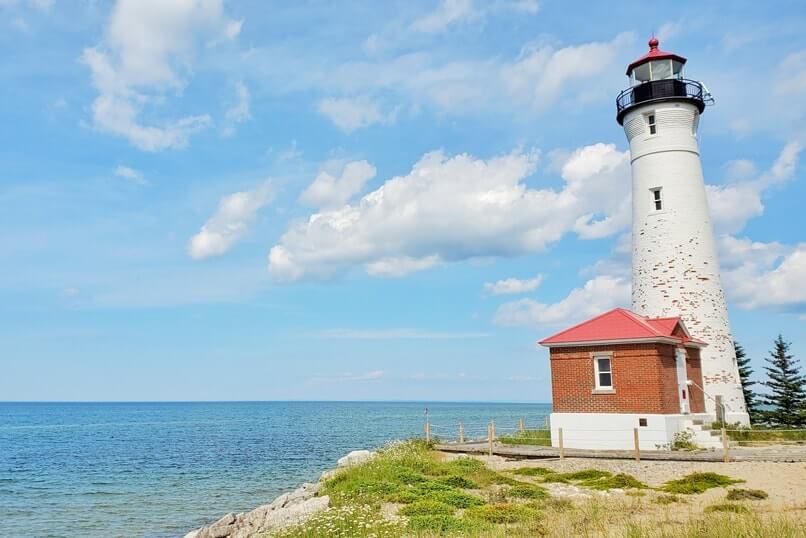 Here are some ideas for an Upper Peninsula road trip!
The most important places in the UP to know about are
Pictured Rocks National Lakeshore
,
Tahquamenon Falls State Park
, and the bubbling Big Spring of
Kitch-iti-kipi
.
Make it a Michigan camping trip to remember by going
camping near Lake Superior
.
Lighthouses are also a thing, so stop by one of the
Lake Superior lighthouses
(or many more!), like
Whitefish Point
and/or
Crisp Point
. You can also go to the Great Lakes Shipwreck Museum to explore why Lake Superior has a reputation for being Shipwreck Coast and the
Graveyard of the Great Lakes
.
Many people don't make it over to the
western part of the Upper Peninsula
. But if you want to, you will want to know about
Porcupine Mountains Wilderness State Park
and the
Keweenaw Peninsula
.
Then, on your way back down south, you can make a detour to go to
Mackinac Island
(ferry required) or
Sleeping Bear Dunes National Lakeshore
. (Or, you can do these things on your way up north!)
Read the details:
Best places to visit in the Upper Peninsula
Take care when camping!
Message from the State of Michigan Department of Natural Resources:
Michigan is currently experiencing unprecedented hot and dry conditions, causing extreme fire danger.
While we desperately await some much-needed rainfall, it's important to note that you could be the difference between a campfire and a wildfire.
We strongly suggest you refrain from any outdoor burning at this time.
If you do decide to have a campfire, be sure to:
- Keep a water source next to your campfire.
- Properly extinguish your campfire when you are finished by dousing with water and stirring dirt in with a shovel.
- Use the back of your hand to detect if heat is still coming from the fire or ring. If you can feel heat, the fire is not out. Douse and stir again.
- Spray down the metal ring of your campfire. The heat from that can cause dry grass to catch fire.
- Never leave your fire unattended, not even for a minute.
Read more from the
State of Michigan
.


There are affiliate links on this page. Among others, as an Amazon Associate I may earn from purchases.