Hi there!
There are 5 lighthouses on Lake Superior that can be perfect to make a part of your Michigan lighthouse road trip in the Upper Peninsula!
There are lots more than 5 lighthouses on Lake Superior, though!
And Lake Superior isn't the only lake with lighthouses in Michigan!
There are said to be around 100 lighthouses remaining on the shores of Michigan!
These lighthouses are scattered across the Great Lakes, and many of them can be found along the shores of Lake Superior.
This map and list will focus on the Lake Superior lighthouses in Michigan, which also means that this is a map and list of Lake Superior lighthouses in the Upper Peninsula of Michigan (aka the UP), since Lake Superior only touches the Upper Peninsula portion of Michigan.
This is not an exhaustive list of Lake Superior lighthouses. But it does include lighthouses that can be a perfect part of a first trip to the UP!
If you are interested in further exploring Michigan lighthouses, then be sure to order your FREE lighthouse map from the tourism people at the West Michigan Tourist Association. (The lighthouse map includes all the Great Lakes of Michigan, including Lake Superior, not just the lake that touches the western shores of Michigan.)
There are also Lake Superior lighthouses along the shores of Wisconsin, Minnesota, and Ontario (Canada), but again, this list will focus on Michigan lighthouses.
And for more lighthouses around the Great Lakes, see about making it a Lake Ontario lighthouse road trip in New York!
MAP: Lake Superior lighthouses to visit during your Michigan lighthouse tour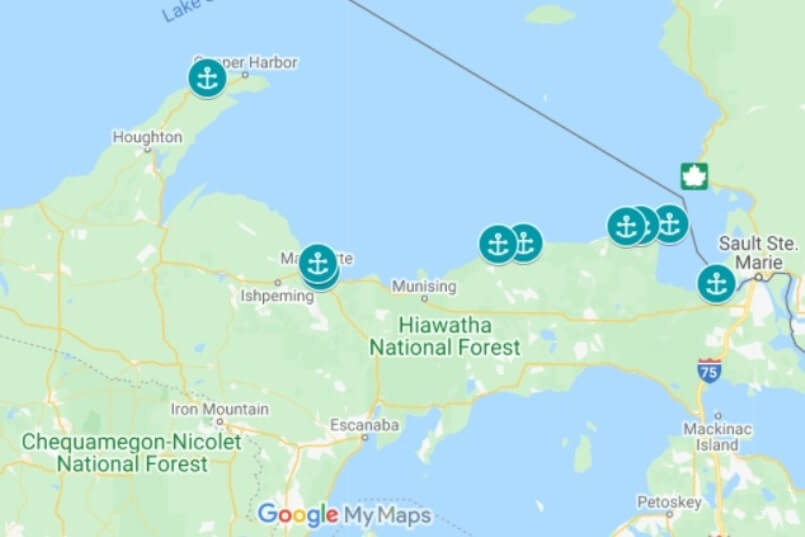 Explore the map.
More for your trip to the UP beyond Lake Superior lighthouses
If you're interested in Lake Superior lighthouses, then you may also be interested in these things around the UP:
See below for a little bit more info about what's on the map and tips on planning your Lake Superior lighthouse tour and UP road trip!
⚓
And now…
THE LIST! What's on the map?
Lake Superior lighthouses in the Upper Peninsula of Michigan
This list goes from east to west along Lake Superior. If you're coming from the lower peninsula of Michigan, you'll cross the Mackinac Bridge and then arrive in the eastern part of the UP.
Basically, this is the general driving route you can take if you want to do a Lake Superior lighthouse tour for a great UP road trip! If you'll be arriving to Michigan from Wisconsin, start the list from bottom up!

Explore the map.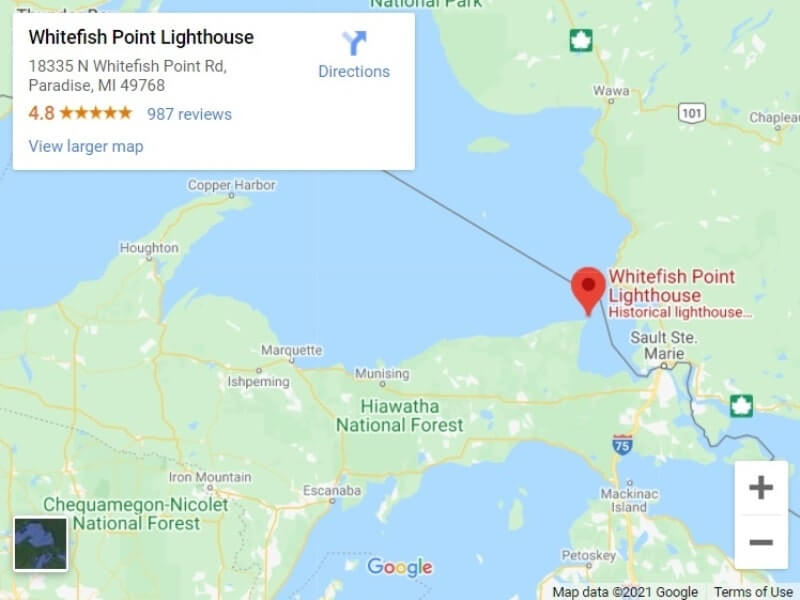 Explore the map.
A must-visit for Michigan lighthouse fans and Great Lakes lighthouse fans!
It's said that there have been hundreds of shipwrecks along the Lake Superior coastline. Stop at Whitefish Point to learn about why Lake Superior is among the most dangerous areas for ships, and it's even been called the "graveyard of Lake Superior" or further the "graveyard of the Great Lakes."
The Great Lakes Shipwreck Museum is located at Whitefish Point. Learn more about Great Lakes maritime history.
You'll also see a number of memorials in remembrance of the people who lost their lives in the powerful waters of Lake Superior.
The beach at Whitefish Point can be a rock hunting beach.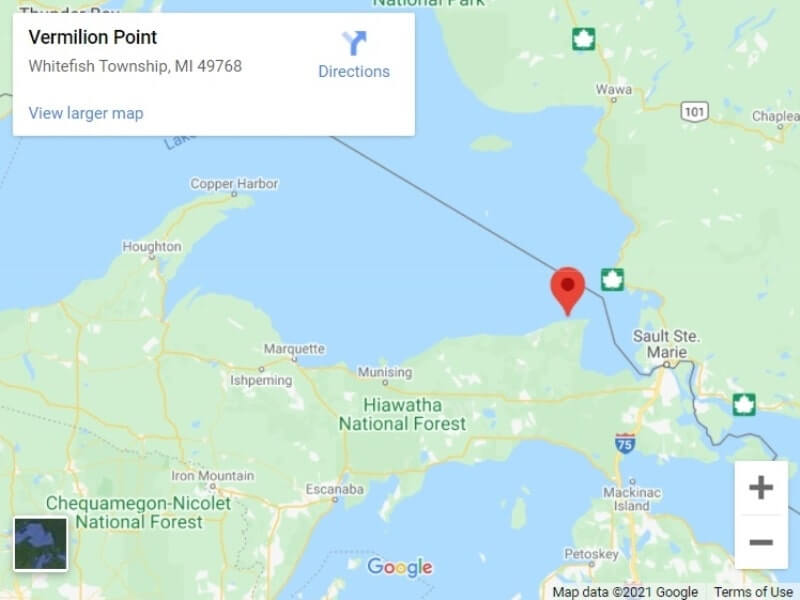 Explore the map.
Vermilion Point is located around 10 miles down the shoreline from Whitefish Point, but you'll be driving inland to get there so it will take a bit longer.
There is no lighthouse here, but there's a "life-saving station." This was the equivalent of the present-day U.S. Coast Guard. This stood as an important station to save lives because the shoreline here is also part of one of the most dangerous areas of Lake Superior.
Visit this Lake Superior life-saving station for a great UP experience. Vermilion Point will be great to visit because it requires taking somewhat of the "backroads" or the UP to get there!
The beach at Vermilion Point can be a rock hunting beach.

Explore the map.
And this is again located just a few miles down from Vermillion Point (maybe 5 miles or so), but once again you'll be driving inland to get here so it will take longer. This is another spot you can go to for a great UP experience, driving some of the backroads of the UP.
The beaches at Crisp Point can be rock hunting beaches.
If you didn't get a chance to get a lighthouse map from the West Michigan tourism people, you may find a map at the Crisp Point Lighthouse visitor center for a "donation" or $1 or so. (If you will be driving up from the south, the McGulpin Point Lighthouse visitor center in Mackinaw City may have the same map as well.)
5. Grand Marais Harbor lighthouses

Explore the map.
This can be a visit as a stop along the way as you are driving further west. There is an "inner" light and "outer" light. You can walk across small sand dunes to get to the lighthouse pier. You can then walk out onto the pier to the outer light and see the Grand Sable Dunes of Pictured Rocks National Lakeshore off in the distance.
This is a rock hunting beach.
6. Au Sable Point Lighthouse

Explore the map.
This is the lighthouse that's located in Pictured Rocks National Lakeshore. It requires a hike along Lake Superior to get to! You can hike here from Hurricane River or the Log Slide sand dunes.
7. Marquette Harbor Lighthouse

Explore the map.
8. Presque Isle Harbor Breakwater Light

Explore the map.
Go for a walk out on the pier of the Marquette lighthouse that's located in the Presque Isle Park. While you're here, go and visit the scenic "Black Rocks" area of the park too!
9. Eagle Harbor Lighthouse

Explore the map.
And that's a bit about planning your Michigan lighthouse Lake Superior tour in the Upper Peninsula!
See more about planning your Lake Superior road trip.
To make it a shorter trip, or a slower trip, you can also make it just an eastern UP road trip that will include the main shipwreck coast lighthouses listed above!
You can also make it a Lake Superior camping trip! There are a number of campgrounds that are right alongside the shores of Lake Superior.
You can make it a Michigan waterfalls tour too!
HAPPY LAKE SUPERIOR LIGHTHOUSE TRIP PLANNING!
Here are some ideas for an Upper Peninsula road trip!
The most important places in the UP to know about are
Pictured Rocks National Lakeshore
,
Tahquamenon Falls State Park
, and the bubbling Big Spring of
Kitch-iti-kipi
.
Make it a Michigan camping trip to remember by going
camping near Lake Superior
.
Lighthouses are also a thing, so stop by one of the
Lake Superior lighthouses
(or many more!), like
Whitefish Point
and/or
Crisp Point
. You can also go to the Great Lakes Shipwreck Museum to explore why Lake Superior has a reputation for being Shipwreck Coast and the
Graveyard of the Great Lakes
.
Many people don't make it over to the
western part of the Upper Peninsula
. But if you want to, you will want to know about
Porcupine Mountains Wilderness State Park
and the
Keweenaw Peninsula
.
Then, on your way back down south, you can make a detour to go to
Mackinac Island
(ferry required) or
Sleeping Bear Dunes National Lakeshore
. (Or, you can do these things on your way up north!)
Read the details:
Best places to visit in the Upper Peninsula
Take care when camping!
Message from the State of Michigan Department of Natural Resources:
Michigan is currently experiencing unprecedented hot and dry conditions, causing extreme fire danger.
While we desperately await some much-needed rainfall, it's important to note that you could be the difference between a campfire and a wildfire.
We strongly suggest you refrain from any outdoor burning at this time.
If you do decide to have a campfire, be sure to:
- Keep a water source next to your campfire.
- Properly extinguish your campfire when you are finished by dousing with water and stirring dirt in with a shovel.
- Use the back of your hand to detect if heat is still coming from the fire or ring. If you can feel heat, the fire is not out. Douse and stir again.
- Spray down the metal ring of your campfire. The heat from that can cause dry grass to catch fire.
- Never leave your fire unattended, not even for a minute.
Read more from the
State of Michigan
.


There are affiliate links on this page. Among others, as an Amazon Associate I may earn from purchases.