Hi there!
The Keweenaw Peninsula is known for being a remote area of the Upper Peninsula.
Not as many people get up to the Keweenaw Peninsula because of its remote location!
This list focuses on stops to make to see the beauty of the Keweenaw Peninsula on your drive to Copper Harbor in the Western Upper Peninsula!
This includes plenty of Lake Superior views and views of what can look like red beaches!
Where is Copper Harbor?
Copper Harbor is at the very northern tip of the Keweenaw Peninsula, which is at the northern tip of the Upper Peninsula of Michigan.
This makes Copper Harbor the very northern end of "mainland" Michigan.
There's a major island, Isle Royale National Park, that's a part of Michigan and further north. You can get a ferry to there from Copper Harbor.
These things to do on this list are located in the far northern area of the Keweenaw Peninsula.
Consider these things to do on your drive to Copper Harbor.
For reference on a map, you can look for Eagle Harbor and Copper Harbor to know the general area of where these things are located in the UP.

Explore the map.
How do you pronounce Keweenaw?!
Probably not how you just read it! Keweenaw is pronouced more like "kee-wuh-naw." You can listen to the audio here from the State of Michigan.
And if there are other cities in Michigan that you've wondered how to say, the State of Michigan has a list that seems to include how to pronounce all the cities in Michigan!
More for your trip to the UP beyond Keweenaw Peninsula
If you're interested in the Keweenaw Peninsula, then you may also be interested in these things around the UP:
Now see the list of things to do near Copper Harbor below!
🌳
And now…
What are the prettiest parts of the Keweenaw Peninsula?
Quick list of things to do in the Keweenaw Peninsula:
This is in the order you can make these stops. This generally goes in the direction of south/west to north/east, with an exception that's noted below. Pictures are below too.
To get from Eagle Harbor to Copper Harbor directly with no stops is around a 30 minute drive. You can take the northern route (M-26) or the southern route (US-41).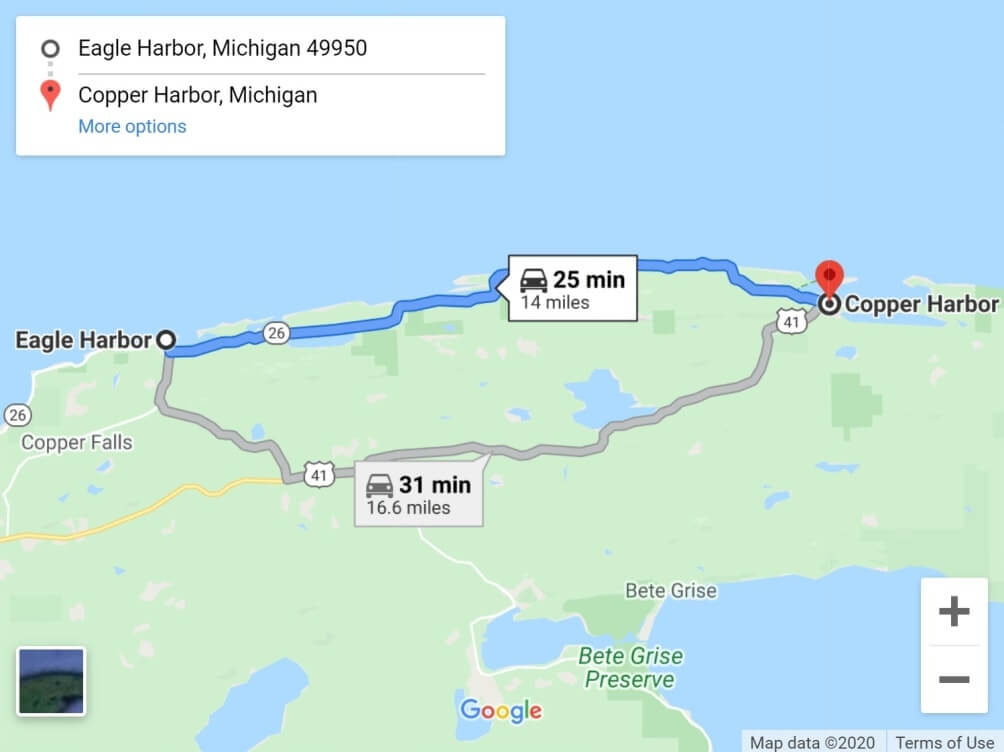 Explore the map.
The stops on this list follow M-26, the northern route, which basically goes along Lake Superior. This road will then take you onto US-41 once you're in Copper Harbor.
1. Eagle Harbor Lighthouse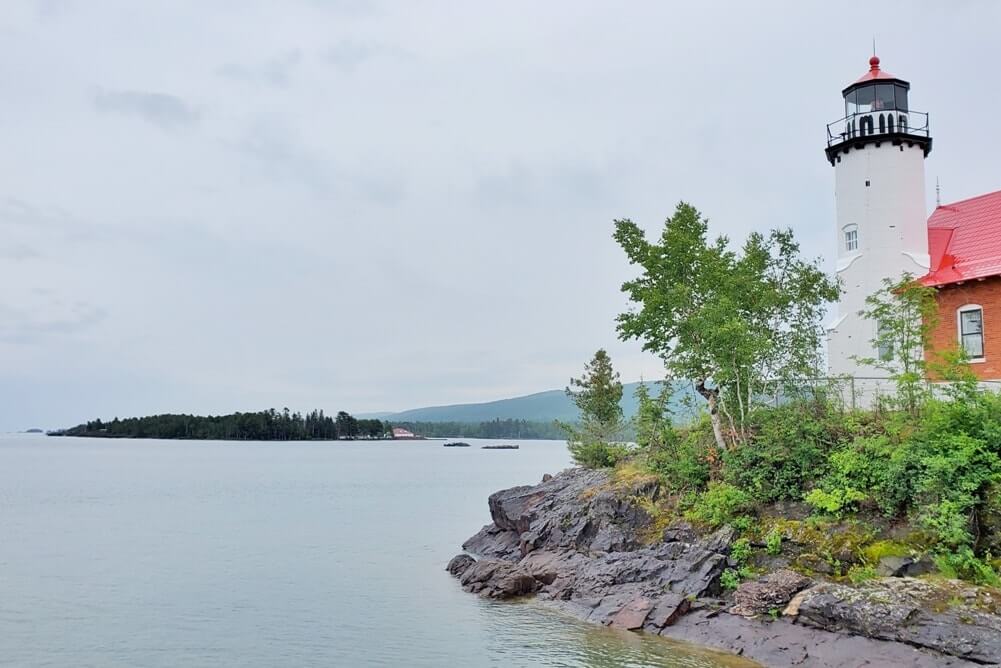 Being a state of many Great Lakes, Michigan is said to be home to around 100 lighthouses! And some of these lighthouses can be found in the Keweenaw Peninsula, and that includes the Eagle Harbor Lighthouse. This is one of the many Lake Superior lighthouses.
Even if the lighthouse museum is closed and you can't go inside any of the building (which was the case in summer 2020), you can still visit the grounds to walk around and learn about the history of the lighthouse and how it was used in the past.
2. Esrey Park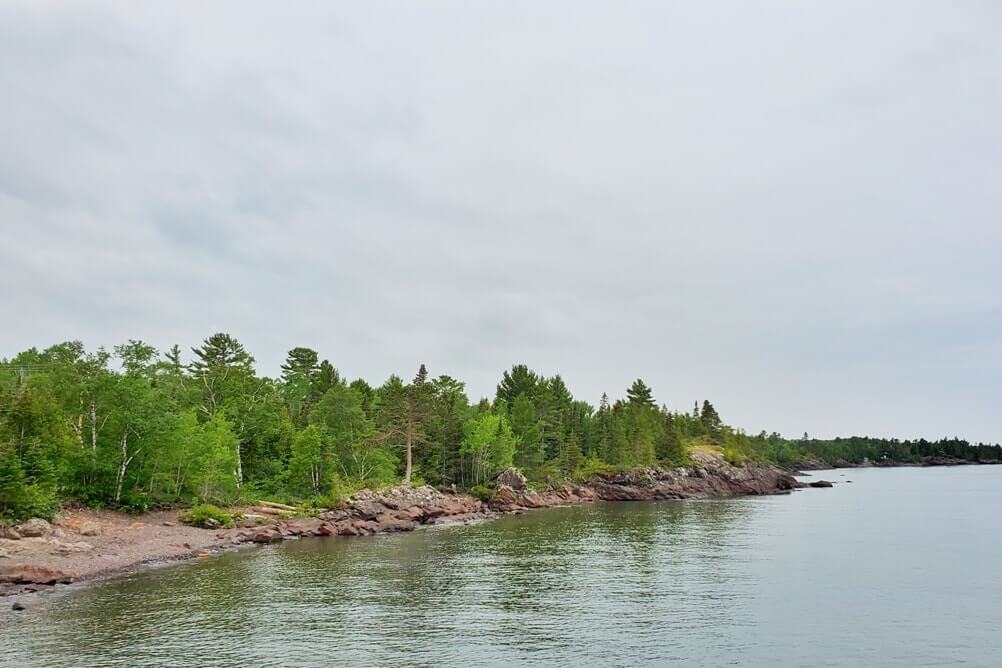 This is a roadside park. As you're driving along M-26 you'll come across it.
This can be a nice picnic spot. You can get vast Lake Superior views, and there are also areas where you can directly access the shoreline.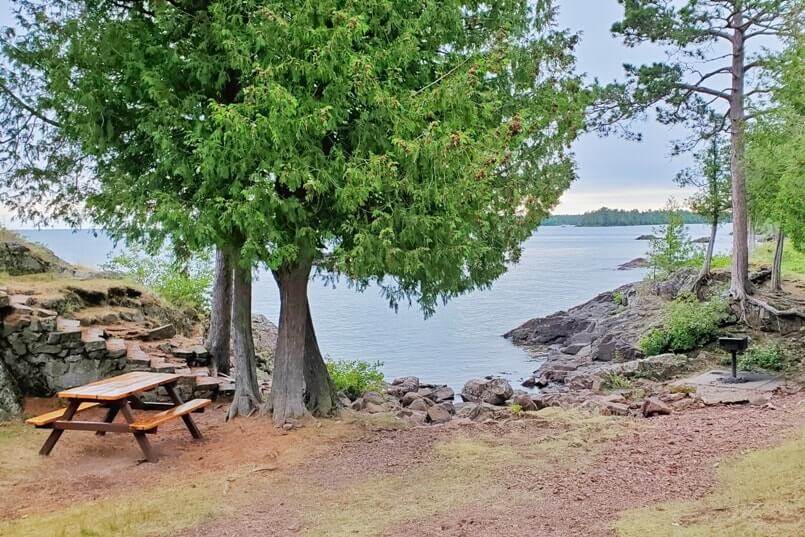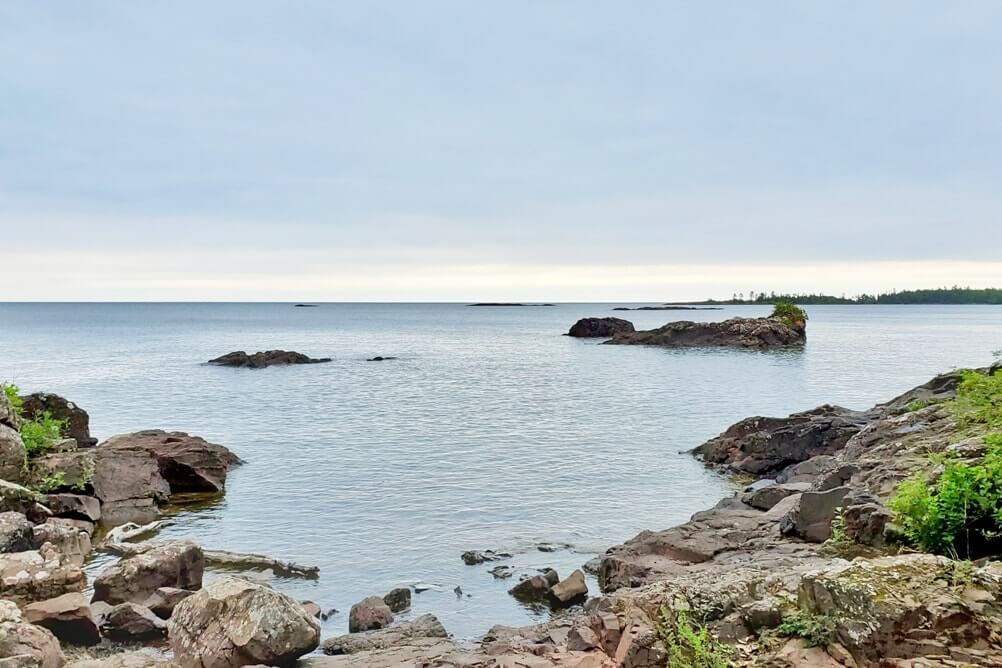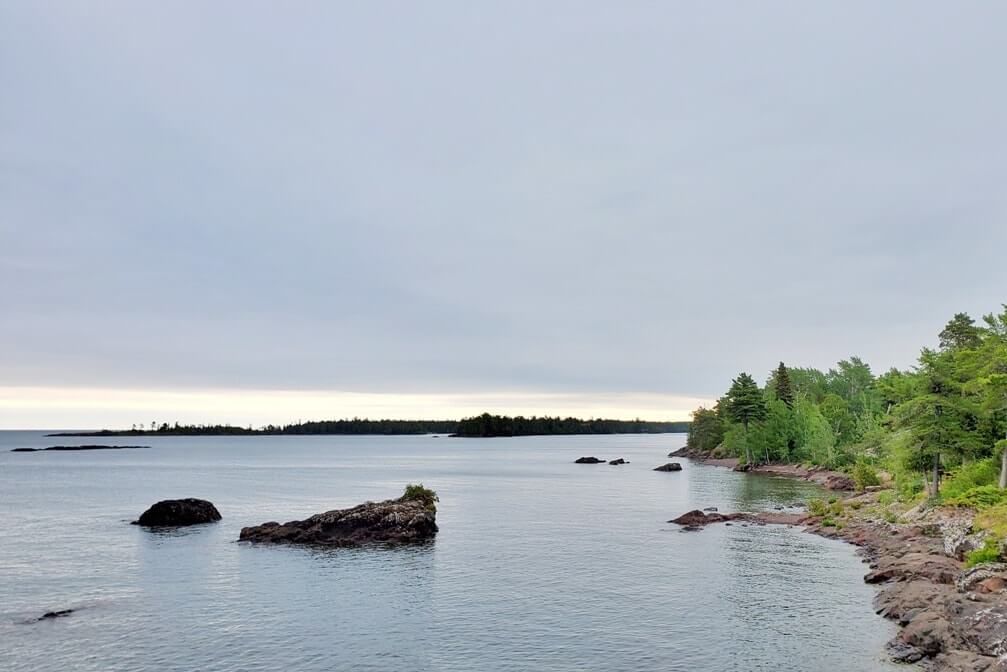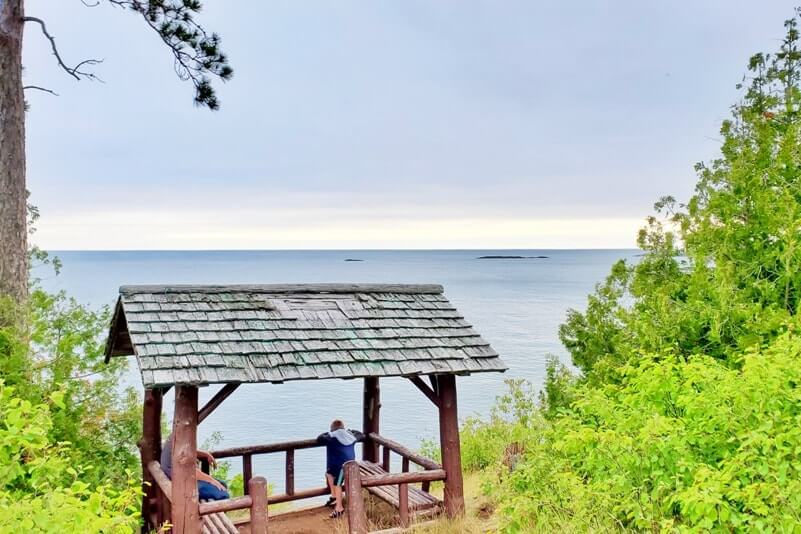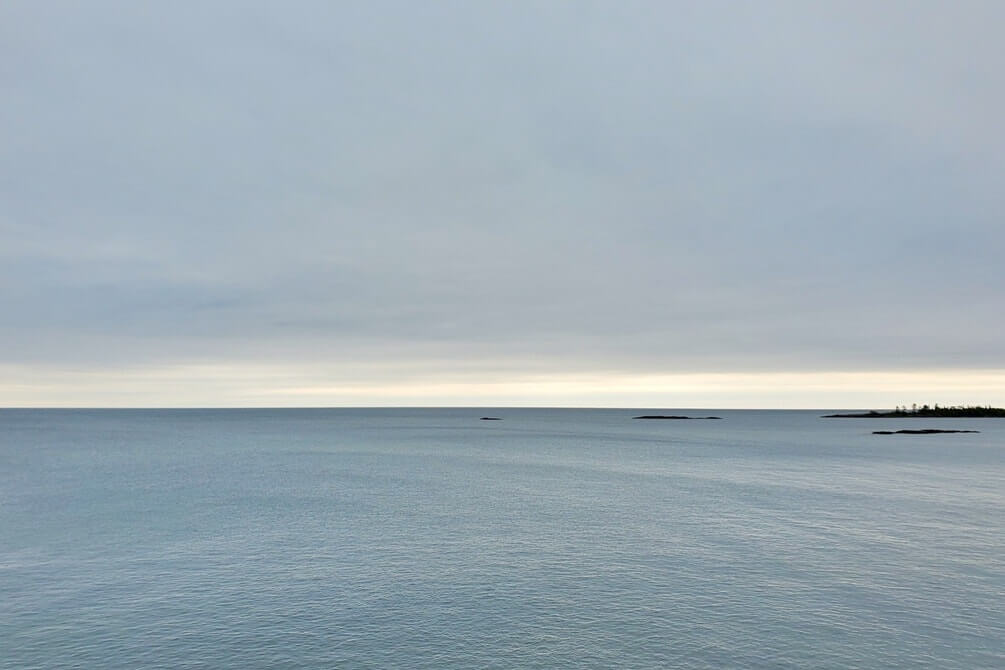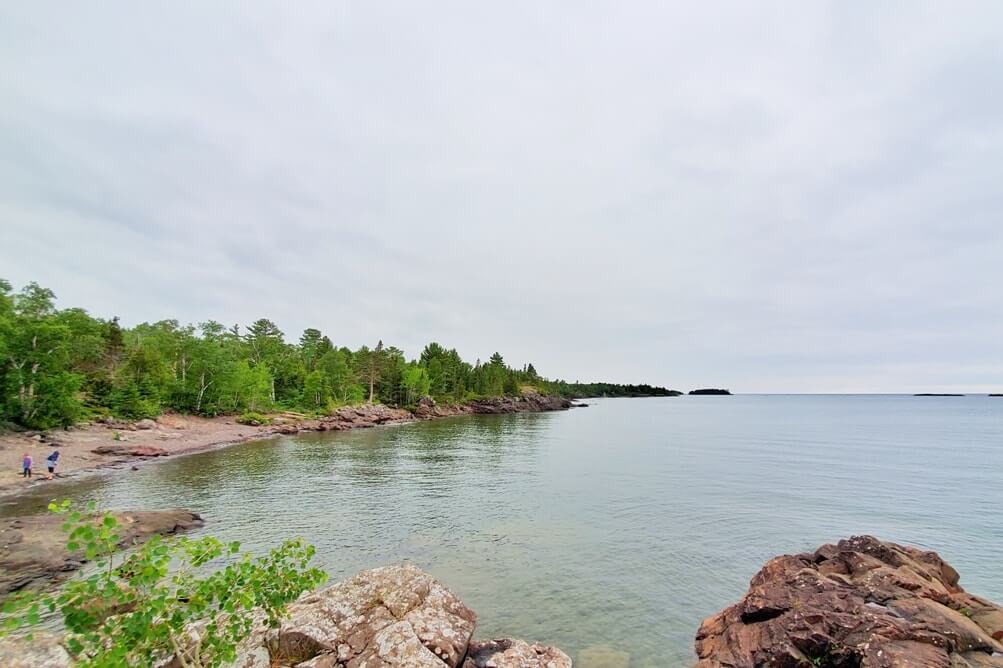 Gloomy weather day near Copper Harbor! Lake Superior will always look better (aka amazing water color) on sunny/clear days! See some of the amazing Lake Superior water color in Pictured Rocks National Lakeshore near Munising. Pictured Rocks is around a 4 hour drive from Copper Harbor, and it will be a longer drive if you make the scenic stops on the drive to Munising!
3. Hebard Park
This is another roadside park that's just down the road from Esrey Park.
If you'll be staying in Copper Harbor for a few days, this is another picnic spot you may consider!
Be sure to walk around along the coast around here! You'll find "hidden" beaches, and maybe have the beach to yourself! These are rocky beaches, though, as are most "beaches" around here. (Water shoes can be a good idea for a Michigan road trip in general.)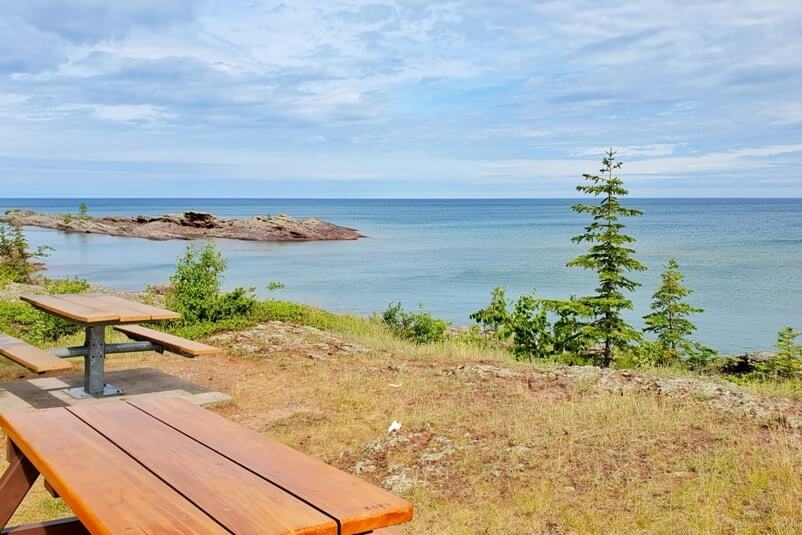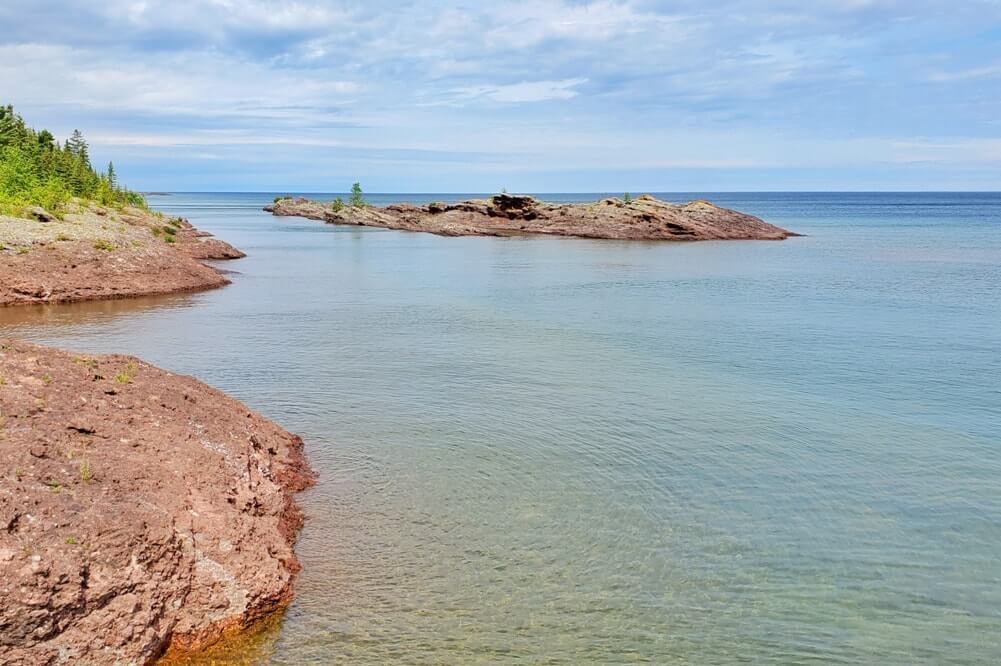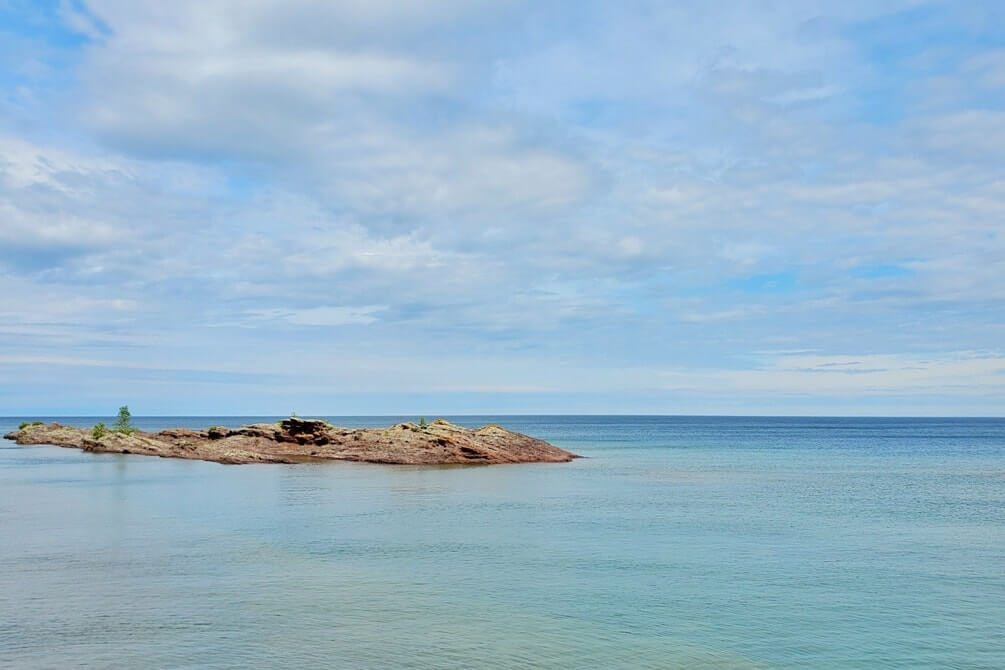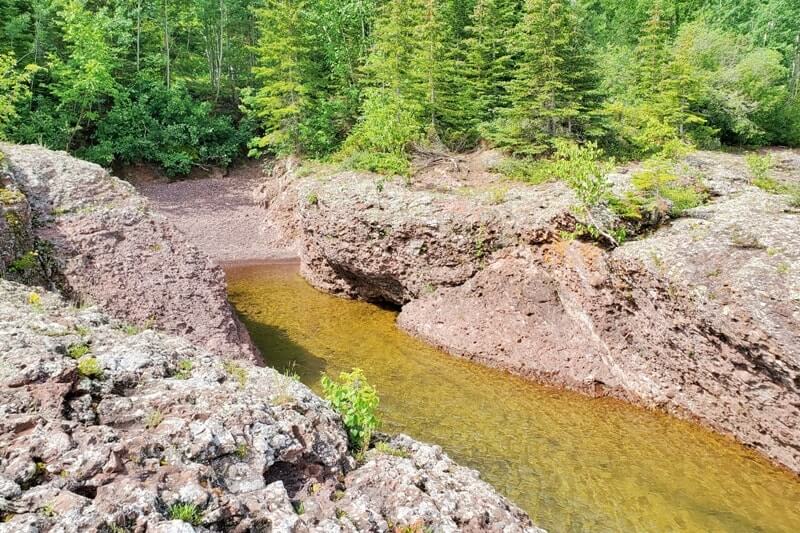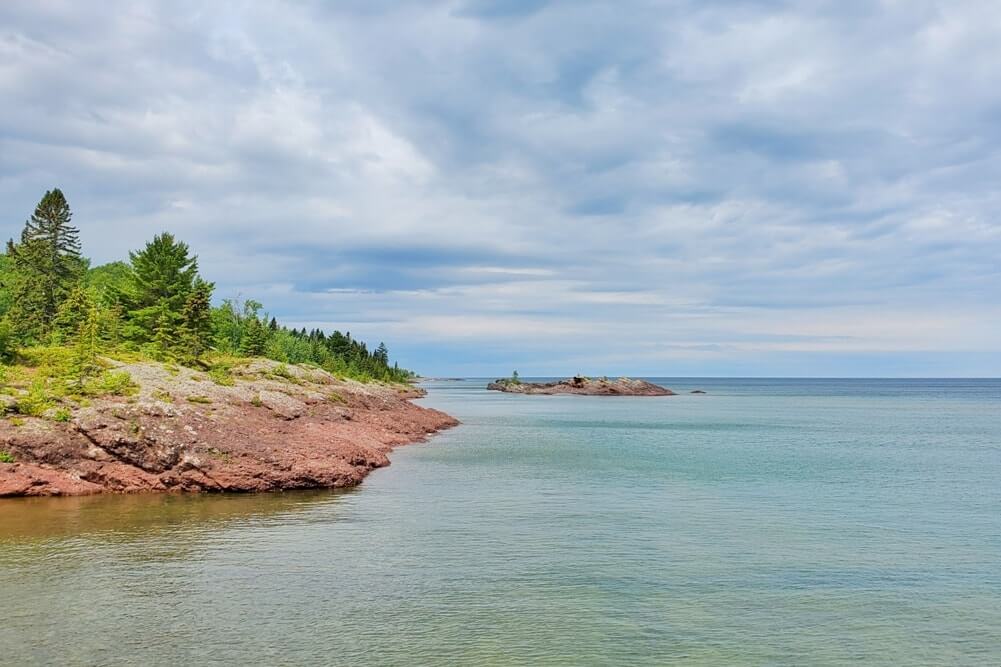 From a distance, it can even look like you've found a red sand beach! (It's more like red pebbles or red rocks.) Although this may not compare to a "real" red sand beach, I'd say this is a unique type of beach in Michigan!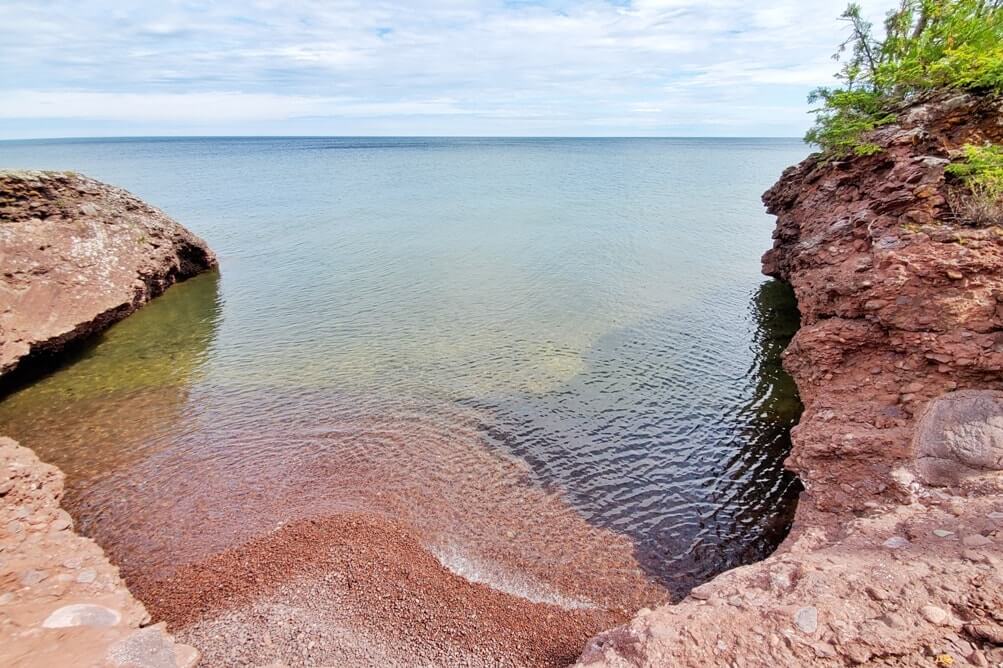 4. Devil's Washtub
Consider this a hidden spot!
You'll park on the side of the main road, and then there's a short trail you'll take to get to this spot.
If you aren't looking out for this trail, you may easily drive right by it! (Although there is a small pullover parking area nearby which might be a giveaway that something worthy is in the area!)
Devil's Washtub: See more about this place to visit in the Keweenaw Peninsula.
5. Brockway Mountain Lookout
Now a little break from going directly to the Lake Superior shoreline!
This time you'll drive a little inland to a little higher ground on Brockway Mountain Drive so that you can see Lake Superior from above!
If you love the views of Lake Superior from the Brockway Mountain lookout, you'll probably love the views of Lake Superior from the Sugarloaf Mountain lookout in Marquette too! Marquette is around a 3 hour drive from Copper Harbor.
6. Astor Shipwreck Park
This is named because… well there was a shipwreck that occurred right in this area. This is a part of the Keweenaw Underwater Preserve.
Aside from that, it's a nice spot for a Lake Superior lookout, and once again you can find some colorful red rocks.
You can see the Copper Harbor Lighthouse off in the distance from the overlook at this park.
This is right near Fort Wilkins Historic State Park if you want to explore the history of this area.
The state park isn't exactly a quick stop though.
Maybe it'd be good to give yourself an hour.
There are many buildings to walk through with informational signs to learn about what life was like back in the day.
It's like an outdoor museum.
You can camp at the Fort Wilkins State Park campground.
7. Hunter's Point Park
You'll have passed the road to Hunter's Point Park on your way to the previous 2 stops, but saving this for last because this might be the spot you might want to spend the most time at!
There's direct shoreline access a short walk from the parking lot if you do want to make it a quick stop.
There's also a couple miles of hiking trails here that go through some trees. Along the way, you can make your way to the shoreline and find different stretches of more red sand (red pebble) beaches.
You can find some colorful rocks here too.
If you love looking for colorful rocks, you'll probably love Sable Beach in Pictured Rocks National Lakeshore too! This is on the Grand Marais (far east) side of the national lakeshore, and it's about a 4.5 hour drive from Copper Harbor.
What makes up all the red cliffs, red rocks, and red beaches you see?!
Volcano activity in Michigan!
Volcanoes in Michigan?!
Well, it was a LONG time ago (said to be over a billion years ago), but there was volcanic activity in this area, and remnants of this volcanic activity can be seen all around!

While this is specifically about Hunter's Point Park, it explains the Keweenaw Peninsula's landscape in general too!
It's also been said that the Keweenaw Peninsula is home to "one of the Earth's largest lava flows"!
Watch this video (or see the transcript) for more about the geology of the area, including the lava flows that happened long ago.
If you're interested in a volcano vacation with more recent volcano activity, have a look at the Hawaii volcanoes on the Big Island or the Hawaii volcano on Maui for your next vacation!
And those are a few great things to see in the Keweenaw Peninsula! Now some more things to do in the area with more time…
Copper Country aka Coppertown USA
The Keweenaw Peninsula once had a thriving copper industry. And so the name Copper Harbor.
If you're further interested in exploring the history of this area, there are many sites dedicated to preserving this history.
There is the Keweenaw National Historical Park (part of the National Park Service) and Keweenaw Heritage Sites located throughout the area.
Best hike in the Keweenaw Peninsula?!
The weather wasn't good at the time I wanted to hike in the Keweenaw Peninsula so I skipped out on hiking.
But a hike to Bare Bluff in the Russell and Miriam Grinnell Memorial Nature Sanctuary looks AMAZING if you are looking for a solid hiking trail!
The trail seems to be around 3 miles round trip and many call it challenging and strenuous. Map location.
This is also near the Bete Grise Preserve.
Mountain biking is a thing in Copper Harbor
IMBA (International Mountain Bicycling Association) has considered Copper Harbor as a top mountain biking destination in the US.
Check the mountain biking trails for going out on your own.
You can bring your mountain bike along on your Michigan road trip, or there are also places where you can rent mountain bikes in Copper Harbor.
You can also go for guided mountain bike tours too.
Shuttles are also available if you only want to ride the trail one way!
Michigan state park campgrounds in the Keweenaw Peninsula

👆 McLain State Park, where you can get a campsite with views of Lake Superior!
There are also campgrounds located in Michigan state parks (for tent camping and RV camping) in the Keweenaw Peninsula:
See the list of Michigan state park campgrounds in the UP: Best Upper Peninsula campgrounds
Keweenaw island?!
Oh, and as it turns out, the Keweenaw Peninsula is actually not completely a peninsula!
A peninsula is a land mass that is surrounded by water on 3 sides.
The northern part of what can be considered the "Keweenaw Peninsula" can more technically be considered an ISLAND!
But, I guess if you look at a map without looking very closely it looks like a peninsula with water on 3 sides, so it was given the peninsula name?!
Take a closer look at the map.
Zoom in and out to see that water separates entirely the north and south side of the "peninsula"!
And those are a few ideas on how to spend your time in the Keweenaw Peninsula!
If you're interested in the Keweenaw Peninsula, you may be also be interested in these Upper Peninsula activities:
HAPPY VISIT TO THE NORTHERNMOST POINT OF MAINLAND MICHIGAN!
📌
Pin this post for later! Save on Pinterest!
👈📌
Here are some ideas for an Upper Peninsula road trip!
The most important places in the UP to know about are
Pictured Rocks National Lakeshore
,
Tahquamenon Falls State Park
, and the bubbling Big Spring of
Kitch-iti-kipi
.
Make it a Michigan camping trip to remember by going
camping near Lake Superior
.
Lighthouses are also a thing, so stop by one of the
Lake Superior lighthouses
(or many more!), like
Whitefish Point
and/or
Crisp Point
. You can also go to the Great Lakes Shipwreck Museum to explore why Lake Superior has a reputation for being Shipwreck Coast and the
Graveyard of the Great Lakes
.
Many people don't make it over to the
western part of the Upper Peninsula
. But if you want to, you will want to know about
Porcupine Mountains Wilderness State Park
and the
Keweenaw Peninsula
.
Then, on your way back down south, you can make a detour to go to
Mackinac Island
(ferry required) or
Sleeping Bear Dunes National Lakeshore
. (Or, you can do these things on your way up north!)
Read the details:
Best places to visit in the Upper Peninsula
Take care when camping!
Message from the State of Michigan Department of Natural Resources:
Michigan is currently experiencing unprecedented hot and dry conditions, causing extreme fire danger.
While we desperately await some much-needed rainfall, it's important to note that you could be the difference between a campfire and a wildfire.
We strongly suggest you refrain from any outdoor burning at this time.
If you do decide to have a campfire, be sure to:
- Keep a water source next to your campfire.
- Properly extinguish your campfire when you are finished by dousing with water and stirring dirt in with a shovel.
- Use the back of your hand to detect if heat is still coming from the fire or ring. If you can feel heat, the fire is not out. Douse and stir again.
- Spray down the metal ring of your campfire. The heat from that can cause dry grass to catch fire.
- Never leave your fire unattended, not even for a minute.
Read more from the
State of Michigan
.


There are affiliate links on this page. Among others, as an Amazon Associate I may earn from purchases.