Hi there!
So as the name indicates, Sable Falls Trail will lead you to one of the many waterfalls in Pictured Rocks National Lakeshore!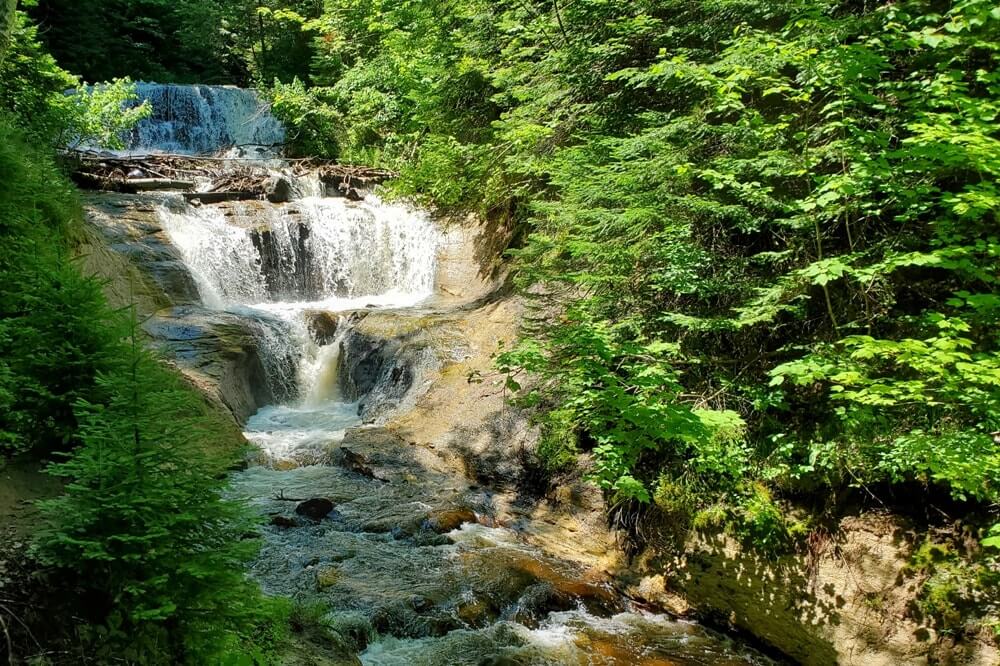 While the trail is relatively short in distance, it does require a little bit of effort. There's a bunch of stairs!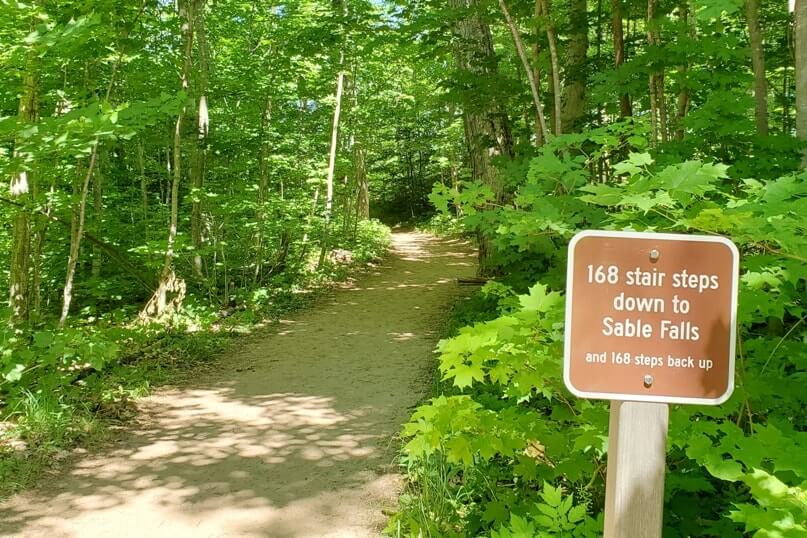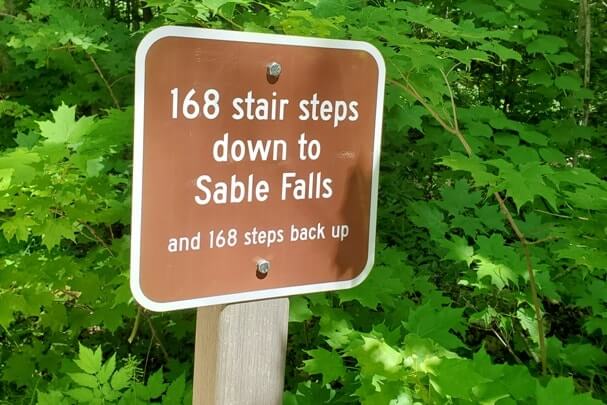 And the waterfalls aren't the only thing that this trail will take you to!
If you keep following the trail past the waterfalls, the trail will also lead you to a classic Lake Superior beach!
What's a classic Lake Superior beach?!
A rocky beach with colorful rocks!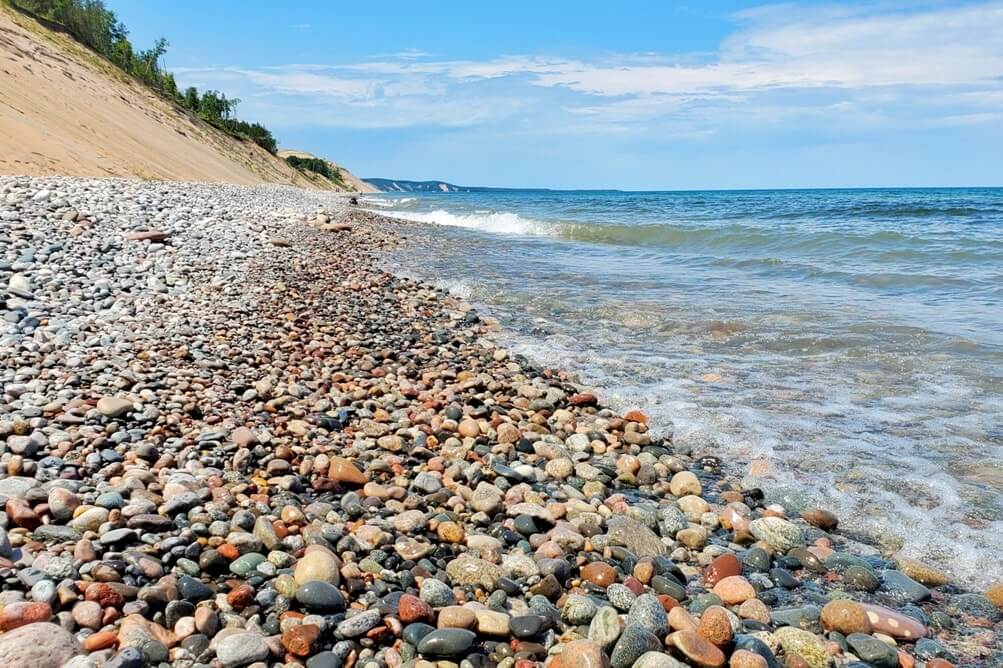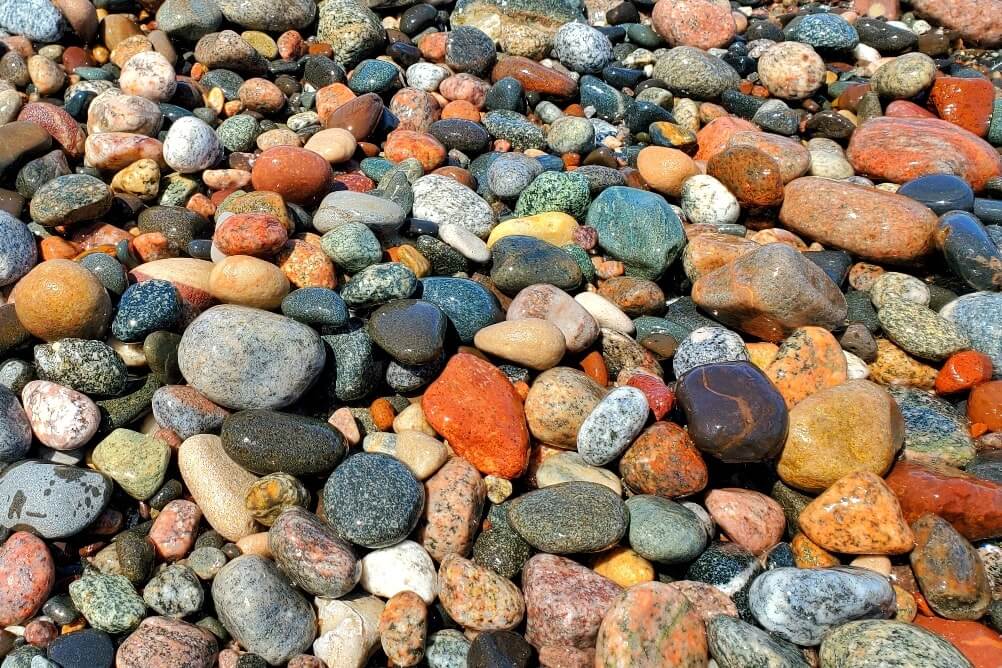 These types of Lake Superior beaches typically make for the perfect spot to look for special agate stones.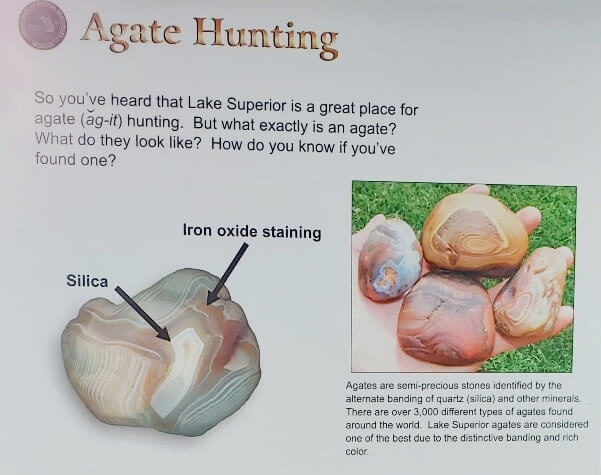 This sign explaining agate stones was posted at Muskallonge Lake State Park which is also located on Lake Superior shores.
But in Pictured Rocks National Lakeshore, you can only LOOK for agate stones, and not collect them or take them home, as you're not supposed to take rocks from Lake Superior shoreline that's a part of the national lakeshore (aka part of the National Park Service area).
And once you are finished with the waterfall trail, there's even the Grand Sable Dunes Trail you can take nearby that will lead you to sand dunes that overlook Lake Superior.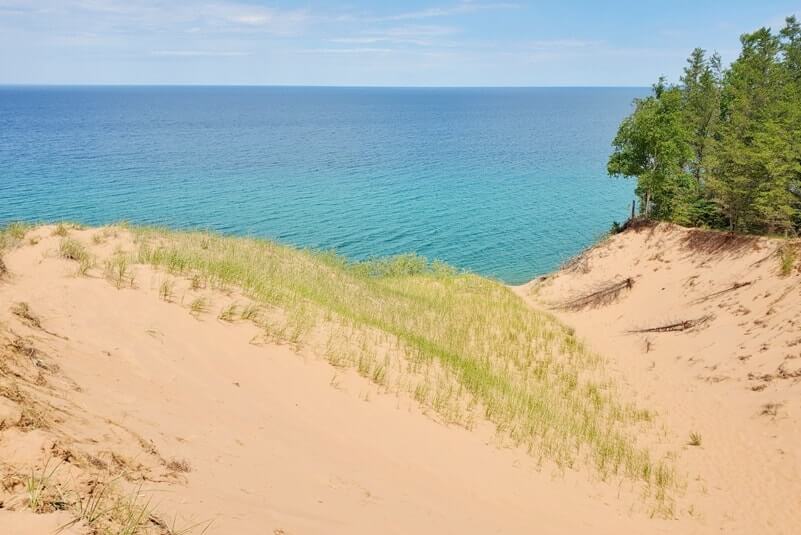 Backpacking the North Country Trail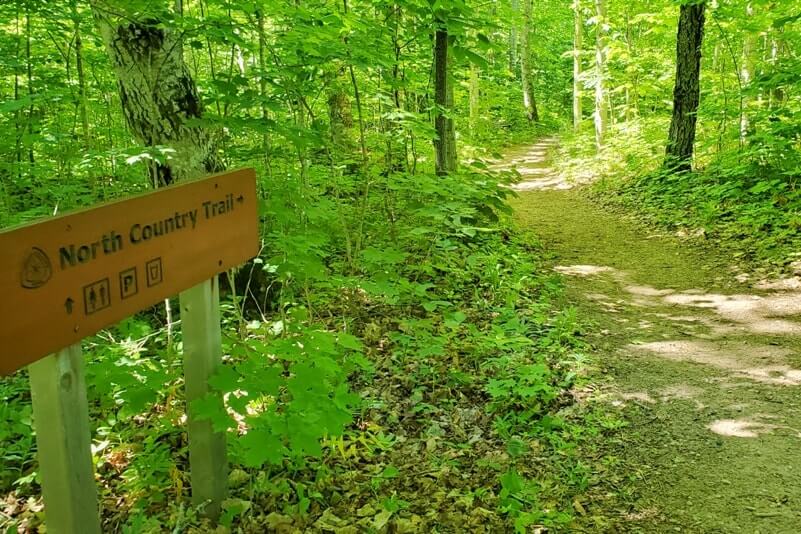 The North Country Trail is a national scenic trail that extends for 4,600 miles across many states from the midwest to the east coast. It also goes through Pictured Rocks for around 40 miles, and there are backcountry campsites along the way. If you're backpacking the North Country Trail through Pictured Rocks, the NCT goes by part of the Sable Falls Trail.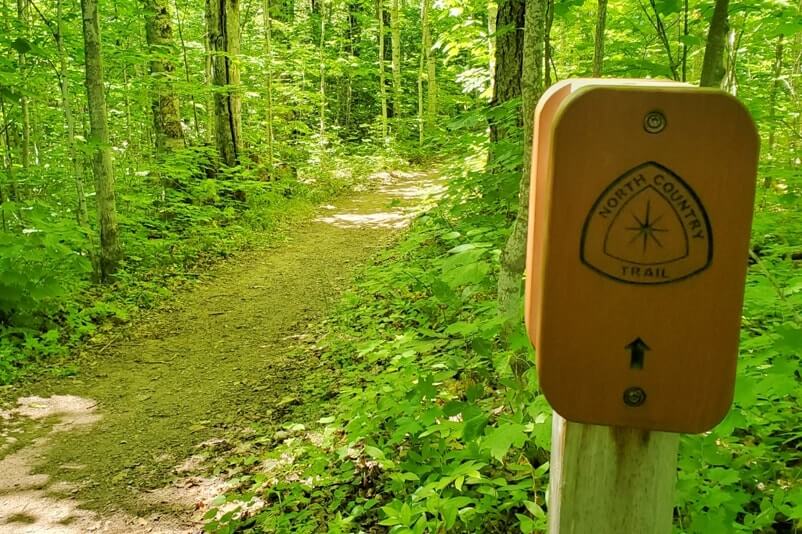 You can see Sable Falls and the Sable Beach with a short detour off the North Country Trail.
🌳
More photos/info below, but first...
Side note!
Here's some info on Michigan vacation prep! Top Michigan vacation spots:
PLUS:
Now…
PHOTOS of Sable Falls Trail
So Pictured Rocks National Lakeshore has the town of Grand Marais on one side to the east and Munising on the other side to the west.
Sable Falls is on the Grand Marais side.
Your destination for google maps can be Sable Falls or Sable Falls Trail parking. It will be best if you have offline google maps downloaded before your UP trip, as data is spotty in the Upper Peninsula. GPS generally works.
When driving from Grand Marais (which is also the direction you'll be coming from if you're coming from the popular Tahquamenon Falls State Park), you'll see signs for Sable Falls shortly after you enter the Pictured Rocks National Lakeshore park.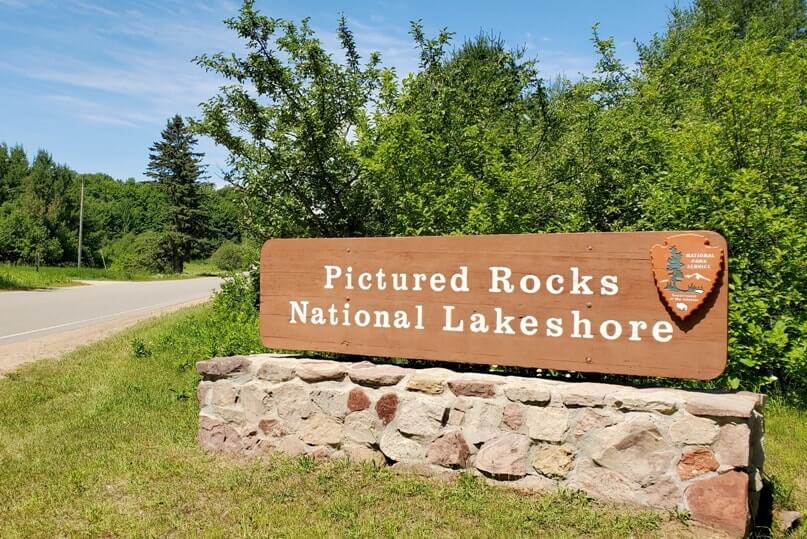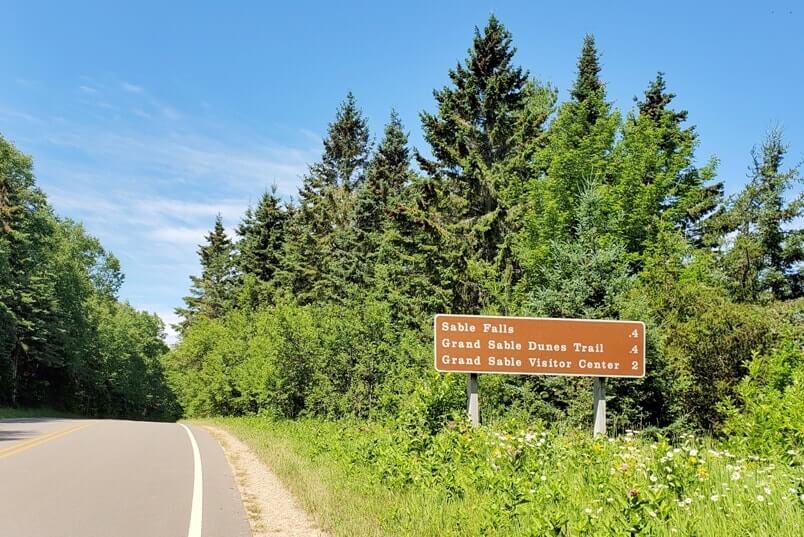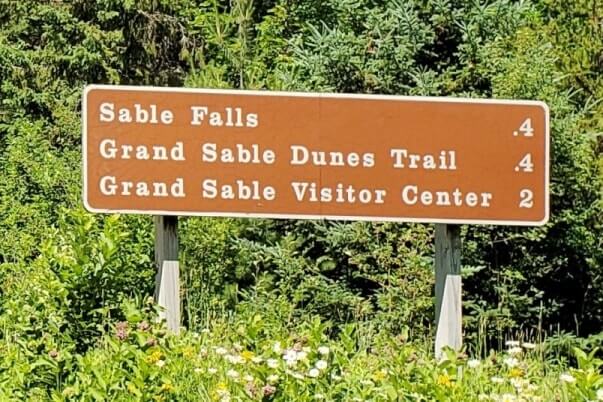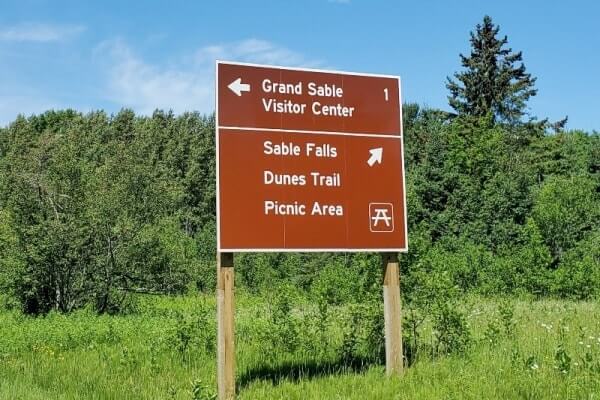 The signs will lead you to the Sable Falls trailhead parking lot. (And Sable Falls Trail bathroom that's at the parking lot. ;))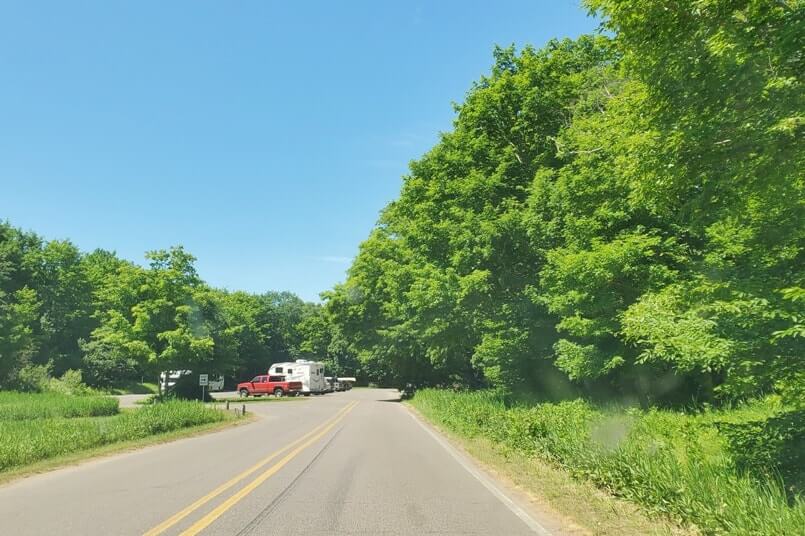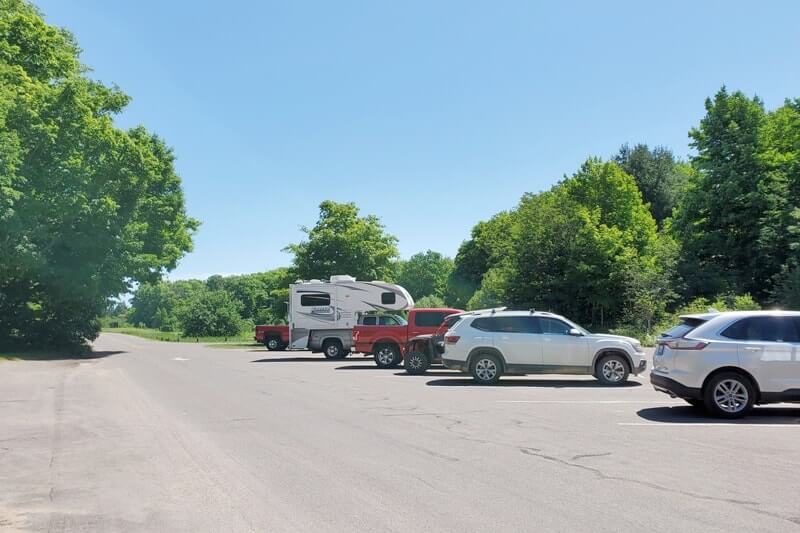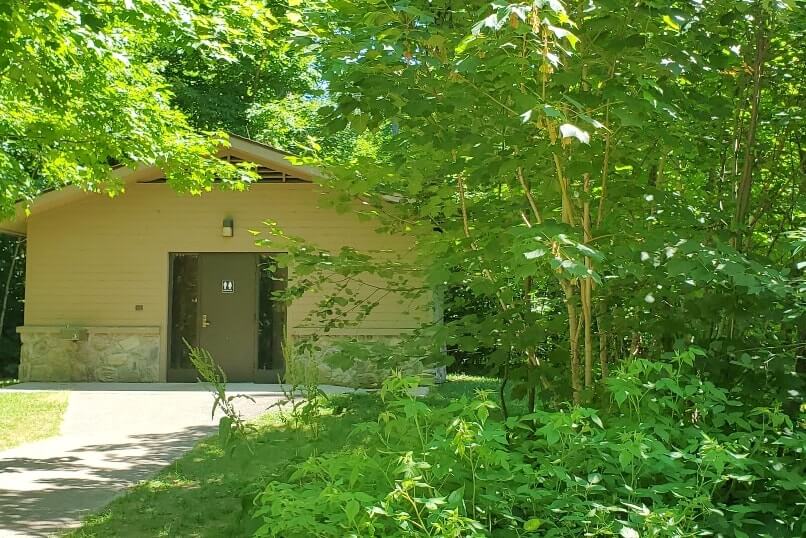 And from the parking lot, you'll start the trail. The trail is well-marked so you won't have any trouble with getting lost.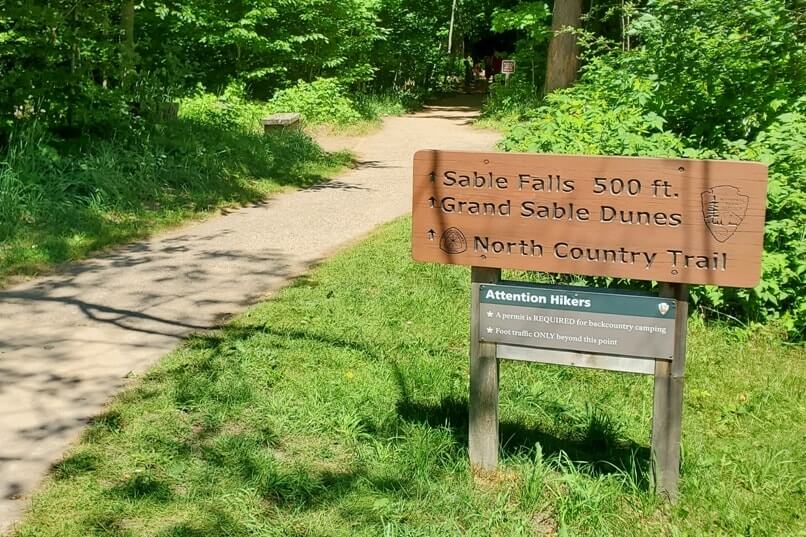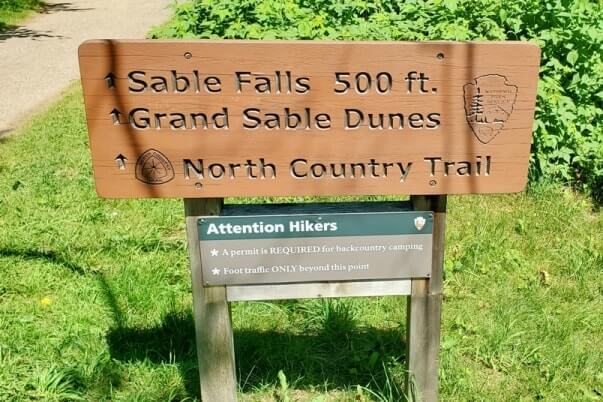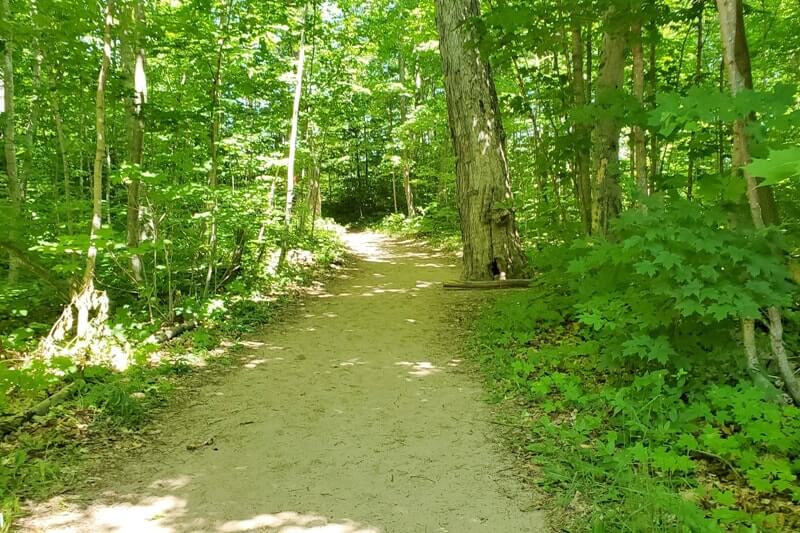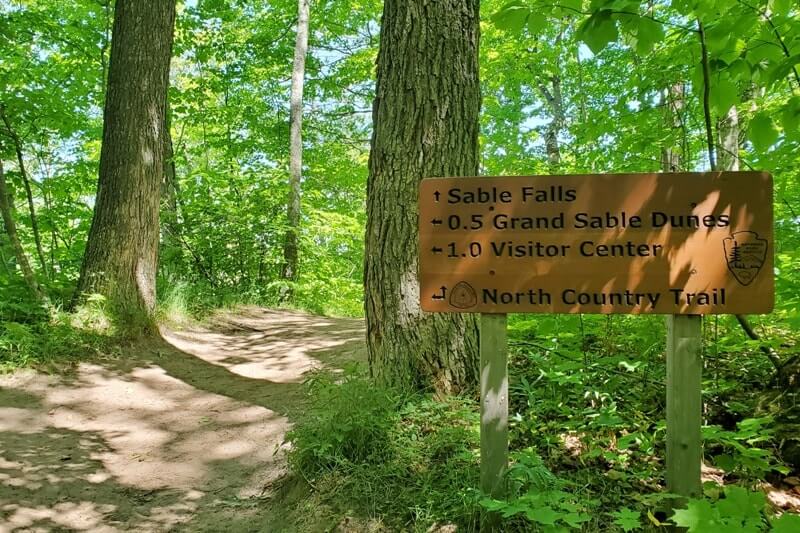 You'll soon start taking the stairs down, getting your first glimpse of Lake Superior through the trees.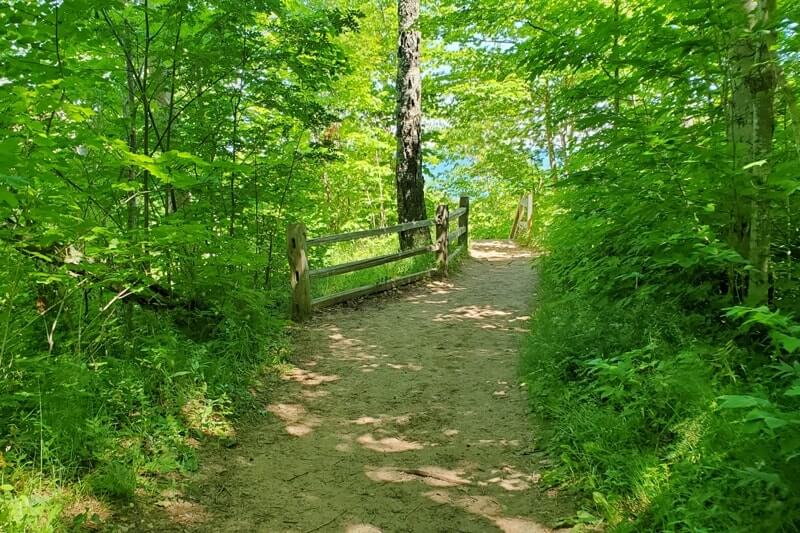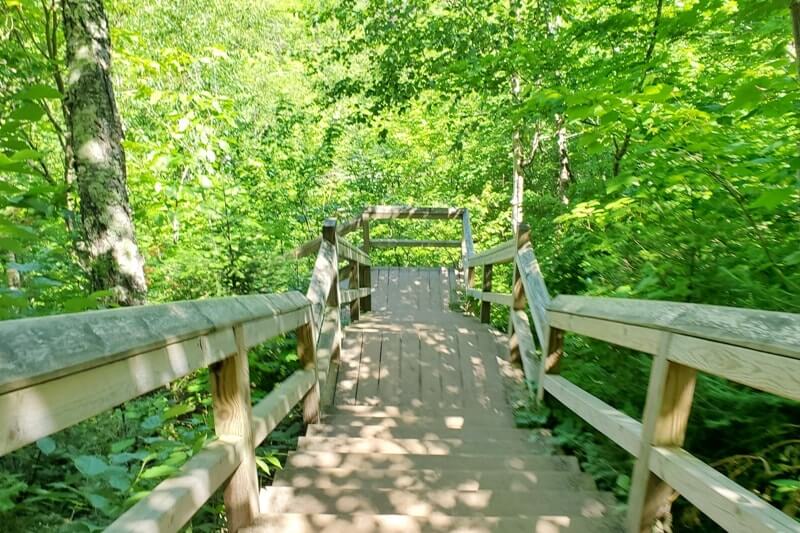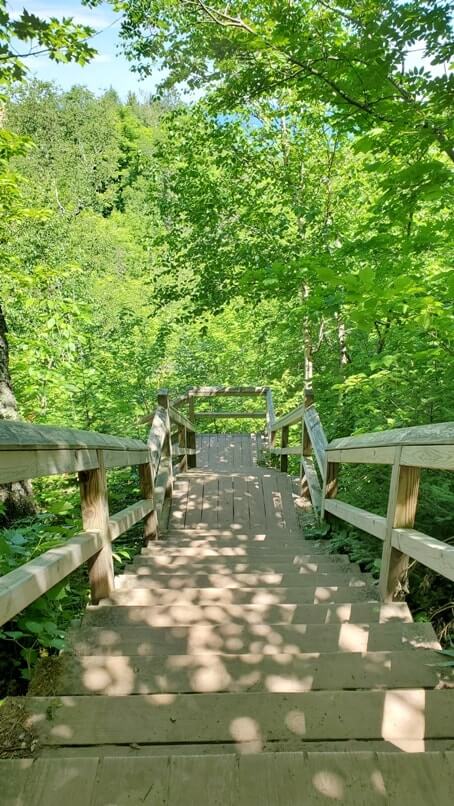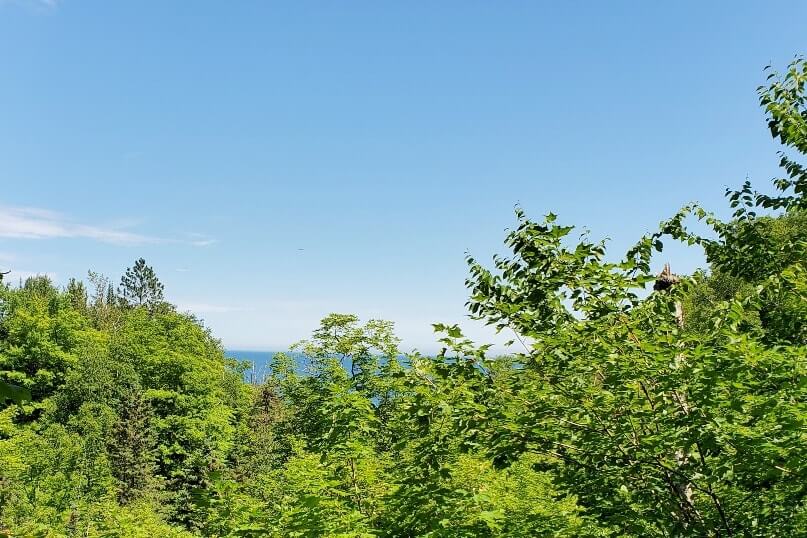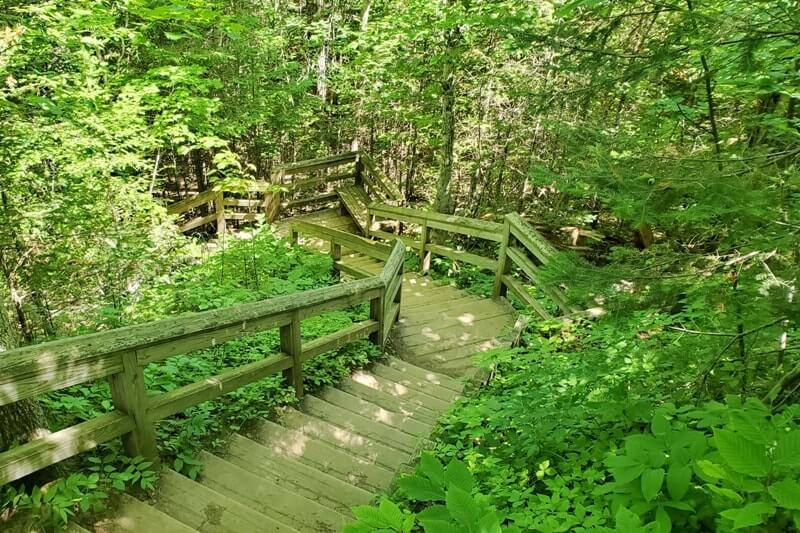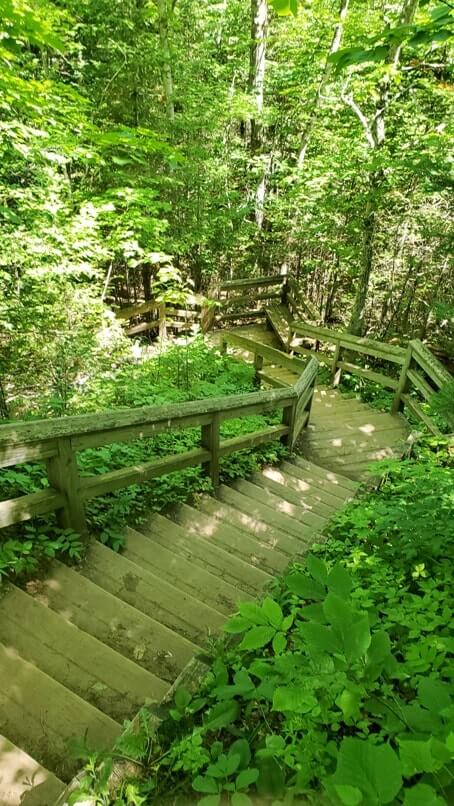 Then you'll come across the first overlook for the waterfalls!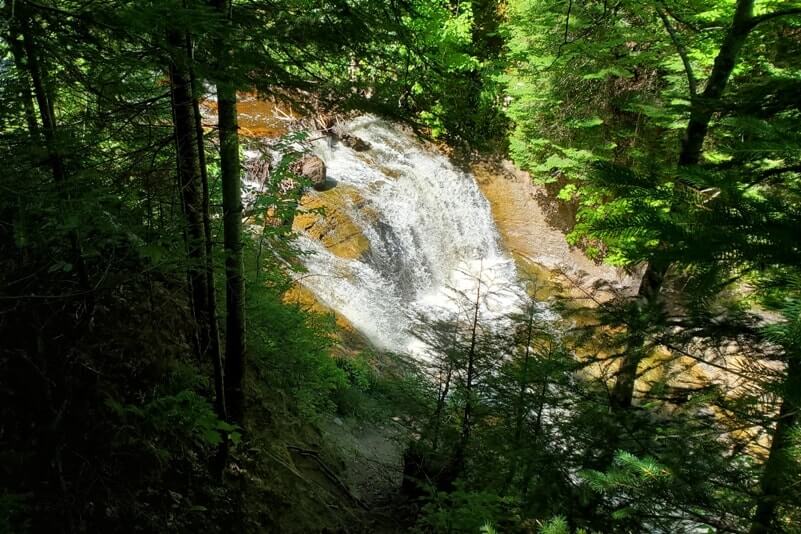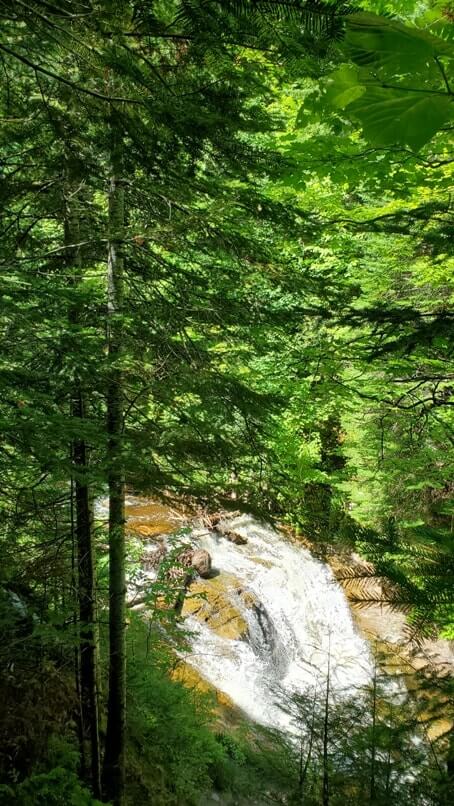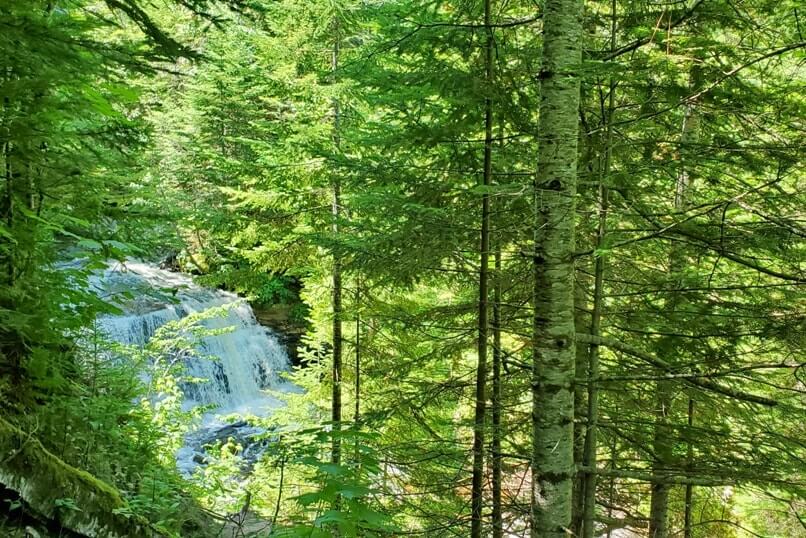 If there are a lot of people at the overlook, you can move on, as there's another overlook just a bit further down that will give you some better views.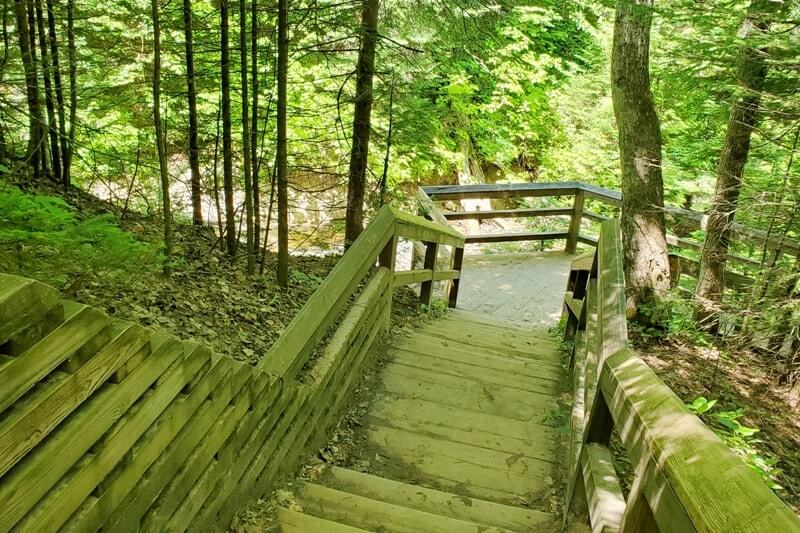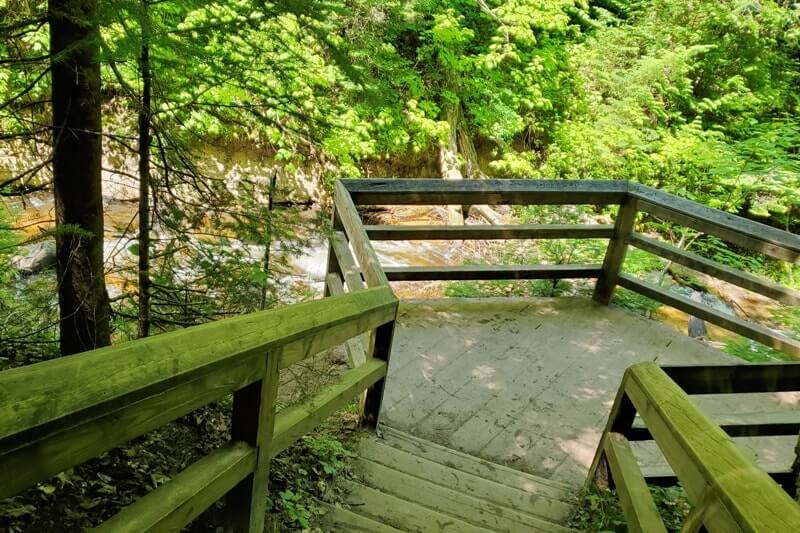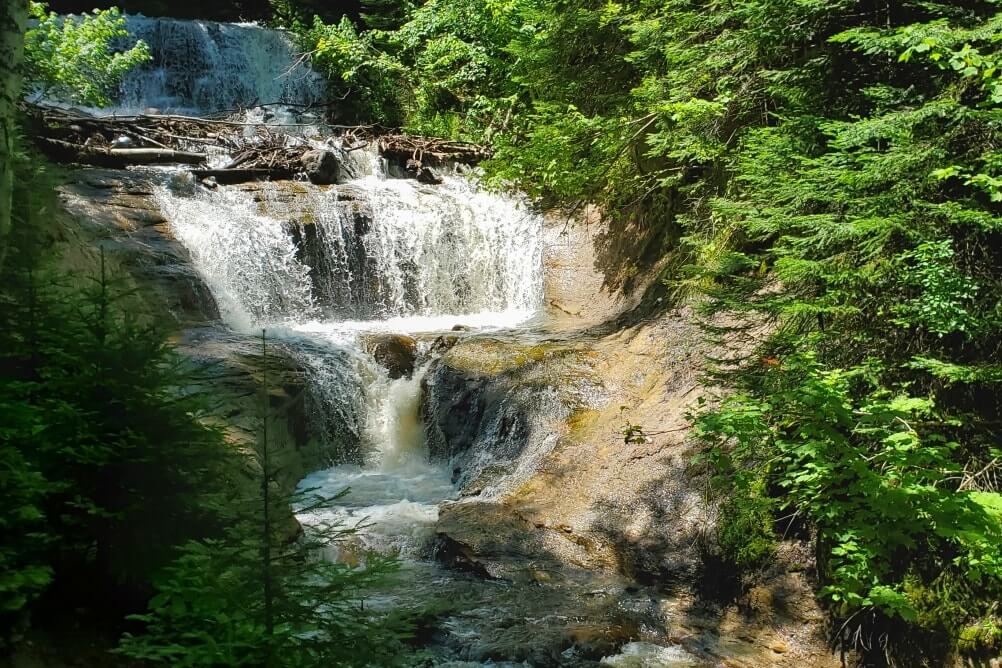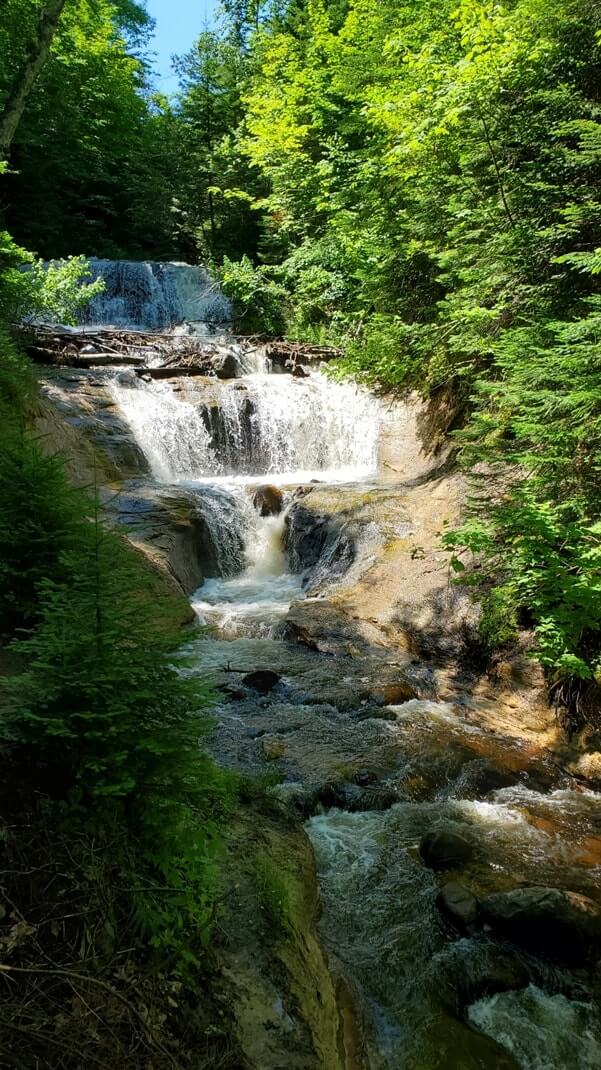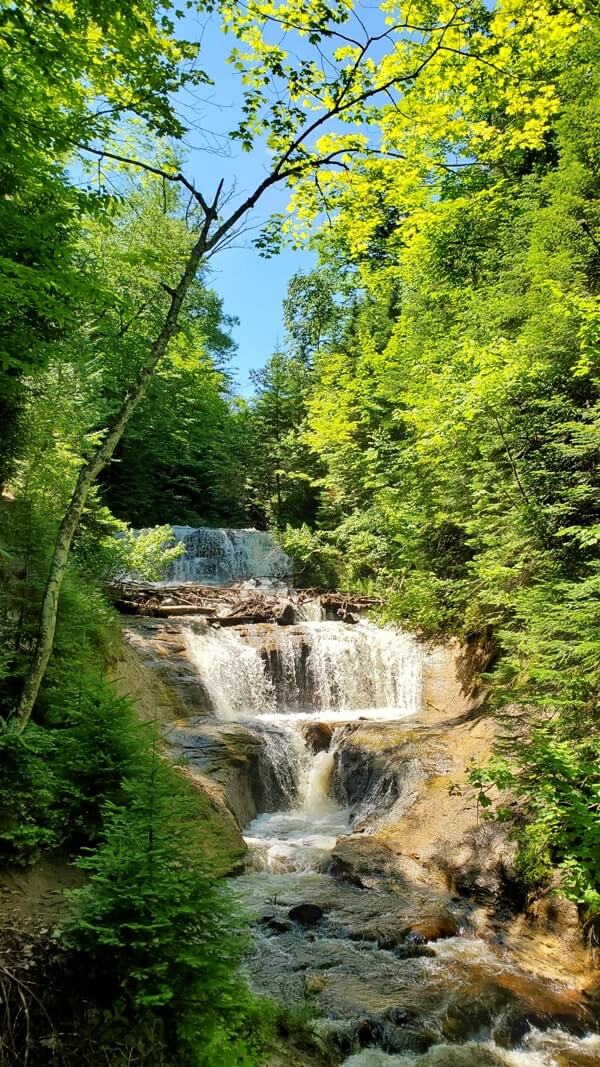 If you're just here for the waterfalls, then at this point you can turn around and make your way back to the parking lot.
Otherwise, you can keep going towards Lake Superior!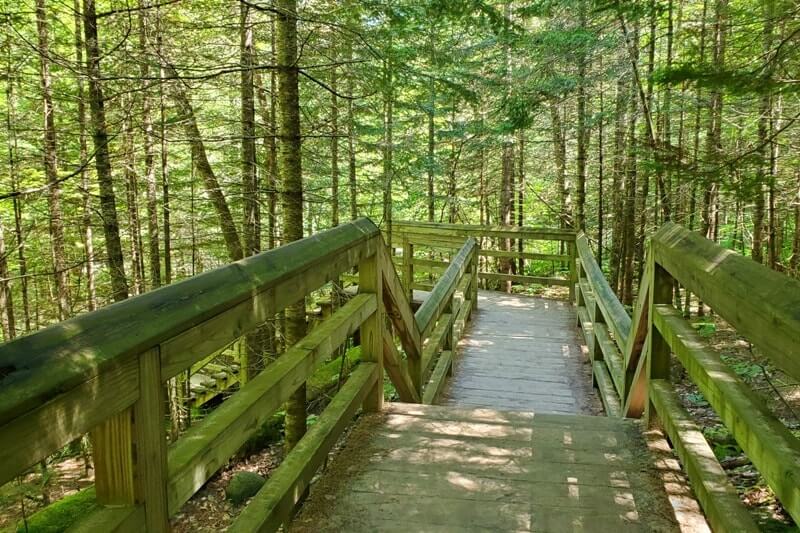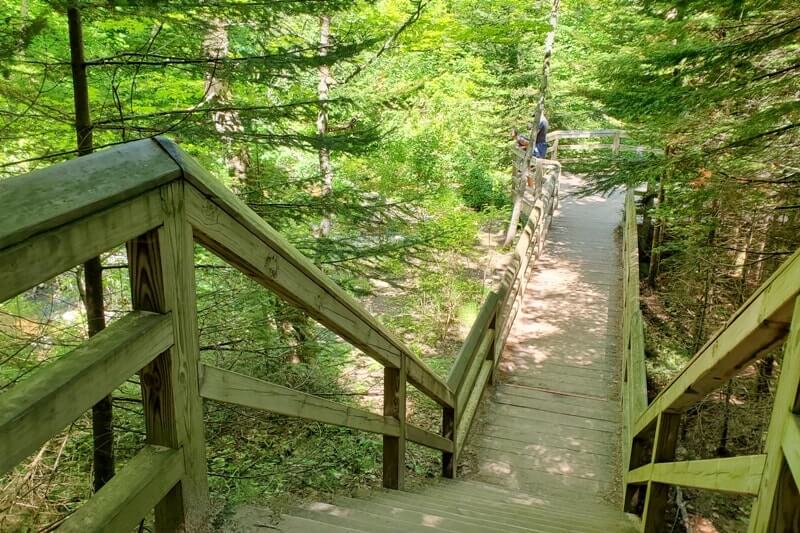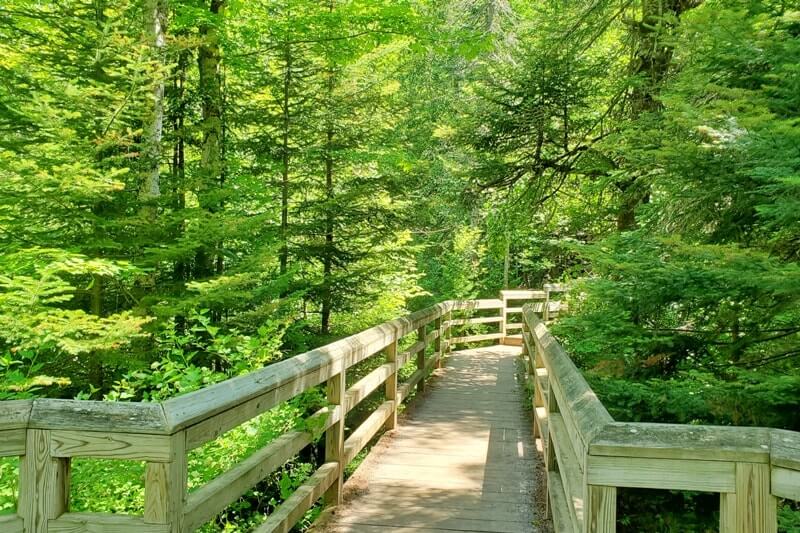 There's another small overlook area for waterfalls along the way.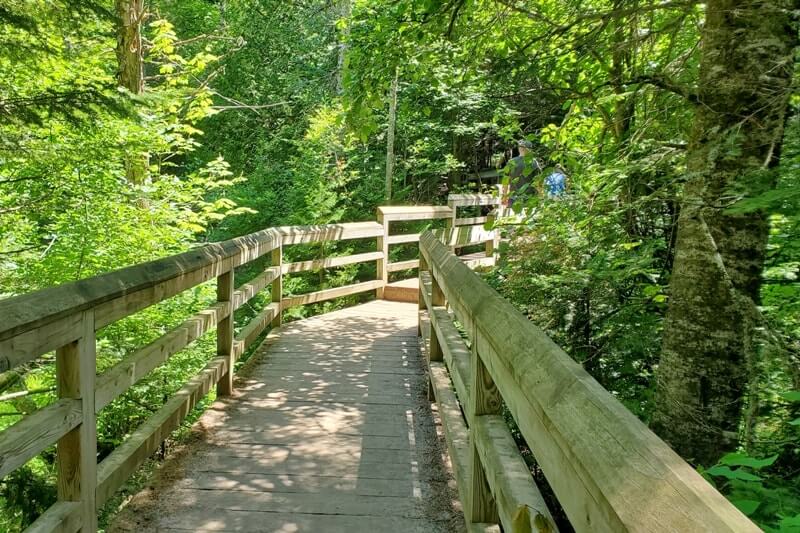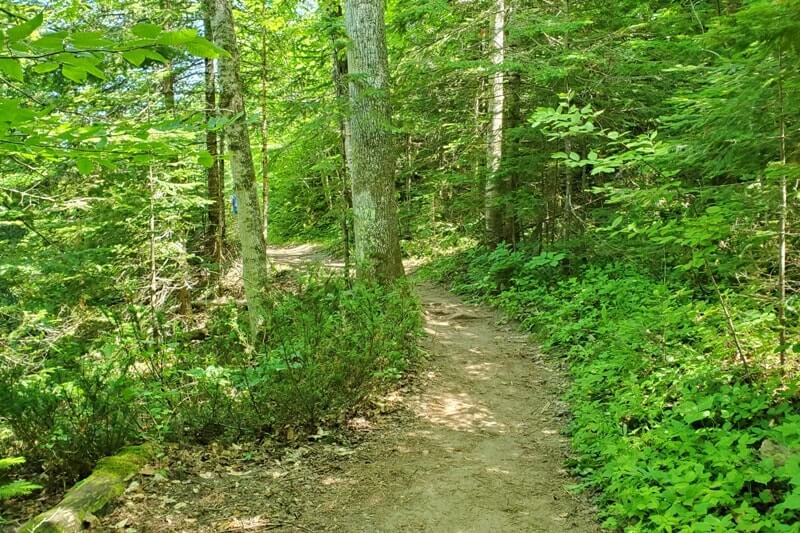 Then you will soon start to see Lake Superior through the trees!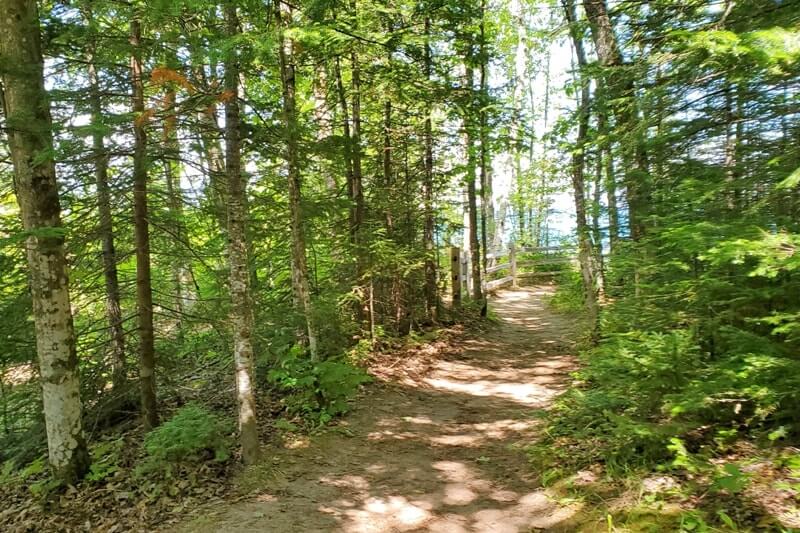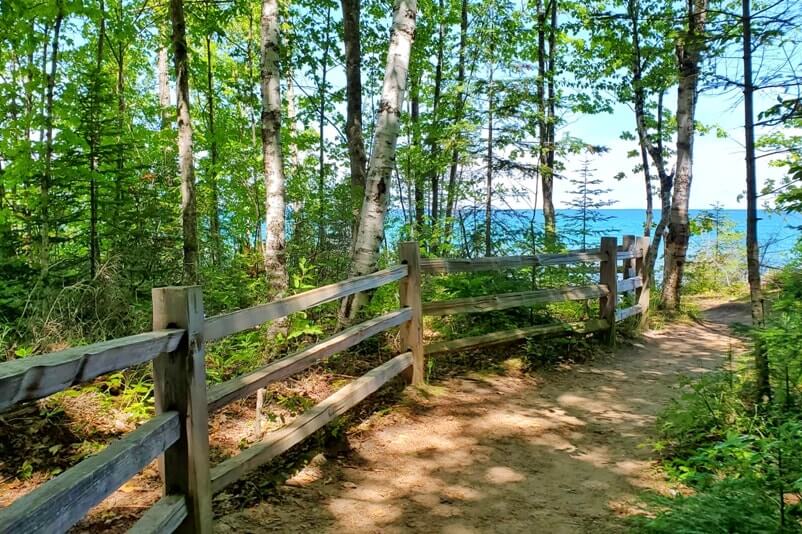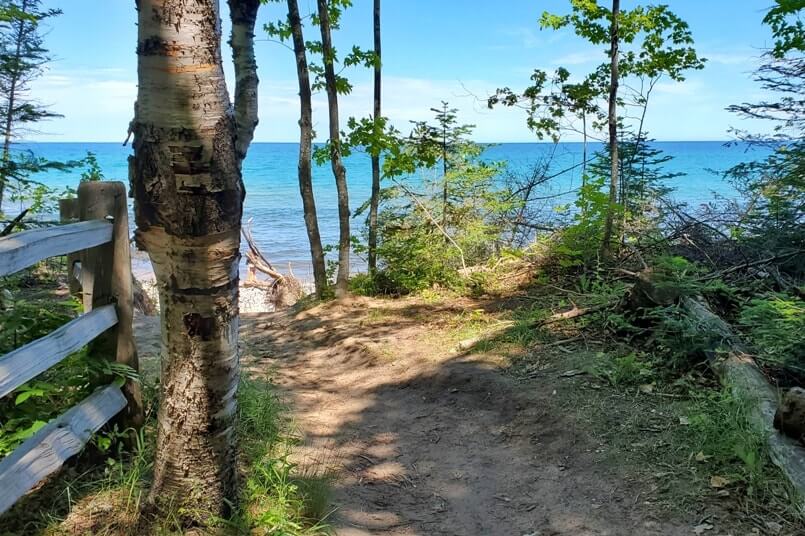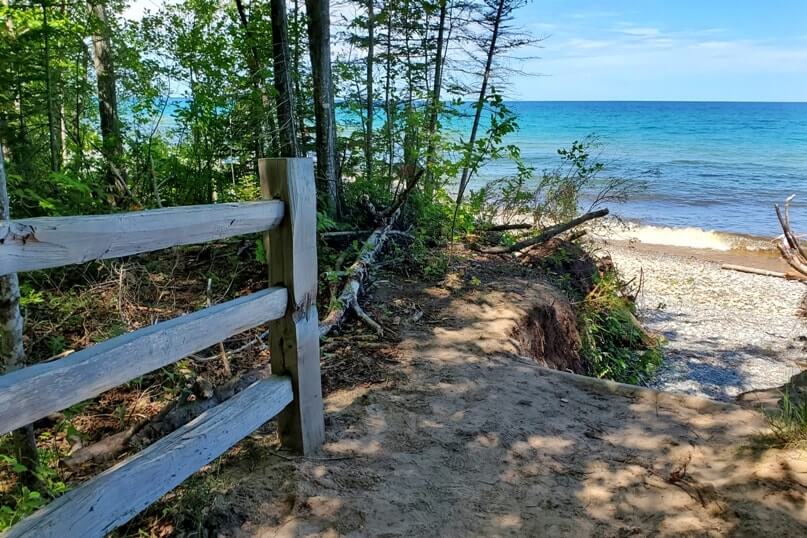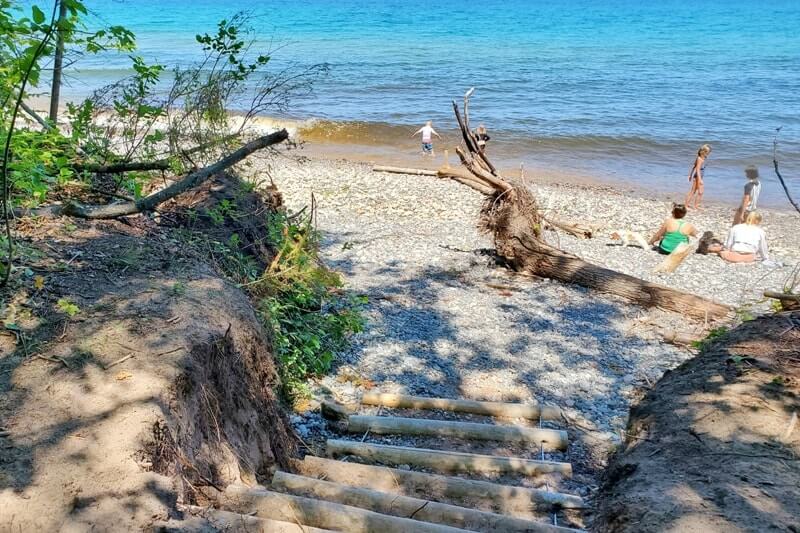 And you have made it to Sable Beach and the Lake Superior shoreline!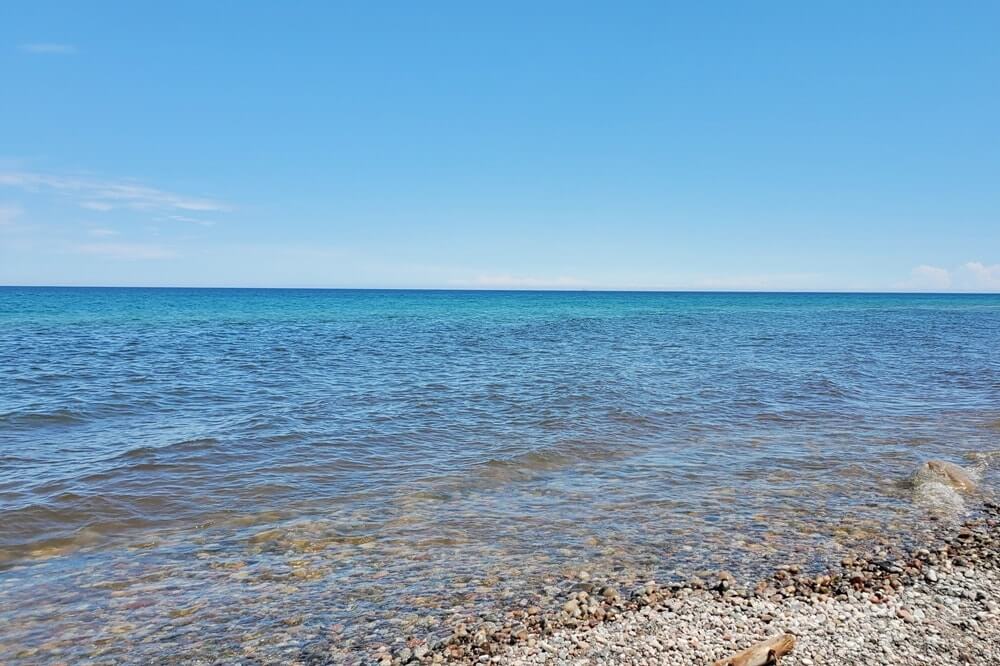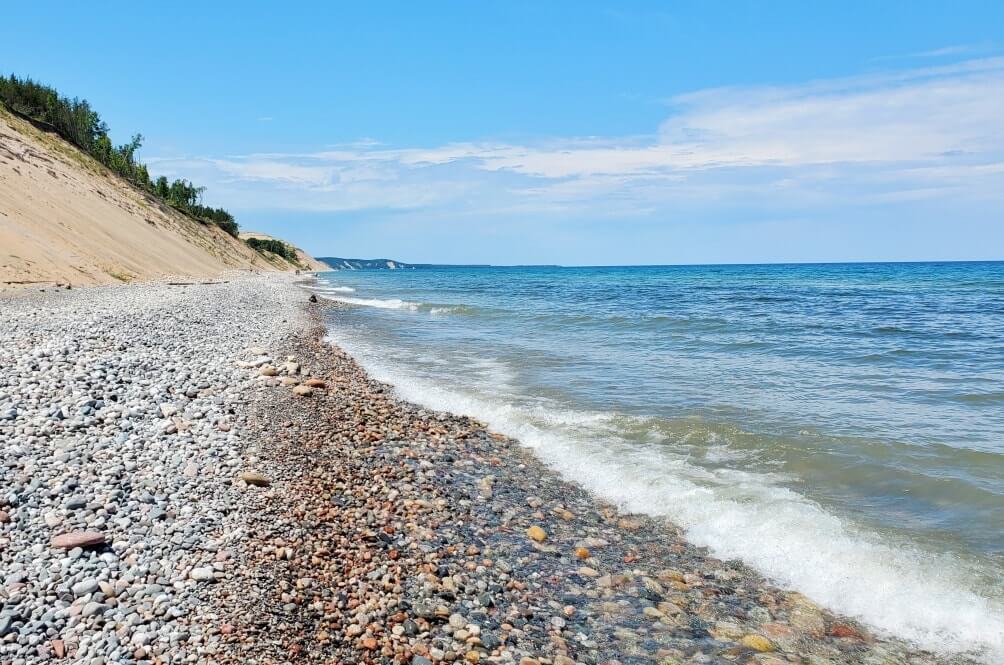 You may see people in the water, but in general, Lake Superior water temperature tends to be COLD. Possibly in the 50s. Lower 60s if you're lucky!
Off to the left as you're facing the lake, there's a river of sorts. You can see where the waterfall river empties out into Lake Superior!
You can make this stream crossing to get to the other side. You'll either want to be wearing footwear that you don't mind getting wet (like water shoes or hiking sandals), or there's also a part where you can carefully climb across the dead trees to get to the other side.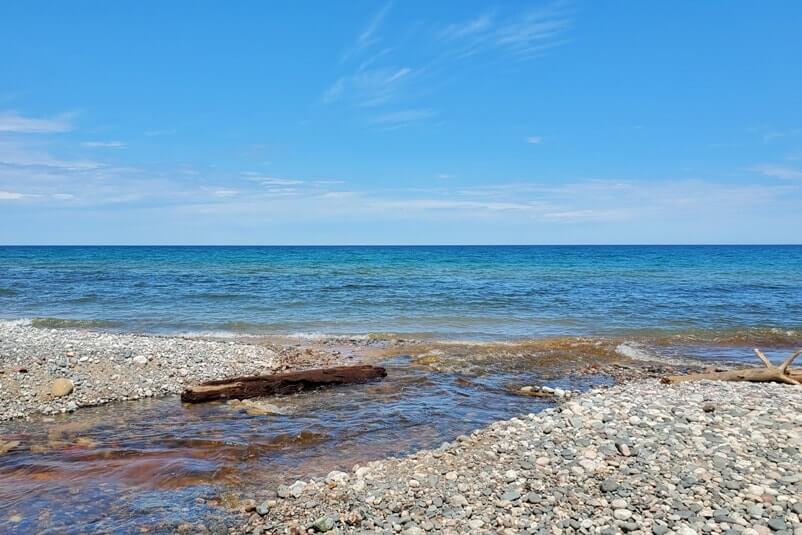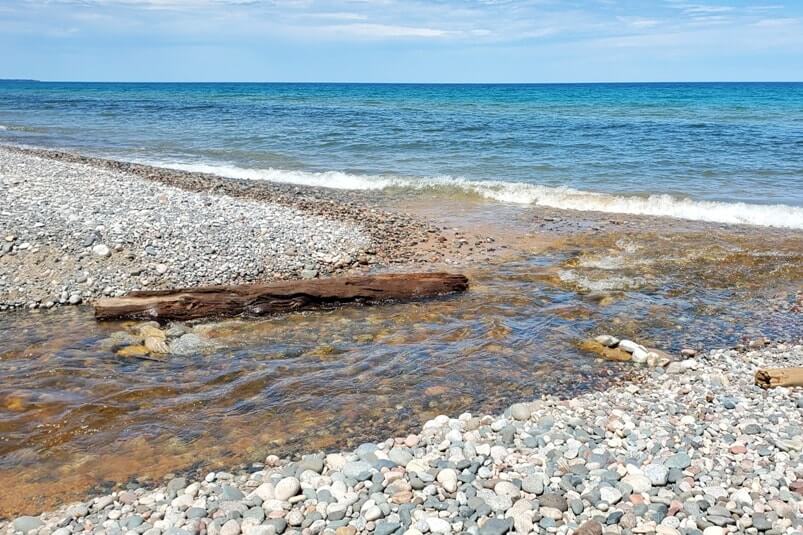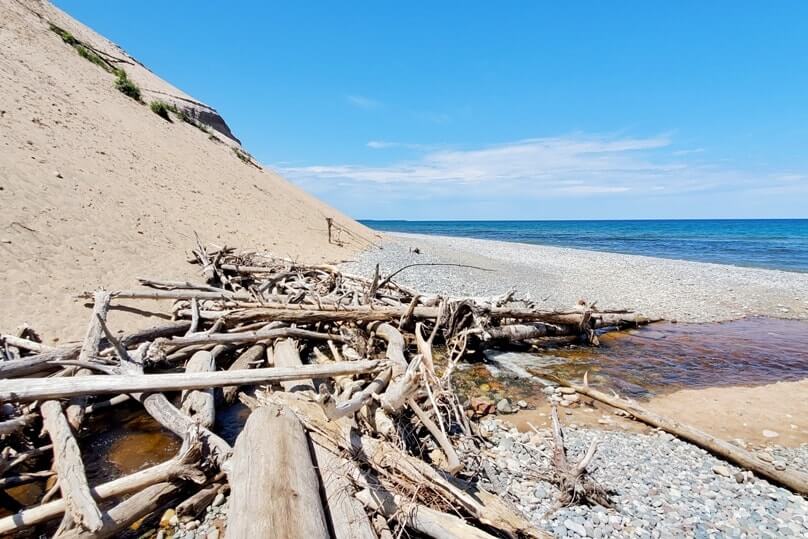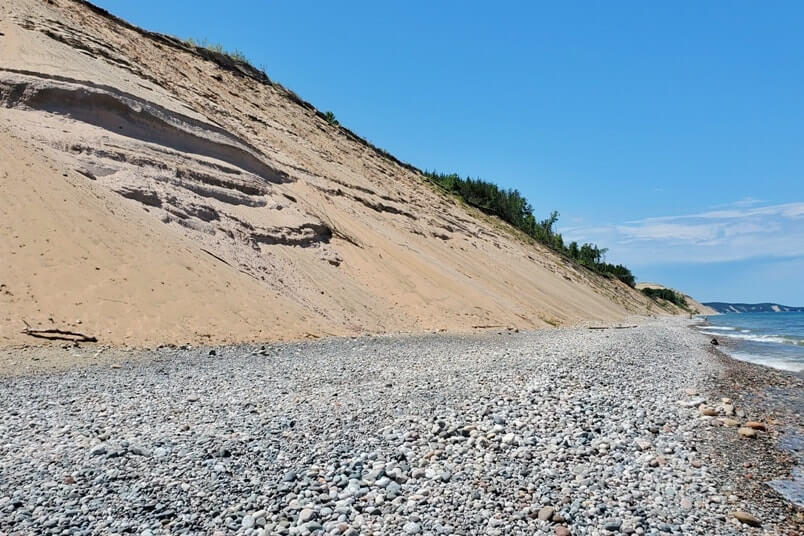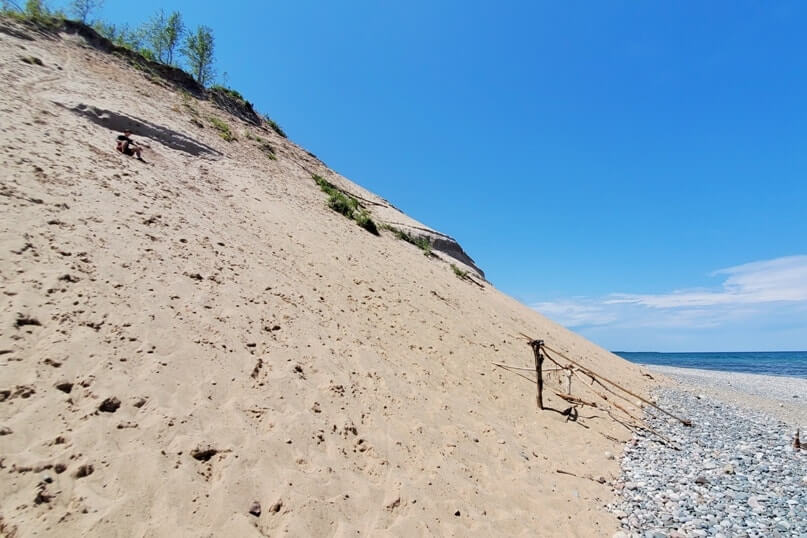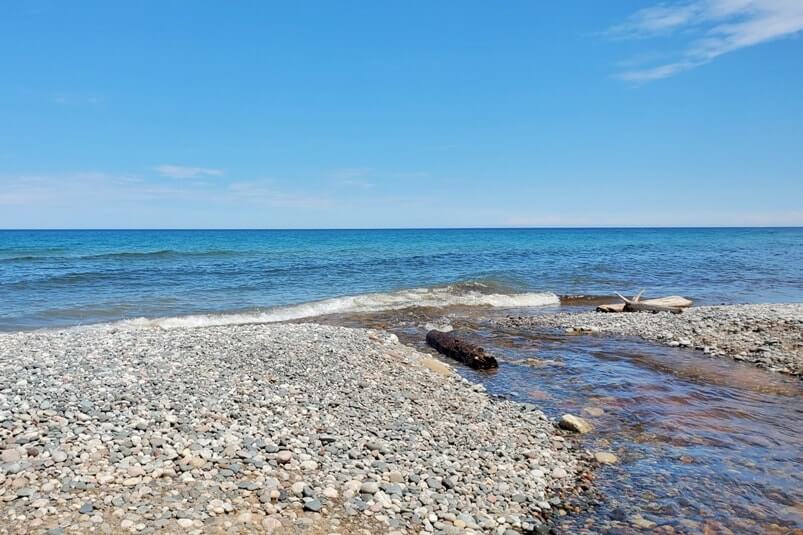 And you can search for rocks on the Lake Superior shoreline!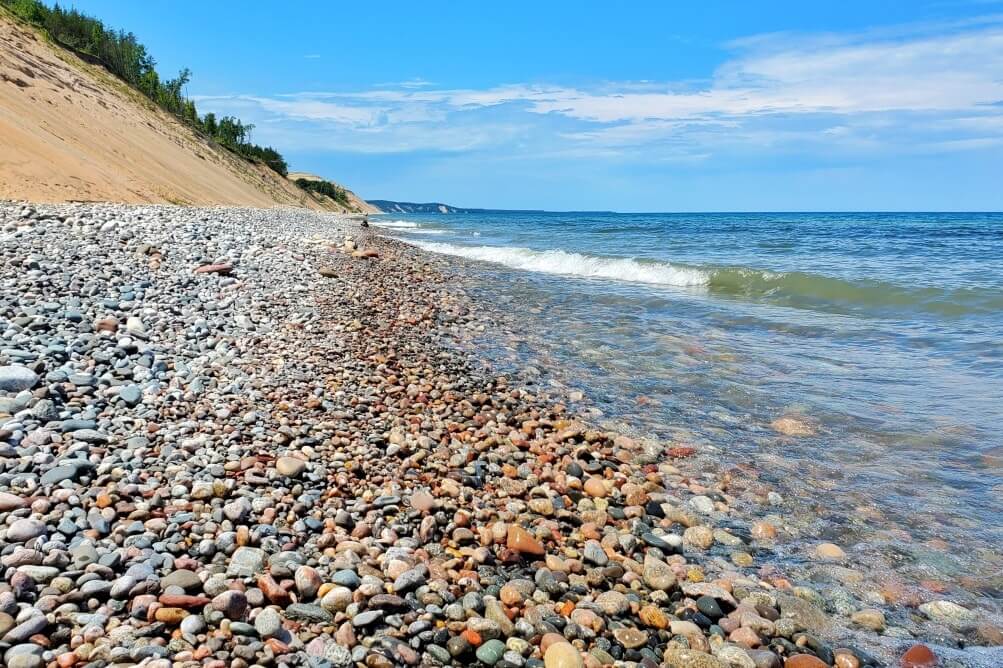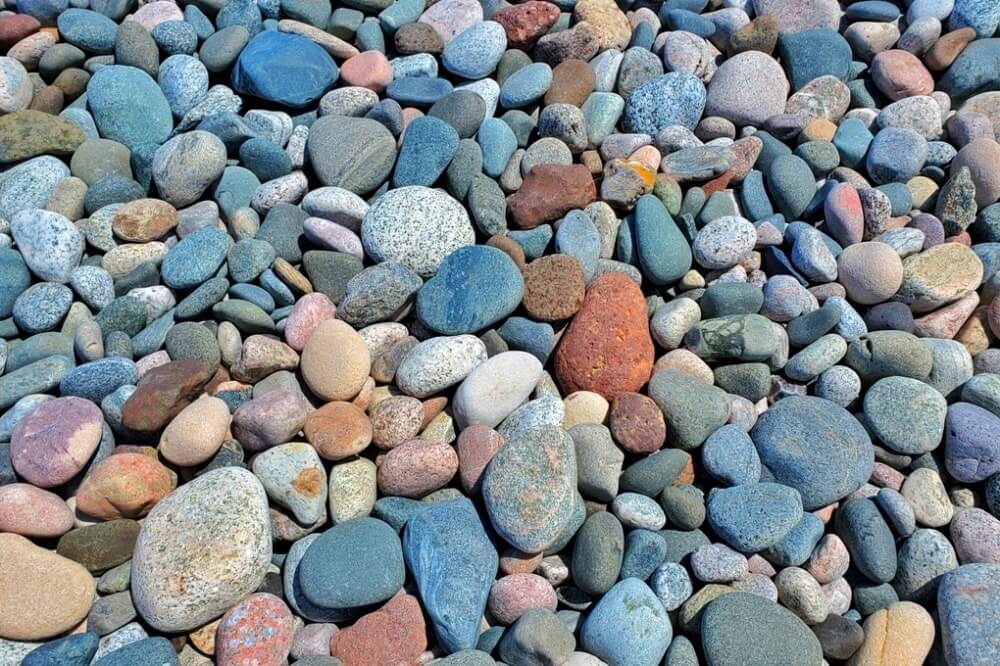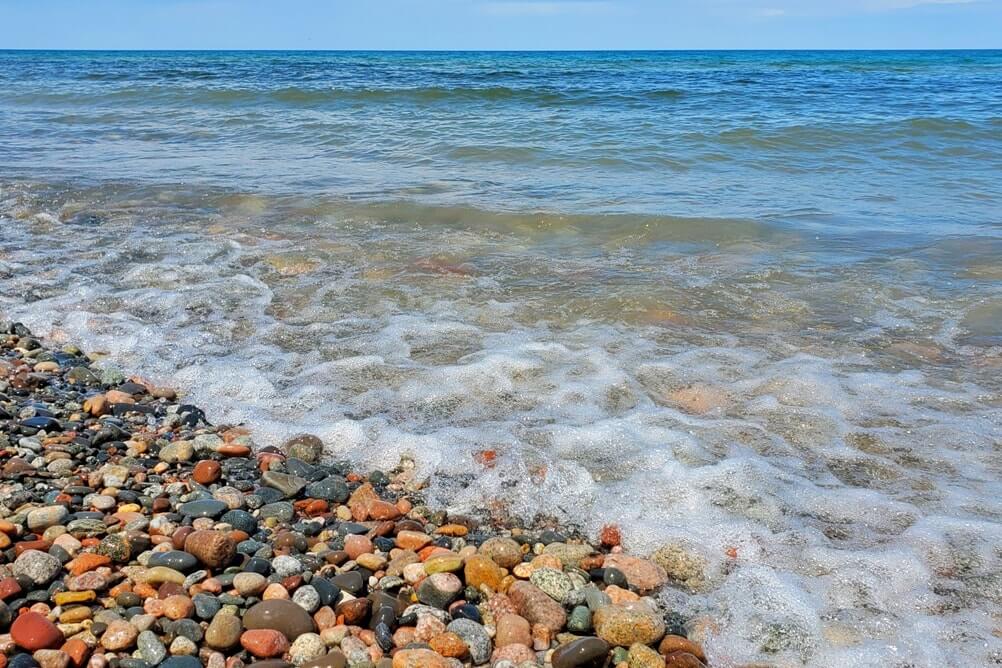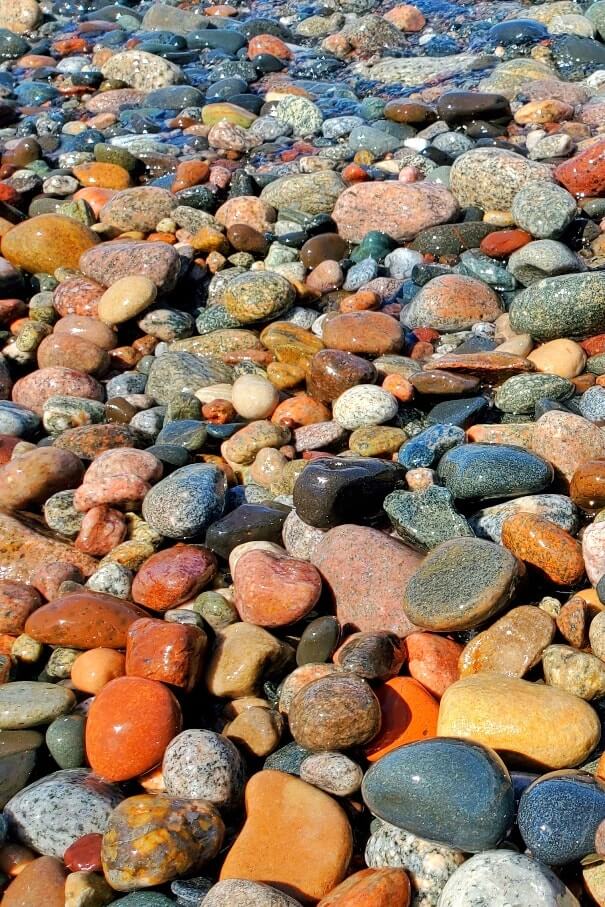 And once you're done taking in Lake Superior, you can take the trail back the way you came!
If you're up for it, also check out the Grand Sable Dunes Trail for more Lake Superior views! Look for the sign to the Grand Sable Dunes on your way back.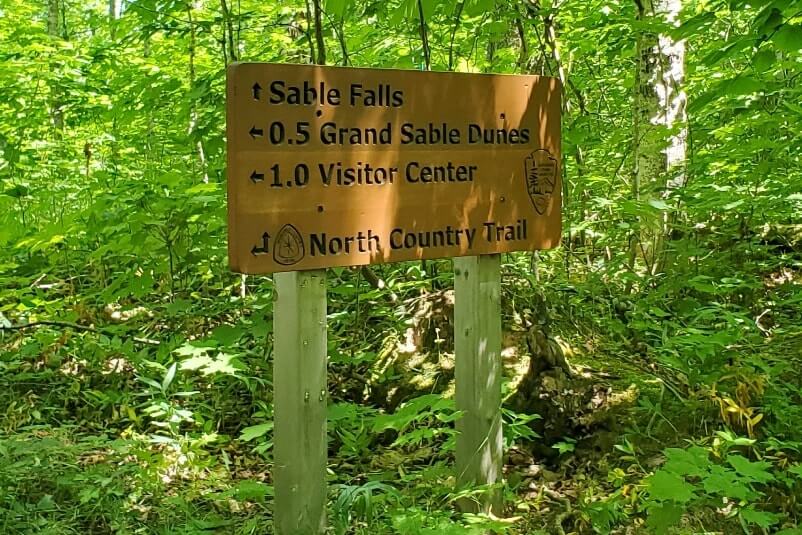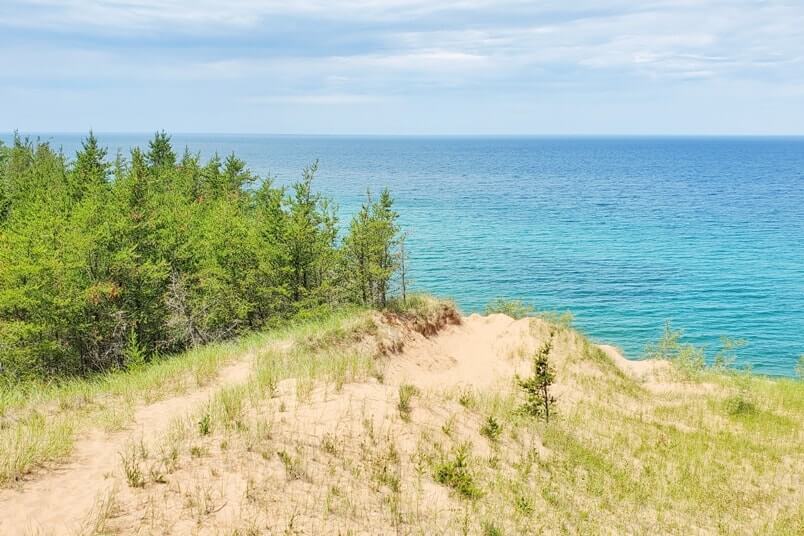 And that's a bit of how you can spend a part of your day in Pictured Rocks on the Grand Marais side!
See more of Pictured Rocks:
See more of the UP:
And if visiting Sable Beach with colorful rocks sounds good to you, then you just might love also visiting the Keweenaw Peninsula (also in the UP) where you can find beaches with a bunch of red rocks!
HAPPY HIKING SABLE FALLS TRAIL TO SEE WATERFALLS AND A LAKE SUPERIOR AGATE BEACH!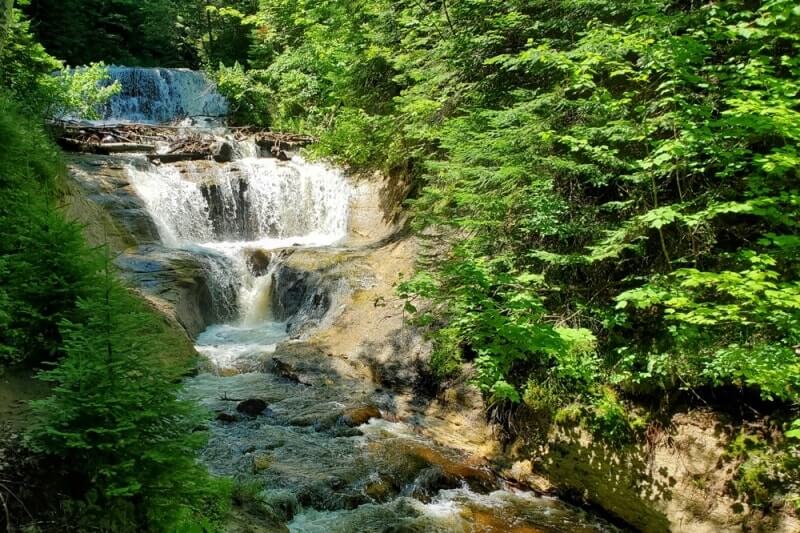 There are affiliate links on this page. Among other partners, as an Amazon Associate, I may earn a commission from this.
Things to pack for your Michigan vacation!
The ultimate beach towel for travel?!
Turkish towels are considered to be more lightweight than your average beach towel while still being absorbent. Be sure to check out
turkish towels like these
!
How to be a little bit more eco-friendly during your road trip!
Instead of using plastic silverware, try out
bamboo silverware like this set
!
The cheapo way to waterproof your phone
You can beach-proof your phone with a
simple waterproof phone case like this
.
Wear less sunscreen by wearing a UPF swim shirt!
Wearing a swim shirt means less skin that's exposed to the sun which means less sunscreen you need to apply! See about wearing
swim shirts with UV protection like these
when you're swimming in Lake Michigan or Lake Superior! Less sunscreen also means less chemicals from that sunscreen will enter our precious Great Lakes!
Get your travel bags more organized!
Packing cubes can make it so you're spending less time on your vacation looking for things! They are basically a form of drawers in your suitcase. Take a look at
these packing cubes
.