Hi there!
So depending on what you're doing in the Upper Peninsula, the Grand Marais Truck Trail might be a road you can make an easy detour to drive. Maybe it's even a road you'll naturally end up on!
And, it can be a nice road to end up on, as it can make for a great scenic drive that includes being able to stop off along the shores of Lake Superior!
You can make your Lake Superior beach stop a quick one, or stay longer!
First, the quick things to know about driving the H-58 county road and Grand Marais Truck Trail. The Grand Marais Truck Trail is a small portion of H-58.
Then, a bit more of what it can be like aka PHOTOS!
Quick things to know about driving the Grand Marais Truck Trail
1. It's a gravel road.
It's not a particularly rough road, but you'll be driving slower than usual, and you can expect dust as cars drive by you.
2. There are small parking areas along the way so you can stop to admire the Lake Superior views from atop a small bluff.
3. You can find trails that will take you down to the Lake Superior shoreline.
4. You can go for a beach walk along Lake Superior!
5. It's possible to find colorful rocks here.
6. The Lake Superior State Forest campground is along the Grand Marais Truck Trail.
7. The North Country Trail goes along the Grand Marais Truck Trail.
The North Country Trail is a long distance hiking trail (backpacking trail) that is 4,700 miles long across 8 states that also stretches across the UP in part. It will also intersect with the Grand Marais Truck Trail a little bit.
8. You can take the Grand Marais Truck Trail if you will be driving through Grand Marais MI.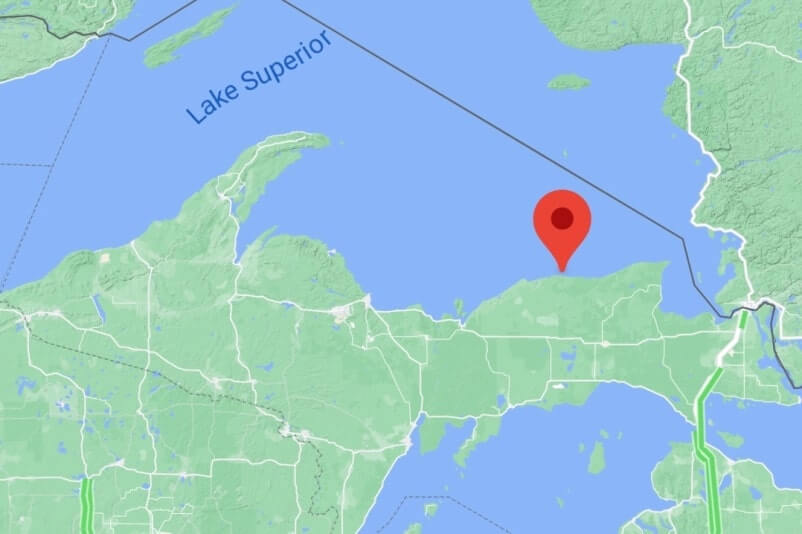 The Grand Marais Truck Trail is basically the road that is between Muskallonge Lake State Park and Grand Marais MI. These places may or may not be a part of your UP road trip.
If not, then more commonly, the way you could incorporate the Grand Marais Truck Trail is if you'll be driving between Tahquamenon Falls State Park and Pictured Rocks National Lakeshore.
In driving from Tahquamenon Falls to Pictured Rocks, you can make a slight detour to drive the Grand Marais Truck Trail.
And make your first stops at Pictured Rocks Sable Beach and the Log Slide dunes for more Lake Superior views! See more about driving to Pictured Rocks from Grand Marais.
Take care not to step on dune grass!
If you make the stop to get out and go down to Lake Superior, you'll see dune grass. This is said to be fragile and an important part of the coastal ecosystem, so try to watch your step!
🌳
More photos/info below, but first...
Side note!
Here's some info on Michigan vacation prep! Top Michigan vacation spots:
PLUS:
And now…
Some more PHOTOS of what the drive along Grand Marais Truck Trail is like!
I was going from Muskallonge Lake State Park towards Pictured Rocks, and here's a bit of what it was like in summer 2020!
The gravel road starts a little before the Grand Marais Truck Trail.
At the intersection, there's a sign for another state forest campground in the area.
And then you'll drive onto Grand Marais Truck Trail and start driving along Lake Superior!
Then once you have spent some time along Lake Superior, you can keep driving and that will soon take you back onto a regular road!
Following the Grand Marais Truck Trail, I stopped by the town of Grand Marais which is a small town. For more scenic Lake Superior views in Grand Marais, you may consider heading to the Grand Marais harbor lighthouses. There is an inner harbor lighthouse and outer harbor lighthouse. You can walk out onto the Grand Marais outer lighthouse pier and look out to see the Pictured Rocks sand dunes off in the distance! The Lake Superior beach here is also a rock hunting beach. You may find the Fired UP food truck near the Bayshore Park in Grand Marais.
And that's a bit of what it can be like to drive the Grand Marais Truck Trail in the UP!
Plan your days:
If driving on gravel roads make you feel like you're getting a true UP experience, then also see about making a stop at Crisp Point or Vermilion Point! And see more of the list of things to do in the Eastern Upper Peninsula.
You can make it a Lake Superior lighthouse trip or a Lake Superior camping trip.
And plan more for your great big Upper Peninsula road trip!
HAPPY DRIVING THE GRAND MARAIS TRUCK TRAIL ALONG LAKE SUPERIOR!
There are affiliate links on this page. Among other partners, as an Amazon Associate, I may earn a commission from this.
Things to pack for your Michigan vacation!
The ultimate beach towel for travel?!
Turkish towels are considered to be more lightweight than your average beach towel while still being absorbent. Be sure to check out
turkish towels like these
!
How to be a little bit more eco-friendly during your road trip!
Instead of using plastic silverware, try out
bamboo silverware like this set
!
The cheapo way to waterproof your phone
You can beach-proof your phone with a
simple waterproof phone case like this
.
Wear less sunscreen by wearing a UPF swim shirt!
Wearing a swim shirt means less skin that's exposed to the sun which means less sunscreen you need to apply! See about wearing
swim shirts with UV protection like these
when you're swimming in Lake Michigan or Lake Superior! Less sunscreen also means less chemicals from that sunscreen will enter our precious Great Lakes!
Get your travel bags more organized!
Packing cubes can make it so you're spending less time on your vacation looking for things! They are basically a form of drawers in your suitcase. Take a look at
these packing cubes
.