ALOHA!
Below is basically a Big Island travel planning map.
Use it to plan your Hawaii vacation!
Be sure to play around with the map!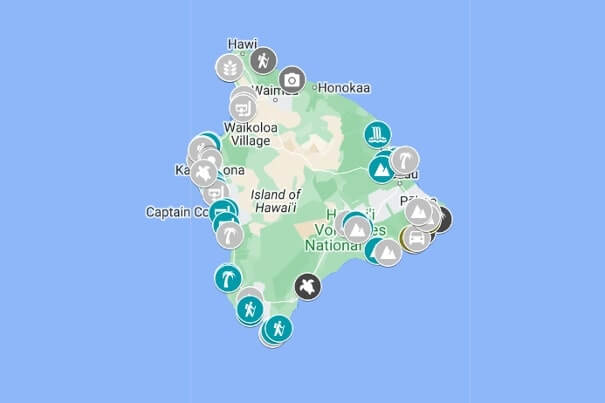 See below for the clickable interactive version of the Big Island map! Most icons have pictures, and some have additional info too! If you are on your phone, also see tips for using the map on mobile below the interactive map!

👆 Map of where the Big Island is located in Hawaii. The major Hawaiian islands from north to south (west to east) are Kauai (Lihue), Oahu (Honolulu), Maui (Lahaina), and the Big Island. The interactive map is below.
The Big Island travel planning map for Hawaii
Click the little icon in the top left corner of the map to see the list of what you'll find on this map.

👆 How to start using this map: Click the top left icon! Or just zoom in to start looking and clicking around!
This map may not work very well on this page on mobile, sorry!
In that case, send a link of this page to yourself and try on desktop!
Or…
Tips for using this google map of the Big Island on mobile!
If you are on your phone, you can also take a look at this Big Island map in Google Maps. (It is the same map as above but it might be easier for use on your phone.)
For this map, in short, in addition to clicking the icons that you see on the map, also click on the names that come up when you click on an icon!
Most icons have pictures and/or info to go along with it so if you are not seeing it, then click around!
Longer version…
If you do look at the map directly on google, start off by clicking the text at the bottom of the screen (the text that says "big island map") to see the different categories.
Then you can start clicking around on this list.
Or, you can also just start clicking around on the map.
When you click on an icon on the map, you will see the name of the spot come up at the bottom of the screen.
Click on that name.
Then, you will see a picture of that spot (in most cases!) and also possibly more info!
Phones may have different displays but basically click around on both icons and text!
Now…
What's on the Big Island tourist map?
Here's the quick list of things to do with 7 days on the Big Island to use along with the map!
See more ideas for a 7-day Big Island itinerary and to plan your circle island drive around the Big Island!
Kona coast
Kekaha Kai State Park white sand beaches (Hawaii state park)
Kaloko-Honokohau National Historical Park to see turtles
Kailua Bay
Hulihee Palace
Magic Sands Beach
Kahaluu Beach snorkeling spot
Kealakekua Bay snorkeling spot
Puuhonua O Honaunau National Historical Park
Hookena Beach
Honomalino Bay (beach hike)
See more: Things to do in Kona | Where to stay in Kona | Kona hotels map
South coast
Kula Kai Caves
South Point
See more: Where to stay on the south coast
Hawaii Volcanoes National Park area
See more: Driving from Kona to the national park
Puna coast
Kaimu black sand beach trail
Red Road
Pohoiki black sand beach
Leilani Avenue
Lava tree state monument
See more: Things to do in Puna | Where to stay in Puna
Hilo area
Carlsmith Beach Park
Richardson Ocean Park
See more: Things to do near Hilo
North side
Waipio Valley beach hike
Lapakahi village trail
Lapakahi snorkeling spot
Puukohola Heiau National Historic Site
Hapuna Beach
Waialea Beach snorkeling spot
And those are activity ideas for your Big Island trip itinerary!
Be sure to see the 7 day Big Island itinerary for ideas on how to spend your days on the Big Island!
Also see more Hawaii ideas with the Oahu map too!
HAPPY BIG ISLAND TRAVEL PLANNING!
📌
Pin this post for later! Save on Pinterest!
👈📌
Here are some ideas for your time on the Big Island!
Among the most popular things to do on the Big Island are
Hawaii Volcanoes National Park
,
Akaka Falls State Park
, and
Waipio Valley
!
For Hawaii Volcanoes National Park, the main road to drive is
Chain of Craters Road
and it will take you to see the
best lava fields in Hawaii
! Before that though (or after!) you will want to make a stop for the
Thurston lava tube
. You can also hike into a former lava lake by doing the
Kilauea Iki Trail
!
Other Big Island activities you may want to make time for are the
best black sand beaches in Hawaii
(including
Punaluu black sand beach to see turtles
maybe!) and the
Papakolea green sand beach of Hawaii
.
Volcanoes in Hawaii
There was a time in December 2022 that 2 volcanoes were erupting in
Hawaii Volcanoes National Park
.
This was a special occasion because even in the past few years, there was a quiet period where there was NO active lava to be seen anywhere in Hawaii.
As the National Park Service says, it was the first time in nearly 40 years that TWO volcanoes were erupting in Hawaii at the same time!
But what seems like nearly just like that, they stopped erupting.
As it goes with volcanoes, things can change in an instant!
So be sure to check National Park Service updates when your Big Island trip gets closer:
What's going on with the volcanoes?
Spotted yesterday at #MaunaLoa – a lava boat rides the waves! On Dec 7, a lava boat was spotted floating down channel. Lava boats can form when portions of the cone or lava channel break away & are rafted downstream. Hot lava cools to its surface to create that smooth exterior. pic.twitter.com/D9gdoFolfq

— USGS Volcanoes🌋 (@USGSVolcanoes) December 9, 2022
👇
Explore the Big Island map on google maps!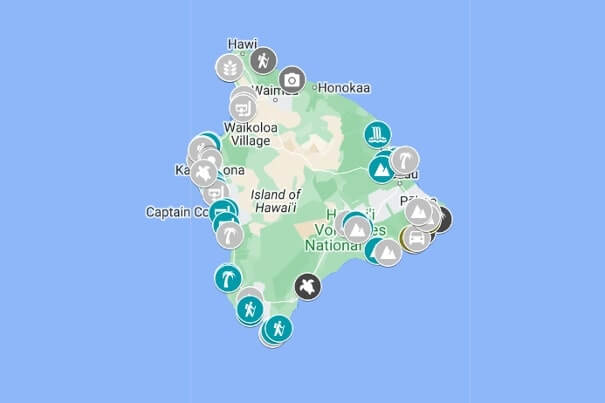 See the list:
There are affiliate links on this page. Among other partners, as an Amazon Associate, I may earn a commission from this.
Top things to pack for your Hawaii vacation!
The ultimate beach towel for travel?!
Turkish towels are considered to be more absorbent and lightweight than your average beach towel. Be sure to check out
turkish towels like these
!
The cheapo way to waterproof your phone
You can take underwater pictures with a
simple waterproof phone case like this
. Touch screen may not work well underwater - try the volume button to snap the pic instead!
Get your suitcase more organized!
Packing cubes can make it so you're spending less time on your vacation looking for things! They are basically a form of drawers in your suitcase. Take a look at
these packing cubes
.
Wear less sunscreen by wearing a UPF swim shirt!
Wearing a swim shirt means less skin that's exposed to the sun which means less sunscreen you need to apply! See about wearing
swim shirts with UV protection like these
when you're snorkeling.
More for your Big Island packing list
Watch the videos to see the Big Island in action!
If you see an activity you like, look in the description below the youtube video for the individual blog post about that specific activity!
ALOHA!


There are affiliate links on this page. Among others, as an Amazon Associate I may earn from purchases.