ALOHA!
So…
If you're looking to spend one day in Hilo on the Big Island…
What are some of the best things to do near Hilo town?!
These things listed below can be perfect to do if you're making it a day trip to Hilo from Kona.
If you're arriving to the Big Island by cruise ship, then it can also be perfect for a one day Hilo cruise port stop.
Now…
5 best things to do near Hilo
Driving time listed below is from Hilo town.
Waterfalls in Hilo
Hilo to Rainbow Falls: maybe a 5 minute drive
These waterfalls near Hilo are located at Wailuku River State Park.
It's one of the easy waterfalls to see on the Big Island.
This is practically in Hilo town, and it can be a pretty quick stop.
Once you park, you are basically at the waterfalls lookout point.
There's a small trail off to the left that will take you up to the spot where you can see the river that feeds the waterfalls.
There are also some banyan trees around here.
See more about this Hilo activity: Rainbow Falls
Lava tube cave hike in Hilo
Hilo to Kaumana Caves: Maybe a 10-15 minute drive
This can be a fun stop to walk through caves formed by lava!
You can make this a quick stop by just visiting the cave entrance without going in, but the fun is in walking through these caves!
There are 2 main cave openings here.
Over to the left is a spot where you can get down and crawl to get up close and personal to the smaller opening that lava came through.
Over to the right, you can walk on uneven lava rocks as you venture further into the cave.
Even walking for 15-20 minutes into the cave and turning around can be a super cool experience.
You light your own way, so you absolutely need to be sure to come prepared if you're going to venture further than the immediate cave entrance. (Don't depend on your phone light only – use this as a back-up plan!)
Consider this one of the best hikes on the Big Island!
See more about this Hilo activity: Kaumana Caves
3. Carlsmith Beach Park
Chance to see turtles in Hilo
Hilo to Carlsmith beach park: maybe a 10 minute drive
This can be a good spot to test your luck on seeing turtles near Hilo.
I saw a turtle while I was here in the pond-like area that opens out to sea, and I also talked to someone who said he was swimming with 4 or 5 turtles in the ocean.
4. Richardson Ocean Park
Black sand beach in Hilo
Hilo to Richardson Ocean Park: maybe a 10-15 minute drive
If you're looking for a black sand beach near Hilo, this is it!
This ocean park or beach park can be another good spot for a good chance of seeing turtles near Hilo.
I also saw a turtle here.
This is located right down the road from the other Hilo beach, Carlsmith beach park.
Best waterfalls near Hilo
Hilo to Akaka Falls: maybe 20-30 minute drive
This is one of the best waterfalls on the Big Island, and it's a bit north of Hilo but not too far.
It's a part of the Akaka Falls State Park.
Be sure to take the Akaka Falls loop trail for a more dramatic approach to the waterfalls. (And for the chance to walk in baynan trees!)
See more about this Hilo activity: Akaka Falls
There's a $1 entry fee for this state park, and there's free parking outside of the state park gate.
Otherwise…
Everything else on this list are FREE things to do in Hilo!
And the summary aka quick list…
Bucket list of things to do in Hilo!
And those are some of the best things to do in Hilo!
For more things to do on the Hilo side of the Big Island:
HAPPY EXPLORING THE HILO AREA!
👇
Explore the Big Island map on google maps!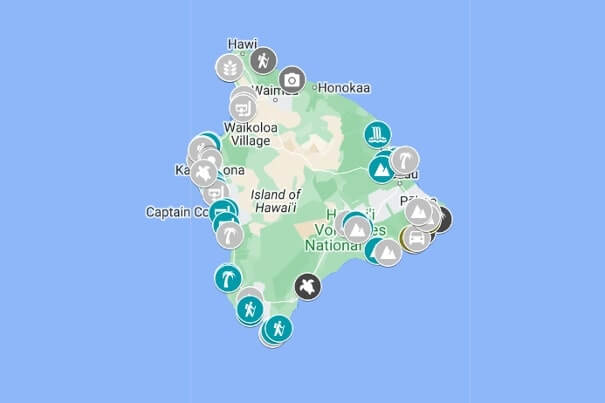 See the list:
There are affiliate links on this page. Among other partners, as an Amazon Associate, I may earn a commission from this.
Top things to pack for your Hawaii vacation!
The ultimate beach towel for travel?!
Turkish towels are considered to be more absorbent and lightweight than your average beach towel. Be sure to check out
turkish towels like these
!
The cheapo way to waterproof your phone
You can take underwater pictures with a
simple waterproof phone case like this
. Touch screen may not work well underwater - try the volume button to snap the pic instead!
Get your suitcase more organized!
Packing cubes can make it so you're spending less time on your vacation looking for things! They are basically a form of drawers in your suitcase. Take a look at
these packing cubes
.
Wear less sunscreen by wearing a UPF swim shirt!
Wearing a swim shirt means less skin that's exposed to the sun which means less sunscreen you need to apply! See about wearing
swim shirts with UV protection like these
when you're snorkeling.
More for your Big Island packing list
Watch the videos to see the Big Island in action!
If you see an activity you like, look in the description below the youtube video for the individual blog post about that specific activity!
ALOHA!