ALOHA!
So you want to see waterfalls when you go to the Big Island!
These waterfalls on the Big Island are among the easiest to add to your Big Island itinerary.
Not only that, they are pretty easy to access too!
So no major hikes, and just a little bit of walking and you can see some GREAT waterfalls when you are in Hawaii.
If you're wanting to see some waterfalls when you're in Hawaii, these waterfalls likely will not disappoint!
Below is a list of the top 2 easy access waterfalls to see on the Big Island.
There is also a little bit about how to add these great waterfalls to your Big Island itinerary, including more things to do on the day you go visit these waterfalls.
It is reasonable to visit both of these waterfalls on the same day, and there will be more on this below.
More for beyond your visit to Big Island waterfalls
If you're interested in Big Island waterfalls, then you may also be interested in these things around the Big Island:
More below about the best waterfalls to see on the Big Island!
🌴
Best waterfalls to see on the Big Island
aka waterfalls near/in Hilo
If you're spending some nights in Hilo, then these are especially perfect waterfalls to visit.
Many people also make it a day trip to this side of the island too, doing other things as well.
These waterfalls can be a perfect rainy day activity too.
You'll take a paved trail to see them both which means you don't need to deal with any muddy hiking trails or the risk of potential flash flooding.
Waterfalls near Hilo
If you had to choose just one waterfalls to visit on the Big Island, you likely won't be disappointed with a visit to Akaka Falls!
These are super tall waterfalls that you can see from an overlook. There's a short trail to get there, but consider taking the mile long Akaka Falls circle loop trail for the more dramatic approach to seeing the waterfalls! (I think it gives a more dramatic approach anyway!)
Plus it's like an added nature walk through a rainforest. You will also pass by more waterfalls, the Kahuna Falls, although these waterfalls you can't really see well. You can hear them though.
You will also pass by a banyan tree, and you can basically walk what can feel like into the tree too.
Then you will start to see the waterfalls, and then walk closer and closer to them until you reach the overlook!
When you go to Akaka Falls State Park, park outside the state park gate to get free parking at Akaka Falls. There is a $1 entry fee to go to the waterfalls overlook.
What to do on your way to Akaka Falls, if you're staying in Kona
From Hilo to Akaka Falls is around a 20 minute drive. Driving straight from Kona to Akaka Falls is around a 2 hour drive.
If you're looking to make a day trip to Akaka Falls from Kona, then there are some more things you can do along the way to make it a more worthwhile trip… or maybe more accurately, you can make a slight detour to find things along the way.
The day you go to Akaka Falls can be a good time to do some activities that are along the northern coast on your way to Akaka Falls, or on your way back.
Look into things like:
These are some of the best hikes on the Big Island!
And since you'll be on the Hilo side, you can do any of the activities that are in the direct area of Rainbow Falls too, next on the list.
Waterfalls in Hilo
Rainbow Falls is located at Wailuku River State Park, and they are easier to see than Akaka Falls.
Once you park at the Rainbow Falls parking lot, you are practically at the waterfalls overlook.
Once you've taken in the views of the waterfalls, you can head off to the left side. This trail will take you up to the spot where you can see the river that feeds the waterfalls.
There are also some banyan trees around here that you can walk around.
What to do near Rainbow Falls
Rainbow Falls is basically directly in Hilo town. It's about a 5 minute drive from Hilo town to Rainbow Falls.
So you can look into things to do in Hilo, like:
Are there more waterfalls on the Big Island?
Yes, there are more waterfalls on the Big Island. Akaka Falls and Rainbow Falls are not the only waterfalls.
The other one that you might considering seeing is Umauma Falls which you can go see with the $12 admission fee to the Umauma botanical gardens. I didn't go see this so I'm not sure what it's like.
Other than that, I am all for hiking to waterfalls if there's a clear trail to definitely see them. But I do not think there are any more that are all that easy to access and/or dependable to have water flowing (aka they might be dried up) and/or there is no big discouragement for going to see them (example: Hiilawe Falls and Kaluahine Falls).
I remember I was staying at a hostel on the Big Island, and a fellow traveler was flipping through a Hawaii travel magazine. I am pretty sure it was an official one put out by the Hawaii tourism department. There was a waterfall section, and I remember he was a little annoyed because he wanted to see waterfalls and the "top" Big Island waterfalls they showed were basically not accessible. I think there were 1 or 2 that were shown that required a helicopter to see or something. There might have even been one that even when you looked it up online, you couldn't even figure out how to get there or something.
And so, maybe if you are adventurous and on the hunt for "local secrets" maybe you can find some more.
But if you're trying to maximize your time on the Big Island, personally I think Akaka Falls and Rainbow Falls are worth making the priority!
More to do on the Hilo side of the Big Island
There are things to do on the Hilo side that can fill up a couple of days! Here are some ideas:
More waterfalls in Hawaii
HAPPY SEEING BIG ISLAND WATERFALLS!
👇
Explore the Big Island map on google maps!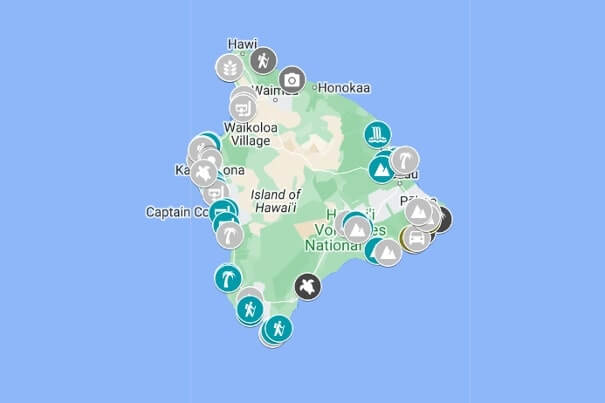 See the list:
There are affiliate links on this page. Among other partners, as an Amazon Associate, I may earn a commission from this.
Top things to pack for your Hawaii vacation!
The ultimate beach towel for travel?!
Turkish towels are considered to be more absorbent and lightweight than your average beach towel. Be sure to check out
turkish towels like these
!
The cheapo way to waterproof your phone
You can take underwater pictures with a
simple waterproof phone case like this
. Touch screen may not work well underwater - try the volume button to snap the pic instead!
Get your suitcase more organized!
Packing cubes can make it so you're spending less time on your vacation looking for things! They are basically a form of drawers in your suitcase. Take a look at
these packing cubes
.
Wear less sunscreen by wearing a UPF swim shirt!
Wearing a swim shirt means less skin that's exposed to the sun which means less sunscreen you need to apply! See about wearing
swim shirts with UV protection like these
when you're snorkeling.
More for your Big Island packing list
Watch the videos to see the Big Island in action!
If you see an activity you like, look in the description below the youtube video for the individual blog post about that specific activity!
ALOHA!