ALOHA!
Pololu Valley is one of the great coastal valleys on the north side of the Big Island.
You can make this a part of your scenic drive around the Big Island!
As you approach the Pololu Valley Lookout, you'll start to see the grand ocean views even as you're driving.
And then you can get some great scenic views from the Pololu Valley Lookout right near the parking area.
So, there's no real hiking involved if you want to see the grand coastal views from above!
But, it is worth hiking down at least a little bit so you can get a slightly different view of the Pololu Valley coast!
So if you do want to get some more views, there's also a trail that starts from the Pololu Valley lookout that goes down to sea level and makes for a great coastal hike.
So the Pololu Valley Lookout is also where you'll find the trailhead parking for the hiking trail that goes down to the Pololu Valley beach.
Even if you're not interested in hiking all the way down to the beach, if you hike for 10 minutes or so (or less) you can get to another great lookout spot for coastal views.
So to hike to this second Pololu Valley lookout on the trail, you may want to give yourself a total of 30 minutes or so round trip.
The way back is UP so it might take a little longer!
Bathrooms near Pololu Valley Lookout
What locals living near Pololu Valley would like you to know!
In Hawaii, respecting the land is a big thing in Hawaiian culture.
There are no bathrooms near the Pololu Valley Lookout.
It can be distressing for locals to see people coming out of the bushes near the Pololu Valley Lookout, presuming why people are coming out of the bushes.
Seeing so many people doing this, it can be seen as a form of disrespecting the land.
And if it becomes a big problem, that's when there may even start to be more serious talks about limiting visitors to visit such places like Pololu Valley.
So please, for everyone's sake, locals and future Hawaii visitors alike, avoid those bushes!
Instead, locals would like you to know about Keokea Beach Park where there are bathrooms.
This is about a 5 minute drive from the Pololu Valley Lookout.
Consider making a stop there before you go to Pololu Valley, just in case! MAHALO!
A local reached out to me asking me to tell you where you can use the bathrooms near Pololu Valley!
More below about driving to the Pololu Valley Lookout parking area!
🌴
Amazing Big Island experiences you need to consider:
Read more for your Hawaii trip prep:
There are affiliate links on this page.
So…
Here's a bit of what the Pololu Valley Lookout is like!
Pololu Valley is in the far north of the Big Island, and a spot where not many other things are located. (Although you will pass through the cute Hawi town.)
Pololu Valley is a solid 1.5 hours from Kona, maybe more depending on where on the Kona coast you're staying. If you're staying a bit further north in one of the Waikoloa resorts on the Kohala coast, it's a bit closer and might take around an hour.
If you're looking for something to do somewhat in the area, you might have a look at Lapakahi State Historical Park for a top Big Island snorkeling spot and to walk through an ancient Hawaiian village. Or you can also go to Hapuna Beach which has been called one of the best beaches in Hawaii, according to Dr. Beach.
You can also make it a valley lookout kind of day and make this day on the Big Island by visiting both the Pololu Valley lookout and the Waipio Valley lookout together. The drive between these two valley lookouts is around 1.5 hours. Both of these valley lookouts are also the starting location of hikes down to beach, so you can also make it a one day of hiking to the Big Island valley beaches too!
Map of Pololu Valley

Explore the map.
Once you get closer, you'll start to see signs for Pololu Valley.
Then once you get even closer to the Pololu Valley lookout, you may start to see cars parked along the side of the road.
And then basically you will be driving to a dead end.
There's a small parking lot at the end of the road. Otherwise, you can park along the side of the road before that dead end parking lot too.
And you are at the Pololu Valley lookout!
After you have taken in views from the Pololu Valley lookout, now for those extra Pololu Valley coastal views, you can get started on the trail.
Then after about 10 minutes, you'll see the coastline from another vantage point!
Then from here, you can either continue hiking down to the Pololu Valley Beach, or you can head back to be on your way for another great Big Island activity!
And that's a bit about what you'll see from the Pololu Valley Lookout parking area!
If you're interested in the Pololu Valley Lookout, you may also be interested in these Big Island activities:
HAPPY DRIVING TO THE POLOLU VALLEY LOOKOUT!
US TRAVEL IDEAS >> HAWAII TRAVEL IDEAS >> BIG ISLAND TRAVEL IDEAS
Here are some ideas for your time on the Big Island!
Among the most popular things to do on the Big Island are
Hawaii Volcanoes National Park
,
Akaka Falls State Park
, and
Waipio Valley
!
For Hawaii Volcanoes National Park, the main road to drive is
Chain of Craters Road
and it will take you to see the
best lava fields in Hawaii
! Before that though (or after!) you will want to make a stop for the
Thurston lava tube
. You can also hike into a former lava lake by doing the
Kilauea Iki Trail
!
Other Big Island activities you may want to make time for are the
best black sand beaches in Hawaii
(including
Punaluu black sand beach to see turtles
maybe!) and the
Papakolea green sand beach of Hawaii
.
Volcanoes in Hawaii
There was a time in December 2022 that 2 volcanoes were erupting in
Hawaii Volcanoes National Park
.
This was a special occasion because even in the past few years, there was a quiet period where there was NO active lava to be seen anywhere in Hawaii.
As the National Park Service says, it was the first time in nearly 40 years that TWO volcanoes were erupting in Hawaii at the same time!
But what seems like nearly just like that, they stopped erupting.
As it goes with volcanoes, things can change in an instant!
So be sure to check National Park Service updates when your Big Island trip gets closer:
What's going on with the volcanoes?
Spotted yesterday at #MaunaLoa – a lava boat rides the waves! On Dec 7, a lava boat was spotted floating down channel. Lava boats can form when portions of the cone or lava channel break away & are rafted downstream. Hot lava cools to its surface to create that smooth exterior. pic.twitter.com/D9gdoFolfq

— USGS Volcanoes🌋 (@USGSVolcanoes) December 9, 2022
👇
Explore the Big Island map on google maps!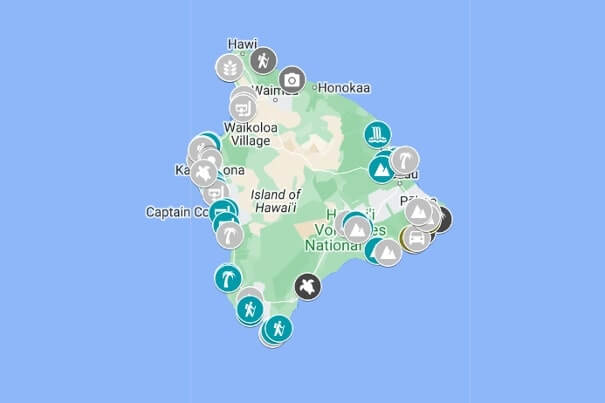 See the list:
There are affiliate links on this page. Among other partners, as an Amazon Associate, I may earn a commission from this.
Top things to pack for your Hawaii vacation!
The ultimate beach towel for travel?!
Turkish towels are considered to be more absorbent and lightweight than your average beach towel. Be sure to check out
turkish towels like these
!
The cheapo way to waterproof your phone
You can take underwater pictures with a
simple waterproof phone case like this
. Touch screen may not work well underwater - try the volume button to snap the pic instead!
Get your suitcase more organized!
Packing cubes can make it so you're spending less time on your vacation looking for things! They are basically a form of drawers in your suitcase. Take a look at
these packing cubes
.
Wear less sunscreen by wearing a UPF swim shirt!
Wearing a swim shirt means less skin that's exposed to the sun which means less sunscreen you need to apply! See about wearing
swim shirts with UV protection like these
when you're snorkeling.
More for your Big Island packing list
Watch the videos to see the Big Island in action!
If you see an activity you like, look in the description below the youtube video for the individual blog post about that specific activity!
ALOHA!




There are affiliate links on this page.