ALOHA!
The Puna coast is GREAT.
If you are on the Big Island for volcanoes and black sand beaches, I think it's definitely worth considering making a part of your circle the Big Island itinerary!
You'll see lots of lava fields, there are relatively recently made black sand beaches (because of volcanoes and lava), and you'll get nice coastal views too.
This is also the area that saw homes devastated by lava in 2018.
Things to do in Puna are also things to do near Hawaii Volcanoes National Park!
Puna can be considered to be pretty near Hawaii Volcanoes National Park.
So it can be perfect to make a visit to Puna after a visit to the national park if you have a couple of hours to spare.
Or you could visit Puna if you're coming from the south coast and you're on your way further north after a drive from Kona to the national park… Or before a visit to the national park if you're coming from Hilo and the north side of the island!
From Hawaii Volcanoes National Park to the first Puna activity listed below is about a one hour drive.

👆 Map of where Puna is located on the Big Island of Hawaii. Explore the Big Island tourist map. Explore the circle the Big Island itinerary! Explore more things to do on the Big Island!
Below is the list of what to do along the Puna coast!
🌋🌴
So…
7 best things to do in Puna on the Big Island
You just need one day to visit these top spots in Puna, maybe even just a few hours, especially if you cut out a couple of things!
Take a 10 minute walk on a black sand trail to get to a black sand beach!
This is a very black-colored black sand beach.
This is a beach to just look at (not swim at) on the Puna coast, and the views are amazing!
There are lava fields around here too that you can walk around as you take in the coastal views.
Afterwards, grab a fresh fruit smoothie from the cafe near the parking lot!
2. Red Road
One of the best scenic drives on the Big Island on a road that runs along the Puna coast.
It's a pretty short drive – point to point might be 30 minutes, but you can make stops along the way.
This is also route 137 aka Kapoho Kalapana Road.
The trail to this beach can be found right off the side of Red Road.
It's a short but steep trail to get down to Kehena Beach.
This is another very black-colored black sand beach, but it's important to know that this is a clothing optional beach.
4. Pohoiki black sand beach
And…
This is another very black-colored black sand beach.
This is located at Isaac Hale black sand beach.
It's considered to be the Big Island's newest black sand beach, in that it was created due to volcanic activity (lava flows) from quite recently – in 2018.
The Kaimu Beach is also sometimes referred to as the "new" kaimu black sand beach, and that "new" dates back to 1990 when that beach was created.
The Pohoiki black sand beach is at one end of the Red Road for another one of the black sand beaches you can see along the Puna coast.
You can make it a black sand beach day by starting at Kaimu Beach, driving on Red Road, stopping at Kehena Beach, and then finally make your way to Pohoiki Beach!
5. Lava tree state monument
You can see how lava took the shape of trees as a result of the lava flowing over the trees.
6. Leilani Avenue
Maybe you saw on the news about the 2018 volcano eruption in Hawaii that destroyed homes.
That's the neighborhood of Leilani Estates on the Big Island.
Not all homes were lost in this neighborhood, but you can see where the lava flows stopped with a drive to what's now the end of Leilani Avenue.
Some residents of Leilani Estates don't like to see tourists flocking to their neighborhood so just keep this in mind if you do take the drive down Leilani Avenue.
7. Pahoa Lava Zone Museum
This is located in downtown Pahoa, so you can make a slight detour on your way to the Puna coast, or on your way back.
If you look at some older lists of top things to do in the Volcanoes National Park, you'll see the Jaggar Museum on the list. It's not possible to go to the Jaggar Museum now, as it's permanently closed because of the effects of the volcano eruption.
It seems they've moved some of the items from that Jaggar Museum to the Pahoa Lava Zone Museum. There was also a sign at the Pahoa museum indicating this.
Visiting this museum before you head towards the Puna coast could be a nice way to get some background of the volcano activity of the area (and the Big Island!) as you see more hardened lava flows around the coast.
As the museum says:
The 2018 eruption took hundreds of homes, but it gave us unprecedented scientific discoveries.

See these artifacts in our new collection.
This is a volunteer-run organization. While they are open most days, it's best to call ahead to confirm opening days.
Basically they are open when they have people to volunteer.
I missed out on going because I didn't call. I was around Puna for a couple of days and it likely would have been open another day if I would have just called to check! Instead I stopped by a closed museum as I was leaving Puna so didn't have a chance to go back when it was open.
Where to stay in Puna
If you're staying directly near Hawaii Volcanoes National Park, you can make it a day trip to Puna from there.
You might also consider staying in Puna too, to give you another unique Big Island experience by staying at a place surrounded by lava fields!
You might also be able to find an airbnb in Leilani Estates. This might give you a chance to speak directly with a resident about the experience of having volcano destruction hit so close to home.
If you're new to airbnb, use my referral link to get a discount on your first airbnb booking. I've seen it say up to $55 off!
And those are a few things to do in Puna!
If you're interested in Puna Hawaii, then you may also be interested in these Big Island activities:
HAPPY EXPLORING THE PUNA COAST!
👇
Explore the Big Island map on google maps!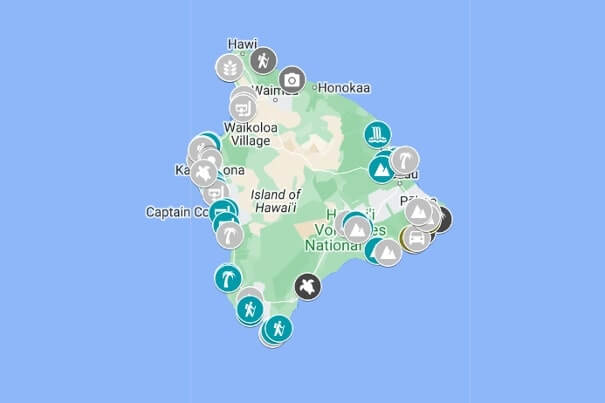 See the list:
There are affiliate links on this page. Among other partners, as an Amazon Associate, I may earn a commission from this.
Top things to pack for your Hawaii vacation!
The ultimate beach towel for travel?!
Turkish towels are considered to be more absorbent and lightweight than your average beach towel. Be sure to check out
turkish towels like these
!
The cheapo way to waterproof your phone
You can take underwater pictures with a
simple waterproof phone case like this
. Touch screen may not work well underwater - try the volume button to snap the pic instead!
Get your suitcase more organized!
Packing cubes can make it so you're spending less time on your vacation looking for things! They are basically a form of drawers in your suitcase. Take a look at
these packing cubes
.
Wear less sunscreen by wearing a UPF swim shirt!
Wearing a swim shirt means less skin that's exposed to the sun which means less sunscreen you need to apply! See about wearing
swim shirts with UV protection like these
when you're snorkeling.
More for your Big Island packing list
Watch the videos to see the Big Island in action!
If you see an activity you like, look in the description below the youtube video for the individual blog post about that specific activity!
ALOHA!