ALOHA!
If you are into volcanoes, then the places on this list you must HIGHLY consider visiting (or seeing) during your trip to the Big Island!
Below, the first part will be where you can see vast and expansive lava fields that you can see as a result of volcanic activity in Hawaii.
This includes lava flows that reached the ocean.
Then will be a couple more spots on the Big Island where you can also specifically see where the lava stopped flowing on a road.
And then a bonus lava tube cave hike to do for a unique Big Island of Hawaii experience, since this is related to volcanoes too.
Where can you see active lava flowing in Hawaii?
aka the red stuff
The Big Island is known as THE island to visit in Hawaii if you want a chance to see active molten lava (aka the red stuff).
But, it's not always guaranteed or possible to see it.
At one point, the Kilauea volcano on the Big Island HAD been erupting continuously for over 30 years (!). This is what made the Big Island the Hawaiian island to visit to see active lava flows.
But in May 2018, that stopped for over 2 years. This meant that there was no chance to see active lava flowing anywhere in Hawaii.
Then, in December 2020, active lava started visibly flowing again on the Big Island of Hawaii.
There was a video that was posted to twitter by the US Geological Survey at that time.
Then, in May 2021, that stopped.
Then later in 2021, it started again. And there were places you could go at night in Hawaii Volcanoes National Park to see the bright red glow of the lava.
There may or may not be a chance to see active lava when it's time for you to go to Hawaii.
As your travel date gets closer, check the updates for the current status of the volcanoes and chance of lava viewing!
Whether or not you can see active lava during your trip though…
You can see OLD lava flows, and very distinctly the path these old lava flows took on the Big Island
Now, if it turns out that you can't see active lava when you're in Hawaii, initially this may seem disappointing when you see online all the pictures of the red lava.
But if you have never seen lava, active or old, then it CAN still be exciting!
I think so anyway!
The best island in Hawaii to see lava fields is the Big Island!
If you'll be going to Maui, there are great lava fields to see on Maui too!
See below for the list of Big Island lava fields!
🌋
Side note!
Amazing Big Island experiences you need to consider:
There are affiliate links on this page.
📌
Pin this post for later! Save on Pinterest!
👈📌
And so…
Where to see old lava flows in Hawaii on the Big Island

1. Flying into Kona airport
Well, this isn't a place to visit ON the Big Island, but a place to see as you are flying OVER the Big Island!
Your first volcano experience can be before you even step foot onto the Big Island!
Based on your route, try to sit on the side that will allow you to see the lava fields on the Kona coast that are located just north of the airport.
For reference, I was sitting on the LEFT side on my flight from Oahu (Honolulu) to Kona. Of course, flight routes can change so you can't always guarantee you'll be on the side with the views you want to see.
This is a bonus of flying Southwest with open seating. Check in as soon as it's possible and you can nearly guarantee a window seat!
Well of course it makes sense that if you want to see volcanic activity, you want to visit Hawaii Volcanoes National Park!
This is also one of the best spots to see vast lava fields. You will want to be sure to drive Chain of Craters Road. This will be a drive that will take you to the coast. Along the way you'll past vast stretches of old lava flows. You can get out and walk across them too.
To explore more volcanic activity in the national park, you'll also want to drive Crater Rim Drive, so you can make stops to see sulfur banks, steam vents, the trail of devastation, and the Thurston lava tube. Off of this road is also where you'll find the start of Kilauea Iki Trail, a hike into a crater that used to be a lava lake. And be sure to stop by the Kilauea Visitor Center to look around at the educational resources there! (aka learn more about Big Island volcanoes!)
3. Driving Mauna Loa Road in Hawaii Volcanoes National Park
This is in a separate area from the main area of the national park.
Right near the main entrance of the national park (the Kilauea Visitor Center entrance), you will find Mauna Loa Road (google maps). This is a part of the national park that far less people visit. (Not to be confused with Mauna Loa Observatory Road, which also few people visit, but is located in another area of the Big Island, off of Saddle Road that cuts through the middle of the island.)
Mauna Loa Road will take you up the slopes of the Mauna Loa volcano, and you'll pass by some old lava flows.
This is a one lane road in parts, and you'll drive to a dead end, the Mauna Loa lookout.
From here, you can also hike on a trail as little or as much as you want, and you'll see a unique landscape. (You can go far on the trail to make this a multi-day backpacking trip.)
You may end up driving by the Kekaha Kai State Park if you are staying in Kona and making a day trip up north to the Kohala coast maybe to a place like Polulu Valley.
Driving along the main highway will have you driving through vast stretches of lava fields on both sides of you, and for reference on a map, at one point you'll be driving by the state park too.
And, there are many things that can make a visit to Kekaha Kai State Park a worthy volcano activity!
You can go to see the Kekaha Kai beaches that are dotted with lava rocks – Kua Bay, Mahaiula Beach, or Makalawena Beach.
And, you can get closer to the old lava flows in the state park too. (Next on the list!)
Getting to Mahaiula Beach means that you will be driving through lava fields and you will see the lava all around you – left, right, front, back!
Getting to Makalawena Beach can mean hiking across lava fields to see the lava all around you!
You will hike on a short trail to the coast to see lava all around you! You can see where lava meets the ocean… and a black sand beach!
In Hawaii, the sand gets its black color due to the volcanic activity from the lava.
So black sand beaches are more great things to see as part of your volcano vacation!
There are many black sand beaches on the Big Island, and the very best black sand beaches (aka very black colored black sand) can be found along the Puna coast – you can see 3 of them within a 30 minute drive!
First, to get to the start of this trail you will drive past the Ocean View neighborhood and vast lava fields. You are also driving towards the coastline and it can feel like you're driving to the end of the world! (And you will actually be in the southernmost area of the United States.)
Then the entire hike to your destination (the beach) you will be surrounded by lava fields all around.
See more these Hawaii lava fields: Hike to Pohue Bay
More hikes across lava rocks
It's not as dramatic, but you can also see smaller lava fields if you do the Captain Cook hike to Kealakekua Bay or the beach hike to Honomalino Bay. (Pictured in order below.)
PLUS…
2 more specific spots to see quite distinctly where lava flows stopped on the road
1. Alanui Kahiko (aka Old Chain of Craters Road) in Hawaii Volcanoes National Park
Also make a quick stop at Alanui Kahiko aka Old Chain of Craters Road so you can quite literally see where the old lava flows stopped right on the road.
2. Leilani Avenue in Pahoa/Puna
This can be another quick stop. Leilani Estates was the neighborhood that was in the news a lot during the 2018 Kilauea volcano eruption. Not every home and road in the area was covered in lava, and with a drive to what's now the end of Leilani Avenue, you can see where this lava stopped on the road.
Not all residents like tourists swarming their neighborhood so just be aware of this too.
PLUS…
Hike through a cave (lava tube) where lava flowed through
There are 2 cave entrances of the Kaumana Caves. It is worth going in a least a little bit on both sides. You can see clearly where lava flowed through.
But if you will be venturing to a point where you can no longer see the light from where you came, then it's important that you're prepared for a cave hike!
See more about hiking the Kaumana Caves.
More lava tubes to see on the Big Island
Thurston lava tube: See this when you're visiting Hawaii Volcanoes National Park
Kula Kai caves: This is on private property and requires a tour. If you are interested in learning about Big Island volcanoes, you'll learn a lot! You also have the option to do a "cave crawl"
Where to stay for your Hawaii volcano vacation
If lava fields excite you, then you can find a place to stay that overlooks vast lava fields!
Be sure to check out this lava lookout cabin.
And that's a bit about where to see lava on the Big Island!
For more lava fields in Hawaii, be sure to see lava fields on Maui too!
And for even more volcanoes in Hawaii, be sure to look into visiting Haleakala National Park on Maui and hiking into the Haleakala volcano crater there!
HAPPY VOLCANO VACATION IN HAWAII!
📌
Pin this post for later! Save on Pinterest!
👈📌
Here are some ideas for your time on the Big Island!
Among the most popular things to do on the Big Island are
Hawaii Volcanoes National Park
,
Akaka Falls State Park
, and
Waipio Valley
!
For Hawaii Volcanoes National Park, the main road to drive is
Chain of Craters Road
and it will take you to see the
best lava fields in Hawaii
! Before that though (or after!) you will want to make a stop for the
Thurston lava tube
. You can also hike into a former lava lake by doing the
Kilauea Iki Trail
!
Other Big Island activities you may want to make time for are the
best black sand beaches in Hawaii
(including
Punaluu black sand beach to see turtles
maybe!) and the
Papakolea green sand beach of Hawaii
.
Volcanoes in Hawaii
There was a time in December 2022 that 2 volcanoes were erupting in
Hawaii Volcanoes National Park
.
This was a special occasion because even in the past few years, there was a quiet period where there was NO active lava to be seen anywhere in Hawaii.
As the National Park Service says, it was the first time in nearly 40 years that TWO volcanoes were erupting in Hawaii at the same time!
But what seems like nearly just like that, they stopped erupting.
As it goes with volcanoes, things can change in an instant!
So be sure to check National Park Service updates when your Big Island trip gets closer:
What's going on with the volcanoes?
Spotted yesterday at #MaunaLoa – a lava boat rides the waves! On Dec 7, a lava boat was spotted floating down channel. Lava boats can form when portions of the cone or lava channel break away & are rafted downstream. Hot lava cools to its surface to create that smooth exterior. pic.twitter.com/D9gdoFolfq

— USGS Volcanoes🌋 (@USGSVolcanoes) December 9, 2022
👇
Explore the Big Island map on google maps!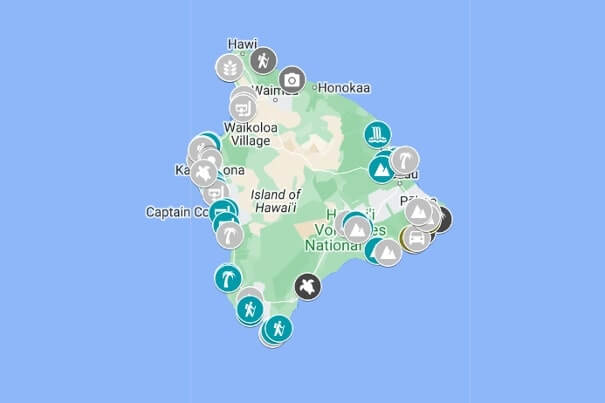 See the list:
There are affiliate links on this page. Among other partners, as an Amazon Associate, I may earn a commission from this.
Top things to pack for your Hawaii vacation!
The ultimate beach towel for travel?!
Turkish towels are considered to be more absorbent and lightweight than your average beach towel. Be sure to check out
turkish towels like these
!
The cheapo way to waterproof your phone
You can take underwater pictures with a
simple waterproof phone case like this
. Touch screen may not work well underwater - try the volume button to snap the pic instead!
Get your suitcase more organized!
Packing cubes can make it so you're spending less time on your vacation looking for things! They are basically a form of drawers in your suitcase. Take a look at
these packing cubes
.
Wear less sunscreen by wearing a UPF swim shirt!
Wearing a swim shirt means less skin that's exposed to the sun which means less sunscreen you need to apply! See about wearing
swim shirts with UV protection like these
when you're snorkeling.
More for your Big Island packing list
Watch the videos to see the Big Island in action!
If you see an activity you like, look in the description below the youtube video for the individual blog post about that specific activity!
ALOHA!


There are affiliate links on this page. Among others, as an Amazon Associate I may earn from purchases.