ALOHA!
So if you make a visit to the Pohue Bay Beach on the Big Island, there's a good chance you might be the only one there!
I didn't see anyone else when I went!
And I do emphasize that I didn't SEE another person…
It did appear that there was another person… but I didn't see anyone because the person was resting up in a hammock the whole time I was there. 😉
So…
What makes this beach a more of a "secret" beach on the Big Island?
It kind of requires effort for you to get to Pohue Bay.
And, it's on a part of the Big Island that few tourists stay.
And locals too, for that matter!
Is the Pohue Bay hike legal?
Hawaii is known for having a lot of hikes that may or may not be on private property, and I tend not to recommend hikes that are illegal.
It seems that there's some debate on whether it's legal to hike to this beach.
So, do this hike at your own risk!
I did this hike at the end of August 2019.
I was recommended this hike by a local resident who lives in Ocean View, which is the community from which I accessed this hiking trail.
In many ways, things on the Big Island are pretty lax.
You kind of get a small town feeling when you're around the Big Island outside of Kona.
I mean, the green sand beach shuttle is supposedly "illegal" according to law, but the shuttle is a well-known tourist activity run by locals and it continues to operate for years.
Southern coast of the Big Island
The southern coast is an area of the Big Island that a lot of tourists just drive along to get to Hawaii Volcanoes National Park.
There are 3 worthy stops on the drive from Kona to Hawaii Volcanoes National Park that are among the most popular:
It might be tight to squeeze in Pohue Bay as a 4th stop for the south coast route because of time.
But if you want to make time for a Hawaii beach hike to Pohue Bay as you're making the drive along the southern coast, you might consider going to this beach!
It's one of the best hikes on the Big Island!
If you're interested in the history of this secluded area of the Big Island and about this undeveloped land surrounding Pohue Bay, this post from 2017 is an interesting read. This area is also considered a high risk zone for real estate, because lava could come flowing through at any time resulting in destruction, basically.
Even now, there are old lava flows surrounding Pohue Bay, and this can be one of the best spots on the Big Island to see lava fields!
How long does the hike to Pohue Bay take?
I've seen it mentioned that this hike will take about 40 minutes one way to Pohue Bay.
I took over an hour to get to the beach though!
I generally walk at a leisurely pace and I also stop a lot to take pictures.
Turtles nesting at Pohue Bay
Turtles are considered to be an endangered species and you can help to protect them!
Turtles are also a protected species in Hawaii, and no matter where you are in Hawaii, you're requested not to disturb them, which includes to not get too close to them, staying at least 10 feet away.
The southern coast of the Big Island is said to be a nesting area for hawksbill sea turtles. Pohue Bay is one of the beaches that hawksbill turtles swim ashore to for nesting.
When the turtles come ashore to nest, you may see cages that have been put up to protect these nests. There may even be times that you can't access the beach. Sometimes there will even be volunteers that stay overnight to help protect these nests.
The hawksbill turtle nesting season is generally considered to be around May to December.
Learn more about hawksbill sea turtles:
🌴
Now…
More about the hike to Pohue Bay!
…including how to get to Pohue Bay along with more pictures of the beach and the hike!
This is how it was for me in August 2019, and this is the way I went to Pohue Bay anyway!
Getting to the Pohue Bay beach hike trailhead
Driving to the Pohue Bay trailhead can have you feeling like you're driving straight towards the ocean!
So it's a great scenic drive just to even get to the start of the trail!
Google Maps may not be very reliable for this.
But…
If you want to use Google Maps, the street to know is Maikai Boulevard.
Currently when I search driving directions to Pohue Bay, it shows that you can drive all the way down to the coast where Pohue Bay is… which you can't.
If you have a 4 wheel drive, you might be tempted to get started driving on the dirt road that turns into a lava-rock road, but you'll encounter a point where you can't drive any further.
So it's best to just think of this as a solid hike to get to the beach!
I also think it can be good to download the free app called mapsme.
You can then download offline maps for Hawaii and you won't even need data to use it.
And then for the Pohue Bay Beach hike, it'll show you exactly where to start the hike! (This app can also be good for locating the start of the Puu Kuili hike for great ocean views near the Kua Bay white sand beach, as well as for locating the Makalawena Beach hike for another great white sand beach – see more beach hikes on the Big Island with amazing views!)
It does seem to show other trails that lead to Pohue Bay as well, but the Maikai Boulevard trailhead is the one I was suggested by a local.
So basically, you can drive to the end of Maikai Boulevard, at least as far as the normal road goes. You'll come across a dead end sign.
Parking at Pohue Bay beach hike trailhead
And then once you get to the end of the road, you can park your car.
And then…
Start the hike to Pohue Bay!
This is completely out in the open, so no shade.
You'll want to come prepared with water and snacks as well.
It would be good to wear proper shoes as you'll be walking across lava rocks too.
There are some parts that might have a seeming split in the road, but it doesn't really matter much which path you take, as long you are going in the general direction of Pohue Bay! (aka the OCEAN!)
Enjoy the hike through vast lava fields!
Then once you start getting near the coastline, off to the right you might start to see palm trees.
There is a small cove located here, and it's not Pohue Bay. (You can check mapsme to confirm!)
Once you reach the trail that basically runs along the coast, you'll follow it towards Pohue Bay.
And soon enough, you'll start to see the bay!
And then once you've taken in the views from above, take the lava rock steps down to the Pohue Bay Beach!
And then once you've spent time at the beach…
You can head back!
You can take the trail along the coast that will take you to that other little cove area. (You could also stop by for the views on your way to Pohue Bay.)
And then really head back!
And that's a bit of what you might see with a hike to Pohue Bay!
And if you're looking for more hikes with stunning views, be sure to see more of the best hikes on the Big Island!
More lava fields in Hawaii:
Where to see lava fields on Maui
More lava fields in the US:
HAPPY HIKING TO POHUE BAY BEACH!
👇
Explore the Big Island map on google maps!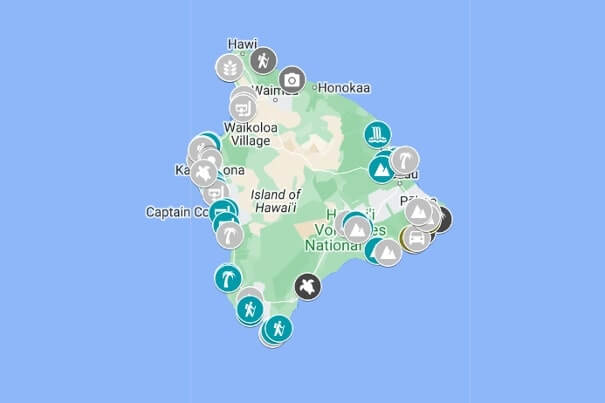 See the list:
There are affiliate links on this page. Among other partners, as an Amazon Associate, I may earn a commission from this.
Top things to pack for your Hawaii vacation!
The ultimate beach towel for travel?!
Turkish towels are considered to be more absorbent and lightweight than your average beach towel. Be sure to check out
turkish towels like these
!
The cheapo way to waterproof your phone
You can take underwater pictures with a
simple waterproof phone case like this
. Touch screen may not work well underwater - try the volume button to snap the pic instead!
Get your suitcase more organized!
Packing cubes can make it so you're spending less time on your vacation looking for things! They are basically a form of drawers in your suitcase. Take a look at
these packing cubes
.
Wear less sunscreen by wearing a UPF swim shirt!
Wearing a swim shirt means less skin that's exposed to the sun which means less sunscreen you need to apply! See about wearing
swim shirts with UV protection like these
when you're snorkeling.
More for your Big Island packing list
Watch the videos to see the Big Island in action!
If you see an activity you like, look in the description below the youtube video for the individual blog post about that specific activity!
ALOHA!