ALOHA!
So it definitely looks like it could be a fun experience to get a ride to the green sand beach (aka Papakolea Beach aka Mahana Beach) on the Big Island.
You might even think it would be fun to drive your jeep rental car there. (This is one of the Big Island drives in which a 4-wheel drive is required.)
Taking the shuttle and driving are both popular ways to get to the beach and tons of people do both to get to the green sand beach.
But…
You should totally consider NOT taking the shuttle or driving there
…and hike to the green sand beach instead!
Why?!
1- Walking is free
2- It's a coastal walk
3- It's questionable whether driving is legal
What's the closest you can drive to get to the green sand beach?
…with a normal car
Once you get to the green sand beach parking lot, that's when the hike begins.
The parking lot is from where you would take the shuttle too.
And it's also where the off-road driving would begin, if you still choose to drive all the way to the green sand beach.
There are some reviews by tourists that say it's a difficult off-road drive.
Otherwise, the walk will maybe be about 40 minutes to an hour from the parking lot.
It seems like it is around a 20 minute drive to get to the green sand beach from the parking lot.
So…
How much does the shuttle to the green sand beach cost?
In 2023, the cost of the green sand beach shuttle is $20 to $30 per person. You will need to pay in cash.
Since this is an unofficial shuttle by locals, there is no official green sand beach shuttle rate, and there is no official website that you can go to in order to see current rates.
The best way to try to figure out the current cost of the green sand beach shuttle is by reading through recent green sand beach reviews. Be sure to "sort" by "newest."
As of spring 2023, there are relatively recent reviews that talk about a round-trip shuttle cost of $20, $25, and $30.
You can also take the shuttle one way for $15.
Before you go, you will want to decide if the green sand beach will be worth it to you (a little more on this in a bit), and then decide if it's worth a hike or a $30 (possibly illegal) ride.
More below on what the shuttle is like.
🌴
Amazing Big Island experiences you need to consider:
Popular items for Hawaii:
Read more: What to pack for Hawaii
There are affiliate links on this page.
This is how it goes to take the shuttle
Now, if you're just hearing about the shuttle to the green sand beach for the first time, this isn't any sort of luxurious (or even formal) shuttle!
Basically, it's a bunch of locals who saw an economic opportunity and decided to provide a service for something they saw a demand for. (You not wanting to walk so much in hot weather with no shade.)
They are basically offering you a ride in their own car.
So you can think of it as something like ride sharing.
So, if you decide to take them up on this service…
You drive to the green sand beach parking lot which is the green sand beach trailhead on google maps.
This will get you in the general direction and then basically you will arrive at the green sand beach trailhead.
It is a great scenic drive just to get there through rural Hawaii!

👆 Map of where the green sand beach parking is located. You will be near the southernmost point on the Big Island, in Hawaii, and in the United States! Explore the Big Island tourist map!
You get out of your car, and you will probably almost immediately be approached by someone telling you that it's a long way to the beach and asking if you want a ride.
And then basically…
Off you go!
Or maybe there's some waiting time to get more people.
And then off you go.
Also know that it'll be a bumpy ride.
And you might end up standing the whole ride!
Or you could be in a car in which you'll get the luxury of sitting.
What's the drive to the green sand beach like?!
…in photos!
Is the shuttle actually illegal?
The green sand beach shuttle is so popular on the Big Island that it seems like it's just another regular tourist activity.
As you may or may not learn when you're on the Big Island, some things are just not enforced on the Big Island and people do what they want.
The shuttle to the green sand beach seems to be a case where this tourist-inspired activity is illegal, but the law isn't enforced.
The area leading to the green sand beach is considered protected land because of the cultural and historical significance of the area.
There is a concern that the off-road vehicles are essentially tearing up this land.
This resources management plan from the State of Hawaii Department of Hawaiian Homelands says there needs to be control taken of the green sand beach area, which is around the South Point area of Kau district of the Big Island.
Over the years, the lack of on-site enforcement at South Point has allowed for unrestricted vehicular access to continue and has resulted in miles of deep, wide, and extremely severe erosion scar, ranging from several feet to over 8 feet in depth.

This sacred and treasured place for the people of Kau has been desecrated and exploited by off-road enthusiasts, thoughtless actions of visitors, and sports fishermen despite the presence of sacred sites.

The people of Kau are pleading to "let the land heal" so that what is left of this fragile ecosystem can be shared with future generations.
There are also numerous references to the "illegal shuttle."
And, meeting notes also indicate the community's preferred way for tourists to go to the green sand beach:
The department should allow only eco tours instead of shuttle, everybody walks in and out.

There will be at least 90% less impact on our fragile eco system.
The resources management plan is from 2016.
But it's 2021 now and it seems like there's been no formal action taken. (As indicated by the informal shuttles that seem to be continuing to operate with recent reviews still mentioning them.)
So…
While you CAN take the shuttle, and you CAN drive your own off-road equipped rental car there (no one's going to stop you), and both options WOULD be more convenient for you…
It would be great if you consider hiking instead of driving so it won't be possibly contributing to a larger issue in the future!
Walking is less destructive to the land than driving, so consider walking it if you want to go to the green sand beach.
This is considered the "eco-friendly" way of visiting the green sand beach.
Also to note, your car rental agreement might restrict driving on these roads too, so that might be something to check.
What's the alternative to driving like?!
If you'll be walking to the green sand beach, you'll take the same road as driving.
You won't really have any issues of getting lost, as you just go in the same general direction as the road goes.
So basically the entire walk is out in the sun.
And it will likely be a 40 minute walk at least.
But at least you have the coastal views almost the whole way!!
Just come prepared for a hike in Hawaii and it will be fine!
But DO make sure you come prepared!!
Also noted in the document referenced above:
Many hikers to Green Sand Beach suffer from heat stroke and exhaustion because they were either unfit or unprepared with adequate attire and/or fluids.
Don't let this be you!!
So you can come prepared and you don't need to pay so much to go to a green sand beach and a more secluded beach.
So…
Is it worth it to go to the green sand beach?!
Well…
The views are amazing!
So I would say if you're looking for a Big Island hike to do, then yes it can be totally worth it. (Also be sure to see more hikes on the Big Island with amazing views.)
But if you're considering a visit here because you're wanting to see a super amazing color green sand beach, you may be disappointed.
Does this look like a green beach to you?
You need to get up close and personal and inspect the sand to really start to notice the green.
If you're looking to see a type of beach that (supposedly) exists at only 4 places around the world, then it will be worth it. So then in that case, maybe the green sand beach will amaze you.
If you love different types of minerals and want to see the green mineral called olivine, then you will also love the green sand beach.
If you love to see a rare natural phenomenon, you will also love this green sand beach. (Apparently olivine is rare to be found in sand, and that's why there are so few green sand beaches in the world.)
As for the beach itself…
This can be a beach-lazing beach, but do expect people.
As for the ocean conditions…
The waves can be rough and unexpected.
This isn't a beach where you can get in the water and then just float around without paying attention.
It would be more of a beach where you need to pay attention in the water and have fun riding along with the waves.
And that's a bit about the drive to the green sand beach!
Plan more of your trip around the southern part of the Big Island!
More colored beaches in Hawaii?!
HAPPY DRIVE-LESS VISIT TO THE GREEN SAND BEACH!
Here are some ideas for your time on the Big Island!
Among the most popular things to do on the Big Island are
Hawaii Volcanoes National Park
,
Akaka Falls State Park
, and
Waipio Valley
!
For Hawaii Volcanoes National Park, the main road to drive is
Chain of Craters Road
and it will take you to see the
best lava fields in Hawaii
! Before that though (or after!) you will want to make a stop for the
Thurston lava tube
. You can also hike into a former lava lake by doing the
Kilauea Iki Trail
!
Other Big Island activities you may want to make time for are the
best black sand beaches in Hawaii
(including
Punaluu black sand beach to see turtles
maybe!) and the
Papakolea green sand beach of Hawaii
.
Volcanoes in Hawaii
There was a time in December 2022 that 2 volcanoes were erupting in
Hawaii Volcanoes National Park
.
This was a special occasion because even in the past few years, there was a quiet period where there was NO active lava to be seen anywhere in Hawaii.
As the National Park Service says, it was the first time in nearly 40 years that TWO volcanoes were erupting in Hawaii at the same time!
But what seems like nearly just like that, they stopped erupting.
As it goes with volcanoes, things can change in an instant!
So be sure to check National Park Service updates when your Big Island trip gets closer:
What's going on with the volcanoes?
Spotted yesterday at #MaunaLoa – a lava boat rides the waves! On Dec 7, a lava boat was spotted floating down channel. Lava boats can form when portions of the cone or lava channel break away & are rafted downstream. Hot lava cools to its surface to create that smooth exterior. pic.twitter.com/D9gdoFolfq

— USGS Volcanoes🌋 (@USGSVolcanoes) December 9, 2022
👇
Explore the Big Island map on google maps!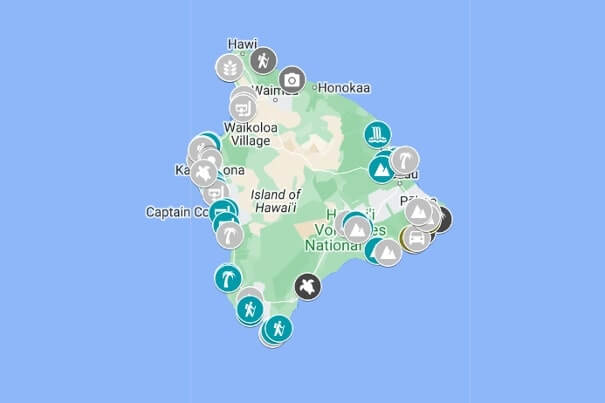 See the list:
There are affiliate links on this page. Among other partners, as an Amazon Associate, I may earn a commission from this.
Top things to pack for your Hawaii vacation!
The ultimate beach towel for travel?!
Turkish towels are considered to be more absorbent and lightweight than your average beach towel. Be sure to check out
turkish towels like these
!
The cheapo way to waterproof your phone
You can take underwater pictures with a
simple waterproof phone case like this
. Touch screen may not work well underwater - try the volume button to snap the pic instead!
Get your suitcase more organized!
Packing cubes can make it so you're spending less time on your vacation looking for things! They are basically a form of drawers in your suitcase. Take a look at
these packing cubes
.
Wear less sunscreen by wearing a UPF swim shirt!
Wearing a swim shirt means less skin that's exposed to the sun which means less sunscreen you need to apply! See about wearing
swim shirts with UV protection like these
when you're snorkeling.
More for your Big Island packing list
Watch the videos to see the Big Island in action!
If you see an activity you like, look in the description below the youtube video for the individual blog post about that specific activity!
ALOHA!


There are affiliate links on this page. Among others, as an Amazon Associate I may earn from purchases.