ALOHA!
West Maui is one of the popular places to stay for a trip to Maui.
And there is beauty to be seen all along the shores of West Maui!
This includes beaches, hiking trails, and scenic drives!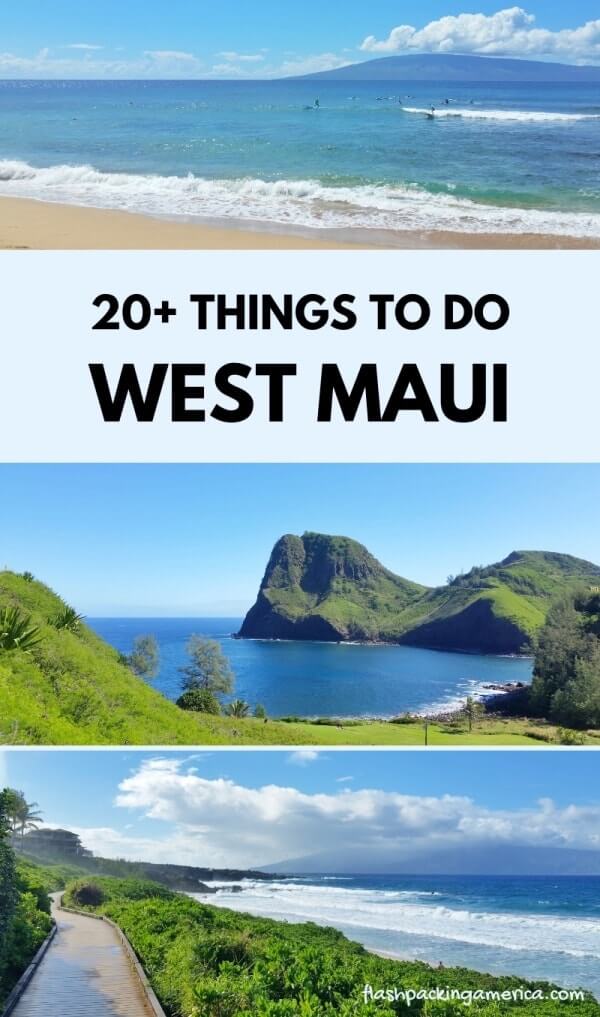 For this list below of things to do in West Maui, this will generally start right around the Lahaina area. And then basically from there, it will take you to the northern shores of West Maui.
It will generally go by area:
WEST MAUI MAP: Lahaina, Kaanapali, Kapalua, onwards to north West Maui
For the visual!

Explore the map.
West Maui without a car: Getting around West Maui by bus
It's possible to get to West Maui by bus, and to get around West Maui by bus, and that includes to Lahaina, to Kaanapali, and Kapalua. Kapalua is as far north as you can go by bus.
For reference, here are some estimated bus ride times within West Maui:
Lahaina to Kaanapali by bus: around 25-30 minutes
Lahaina to Kapalua by bus: around 75 minutes
Kaanapali to Kapalua by bus: around 45 minutes
Within these West Maui areas, it will be a direct bus.
If you're coming from elsewhere in Maui and want to go to West Maui, then you'll first take a bus to Lahaina, and then transfer if you want to go further north.
Google maps is a reliable way to figure out how to get around Maui by bus. You'll select the public transit option.
The bus route in this area is generally once an hour, so it's best to plan ahead and pay attention to the bus timings!
See an example about getting around Maui by bus: Taking the Maui bus from the airport.

There are affiliate links on this page. I may earn a commission from this.
Now more below for ideas on planning out your days in West Maui!
🌴
More photos/info below, but first...
Side note!
Here's some info on Hawaii trip prep!
Also see:
And now…
Best things to do in West Maui
Including in Lahaina, in Kaanapali, in Kapalua, and in north West Maui
1. Papawai Point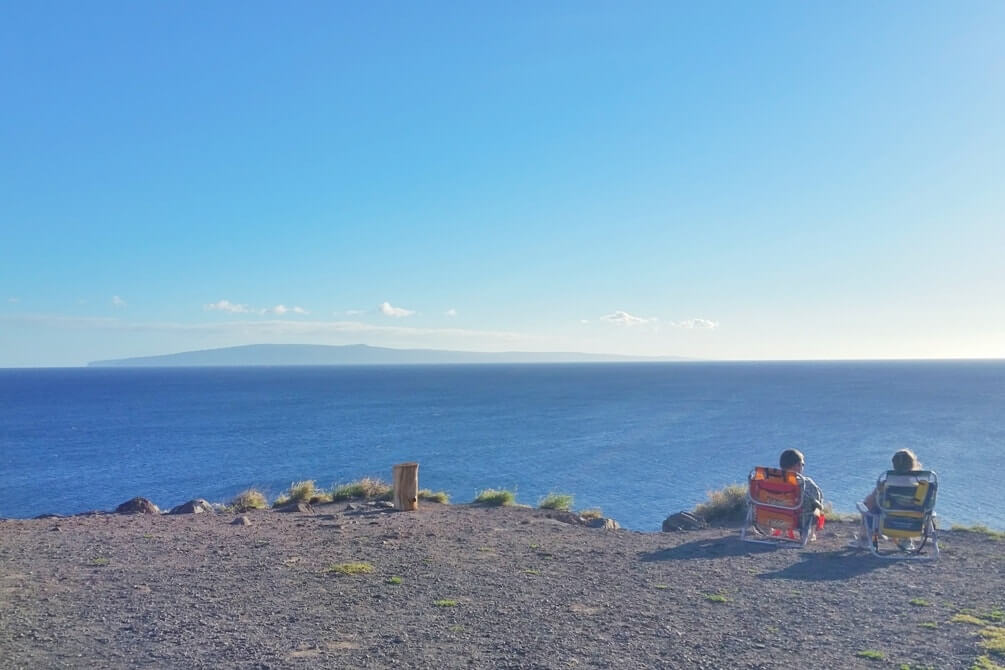 So before getting to Lahaina, we will start with one stop to make in West Maui as you are driving up to Lahaina from the south.
If it's whale season (generally speaking that's in the winter months), you might stop by Papawai Point! On google maps, this is listed as Whale Lookout Point, and it'll be a few minutes past Maalaea Harbor and the McGregor Point Lighthouse.
There is a small parking area along the coast. You can test your luck and see if you can see whales off in the distance.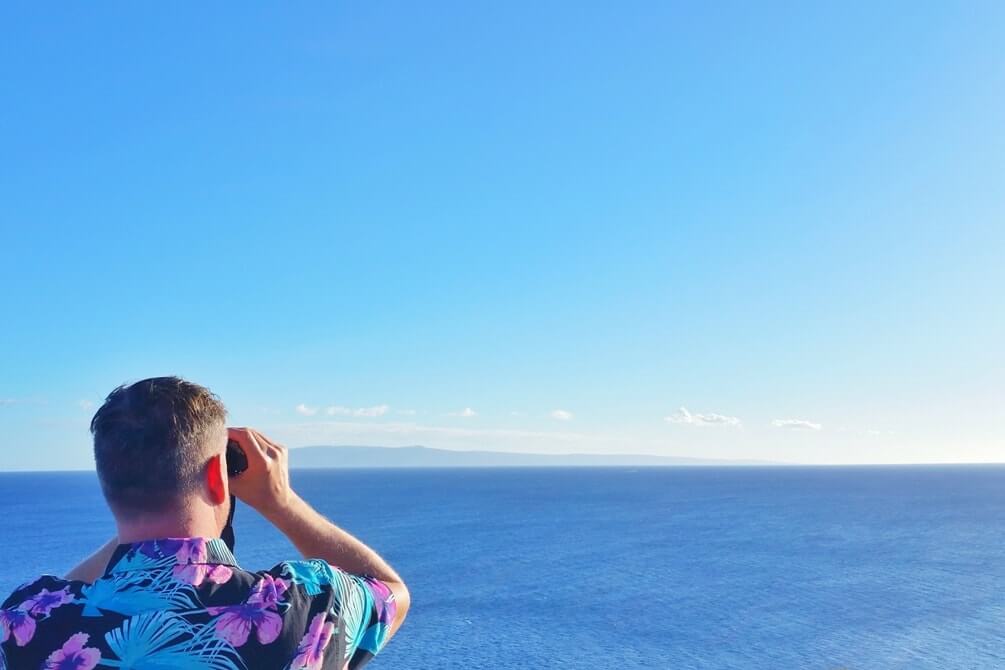 Now onwards to Lahaina…
MAP: Lahaina

Explore the map.
2. Front Street
Lahaina is a cute little town that's right along the coast. Front Street is basically the main street of what may be considered more of downtown Lahaina.
Front Street runs directly along the ocean in part for a nice coastal walk and there are also many small shops around. There are also a few oceanfront restaurants, including Bubba Gump Shrimp Co (reviews and menu).
3. Lahaina historic village walking tour
Lahaina is also a historic village.
You can give yourself 30 minutes to 1.5 hours and take a self-guided walking tour to explore the town by foot!
An iconic hotel in the historic district is the Best Western Pioneer Inn.
At first glance, this might look like a bunch of trees in the park.
But actually, look around carefully! This is one MASSIVE tree that's all connected that takes up the entire area you see! The entire square of trees is connected.
Lahaina banyan tree: See more about this West Maui activity.
5. Lahaina Harbor
Boat watching!
Or, go for a boat tour like this one from the shores of West Maui! There are tons of boat tours that go out from the Lahaina Harbor, especially during whale season.
Maui is often considered to be the best Hawaiian island to spot whales. And the channel between Maui and Lanai can be among the top spots for whale watching when it's whale season, and this is the open water that's directly in front of the Lahaina Harbor.
This means that Lahaina can be a great spot to get a boat tour from.
Otherwise, there are many spots on Maui where you can give yourself a good chance of seeing whales from shore, like generally the western shores of West Maui and South Maui. For West Maui, this can really mean just get yourself on the shorelines of Lahaina, Kaanapali, or Kapalua, and be on the lookout! Bring your binoculars!
Also noteworthy about the Lahaina Harbor is that this is the only spot where you can catch a ferry to the island of Lanai.
Many people make it a day trip to Lanai from West Maui.
And whether or not it's whale season, you can also make it a day out on the water to the coast of Lanai with a catamaran cruise like this one from Lahaina that can include snorkeling, seeing the West Maui Mountains and Lanai cliffs from the boat, and maybe even seeing some dolphins!
Lahaina boat tour: See the reviews for a catamaran cruise from West Maui.
🐠
6. Old Lahaina luau
A luau is basically a Hawaiian feast and entertainment show. Although luaus like this are very touristy experiences, it can still be a good way to get a taste of Hawaiian culture when you're visiting Hawaii. This is an evening activity, and the Old Lahaina luau is located on Front Street (reviews and tickets).
Now moving on up the coast to the area of Kaanapali…
MAP: Kaanapali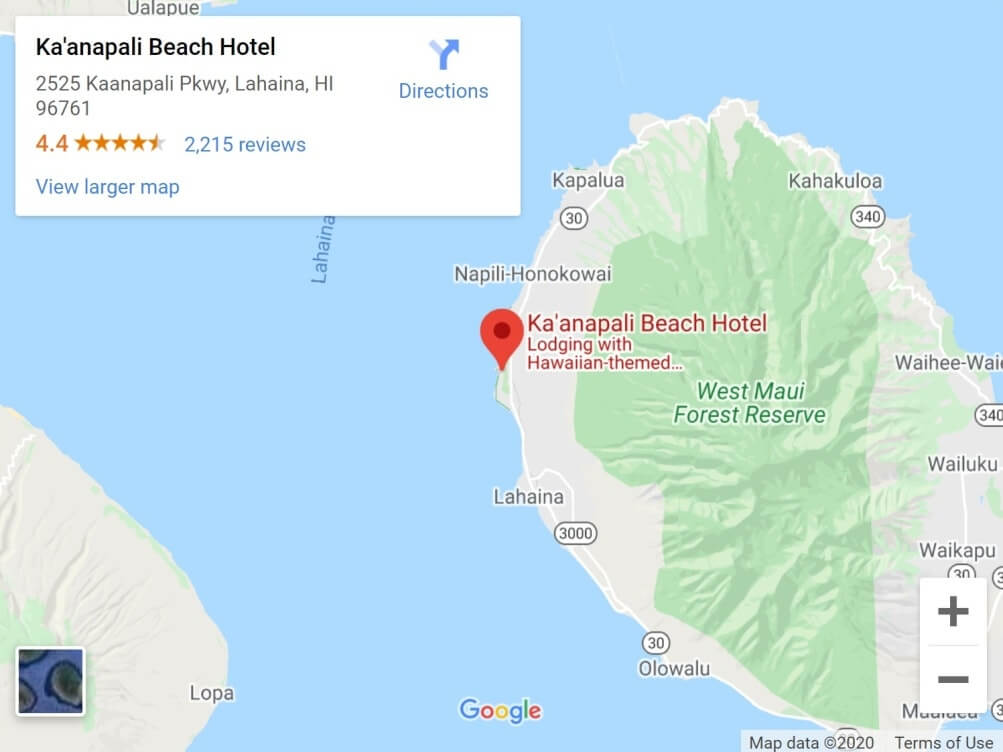 Explore the map.
7. Kaanapali Beach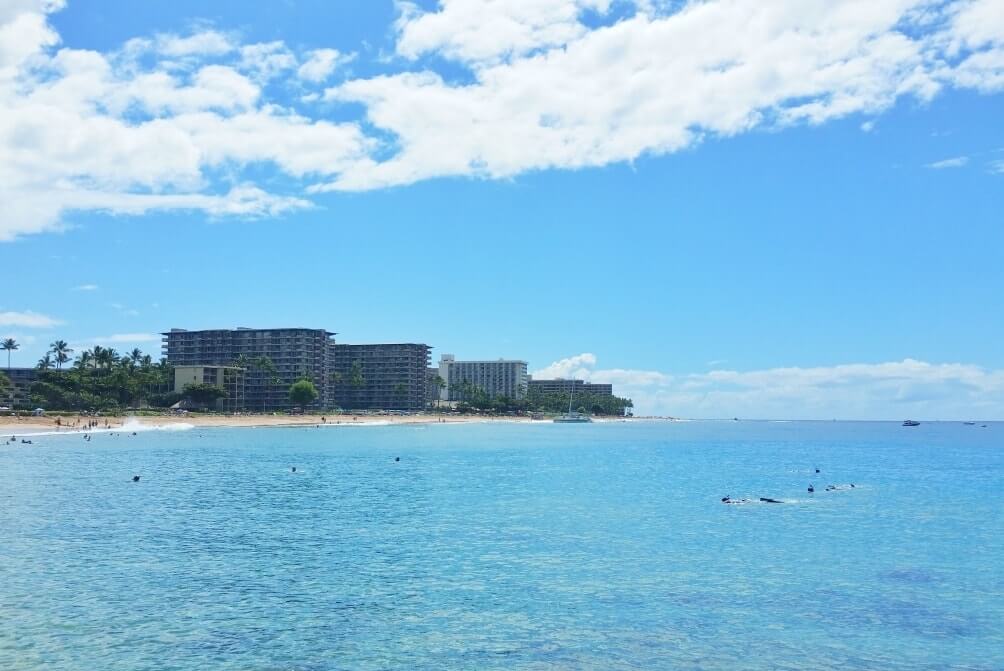 Kaanapali Beach is one of the most popular (if not THE most popular) beaches in West Maui.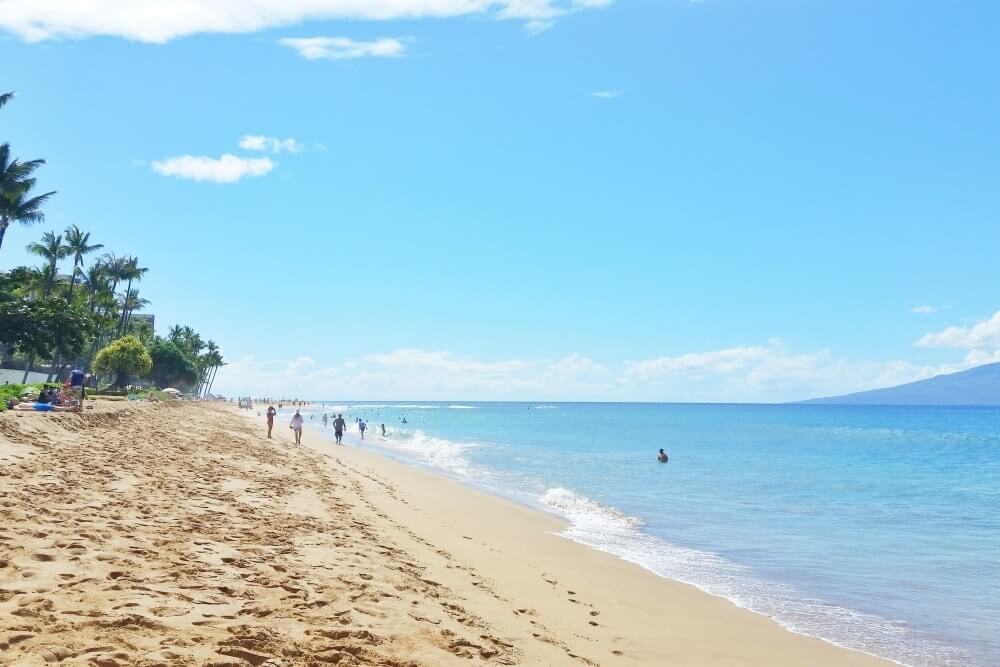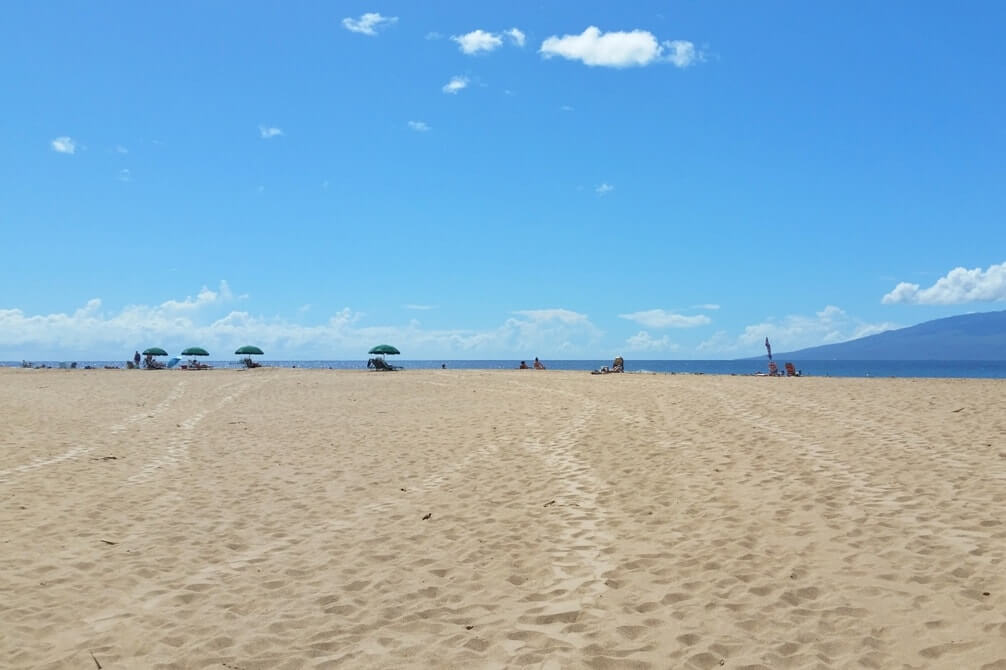 Along here you will find many beachfront hotels and resorts, including:
8. Black Rock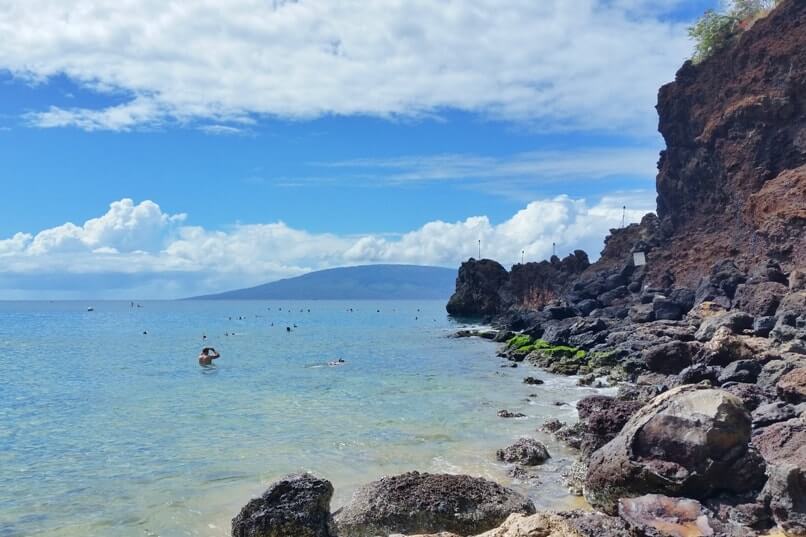 Black Rock is also found along Kaanapali Beach but will get an individual mention since this spot is specifically known as a top snorkeling spot on Maui.
As you're facing the ocean, it'll be to the very right of the beach, the northern end of the beach.
9. Kaanapali beach walk
You can basically walk the entire stretch of Kaanapali Beach on a paved trail, called the Kaanapali Beach Walk. You can consider this a nice leisurely walk with ocean views!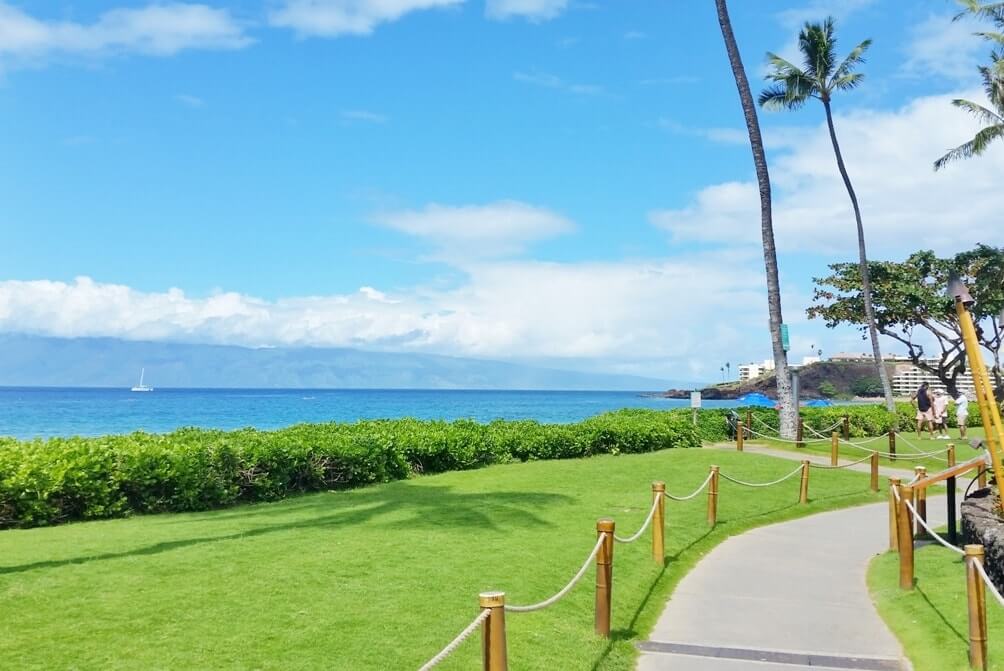 There are a number of bars (including a "cave bar") and restaurants that line this coastal walk, which means there's plenty of places you can eat and drink in an outdoor setting with ocean views too! This includes Hula Grill (reviews and menu) and Leilani's on the Beach (reviews and menu).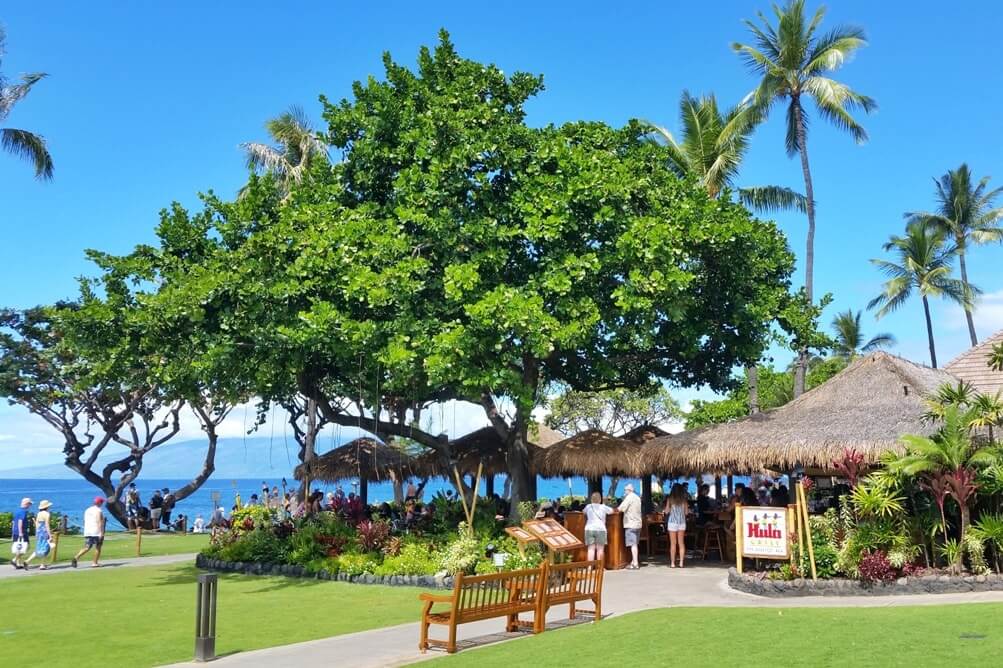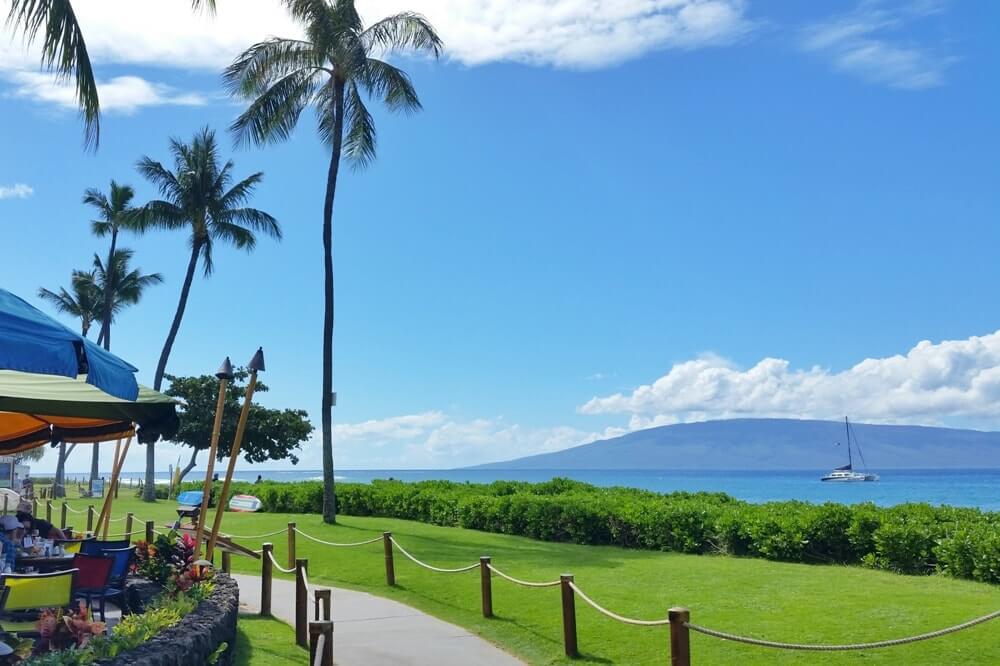 West Maui tours from Kaanapali
And being a popular Maui resort area, there are a number of amazing tours that you can take directly from Kaanapali Beach and in front of the Kaanapali Beach Walk. Get out on the water to sail the ocean off the shores of Kaanapali! These are tours that start in Kaanapali:
Look for the tour reviews!
Plus, when it's your first trip to Hawaii, a Hawaiian luau is also something to experience. A luau includes Hawaiian food and entertainment. Now, luaus do tend to be very touristy experiences. But with Hawaii having a culture that's very different from the rest of the United States (that includes Polynesian influence), it can be a fun experience while also learning a bit about Hawaiian culture, and food!
🐠
10. Whalers Village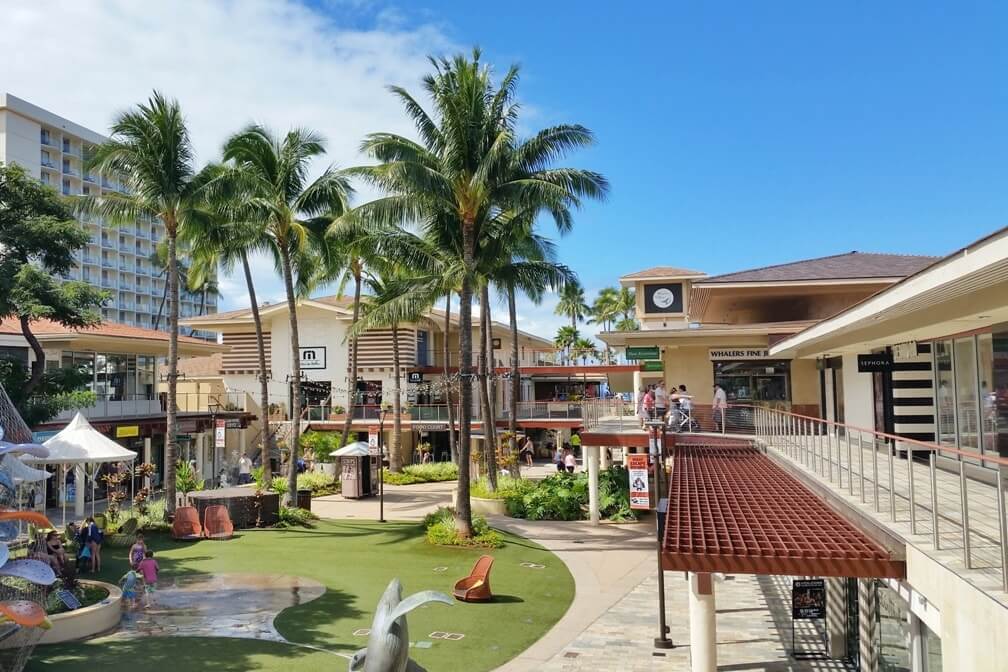 This is basically the outdoor shopping mall of Kaanapali. See the stores.
Now moving onwards north of Kaanapali towards Kapalua…
MAP: Kapalua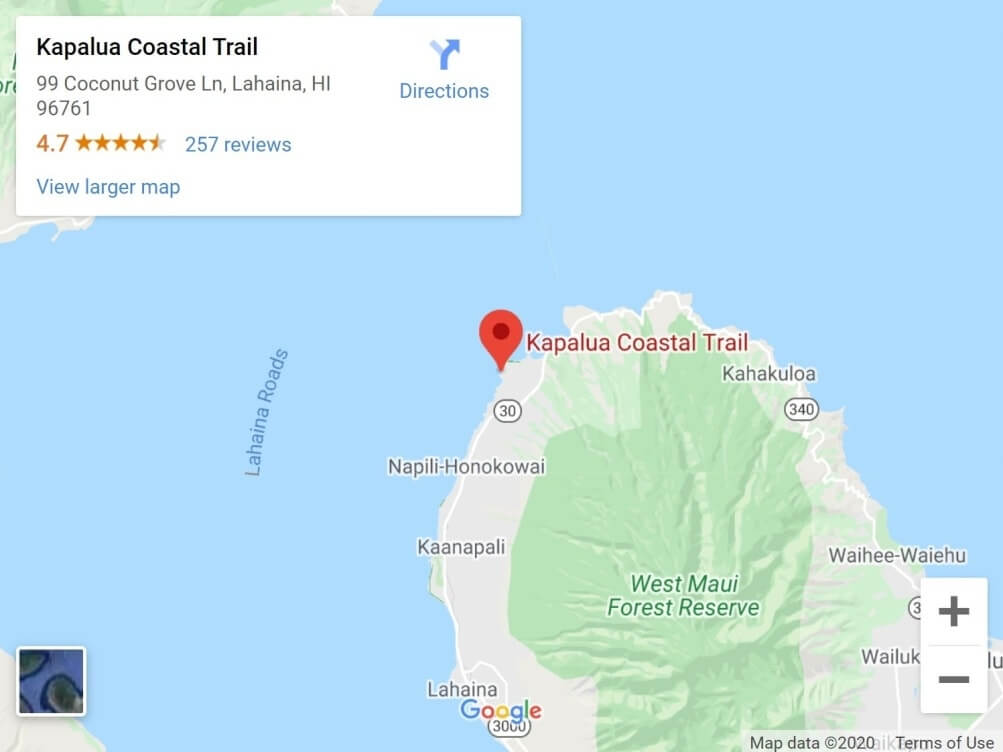 Explore the map.
11. Napili Bay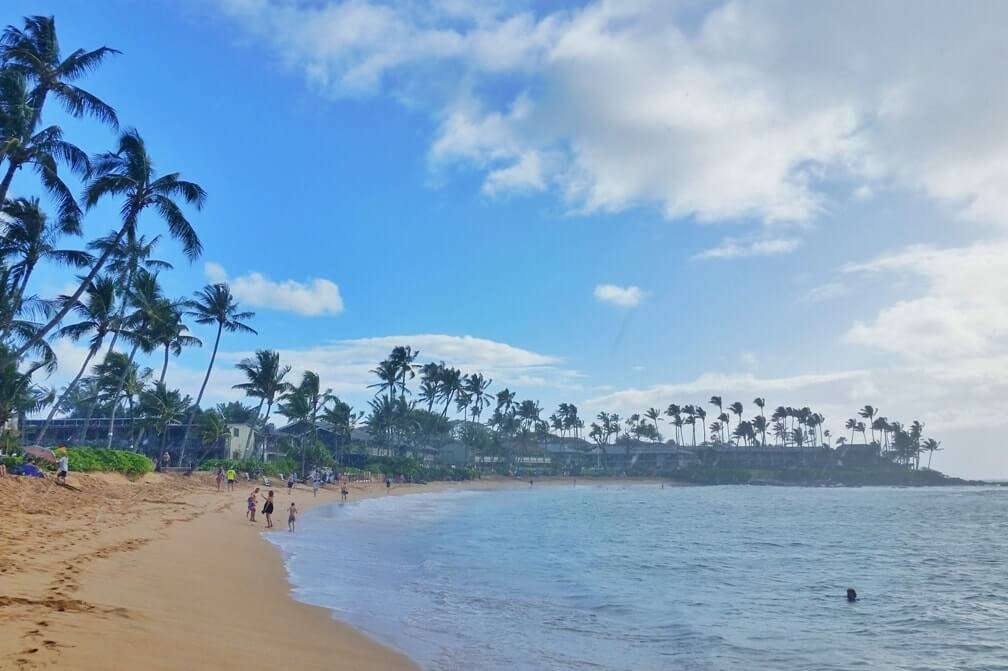 This is a beach located at the southern end of Kapalua.
Napili Bay may be a spot to see if you can find turtles swimming in the ocean. As you're facing the ocean, you'll want to try off to the left side of the beach. If you're not going to be wearing snorkeling fins, be sure to bring along water shoes for snorkeling!
12. Kapalua Bay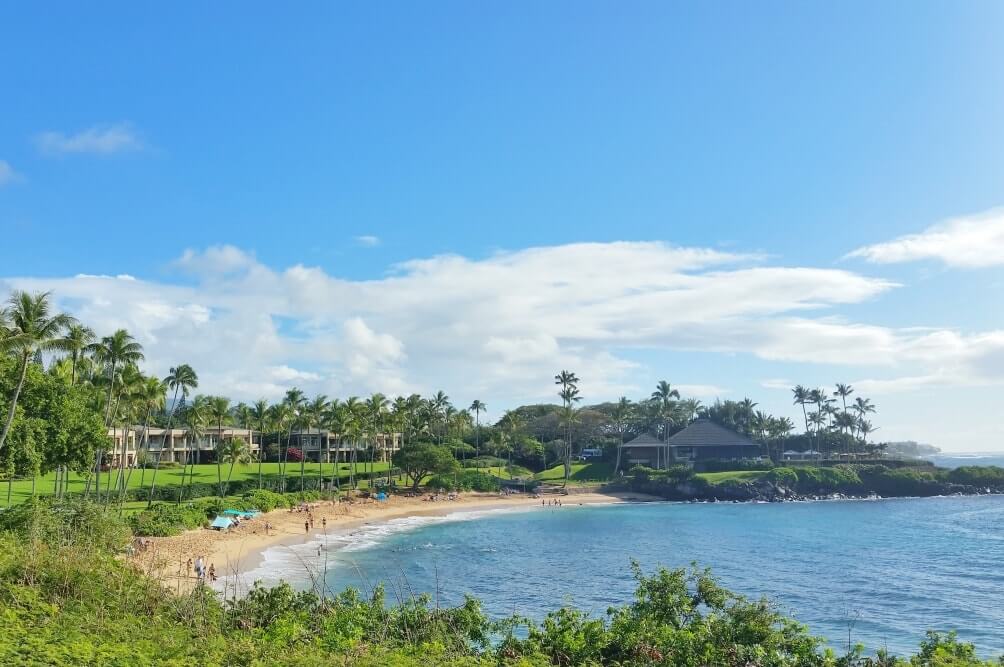 Kapalua is a smaller resort area in West Maui, and this is one of the beaches in the area.
Kapalua Bay beach was once named the best beach in America by Dr. Beach.
This is considered to be a good snorkeling spot on Maui.
The Montage Kapalua Bay is located here.
This is a coastal trail for another walk you can do in West Maui to take in ocean views!
Kapalua Coastal Trail: See more about this West Maui activity.
This is basically a side trail from the Kapalua Coastal Trail.
You'll take the Dragon's Teeth Trail where you will see unique rock formations that I guess look like dragon's teeth. Past the dragon's teeth you'll find more great opportunities to walk across lava rocks with the island of Molokai in the distance across the ocean.
Makaluapuna Point: See more about this West Maui activity.
This is a quieter beach in Kapalua. It's directly on the Kapalua Coastal Trail.
Ironwoods Beach: See more about this West Maui activity.
This is a pretty popular beach in Kapalua, and it's known for being good for boogie boarding. You can buy boogie boards when you get to Maui, for example at the ABC store (convenience store) in Kaanapali or at Walmart.
This is also the beach that's in front the Ritz Carlton Kapalua.
You can go for an oceanfront lunch or snack at the Burger Shack that's located pretty much at the beach.
DT Fleming Beach: See more about this West Maui activity.
And now moving further north of Kapalua…
17. Honolua Bay
This is part of a marine life conservation district on Maui, and it's a top snorkeling spot in West Maui. This is a rocky beach, so once again, make sure to have the water shoes for snorkeling on Maui if you won't be wearing fins!
18. Mokuleia Bay
Right near Honolua Bay is Mokuleia Bay aka Slaughterhouse Beach.
This is also a part of a marine life conservation district on Maui. This beach is also known for as a beach good for boogie boarding which means the waves can be a bit rougher compared to Honolua Bay. This is a sandy beach.
And continuing to drive to the very north shores of West Maui…
MAP: North West Maui

Explore the map.
19. Driving the highway along the north West Maui coastline
Part of the "destination" can be the journey! Great scenic views of ocean and mountains as you continue driving.
As you come up from the south from Lahaina, Kaanapali, and/or Kapalua, you'll be continuing to drive on Honopiilani Highway, and this will turn into Kahekili Highway. There are spots to pull over and get out along the way too.
You can see ocean water shoot up into the air here, along with more great scenic ocean views.
Nakalele Blowhole: See more about this West Maui activity.
The heart-shaped rock was a famous icon of Maui. You can see the power of nature and what's left of it after it was destroyed likely by ocean waves crashing against it.
Heart-broken rock: See more about this West Maui activity.
This is a pretty easy coastal walk in West Maui that will give you more great ocean views.
Ohai Loop Trail: See more about this West Maui activity.
These are the famous tide pools of Maui. It's a short hike down across rocky terrain to reach them.
Yet again, this can be another good spot to see Maui's rugged coastline. (Yes, north West Maui is really great for scenic ocean views!)
Although this is also known as a swimming spot among tourists, people have died at these tide pools. So it can be best to go here for the views, not to swim.
Olivine Pools: See more about this West Maui activity.
24. Kahekili Highway backroad
This would be a visit to a part of Kahekili Highway that fewer tourists go to. Well, there's a reason for that. This starts to become what's been considered a more dangerous and scary part of Kahekili Highway and requires driving on a one-lane road driving close to the edge of a cliff at times.
So you'll want to think twice before driving this road.
But, if this sounds like something you'd rather pass on driving, good news!
You can walk the Kahekili Highway backroad too! At least part of it. I mean, you could walk the whole thing too, but the entirety of the one-lane highway portion of Kahekili Highway is around 8 miles, so 16+ miles round trip.
So, where to walk to…?! (Next on the list!)
25. Kahakuloa Bay Beach overlook
If you're walking the one-lane portion of the Kahekili Highway, then seeing Kahakuloa Beach from above can be your "destination." (You can go further if you'd like!)
There's a small area that you can park (at your own risk) right before the highway becomes one lane, and then you can start walking. From the overlook, you can see closer Kahakuloa Bay, Kahakuloa Beach, and the small Kahakuloa village.
Kahakuloa Bay: See more about this West Maui activity.
And those are a few ideas of things to do in West Maui!
Now…
On the inland side of Lahaina, Kaanapali, and Kapalua are the West Maui mountains.
WEST MAUI MOUNTAINS MAP

Explore the map.
And for more things to do basically on the other side of these mountains…
Also have a look at these things that can be more considered central Maui!
With this great Maui hike, you get views of mountains and ocean!
Hike the Waihee Ridge Trail: See more about this Maui activity.
This is a waterfall hike, one of the rare ones that's relatively accessible in the West Maui mountains. (East Maui is where to go if you want to see tons of waterfalls as there are many Hana Highway waterfalls to see.) There is also a small bamboo forest here. (And again, East Maui is where to go to see the famous bamboo forest of Maui.)
You'll be following the Makamakaole Stream to get to waterfalls. And not just following actually… you will quite literally be crossing the stream MANY times! (Thus the name of the trail!)
There's a good chance your shoes will get wet, and I was happy to be wearing waterproof hiking boots! At the very least, pack an extra pair of socks just in case as part of your Maui hiking essentials!
Check local news for Maui weather alerts before you go, and avoid going if there are any flash flood warnings in effect. Stream waters can rise quickly and without warning and can become dangerous really quick.
Getting to the start of the trail means taking the start of the Kahekili Highway backroad on the southern end.
Hike the Makamakaole Stream: See more about this Maui activity.
This state park has a famous Maui icon, the Iao Needle.
Hike to the Iao Valley lookout: See more about this Maui activity.
And that's a bit of West Maui!
Still undecided about staying in West Maui?!
The other main area to stay on Maui is South Maui. See things to do in South Maui!
HAPPY SPENDING TIME IN WEST MAUI!
There are affiliate links on this page. Among other partners, as an Amazon Associate, I may earn a commission from this.
Top things to pack for your Hawaii vacation!
The ultimate beach towel for travel?!
Turkish towels are considered to be more absorbent and lightweight than your average beach towel. Be sure to check out
turkish towels like these
!
Possibly among the best Maui maps for tourists!
The Franko maps of Hawaii have a high level of detail for activities and it's beachproof aka waterproof. There's an
"adventure" guide map
and a
"snorkel/dive" guide map
. Plus a
wall map for home
to get you excited for your upcoming trip!
The cheapo way to waterproof your phone
You can take underwater pictures with a
simple waterproof phone case like this
. Touch screen may not work well underwater - try the volume button to snap the pic instead!
Get your suitcase more organized!
Packing cubes can make it so you're spending less time on your vacation looking for things! They are basically a form of drawers in your suitcase. Take a look at
these packing cubes
.
Wear less sunscreen by wearing a UPF swim shirt!
Wearing a swim shirt means less skin that's exposed to the sun which means less sunscreen you need to apply! See about wearing
swim shirts with UV protection like these
when you're snorkeling.
PLUS...
Be sure to take a look at the reviews of these amazing tours on Maui:
ALOHA!