ALOHA!
So there's a joke that's been said:
It's not the Road to Hana.

It's the Road to Huli Huli chicken!
Meaning, the "destination" of your Hana Highway drive on Maui isn't the town of Hana, but it's the famous huli huli chicken that's found on the Road to Hana!
This is one of the famous Road to Hana food stops.
Just as it's said that "this is the banana bread you've been driving for" on the Road to Hana (destination: Aunty Sandy's), you could say that the huli huli chicken near Koki Beach is the huli huli chicken you've been driving for!

👆 Map of where the famous Maui huli huli chicken on the Road to Hana is located. Explore the map.
Koki's huli huli chicken has been featured on TV on the National Geographic Channel.
It was a part of Gordon Ramsay Uncharted on an episode about Hawaii's Hana coast.
I did watch the episode, and this was THE spot that Gordon Ramsay ate huli huli chicken in Maui.
In addition to this stop for huli huli chicken, Gordon Ramsay also made a stop for banana bread.
Location of Koki's famous huli huli chicken
This isn't directly on the Hana Highway.
So it's not one of those stops you'll naturally come across as you're driving. You'll want to know where to turn off.

Explore the map.
But in terms of location, this could make the perfect lunch spot.
It's located near Hana town, just past the main area, which means that you'll come across it after you've been on the road (along with some stops) after a few hours.
You just might be ready for food! You can make this your planned lunch stop.
There's a wide parking area here. You can park on the grass.
There's a small little outdoor seating area that faces the ocean for some nice views, as well as red sand! Or reddish sand.
The beach near huli huli chicken stop
It's called the famous huli huli chicken of "Koki."
There's Koki Beach nearby. This is a beach you can hang out at.
So before or after eating huli huli chicken, you can head to the nearby Koki Beach. This is called a "red beach" but I did not find the beach itself to be all that red. Although it seems this could depend on the season and how much sand can be seen. I was there in January.
But there is red sand to be found no matter the season, aside from the sand directly in the seating area of the huli huli chicken stand!
If you walk across the beach to the other side near the hill, you'll see that there's a short red sand trail that you can take. This is a trail to nowhere really, but the sand is legitimately red!
So you can go here to see red sand too.
This beach by the huli huli chicken shack is not THE red sand beach on Maui. The famous red sand beach is Kaihalulu Beach.
🌴
There are affiliate links on this page.
More of the best of Maui beyond the Road to Hana
The
Road to Hana
is one of the best things to do in Maui!
So if you're interested in the Road to Hana, then you may also be interested in these top things around Maui:
Most people do the Road to Hana as a day trip.
But you can stay overnight in Hana too so you can take your time exploring the lush and quiet East Maui!
Best places to stay in Hana:
So…
What's on the menu at Koki's famous huli huli chicken stand?!
The menu is quite simple! Basically… CHICKEN!
This is what the menu was when I visited in January 2020. Food offering, prices, everything subject to change! Cash only!
Menu items do seem to vary by day.
There were 2 items to choose from on the menu:
chicken plate (huli huli chicken) cost $15
combo plate (huli huli chicken, bbq ribs) cost $18
And so there's a food stop to consider on the Road to Hana!
See more food stops to consider on the Road to Hana:
And then also see the big list of stops to make on the Road to Hana!

👆 Explore the Road to Hana map on google maps. For Road to Hana food stops on the map, you can click to see only the section of Road to Hana food.
HAPPY EATING HULI HULI CHICKEN IN MAUI ON THE ROAD TO HANA!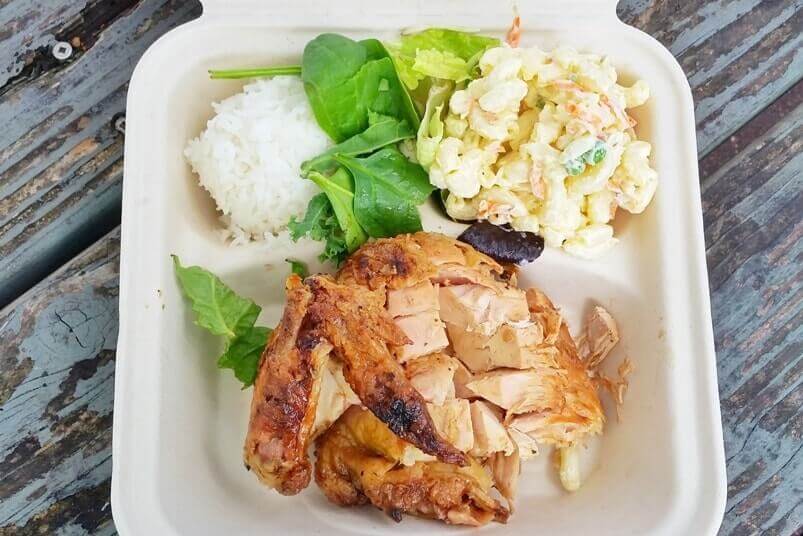 👇
Explore the Road to Hana map on google maps!
See the list:
There are affiliate links on this page. Among other partners, as an Amazon Associate, I may earn a commission from this.
Top things to pack for your Hawaii vacation!
The ultimate beach towel for travel?!
Turkish towels are considered to be more absorbent and lightweight than your average beach towel. Be sure to check out
turkish towels like these
!
The cheapo way to waterproof your phone
You can take underwater pictures with a
simple waterproof phone case like this
. Touch screen may not work well underwater - try the volume button to snap the pic instead!
Get your suitcase more organized!
Packing cubes can make it so you're spending less time on your vacation looking for things! They are basically a form of drawers in your suitcase. Take a look at
these packing cubes
.
Wear less sunscreen by wearing a UPF swim shirt!
Wearing a swim shirt means less skin that's exposed to the sun which means less sunscreen you need to apply! See about wearing
swim shirts with UV protection like these
when you're snorkeling.
More for your Maui packing list
Watch the videos to see Maui in action!
If you see an activity you like, look in the description below the youtube video for the individual blog post about that specific activity!
ALOHA!