Hi there!
Winter in Utah?! Why yes of course!
And Bryce Canyon can be a perfect trip to make in the winter!
So if you're making this national park a part of a packed winter road trip in Utah, how much time do you need to see the best of Bryce Canyon?!
Well…
You can totally make it a perfect one day in Bryce Canyon!
One day will give you the chance to do a couple of the top winter hiking trails and stop at some of the top scenic viewpoints in which you can see those iconic Bryce Canyon hoodoos!
If you want to make it a winter hiking weekend, then you can spend a perfect 2 days in Bryce Canyon doing the best winter hikes too.
Official Bryce Canyon winter alerts
You can read about weather in Bryce Canyon here. In short, you might have a chance to see snow at Bryce Canyon in October, November, December, January, February, March, and April!
You can read about general road closures and trail closures here. In short, the things listed below you can typically do in the winter 😉 unless a major snowstorm comes through and closes down some trails or roads.
In the days before you go to Bryce Canyon, check for current park conditions here!
Also check the weather forecast before you go in case there's a snowstorm that pops up! It's best to be flexible in your planning so you can try to avoid being on the roads in bad conditions as much as possible.
Now…
9 best things to do in winter in Bryce Canyon National Park
2. Rim Trail
3. Sunrise Point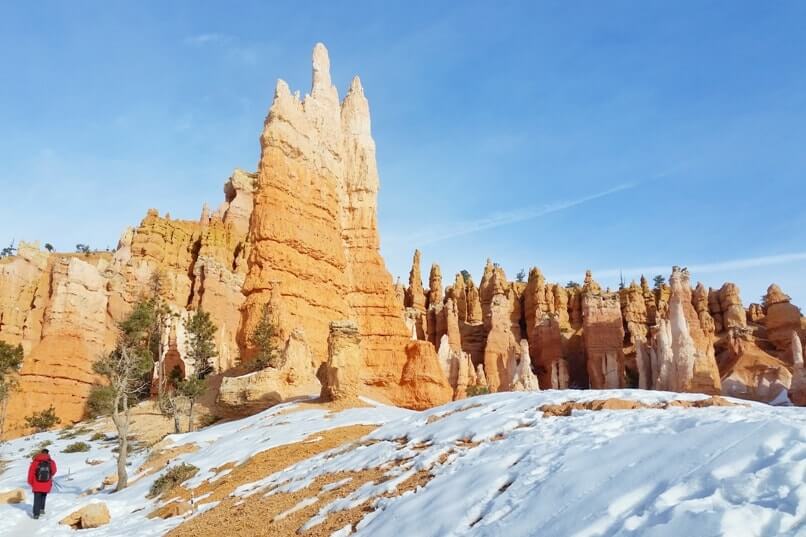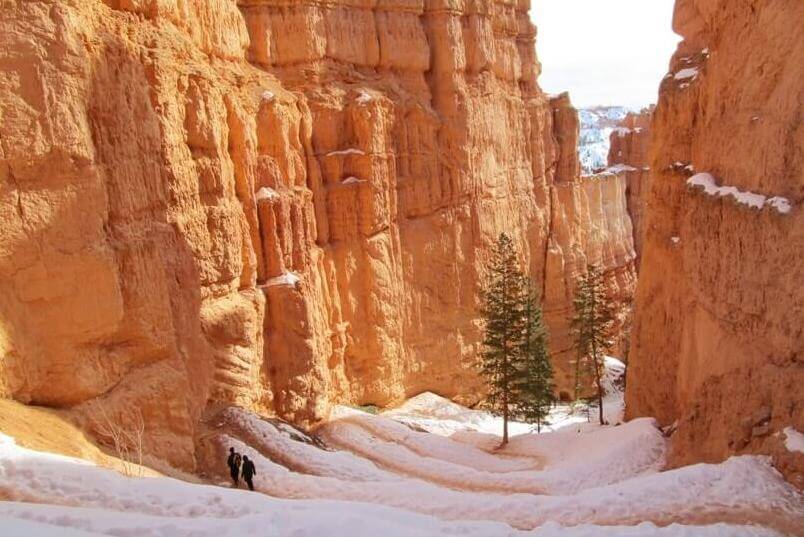 7. Natural Bridge viewpoint
⛄
So…
How to put all this into a one day Bryce Canyon itinerary?!
How to spend a perfect one day in Bryce Canyon in winter:
8am: Sign up for the free ranger led snowshoe hike at visitor center
Morning: Beautiful winter hoodoo hike with Queens Garden + Navajo Loop combination trail
Early afternoon: Ranger-led snowshoe hike!
Late afternoon: Drive through Bryce Canyon National Park with stops at viewpoints
Late afternoon: Mossy Cave Trail to see icicles
Where to stay near Bryce Canyon National Park
In order to take advantage of this winter itinerary, it can be best to stay the night before near Bryce Canyon National Park. This way, you can be sure to get started early for a full day of activities!
Bryce Canyon is also considered to be at high altitude, with viewpoints near the park entrance starting at around 8,000 feet (2,440 m).
While most people generally don't feel any ill effects at this level it's possible. Arriving the night before and staying near Bryce Canyon (which might be at an altitude at 6,000-7,000 feet) might help you get used to it a bit more so you won't have any issues the following day!
If you're following this Arizona and Utah national park winter road trip, then…
Zion to Bryce Canyon is around a 1.5 hour drive
Bryce Canyon to Page AZ is around a 2.5 hour drive
See some of these hotels near Bryce Canyon
Affiliate links above to partner website (booking.com) with photos and reviews!
What to wear in Bryce Canyon in winter
Here is a quick list of some specific items! Affiliate links below to partner website (amazon) with photos and reviews!
See some things to pack for a winter trip to Bryce Canyon
Waterproof hiking shoes are better than regular shoes so the wet snow won't give you cold wet feet. These can also keep your toes more insulated (warmer!) than regular shoes. See top outdoor shoe brands:
Hiking poles (for women and for all) so you don't kill your knees hiking down steep trails, and maybe to catch you if you slip on ice! I went with these ones for women as they were recommended to me at REI for being lighter weight and a comfortable hold. They don't come with rubber tips so I bought those separately, but if you're only going to Bryce Canyon I think you can do without rubber tips if you'll be hiking through snow that's not that deep. For deeper snow, you might want rubber tips with "snow baskets." (Hiking poles aren't allowed on carry-on bags on a flight, and might not fit in small suitcases either!)
Bring along one or more of these traction devices:

Microspikes (best choice of these 3 listed here when it comes to traction for possible icy conditions. These will dig into the snow and ice more.)
Nanospikes or yaktrax at the minimum can be very helpful even for scenic overlooks that you drive to that don't require any hiking. Some popular scenic viewpoints are on a snow-covered and/or icy slope.

Fingerless gloves for winter on the hand you'll be taking pictures with your phone so you don't have to keep taking off your gloves when you want to take a picture!
Comfortable daypack to carry your hiking essentials. See top outdoor backpack brands: for women and for men
Snowshoes if you want to do some snowshoe hikes on your own! Stop by the visitor center for trail recommendations based on current snow conditions when you get to the park, but in the meantime, the Rim Trail to Fairyland Point and the Bristlecone Loop Trail might be a couple of trails that can work well for snowshoeing! See these beginner-friendly snowshoes.
And there's a bit on how to plan a perfect day in one of Utah's best national parks in winter!
If you're looking for more things to do, have a look at more beautiful winter hikes in Bryce Canyon!
And if you're planning a winter road trip with a drive through Arizona and Utah, have a look at this 5 day itinerary that includes the 3 national parks of Bryce Canyon, Zion, and the Grand Canyon!
See Bryce Canyon winter photos:
HAPPY SNOW DAY IN BRYCE CANYON NATIONAL PARK!