ALOHA!
As you're starting your research for your trip to Oahu, there is a good chance you've seen the Diamond Head crater in pictures!
The is one of the best hikes on Oahu.
So how do you make this a part of your Oahu itinerary?!
It is possible to hike to the summit of the Diamond Head crater, and it is totally possible to do this Oahu hike on your own without a tour.
When you're planning to do the Diamond Head hike, you'll want to plan to allow a half a day for it.
The hike itself won't take you a half day, but this amount of time will allow you to take your time without feeling stressed.
You will be able to take your time in getting to Diamond Head and back, and you can take your time at the park after you've finished the hike too!
So one of the most important things to be prepared about this hike is…
It is a popular hike near Waikiki!
And what does that mean?!
That means…
CROWDS!
Probably.
The closeness to Waikiki, the relative short length and duration of the trail, and possibly most importantly the views that the summit of the trail brings makes this one of the (if not THE) most popular hikes on Oahu.
So it's good to mentally prepare yourself for loads of people so you won't get annoyed when you are surrounded by people and they are getting in your way… and they are obstructing your view to be able to get that famous Waikiki picture. 😉
But there are sure to also be plenty of opportunities for more great views no matter how crowded the trail is!
IMPORTANT!!! Be sure to check the Hawaii State Parks website here before you go. There may be certain days of the week Diamond Head is closed, and it will tell you about any updated fees. Fees for the transportation options listed below may also change.
So…
How to get from from Waikiki to Diamond Head?!
How to get to Diamond Head from Waikiki
Driving
Uber taxi
Trolley
Bus
Walking
Bike sharing
More details on each of these options below.
Also to know…
Park entry costs
The Diamond Head Summit Trail is a part of the Diamond Head State Monument and is managed by Hawaii state parks.
There will be a cost to enter this state park no matter how you arrive, although the cost will vary based on HOW you arrive!
Cost to hike Diamond Head
$10 per car
$5 per person as a walk-in
The Diamond Head entry fee has changed to CREDIT CARD ONLY.
Check the updated fees and payment methods!
More below about how to get to Diamond Head!
🌴
Now…
More about each of your transportation options for getting to Diamond Head!
Driving to Diamond Head
Cost: $10 per car at Diamond Head
If you already have a rental car on Oahu, then driving can work out just fine.
It's about a 10-15 minute drive.
There is a parking lot at Diamond Head, although there is a chance that it can get full.

👆 Old sign. Ignore the prices! But LOT FULL is still a possibility!
If it is a full parking lot, you will just have to wait around for an available spot.
If you are wondering whether or not you should rent a car for the Diamond Head hike, it's probably not necessary to rent a car JUST for Diamond Head.
It's close enough to Waikiki.
But if you won't be spending the rest of your day in Waikiki, and you're looking to head to another part of the island after the hike (like for a trip to windward Oahu or a trip to the North Shore)…
Then you might find it to be worth it to rent a car on the day you go to Diamond Head.
Taxi to Diamond Head
Cost: $15 Uber each way for your group + $5 per person walk-in fee at Diamond Head
If you don't have a rental car, then the next easiest and most convenient way would be to take a taxi.
There is Uber on Oahu so download the app before your trip to Hawaii! (Or when you arrive!)
Waikiki trolley to Diamond Head
Cost: $25 for all-day green line ticket per person + $5 per person walk-in fee at Diamond Head
NOTE: As of 2021, the Waikiki Trolley may not be an option, but as your travel dates get closer, you can look into it to see if it's available.
You might not want to purchase a Waikiki trolley ticket JUST to go to Diamond Head, but if you want to explore other parts just outside the main part of Waikiki too, you might consider this trolley option.
There are also 2 "express" trolleys to Diamond Head in the morning, during the 7am hour and 8am hour.
This is basically a hop-on hop-off trolley, and they will show up around every 35 minutes or so at a given stop on the green line.
You can also buy 1-day, 4-day, and 7-day unlimited passes to have access to trolleys on all lines during your stay in Waikiki.
If you are staying at one of the Outrigger Waikiki Beach resorts, then there is a separate trolley for you that is free called the Waikiki connection trolley.
Trolley stop near Diamond Head
There are 2 stops at Diamond Head on the Waikiki trolley green line.
One stop is at the overlook, and the other Diamond Head stop is further inside the crater.
Bus to Diamond Head
Cost: $5.50 round trip per person (for a 1-day pass) + $5 per person walk-in fee at Diamond Head
There are a few different bus routes that go from Waikiki to Diamond Head, and which bus number you take will depend on your timing.
But figuring out which bus to take to Diamond Head can be super easy – just ask Google Maps!
So when you're in Waikiki and ready to leave for Diamond Head, you can consult your Google Maps app and have the starting location as your current location based on your GPS.
This will tell you where the nearest bus stop to you is located, which bus number you need to look out for to get on, and how many stops until the Diamond Head bus stop!
The bus ride will be around 10-15 minutes.
You will want to have exact change when you take the bus, as no change will be given to you.
If you want to just take the bus one way and it will be your only bus ride of the day, a single ride is $2.75. Confirm the prices!
It's also possible to get a day pass for $5.50. There are reports that say starting in July 2021, you will no longer be able to buy a day pass on the bus. There's the new HOLO card (available now), and you'll have to get this card ahead of time to act as a day pass. See current updates.
Bus stop near Diamond Head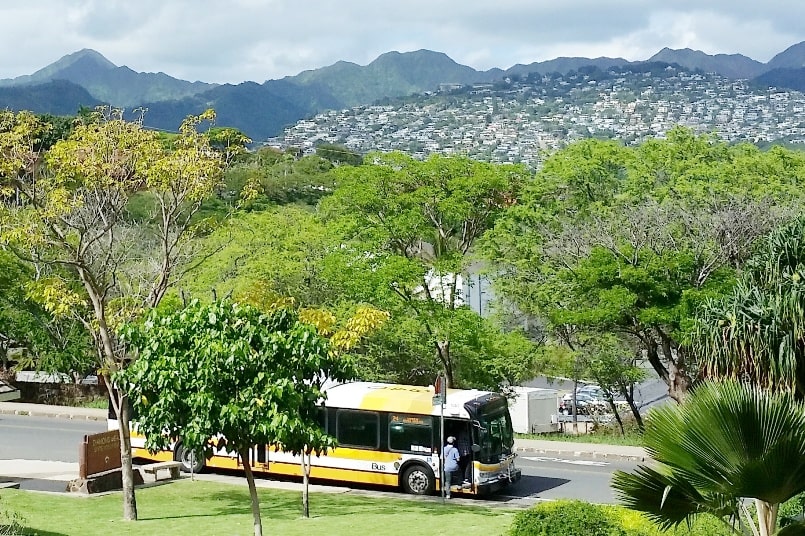 The bus stop that you'll be getting off at is outside the road that leads to the inside of the crater.
This will be about a 10-15 minute walk to the start of the Diamond Head Trail once you get off the bus.
See more about places to visit by bus from Waikiki, and more about taking the bus around Oahu.
Walking to Diamond Head
Cost: FREE to get there + $5 per person walk-in fee at Diamond Head
The absolute cheapest way to get to Diamond Head would be to walk!
And, it is relatively reasonable to walk, but it does take some time!
Well, this depends on your definition of what's reasonable, and also where in Waikiki you're coming from.
If you're staying in Waikiki on the side closer to Diamond Head, it might be about 30-40 minutes.
If you're coming from closer to the Hilton Hawaiian Village, you might not like the long walk as much, as it might take closer to an hour.
Although you can also use it as an excuse for a walk along the coast with ocean views at least for part of the way! You'll be walking both on the beach and sidewalks.
No matter where you're coming from in Waikiki, you'll just want to think about if you want to tack on the extra walking time to the hike!
You can always walk there, do the hike, and then take the bus back.
Or take the bus there, do the hike, and then walk back depending on how you're feeling.
Biking to Diamond Head
Cost: $3.50 one way per person (for ride up to 30 minutes) + $5 per person walk-in fee at Diamond Head
Another option you might consider is biking to Diamond Head part way through the biki bikeshare program!
This could be a fun way to get to Diamond Head in particular if you are coming from further away in Waikiki, like from the Hilton Hawaiian Village, so that you don't have to walk as much.
Even if you're coming from a more central area of Waikiki (like from Outrigger Reef or from Sheraton Waikiki), you might find it to be a fun way too.
The biking itself would be for like 5-10 minutes, from a Waikiki biki station to the biki station nearest to Diamond Head.
With bikesharing, you can pick up a bike at any station, and return the bike at any station – it doesn't have to be the same one.
Biki bikeshare station near Diamond Head
Currently the closest bikeshare station to Diamond Head will still require you to walk a little. Check the biki station map.
It will probably be about a 20 minute walk from that station.
If you're checking a few months out from your trip to Honolulu, check again when it gets closer to your travel date because bike stations can be removed (or added).
See more about how to use a bike share station in Waikiki.
Bike racks at Diamond Head
Or if you have your own bike or you'll be renting a normal bike, there are bike racks at the start of the trail too!
Now…
Is the Diamond Head hike easy?!
So one of the things to think about when you're considering any of these transportation options for getting to Diamond Head from Waikiki…
How tired will you be from the hike itself?!
And will you want to walk or bike that much extra in addition to the hike?!
This is a SUMMIT trail.
This means that you are walking up a hill to the top of the crater to reach the crater summit!
So while the Diamond Head hike isn't exactly hard difficulty level, it will most likely have you breathing hard in some parts as you are basically walking uphill for most of the hike to the top.
There are also…
Stairs…
Stairs…
And more stairs!
But don't worry, you will have the views along the way to remind you why you're working so hard… 😉
And then you will also be treated with ocean views at the summit!
And then…
What to do after the Diamond Head hike?!
The PERFECT way to recover after your hike?!
Waikiki Beach of course! 😉
Whether that's…
Lazing on the beach (with views of Diamond Head!)…
Or…
Swimming at your resort's outdoor pool…

Sheraton Waikiki
Or…
Playing at a resort's public lagoon…

Hilton Hawaiian Village
Or…
Eating or drinking with ocean views (and views of Diamond Head!)…
Or…
Going snorkeling…

Waikiki marine life conservation district
Or…
Finding turtles that are swimming!! (With views of Diamond Head!)

This one spotted near the pier in front of the Outrigger Reef hotel
Waikiki Beach is the perfect post-hike recovery!
See more of the best hikes to do on Oahu!
See some of the best beaches on Oahu.
And the list of things to do on Oahu.
HAPPY HIKING DIAMOND HEAD FROM WAIKIKI!
There are affiliate links on this page. Among other partners, as an Amazon Associate, I may earn a commission from this.
Top things to pack for your Hawaii vacation!
The ultimate beach towel for travel?!
Turkish towels are considered to be more absorbent and lightweight than your average beach towel. Be sure to check out
turkish towels like these
!
Possibly among the best Oahu maps for tourists!
The Franko maps of Hawaii have a high level of detail for activities and it's beachproof aka waterproof. There's an
"adventure" guide map
and a
"snorkel/dive" guide map
. Plus a
wall map for home
to get you excited for your upcoming trip to Honolulu!
The cheapo way to waterproof your phone
You can take underwater pictures with a
simple waterproof phone case like this
. Touch screen may not work well underwater - try the volume button to snap the pic instead!
Get your suitcase more organized!
Packing cubes can make it so you're spending less time on your vacation looking for things! They are basically a form of drawers in your suitcase. Take a look at
these packing cubes
.
Wear less sunscreen by wearing a UPF swim shirt!
Wearing a swim shirt means less skin that's exposed to the sun which means less sunscreen you need to apply! See about wearing
swim shirts with UV protection like these
when you're snorkeling.
PLUS...
Be sure to take a look at the reviews of these amazing tours on the Oahu:
ALOHA!