Hi there!
If you're looking for a great Lake Michigan beach to visit, then you just might want to consider Channel Beach!
This is probably one of the most popular areas of Muskegon State Park to visit for a day trip.
There's a wide stretch of sand that extends far back from the lake.
While Muskegon State Park has about 2 miles of shoreline on Lake Michigan, most stretches of beach don't go back very far from the water.
This can make Channel Beach feel like a special beach in Muskegon State Park!
There are sand dunes nearby too!
Swimming in Lake Michigan at Muskegon State Park
Some people may find the water to be cold in Lake Michigan, but it's generally considered possible to swim in the lake in the summer and tons of people are in the water.
You might expect water temperature to be mid to high 60s in Lake Michigan at Muskegon State Park in the middle of summer. Beginning of summer may still be in the 50s. Check Muskegon's current water temperature.
In many ways, because Lake Michigan is pretty big, it can have ocean-like tendencies. Rip currents exist, which means dangers exist, and it's important to be aware of this.
What's near the Channel Beach?
Small sand dunes next to the beach
Off to the left as you're facing the lake, there's a small sand dune area that you can climb up.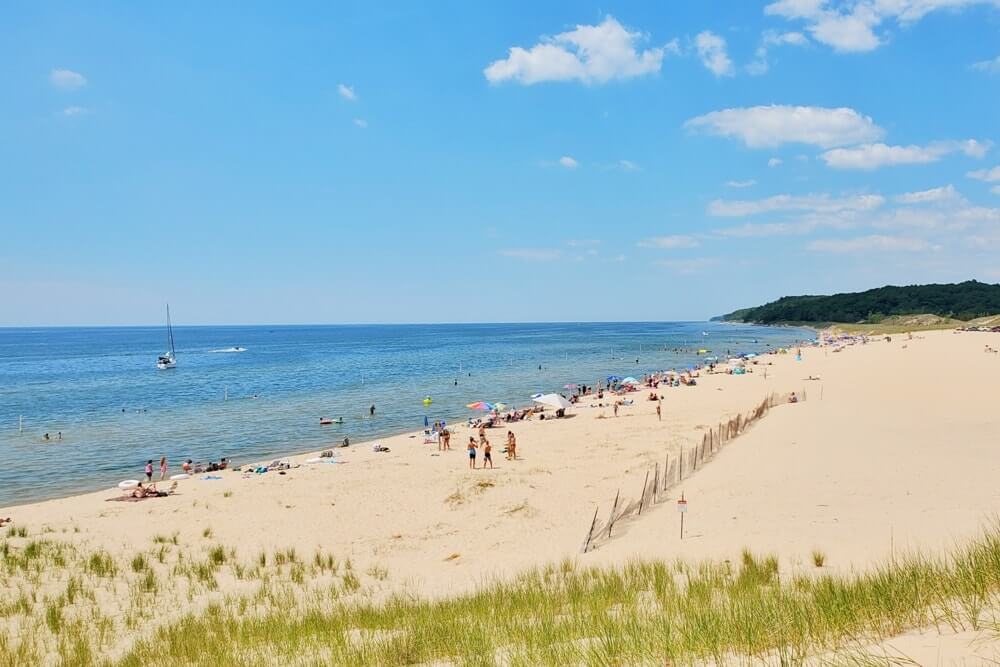 Try to avoid walking on the dune grass though! It's said to be fragile.

Local Girl Scouts dune grass project
Muskegon Channel
Also off to the left is the Muskegon Channel.
This can be called the Channel Beach because it's pretty much right next to the channel. This channel connects Lake Michigan and Muskegon Lake.
This is also the path of the Michigan – Wisconsin ferry that goes from Muskegon to Milwaukee and Milwaukee to Muskegon.
Muskegon lighthouses
The channel area is where you can find Muskegon lighthouses.
From Channel Beach, if you look over towards the left as you're facing the lake, you'll see lighthouses off in the distance. You can walk over towards the lighthouses, by walking across the sand dunes, or by making it a beach walk.
You can walk out on the "pier" of the Muskegon North Channel pier directly when you're coming from Channel Beach. For this pier you'll be walking across big rocks the whole way though. So it's probably best if you are wearing proper shoes and have good balance if you want to walk to the end. Also for safety reasons, it's not good to do this walk if the Lake Michigan waves are rough.
You will also see the Muskegon South Pier Lighthouse. And from the Channel Beach side, you will only be able to SEE it. You can't walk out to it because it's on the other side of the channel and there's no direct access. It it possible to also walk out to the south pier lighthouse, but you will have to drive all the way around to get to it on the other side of the channel.
Sand dunes behind the beach
And then on the other side of the road, there's also a dune trail system if you want to explore from the Channel Beach parking lot too. Take lots of water and snacks just in case! I actually unintentionally ended up at Channel Beach while on the trails after making a wrong turn. (I started the hike at Snug Harbor.)
Camping at Channel campground
There's a Muskegon State Park campground that's located about a 10 minute walk from the beach, Channel Campground. There is also the Lake Michigan campground on the other side of the park. You can make camping reservations through the Michigan State Park reservation website.
🏖
More photos/info below, but first...
Side note!
Here's some info on Michigan vacation prep! Top Michigan vacation spots:
PLUS:
And now…
More PHOTOS of Muskegon State Park's best beach!
For google maps, your destination can be the Channel Beach Pavilion.
There's a pretty good size parking lot at the beach, and there are beach facilities here that include bathrooms which were open in July 2020 when I was there.
There are no lifeguards in Muskegon State Park beaches.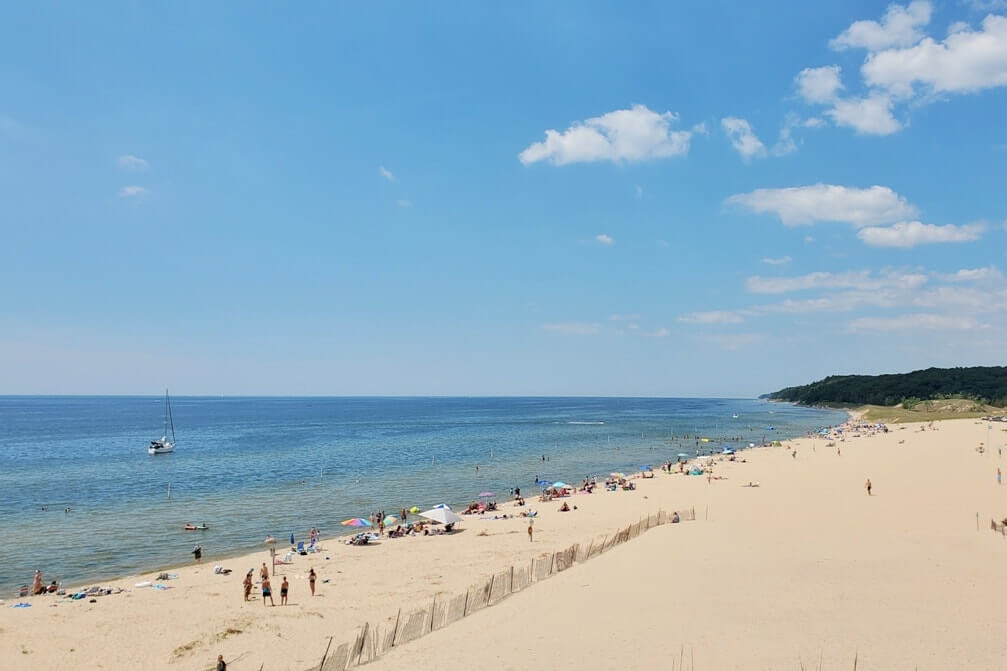 More beaches in Muskegon State Park
Aside from Channel Beach…
If you're looking for a bit less people and don't mind a little bit of effort, it's possible to find less crowded beach areas. The sand won't go back as far as it does at Channel Beach, but it may give you more peace and quiet!
If you're camping in Muskegon State Park, there's beach access from the Lake Michigan campground by taking a set of stairs down from the overlook.
There's also an unofficial beach trail that leads to a small beach area that is located near the pullover spot near the intersection of South Scenic Drive and Memorial Drive.
But in the case that you're looking for an easy access beach for a day visit that has facilities nearby with ample parking, then Channel Beach might be your perfect Lake Michigan beach in Muskegon State Park!
And that's a bit about Lake Michigan beaches that you can find in Muskegon State Park!
See more things to do in Muskegon State Park.
See more Lake Michigan beaches in Sleeping Bear Dunes National Lakeshore, 2.5 hours to the north.
HAPPY LAKE MICHIGAN BEACH VISIT TO MUSKEGON STATE PARK!
Turn your Michigan road trip into a national park road trip out west?! Take a look to get ideas for your road trip across America!
There are affiliate links on this page. Among other partners, as an Amazon Associate, I may earn a commission from this.
Things to pack for your Michigan vacation!
The ultimate beach towel for travel?!
Turkish towels are considered to be more lightweight than your average beach towel while still being absorbent. Be sure to check out
turkish towels like these
!
How to be a little bit more eco-friendly during your road trip!
Instead of using plastic silverware, try out
bamboo silverware like this set
!
The cheapo way to waterproof your phone
You can beach-proof your phone with a
simple waterproof phone case like this
.
Wear less sunscreen by wearing a UPF swim shirt!
Wearing a swim shirt means less skin that's exposed to the sun which means less sunscreen you need to apply! See about wearing
swim shirts with UV protection like these
when you're swimming in Lake Michigan or Lake Superior! Less sunscreen also means less chemicals from that sunscreen will enter our precious Great Lakes!
Get your travel bags more organized!
Packing cubes can make it so you're spending less time on your vacation looking for things! They are basically a form of drawers in your suitcase. Take a look at
these packing cubes
.